Hair Colour Ideas: Bronde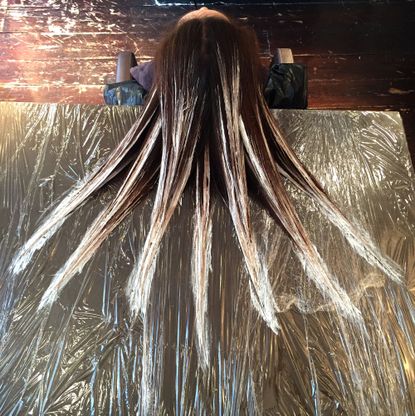 Transform your features and stop the clock with 2016's brand new hair colour ideas...
The latest Hollywood hair trend to have A-listers lining up for their turn in the salon chair is 'Layage' - a cross between 'Bronde' and 'Balayage'. This bespoke colour technique involves hand-painting strategically selected strands of hair with a customised colour to suit YOUR face shape and complexion.
A much more controlled method of highlighting than traditional balayage - which can appear 'dip dyed' at worst, the layage process enables more precision and expensive looking results.
We expect to see on the likes of Kate Beckinsale, Jennifer Lopez and Sofia Vergara sporting this age-defying look at the Oscars. Click to the next slide to see the jaw-dropping before and after transformation…
Image by Charles Worthington
Layage Before And After Transformation
Feast your eyes on this before and after photograph taken in the salon chair at Charles Worthington. Healthy, thick and oh so glossy, it's amazing what a bit of strategically placed colour and a quick whirl of a waver can do. Keep clicking to find out more about Bronde and exactly where YOU should apply colour to complement your face shape... Image by Charles Worthington
Update your look with multidimensional colour
Searching for a subtle way to transform your look? The lastest A-list colour trend to hit top notch salons is Bronde. 'Bronde is exactly how it sounds - a mixture between blonde and brunette. It's the perfect way for brunettes to go lighter for summer in a soft and subtle way.' explains Carolyn Newman, Colour Director at Charles Worthington. The new L'Oréal Paris Préference Glam Bronde Hair Colour features golden blonde, chestnut, mahogany, chocolate brown and honey tones all present together, carefull placed free-hand rather than with foils to accurately flatter and highlight your best bits. 'Our favourites shade from L'Oréal Professionnel's INOA range is Mocha, it gives a rich, shiny-looking colour full of different tones and soft reflection.' says Carolyn More wearable than the recnet ombré trend, Jennifer Lopez, Sarah Jessica Parker and Gisele Bundchen are all early adopters of this expensive looking multidimensional colour which has prompted a salon stampede. Image courtesy of L'Oréal Paris
Change your face shape with colour contouring
We all know that a glossy head of freshly coloured hair has the ability to boost our confidence and in some cases completely change our look, but did you know that selecting colour based solely on your skintone and face shape can knock years off and define your favourite features? This clever technique coined 'Colour Contouring' by Marc Trinder, Art Team Director at Charles Worthington, empolys light and dark tones to create shadows and depth in different areas of the face to subtly change its shape and dramatically enhance your best bits. In a similar fashion to make-up contouring, this bespoke service has been secretly providing the A-list with chiselled cheekbones and defined jawlines for decades. There are five face shape categories; round, heart, square, oblong and oval, with oval being the face shape equivalent to the hourglass figure. If you fall into any of the other categories don't fret, Marc has devised easy to digest diagrams so you know exactly where you should be applying light and dark shades to enhance your facial structure. Follow our expert guide to find the right hair colour to flatter your face shape and step out of the salon with a whole new look - today!
Oval Shape
'The oval face is not the only the shape that suits most styles and colour but it is seen as the most 'desirable', says Marc. Whilst it's unlikely your perfect face shape needs heavy contouring, you can still freshen up your hair colour with shine boosting treatments to give the illusion of thicker texture.
Celebrity oval shape - Kylie Minogue
As-well as being pretty and pint-sized, Kylie Minogue's face is a classic example of the perfect oval shape - some women have it all.
Round Shape
Round faces often have a sought after sweet and youthful appearance. But, if you long for a more grown up look ask your colourist to create definition along your jawline by giving your hair contrasting light and dark sections. To covert a round face into an oval one 'lighter tones of colour are applied around the hairline from ear to ear to elongate the face and add brightness'. Next, contrasting 'darker or richer tones are applied to the hair underneath the ears and the lower ends around the face to create more of a point,' explains Marc.
Celebrity round shape - Drew Barrymore
By framing her jaw with darker sections of hair, Drew Barrymore has subtly given her traditionally round face a more defined appearence at the chin.
Oblong Shape
Shorten an oblong or 'long' face by applying deeper tones 'to the root along your parting and merge lighter pieces from just above the ears to the very ends of your hair' recommends Marc. 'This will create an illusion of cutting off the face to create a slimmer and shorter shape.'
Celebrity oblong shape - Sarah Jessica-Parker
Sarah Jessica-Parker's contrasting roots effortlessly shorten her naturally oblong face shape.
Square Shape
To soften the strong lines of a square face shape, 'multi-tonal layers of light and dark are applied to all corners of the face; around the jawline and across the temples. This creates curved depth and texture to even the sharpest of haircuts', says Marc.
Celebrity square shape - Angelina Jolie
By framing her temples and jaw with darker tones, yet keeping her roots and ends light, Angelina Jolie has successfully softened the sharp edges of her square face shape.
Heart Shape
To balance the bottom half of a classic heart shaped face 'lighter pieces of colour are woven around the jawline and ears. Mixing fine light tones with darker depth at the roots will create a more flattering oval face shape'.
Celebrity heart shape - Scarlett Johansson
By adopting a side parting and darker shades at the root, Scarlett Johansson's classic heart shaped face appears softened along the jawline. Vist Charles Worthington salon to get a bespoke hair colour to suit your face shape. Prices start from £85. Read on for other on-trend hair colour ideas...
Chestnut brown hair colour
Light chestnut browns are a great colour to opt for if you are naturally dark, but showing the first signs of grey. Soften maturing skin with this warm, flattering colour, rather than opting for harsh blonde or extreme black.
Deep red and purple hair colour
Be brave and opt for bright, unusual colour this season. Deep reds with a hint of purple are big news for autumn/winter 2014 and will warm mature skin. Great for anyone with short hair who wants to experiment.
Icy blonde hair colour
If white blonde is too harsh and ash blonde isn't bright enough, ask your stylist for an icy hue to balance your blonde locks.
White blonde hair colour
White blonde hair is a youthful alternative to natural grey. Think Helen Mirren and keep the colour cold, rather than yellow-based and warm.
Ash blonde hair colour
Ash blonde is so flattering on mature skin - and is perfect for covering grey hair. this is one colour that needs a professional touch - it's so hard to get the tones just right with an at-home kit.
Liquorice brown hair colour
Liquorice brown hair looks so glossy and healthy. Only try this hue if you are naturally dark - a liquorice tone can really lift flat brown hair.
Long dip dye hairstyle
Dip-dye or 'ombre' hairstyles are the latest trend to try. Great for relaxed and rock chic styles, follow stars such as Drew Barrymore to see how to work this exciting new style. Hair by Rush
Contrasting highlights
Opt for contrast: highlights and lowlights. Do keep in mind that darker hair will actually complement brown or green eyes better than blonde hair. Colour by Headmasters
Warm copper hair colour
Matching your hair colour to your skin tone is the ultimate way to ensure that your hair colour turns out great and your skin glows. Colour by Headmasters
Light blonde hair colour
If you want to go from a dark brown to a light blonde, head straight to a hair salon and do not attempt to try a DIY job at home. Colour by Headmasters
Blonde hair colour
If you are going grey, opt for a semi-permanent hair colour that's a shade lighter than your natural colour.
Red hair colour
According to industry hair experts almost everyone can go red, the important thing is to find the right shade - do go for a professional consultation.
Brown hair colour
Mismatched roots and ends are a dead giveaway that you dye your own hair, especially with brown hair. Go pro to ensure perfect colour every time.
Subtle red hair colour
A clever way to update your tired tresses is to add a little warmth to hair colour without making subtle highlights look too red.