Christmas makeup—easy ideas for fabulously festive lip and eye looks
Take inspiration for your Christmas makeup from these beautiful looks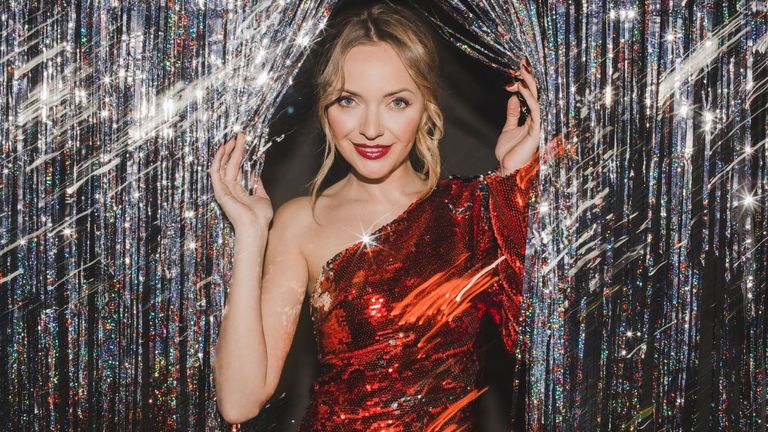 (Image credit: Getty)
By Fiona McKim , Emma North
Bring some festive joy to your Christmas makeup and embrace the party season with a new take on a red lip or some subtle sparkle!
Christmas is the ideal time to try something new with your beauty look and whether you've decided to self-gift one of the best beauty advent calendars or are looking for Christmas nail designs to jazz up your manicure, the festive season is all about getting glam, feeling great and indulging.
Christmas makeup isn't just about sporting a red lip and covering your lids in glitter though, these modern takes on classic looks are much more wearable and easy to master.
To get you in the mood and to start the creative juices flowing, we've curated this handy list of top Christmas makeup ideas on social media right now - from the most fabulous pink pout to take on a walk to an eminently-easier-than-it-looks festive smoky eye.
Ready to get inspired? These easy Christmas makeup ideas will help you find your sparkle this season...
How to choose a Christmas makeup look
When you're experimenting with makeup, have fun! You can always wash it off and start again but, knowing a few basic techniques will put you in good stead for creating a really flattering look.
It sounds basic but consider how much makeup you normally wear. If you turn up to a Christmas 'do with a full face and false lashes but a natural makeup look is normally more your thing, you might not feel so comfortable. Choose a look that you feel great in, not one that isn't 'you'.
Then, identify areas of your face you want to accentuate, whether it's lashes, lips, eyes or dewy makeup on the skin, then focus your attention on this area. Also, play to your strengths. Want to make your eyes pop? If you know how to apply eyeliner try a feline lick, if not little sparkle on the lids looks fabulous. Want your lips to look fuller? A matte pane nude lip might not be the best idea, but glossy lips and a berry-toned red will work wonders.
Finally, practise makes perfect. Don't attempt to master how to apply lashes five minutes before it's time to leave if it's your first time wearing them. There's nothing wrong with going with what you know, or if you want to try something new, give it a go beforehand so you know what works for you.
Christmas makeup inspiration—our favourite looks
Red lip Christmas makeup
A classic look for Christmas time, red lips can come in all sorts of shades and styles. Whether you go for a matte, liquid lip with blue undertones or a more subtle, glistening berry stain on the lips, there's something that will suit everyone.
---
Orange-red lip
This fiery lip look teamed with the tiniest slick of micro-thin black liner feels just right for Christmas. The orange undertone of the lippie feels more modern than classic red, as does laying off statement colours on the rest of her face.
---
Satin berry-red lip
A red lip is a festive look that will never go out of style. For a modern twist on this classic use a berry red shade. This deeper red can be a little more flattering than pillar box red and makes thin lips look much fuller.
---
Blotted brick-red lip
If you're going to a Christmas party with lots of eating and drinking, the easiest way to wear a red lip is in a blotted style just like this one created by makeup artist Monika Blunder. Apply your lipstick as normal but press a clean tissue over the lips to diffuse the pigment and your colour will last much longer.
---
Classic matte red lip
MAC Cosmetics show the effortless beauty of a perfectly executed red lipin the brand's iconic blue-red shade, Ruby Woo. The secret here is careful prep, exfoliate first then line the lips with precision and blot, blot, blot afterwards.
---
Low-key red lip
Beauty influencer Lesley (aka FreshLengths) is a master of pared-back makeup looks, and shows here how red doesn't have to be a bold statement. This brown-toned red is perfectly lined for a polished yet effortless finish.
---
Full-on, red and glossy lip
This red lip look by Bobbi Brown pro makeup artist Amy Conway is statement glamour in its truest form. Matched with lots of black mascara and glowy skin, it's the perfect festive option for any party!
Christmas eye makeup
A classic makeup look to master in time for Christmas has to be the smoky eye. Create it with classic brown shades, greys or black for a timeless look or go a bit more festive with a deep emerald green or purple.
---
Copper smoky eye
Caroline Barnes, makeup artist and Max Factor ambassador, has teamed a copper smokey eye with a classic nude lipstick and lashings of black mascara to create this soft, smokey look. If you have blue eyes this will work particularly well on you and really make your eyes pop.
---
Emerald smoky eye
Celebrity makeup artist, Lisa Eldridge, makes her brown eyes really stand out next to this smoked out emerald eyeshadow. This deep green shade means the focus is on the eyes so pair it with a nude-pink lip to keep it wearable.
---
Brown smoky eye
Celebrity makeup artist Jo Hamilton created this classic, brown smoky eye on Shirlie Kemp for a cover shoot and we can't get enough of this wearable look. Teamed with soft statement brows and a nude, glossy lip, this look defines the eyes and adds instant glamour to any outfit.
---
Winged-out grey shimmer
Smoky eyes look really Christmassy with a dab of glitter on the lids. This look created by Patsy O'Neil on Holly Willoughby includes a winged-out black liner, smoky grey transition shades and a little silver sparkle. A great look for those with blue eyes!
---
Rose gold smoky eye
We can always trust makeup artist Charlotte Tilbury to create glamorous christmas makeup. Here in her holiday campaign we see supermodel Jourdan Dunn in a flattering rose gold smoky eye with megawatt lashes and a red pout. More is more darling!
---
Natural Christmas makeup ideas
You don't have to go full-on with the glitter and red lips to look glamorous. A paired back approach is just as beautiful during the festive season. Here, we've found the most simple makeup looks featuring glowing skin and natural colours to effortlessly highlight your best features.
---
Natural finish
This simple look on model Caroline Labouchere is so easy to recreate. A satin finish foundation with concealer only where you need it, a peachy cream blush, a brow powder and some mascara are the only products needed to recreate this look at home.
---
Elegant beauty
Actress Rosamund Pike looks incredibly fresh with this less-is-more approach to makeup created by Amanda Grossman. We love that you can still see Rosamund's beautiful skin shining through but the baby-pink blush leaves her look incredibly youthful.
---
Subtle contour and highlight
Mega-influencer Patricia Bright shows that contour doesn't have to be full-on with this subtly defined and highlighted look. Use cream formulas rather than powder for effortless blending, and keep the rest of your makeup simple.
---
Defined eyes
A smudging of soft black around the eyes and flawless, glowing skin is always in style. This look on Jennifer Saunders, created by Naomi Donne, is ageless and very easy to do at home. We love it paired with some vampy black nails to give a bit of an edge.
---
Barely there
Blogger Julie AKA The Fiftyist proves that all you need is some black liner to accentuate the lash line and a neutral lip colour. We love this simple look as it exudes natural beauty.
Simple Christmas makeup ideas
When you're rushing out the door to a party or you've only got 5 minutes to go from desk to disco, take a look at these speedy Christmas makeup ideas for some inspiration.
---
Feline flick
An eyeliner flick is a classic beauty look that can really elevate your look but, give it a seasonal twist by using a vibrant colour, like this blue metallic shade as created by makeup artist Wayne Goss, to jazz things up. If you're worried about wobbles try propping your elbow on a surface and pulling your lid taut while you go.
---
Super-natural glow
Christmas makeup doesn't have to be statement to make in impact, as demonstrated here by Janise aka Mamainheels' gorgeous glowing look. The trick here is careful skin prep before you start - exfoliation, hydration and the best radiance boosting face primer should do the trick.
---
Peachy lips and cheeks
If you're not sure which colours suit you, peach is a great area for experimentation as it is universally flattering. Here Catherine matches creamy peach lips with blush and brushed up eyebrows for a soft, fresh and feminine look.
---
Raspberry kiss
Christmas day walk - but make it fabulous! Ageless style icon Linda Rodin shows how it's done here with beautiful raspberry lipstick, statement specs and lots of colourful faux fur.
Christmas makeup with glitter
It's that time of year when sparkly everything is absolutely OK and actually, we think it should be encouraged! These glitter-laden looks are surprisingly wearable and easy to recreate.
---
Golden girl
The queen of everything sparkle, Tess Daly, had her glitzy look created by Aimee Adams. We love the gold on the lids to go with her navy sequin ensemble.
---
Soft pink sheen
Using only Charlotte Tilbury products, this look on actress Maggie Gyllenhaal is elegant, easy to wear and full of pink hued glitter. We love the matching pink glossy lip.
---
Sapphire shimmer
Makeup artist Jo Strettell created this wonderful blue shimmery eye on Thandiwe Newton and it really makes her brown eyes stand out. Easy to recreate at home, just take a blue all over the lid and underneath the bottom lash line and blend it out with a fluffy brush.
---
Go green
Spice up a traditional gold shimmer with this modern take created by makeup artist Katie Jane Hughes. Add your gold to the bottom lid but take a dazzling green on the top for more festive fun.