21 Christmas makeup looks to try for the 2022 holiday season
Peruse these gorgeous Christmas makeup looks and get inspired for some festive season sparkle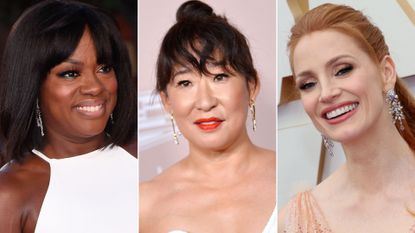 (Image credit: Future/Getty images)
The possibilities for Christmas makeup looks are almost endless, but the one thing they all have in common is a sense of joy. It doesn't matter if you prefer subtle makeup or want to go all-out with glitter and jewels; elevating your everyday look will help you embrace the party season in all its fun and frivolous glory.
Whether you've decided to treat yourself to one of this year's Christmas makeup gift sets or plan to count down the days with one of the best beauty advent calendars, the festive season is all about getting glam and celebrating – with a sprinkling of extra pizazz. So, which Christmas makeup looks will be big this year? "I see two key looks for Christmas 2022," says makeup artist Joy Adenuga. "Firstly, bold lips. With soft glam dominating this spring-summer, pops of color on the lip will be seen even more this Christmas. Secondly, expect sparkles on the face and body."
Bobbi Brown Pro Artist Hollie Ellis agrees, "Nothing screams Christmas more than sparkle. Gold and silver will help brighten your eye area and take the look to the next level." And for a lip look: "Red lips, matte or gloss, can elevate daytime makeup," says Ellis. "The best thing about throwing on a red lip is you can pair it with natural makeup and still feel dressed up." To get you in the mood before party season is well and truly upon us, we've curated our top Christmas makeup looks, from subtle radiance to the best red lipstick, and learning how to apply eyeshadow for looks that will dazzle your friends and family.
How to choose a Christmas makeup look
Think about your usual look. If you turn up to a Christmas 'do with a full face and false lashes, but a natural makeup look is normally more your thing, you might feel uncomfortable. Choose a look that you feel great in, not one that just isn't you. Of course, if you feel great with full glam on special occasions, as you were!
Identify an area to accentuate. Pick one area you want to 'pop', be it lips, eyes, or dewy makeup on the skin, then play to your strengths. If you know how to apply eyeliner well, try a feline flick or a bold smoky eye. If not, a little sparkle on the lids looks fabulous. Want your lips to look fuller? A matte berry hue can make lips appear smaller, but glossy lips and a creamy nude shade will work wonders.
Practice makes perfect. Don't attempt to master how to apply lashes five minutes before it's time to leave the house. There's nothing wrong with going with what you know, technique-wise, then ramping up the drama with a bolder shade than usual. Or if you do want to try something new, give it a go beforehand so you know what's realistic for your skill level and what suits you best.

Christmas makeup inspiration – our favourite looks
1. Sparkly copper eye
New Year's Eve gives it a run for its money, but there's really no better time for a sparkly eye than Christmas. Metallic tones are an excellent way to make a smokey eye all the more party appropriate, as seen here on Jessica Chastain in gorgeous copper. If you have blue eyes, this will really make the color pop.
2. Berry red lip
A red lip is a festive look that will never go out of style. For a modern twist on this classic idea, use a berry red shade like Davina McCall here. Deeper reds have a more wintry vibe and, if you pick one with more of a sheen finish it'll be more flattering than, say, classic matte scarlet – making fine lips look fuller.
3. Bejewelled smoky eye
"I'm obsessed with this stunning look on Jodie Turner-Smith done for the Met Gala this year," says Adenuga. "It's been on my inspiration board to recreate one day." To play to this year's Gilded Glamour theme, Smith's makeup artist Sheika Daley added jewels to the inner corner of the eye and brows. But if this isn't your thing you could of course skip this step and let the smoky eye and glossed lip do all the talking.
4. Sapphire shimmer
This wonderful blue shimmery eye is a perfect choice of eyeshadow for brown eyes and really makes Thandiwe Newton's eye color stand out. It's easy to recreate at home using a single bold shadow and a blending brush, just be careful to apply your makeup in the right order. "If you're going for a bold eye look, the risk of fallout is greater than normal," advises makeup artist Saffron Hughes from FalseEyelashes.co.uk. "Apply your face makeup after your eye makeup to decrease the chance of the dreaded 'raccoon eyes', where pigment has fallen underneath your eyes."
5. Emerald eye with nude lips
Viola Davis looks exquisite with this emerald eyeliner look paired with the best false eyelashes for a fluttery effect. This deep green shade means the focus is on the eyes, so pairing it with a nude lip keeps it wearable as well as letting this gorgeous color speak for itself. "Pulling off a bold color on the eye is usually about decluttering the details and avoiding the complicated shading," says MAC's head of artistry Terry Barber. "A block of one color teamed with a good coat of mascara is usually sufficient to add the drama without resorting to looking clownish."
6. Winged-out grey shimmer
Smoky eyes look really Christmassy with a dab of glitter on the lids. This look created by Patsy O'Neill on Holly Willoughby features a winged-out black liner, smoky grey transition shades, and a good dose of silver sparkle. This is a particularly great choice of eyeshadow for blue eyes or grey eyes!
7. Blotted lips and brushed up brows
If you're going to a Christmas party with lots of eating and drinking, the easiest way to wear a red lip is in a blotted style like this one created on Gal Gadot by makeup artist Monika Blunder. Apply your lipstick as normal but press a clean tissue over the lips to diffuse the pigment and the color will last much longer. Teamed with fluffy eyebrows and nude eyeshadow it's a modern spin on party lipstick.
8. Soft pink glamour
We can always trust makeup artist Charlotte Tilbury to create glamorous beauty combinations that lend themselves well to a Christmas makeup look. At the 2022 Oscars, actress Lily James paired muted pink eyes with the best pink lipstick for a natural look, perfectly complimenting the romantic feel of her gown. Thinking even more practically, sticking to one palette also takes the guesswork out of pairing colors.
9. Low key lip and dewy skin
There's no saying you have to have one bold feature for a winning look, as Jessica Alba perfectly demonstrates here. This glossy, brown-toned nude lip is paired with fresh-looking skin and an understated eye for a polished yet effortless finish. Want to achieve this highlighted skin without looking metallic? Hughes advises using a fan brush. "With their unique shape, fan brushes can lightly pick up powder highlighter and dust it along the tops of your cheekbones and bridge of your nose. If you are ever in a predicament where you have applied too much highlighter, don't panic. Simply go over the highlighter with a powder brush to knock down some of the shine."
10. Elegant beauty
Actor Rosamund Pike looks incredibly fresh with this less-is-more approach to party makeup. We love that you can still see her beautiful skin shining through the baby-pink blush. Feeling exposed by barely-there foundation? Use concealer for some clever contour action. "Extend your concealer underneath the eyes, so that it is in line with the end of your eyebrow to create a sculpted and lifted appearance to the face," advises Hughes. "If you apply a little concealer on the bridge of your nose, it can be used to highlight, while applying three vertical lines of concealer in the middle of your forehead can illuminate your face. Just remember to blend!"
11. Brown smoky eye
Another of Charlotte Tilbury's winning creations, this time on Penelope Cruz at the Oscars. Teamed with soft statement brows and a nude, glossy lip, this sultry brown eyeshadow look defines the eyes and adds instant glamour to any outfit, while the muted lip color has just the right amount of pink to bring the look together.
12. Orange-red lip
A classic Christmas makeup look, red lips come in all sorts of shades and styles. This orange-red lip look, teamed with flawless skin and simple black eye makeup on Sandra Oh, feels more modern than classic red, as does laying off statement bright colors on the rest of the face. "With pops of color being essential for new beauty, try a vivid orange as an alternative to a classic red lip," says Barber. "Wearing a shot of orange on an otherwise decluttered face will always ensure its chic, not garish."
13. Classic smoky eye
A smoky eye is one of those eyeshadow looks that adds just the right amount of drama for a special occasion. Classic smoky looks lend themselves well to brown, black, grey, and navy palettes while finishing with a metallic shade like Sarah Jessica Parker's look here is a surefire way to look Christmas party ready.
14. Classic matte red lip
Tracee Ellis Ross is showing us a perfect example of a matte red lip here. The secret to a bold shade like this is knowing how to apply lipstick with careful prep. Exfoliate first, then line the lips with precision and blot, blot, blot afterward. If you don't have a lip scrub to hand, follow Hughes' DIY recipe: "Simply mix one teaspoon of honey with two teaspoons of sugar, massaging the mixture onto your lips. Leave this on for five minutes before using a washcloth to gently remove the product from your lips."
15. Electric blue moment
Bridgerton star Nicola Coughlan made her eyes the standout of her makeup look at the BAFTAs. With such a statement shade, everything else can be pared back in terms of shade and finish - think a dewier, softer finish to the skin and an understated glossy lip with just a hint of coral.
16. Peachy lips and cheeks
If you're not sure which colors suit you best, peach is a great area for experimentation as it is considered to be universally flattering. Here, Nicole's peachy blush is the focal point, paired with a matching-toned lip for a soft, fresh, and feminine look. "From a sweet cherubic flush to an outdoorsy sweep across the nose, blush is most definitely back. Teamed with glowing skin and freckles, it's a new and fresh alternative to the power contour," says Barber.
17. Raspberry kiss
Raspberry ripple - but make it seriously fabulous! Actress Priyanka Chopra shows how it's done here with beautiful raspberry pink lipstick, a soft smoky eye, and statement jewelry. The trick here is matching the all-out glamour of this Christmas makeup look with a beautiful hair up style. More is more.
18. Soft pink sheen
It's that time of year when sparkly everything is not just okay, we think it should be encouraged! This sparkly look is surprisingly subtle and easy to recreate. Using all Charlotte Tilbury products, Maggie Gyllenhaal looks elegant and full of festivity, we'd recommend finding the best cream shadow with a sheer finish and applying it over eye primer to recreate the look. We love the matching pink glossy lip, too.
19. Toasty, fluttery eye
This gorgeously warm, sheered-out eye makeup look is just a notch or two bolder than your average nude, making it a perfect Christmas makeup look to try if you want something that's effortlessly chic. Apply it in light layers with a fluffy brush to ensure plenty of skin show-through and blend, blend blend. A relatively subtle pair of false eyelashes will set the look off nicely, but using the best lengthening mascara also works brilliantly.
20. Bejewelled eyes
Christmas is the perfect opportunity to play with color and textures, and there's really no better opportunity to step out with a glitzy eye. Contrasting bold hues, like this green-gold eye and pink lip on Margot Robbie, are a definite statement - and an all-black outfit will really make it pop.
21. Glazed port lips
Not the sort of port lips you spot in the mirror after the cheese course on Christmas day. This ultra-deep sheeny lip showcased by Salma Hayek is glamorous, fabulous, and ultra-modern. You will need to work with precision to attempt this at home. A steady hand, lip liner, and your matching lipstick will see you on your way to this winning look. Don't forget to check your teeth before you leave the house!
Lucy is a UK-based beauty journalist who has written for the likes of Marie Claire, Cosmopolitan, OK!, Women's Health and more, as well as contributing to woman&home. Her work covers everything from expert skin and haircare tips to the latest product launches and the show-stopping beauty looks spotted backstage at London Fashion Week. During her career she's interviewed some seriously famous faces, from Little Mix to Drag Race royalty The Vivienne, as well as chatting to the industry's leading hairdressers, dermatologists and make-up artists.