The best Mother's Day Gifts for every type of amazing mom out there
Our curation of the best Mother's Day gifts will help you find the perfect token of appreciation: one she'll cherish and won't return come Monday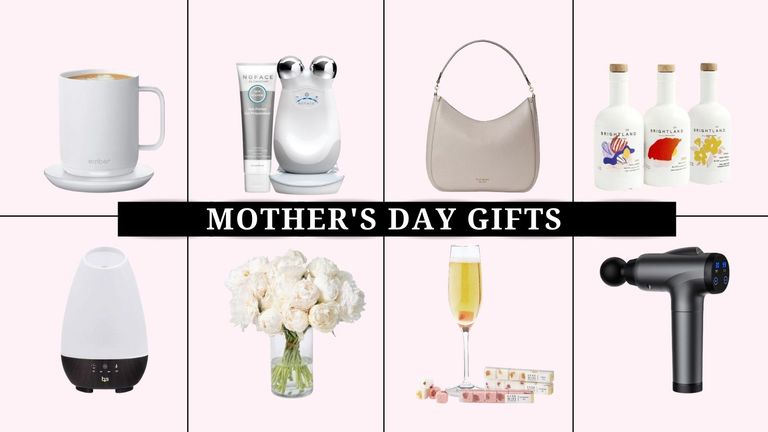 (Image credit: Future and Respective Brands)
With Mother's Day right around the corner, we've wasted no time rounding up the best Mother's Day gifts across categories, taking all niche interests, needs, and wants into consideration. Follow our lead, and you'll be the golden child in her eyes (even though she'll probably deny it to your siblings).
Finding the best Mother's Day gifts is tricky business, with many of us wondering: what do you buy for someone who has provided the world and then some? And though she'll say "I don't want anything this year, just some quality time," she's definitely expecting something, from the saccharine love letter to homemade crafts.
Luckily, we've rounded up the perfect ideas on best Mother's Day gifts, so you can rise to the occasion with confidence. There's a bevy of the best Mother's Day gifts for all tastes and budgets, whether your mom enjoys the finer things in life or simply needs a practical coffee cup. We promise she'll thank you now and always.
Don't forget to check our woman&home vouchers site before you shop for the latest offers and discounts from your favourite brands - think, John Lewis, Not On The High Street, Net-a-Porter, Hobbs and more.
Quick Links: Retailers with the best Mother's Day gifts
Retailers with the Best Mother's Day Gifts
To further help you on your shopping journey, we've also rounded up useful destinations with a variety of the best Mother's Day gifts to shop. From handmade delicacies to fine jewelry, you're guaranteed to find something that your mom will fancy.
The best Mother's Day gifts
Before you swipe the card on the best Mother's Day gifts, take a look at the National Retail Federation's annual Mother's Day survey, which underscores how shoppers are adapting their spending and gifting plans in response to the coronavirus pandemic. These findings are all the more valuable in finding the best Mother's Day gifts, especially as you navigate online retailers and draw inspiration from peers. The survey of 8,294 adult consumers was conducted between April 1-6 of 2021.
This year, consumers plan to splurge a bit more on gifts, approximately $8 more, for an average of $205 on Mother's Day gifts and celebrations. Research also indicates that categories like electronics, housewares, gardening tools, and books saw a significant boost this year, with greater emphasis on giving these items as gifts.
On the topic of gatherings, many consumers plan to organize virtual "Zoom" parties in an effort to follow social distancing guidelines, emboldening us to think outside the box. You'll want to adopt this trend in your gift-giving pursuits, too, considering Mother's Day has taken on greater meaning in the pandemic era. And lo and behold, the best Mother's Day gifts await you below.
Beauty
The beauty aisles house some of the best Mother's Day gifts, with solutions and innovations aplenty for their regimens. Whether she needs a styling tool or an airline-friendly skincare set, our roundup of the best Mother's Day gifts will captivate any beauty-obsessed birth-giver (even if she doesn't know how to apply concealer).
Revlon One-Step Hair Dryer And Volumizer Hot Air Brush
The best Mother's Day gifts should still remain valuable after the holiday itself. As one of the best hair dryer brushes, Revlon's One-Step Volumizer is backed by a viral stampede, nearly 100,000 positive reviews, and exceptional quality. Its oval shape leverages the qualities of a hair straightening paddle brush and round brush in one, and it glides through coarse and fine textures without getting stuck.

For greater control and volume, you'll want to place it close to the scalp and underneath the hair. This process will help replicate results you'd normally achieve at the salon with the best hair dryer. It also eliminates frizz and flyaways, creating smooth and silky locks in its path (though stubborn coils may need taming from one of best hair straighteners). As always, heat protection is imperative while styling because healthy hair is one of the best Mother's Day gifts to bring into the later seasons.

• Revlon One-Step Dryer and Volumizer available at Amazon for $41
Gucci Bloom Perfume
Transport mom to an aromatic Garden of Eden with the Gucci Bloom Eau de Parfum. Decorated in sleek and sophisticated packaging, this perfume blends notes of natural tuberose and jasmine to deliver a rich white floral scent, one that conceals stenches in its path. It may not be the perfume Princess Diana wore on her wedding day, but it certainly embodies elegancy and olfactory excellence. Unquestionably, it's one of the best Mother's Day gifts for moms with refined taste.
• Gucci Bloom Eau de Parfum available at Ulta Beauty from $76-$135
Rose Quartz Gua Sha
Sponsored
The benefits of gua sha run the gamut when it comes to anti-aging skincare. However, not all gua shas are created equally. Give mom a standout option, like this Rose Quartz iteration by The White Company: a hand-crafted facial massage tool designed to tone, firm, and stimulate the complexion. For better sculpting, you'll want to sweep this device across your face in specific motions; this will support lymph fluid circulation and add just enough pressure for lifting and toning your facial muscles.
• Rose Quartz Gua Sha available at The White Company for $29
NuFACE Trinity Facial Toning Device
Midlife crisis looming? Give her the fountain of youth, also known as the NuFace Trinity Facial Toning Device that's designed to sculpt, tone, and rejuvenate the face. Fueled by interchangeable attachments, this gadget delivers a cutting-edge, at-home microcurrent treatment for facial stimulation. Mom, in turn, will enjoy a remedy that'll combat her sagging skin, loss of contour, and wrinkles. In short, it's one of the best Mother's Day gifts that pampers and excels in performance.
• NuFace Trinity Facial Toning Device available at Ulta for $325
Lancer Gentle Exfoliating Peel Pads
In the world of DIY skincare, Lancer's Gentle Exfoliating Peel Pads replicate professional-grade results from home. Made of biodegradable bamboo, these acid peel pads are gentle and soft on the complexion: a far cry from the general irritation, burning, and itching produced by similar options. Instead, they resurface, brighten, and revive dull skin—presenting mom with an enviable glow. Each pad features a nourishing ingredient blend, which promotes cell turnover, sloughs build-up, and quenches the skin's moisture barrier.
• Lancer Skincare Gentle Exfoliating Peel Pads available at Lancer Skincare for $75
Fashion
Fashion takes the helm in the stratosphere of best Mother's Day gifts, with a plethora of timeless and trendy pieces for mom's day-to-day routine. More importantly, these best Mother's Day gifts will help mom look and feel her best.
Thatch Family Monogram Necklace
When it comes to the best Mother's Day gifts, you can never go wrong with a stunning piece of jewelry. Treat your mom to the delicate Thatch Family Monogram Necklace, which is emblazoned with "mama" or "grandma" text depending on the iteration you select. This classic necklace is handcrafted with 14K gold-plated metal, and can be layered or worn alone.
• Thatch Family Monogram Necklace available at Anthropologie for $148
The Little Dictionary Of Fashion
For the dedicated fashionista and designer maven, this handbook by Christian Dior features 128 pages of fashion expertise, uncovering secrets, tips, and hacks on grooming, simplicity, and refined taste. Detailed with photographs and illustrations, Dior's style bible will equip mom with the knowledge to elevate her wardrobe. Amid the wavering fashion ecosystem, The Little Dictionary of Fashion will always remain in vogue, and serve as one of the best Mother's Day gifts for helping mom navigate the shopping scene.
• The Little Dictionary Of Fashion available at Shopbop for $20
Kate Spade New York Large Leather Hobo
Moms are notorious for carrying hefty bags with bottomless pits for their belongings, all of which often disappear in the shuffle. The classic Kate Spade Leather Hobo resolves this issue tenfold with a sleek yet spacious design. It comes with multiple pockets: an interior zip, interior snap, and exterior zip; and features fabric lining, leather, and an adjustable, removable shoulder strap. Its muted colors pair nicely with casual and elevated looks (and yes, that includes her favorite mom jeans outfits).
• Kate Spade New York Large Leather Hobo available at Bloomingdales for $298
Saint Laurent Uptown Textured Leather Wallet
Before you gasp at the price tag, hear us out: how often does your mom replace her wallet? We're assuming too many times to count. On the contrary, the Saint Laurent Uptown Textured Leather Wallet is a timeless, enduring option that goes with everything. Designed with authentic leather, this luxe accessory features the iconic 'YSL' logo plaque, plenty of card slots for storage, a front pouch, and a secure zipped compartment. The best Mother's Day gifts are worth the splurge.
• Saint Laurent Uptown Textured Leather Wallet available at Net-A-Porter for $725
Kurt Geiger CHELSEA RAFFIA TOTE
Sponsored
The Chelsea Raffia Tote is a match made in heaven for the moms who love bold statements. Available in two styles, this tote integrates vibrant and unique design elements she'll love: rainbow paper raffia to create structure; gold hardware chains; and the brand's vintage-aesthetic eagle charm set on pebbled leather detailing. Beyond the bag, Kurt Geiger upholds social responsibility, aiming to "inspire, unite, and to look towards a world which celebrates kindness, inclusivity, and freedom."
• Kurt Geiger Chelsea Raffia Tote available at Kurt Geiger for $145
Kurt Geiger MINI KENSINGTON BAG HANDLE
Sponsored
Available in black, pink, and blue colors, the Mini Kensington Bag serves as an elevated and versatile companion for moms on-the-go. From a design standpoint, this bag certainly exceeds in quality. It is meticulously crafted in leather, incorporates quilting throughout, and touts a convenient foldover construction. As always, you'll find the brand's signature eagle-head embellishment at the closure.
• Kurt Geiger Mini Kensington Bag Handle available at Kurt Geiger for $195
Home and Kitchen
For the mom who prioritizes her humble home and kitchen, our list of best Mother's Day gifts features a diverse assortment of finds to spruce up her collection, and add some much-needed convenience to her routine. The best Mother's Day gifts don't have to be gimmicky.
Fluffy Sleep Eye Mask
Sponsored
Count sheep in luxury with The White Company's Fluffy Eye Slap Mask, carefully curated for a more comfortable night's sleep. Available in pale pink and pale gray, this furry splendor features a velvet-soft faux-fur outer, satin lining, and an elasticated strap to be adjusting to your liking. Plus, cleaning and maintenance are simple — just hand wash with warm water and dish soap and let your mask air dry.
• Fluffy Sleep Eye Mask available at The White Company for $22
Diptyque Roses Candle
A candle is the most beloved spa remedy, even among goop-esque and crunchy-granola solutions, bath-salt curations, and exorbitant treatments. Reinvigorate her senses with Diptyque's best-selling Roses Candle, infused with floral notes and scents. Compared to cheaper options, this candle emits a long-lasting aroma that conceals the most stubborn of lingering odors.
• Diptyque Roses Candle available at Nordstrom for $38–$68
Brightland The Artist Capsule
From the brand pioneering in conscious craftmanship, The Artist Capsule features three antioxidant-rich delicacies that'll tantalize her taste buds. Packed with Brightland's heirloom Frantoio olives, the trio includes: Lucid, a lemon olive oil with a bit of tang; Ardor, a spicy chili olive oil with a blend of red chili peppers, jalapeno peppers, chipotle peppers, and paprika; and Arise, a basil olive oil. Each seamlessly pairs with a variety of cuisines, giving her creative freedom to concoct whatever her heart desires. It's arguably one of the many leading kitchen essentials that she needs ASAP; and one of the best Mother's Day gifts on the market.
• Brightland The Artist Capsule available at Brightland for $115
Temperature Control Smart Mug 2
Mom's daily Starbucks runs can be stressful, not to mention a financial burden. Luckily, her best coffee can be made at home, and she doesn't even know it — courtesy of Ember's Temperature Control Smart Mug. Fueled by a durable battery, this innovative cup allows for smartphone control: Just connect it to the Ember App, and you'll be able to set the temperature (between 120°F - 145°F), customize presets, receive notifications, and more. It's designed to keep drinks hot and toasty for up to 1.5 hours on a single charge, or all day with the brand's charging coaster. Best of all, it includes auto-sleep and dishwasher-safe ceramic coating. Unquestionably, it's one of the best travel coffee mugs worth backing, and a testament to how the best Mother's Day gifts can bring joy and convenience.
• Ember Temperature Control Smart Mug available at Amazon for $99.95
HealthSmart Essential Oil Diffuser and Cool Mist Humidifier
A sleek diffuser-humidifier hybrid, which will help her count sheep in peace (as you're making a ruckus in the next room over). As one of the best Mother's Day gifts, the device produces a microscopic, soothing mist in four-time intervals (1 hour, 3 hours, 6 hours, or continuous on), granting her control over her aromatherapy experience. From there, she can choose between two mist modes, plus seven easy-to-control light moods. It also includes an AC adapter, 6ft power cord, and a user manual. The essential oils are sold separately.
For an even better night's sleep, shop wisely for one of the best pillows for neck pain. She'll appreciate your generosity and step up her snooze game.
• HealthSmart Essential Oil Diffuser and Cool Mist Humidifier available at Amazon for $37
Minute Mimosa Sugar Cube Trio
No chardonnay? No problem: arm her with the Minute Mimosa Sugar Cube Trio, and she'll float into the party with instant mimosas and bellinis in tow. By design, you'll want to drop one cube into your glass. It'll then dissolve with bubbles, color, and fruit pieces floating to the top. You can choose the Peaches & Berries Trio, which includes peach, strawberry, and raspberry flavors, or the Citrus Trio, featuring arcadia orange, grapefruit, and lemon flavors. Conclusively, the best Mother's Day gifts should help mom become the belle of the ball and the dame of entertainment.
• Minute Mimosa Sugar Cube Trio available at UncommonGoods for $30
Urban Stems Double The Pearl
If you're in a pinch, know that moms love their flowers all year round — after all, they're reputed as the best Mother's Day gifts. Bestow her with the Pearl bouquet, which features lush white peonies with a delicate pink center. Part of the brand's Spring Collection, these flowers arrive in compact, bulb-like form and slowly but surely blossom over time. You can choose two sizes: a 10-stem Single or a 20-stem Double.
• Urban Stems Double The Pearl available at Urban Stems for $145 (Vase Sold Separately)
Shiatsu Heated Back and Neck Massage Pillow
The Shiatsu Back and Neck Massager is a subtle, non-brazen hint to your mom-in-law who needs a chill pill (read: we know you care about her immensely). With an innovative design, this massager leverages multidimensional deep-kneading to soothe tight muscles. It's ergonomic and compact for placing behind the neck and body's natural contours; plus, it features a simple on-off button: one that's boomer-approved and hassle-free. This case proves that the best Mother's Day gifts are just as useful for the giver.
• Shiatsu Back and Neck Massage Pillow With Heat available at Amazon for $49.95
Fitness
Optimal health is one of the best Mother's Day gifts that cannot be beat. Get her started on her fitness journey with finds from our best Mother's Day gifts in fitness section. These buys will help her attain her wildest goals with more effective workouts set in place.
Salomon Supercross Blast GTX W Running Shoes
Among the best Mother's Day gifts, this iteration by Salomon is one of the best running shoes for your mom's fitness arsenal. They're incredibly lightweight and breathable with a strong grip, enabling runners to maintain balance over uneven terrains. She'll enjoy reliable arch support, while her ankles will stay cushioned and secure during workouts. It also features the brand's Gore-Tex technology, making this pair 100% waterproof no matter the circumstances. Available in sizes 5-12 and three colors: black, green, and pink.
• Salomon Supercross Blast GTX available at Amazon for $110
See our full Salomon Supercross Blast GTX review
Fit Bit Charge 4
The Fit Bit Charge 4 is designed to boost your health and emotional wellbeing, making an effortless companion to mom's lifestyle. The gadget boasts all the frills and perks: a waterproof design, heart-rate monitor built-in GPS, and the ability to track sleep patterns. Mom can even monitor her menstrual cycle, book a meditation session, and even participate in the ever-growing Fitbit community for at-home workouts. More notably, it's easy to use with simple swipes, which is especially great for moms who frequently rely on their children as tech support. Needless to say, its reputation as one of the best Mother's Day gifts didn't come out of thin area.
• Fit Bit Charge 4 available at Walmart for $149
See our full FitBit Charge 4 review
Deep Tissue Massage Gun
Whether she's an avid runner, a Peloton champion, or bound to an office chair, this portable massage gun will alleviate her muscle aches and knots. Powered by a rechargeable battery, this gun does more than just offer pain relief: It regulates muscles, stimulates blood and lymphatic circulation, releases lactic acid, and accelerates post-workout recovery. In other words, a fitness guru's most dependable companion, and one of the best Mother's Day gifts that's both affordable and functional.
• Deep Tissue Machine Gun available at Amazon for $60
Running Buddy Pouch
If you're in a pickle of what to buy mom, give her the gift of dependability made possible by Running Buddy Pouch, the ideal companion for all jaunts and jogs. Designed with lightweight, water-resistant fabric, this pouch features the essentials for storage and travel: a side-zipper headphone port, tons of inner pockets, and magnetic tech that prevents items from bouncing around. Mom can hold everything and then some, from tickets and keys to her handy passport and mobile device. No chafing involved, too, which may be one of the best Mother's Day gifts of all.
• Running Buddy XXL Buddy Pouch available at Target for $26
Tech
Gadgets make for the best Mother's Day gifts, whether she's Steve Jobs 2.0 or computer illiterate. The latest innovations are ergonomic, intuitive, and incredibly easy to use for better days ahead. With our best Mother's Day gifts in tech, she'll have Bill Gates quaking in his boots (okay, probably not, but a child can dream).
Tile Mate
Without fail, mom will lose something at some point during her day-to-day routine, and it'll inevitably unleash chaos on the entire family. Make her life easier with the Tile Mate, an all-purpose tracker she can attach onto keys, backpacks, and everyday items that often fall through the cracks. Once attached, she can regularly monitor her belongings through the free Tile app; and when they go missing, she can tap "Find" to see their location. Convenience and practicality are the best Mother's Day gifts to date.
Note: Tile requires users to install the App on iOS or Android, register for an account, and accept Tile's Privacy Policy and Terms of Service (available at Tile.com).
• Tile Mate available at Best Buy for $24.99
SOI Smart Handbag Light & Charger
If she's always rummaging through her bags, lend her a helping hand with the SOI Smart Handbag Light and Charger, a gadget hailed for its practical function and convenience. When this portable light senses motion, it instantly turns on; and automatically switches off to preserve battery life. As one of the more savvy best Mother's Day gifts, it comes with lightning ends, a durable charging cord with micro-USB, and an integrated 2000 mAh battery.

• SOI Smart Handbag Light + Charger available at The Grommet for $34.95
Mikucare Smart Baby Monitor with Breathing and Movement
The best Mother's Day gifts should help mom in overseeing the household, starting with her kiddos. Naturally, new mothers will appreciate the intuitive Miku Smart Baby Monitor, designed to track your baby's breathing, sound, motion, room temperature, and humidity without wires or wearables. Pair it with your smartphone, and you'll be notified of any changes to your baby's vitals and nursery conditions. Thanks to 2-step authentication, you're the only one with complete control. It's that simple.
For monitoring sleep, Miku aggregates analytics that summarize your little one's habits, unveiling precise information, patterns, and insights so you can craft the most ideal environment.
This monitor also includes night vision, premium optics, HD storage, and dual Ole Wolff speakers, which can play soothing music and lullabies.
• Mikucare Smart Baby Monitor available at Mikucare for $399
Personalized
The best Mother's Day gifts are both practical and effective at conveying your appreciation. Enter: customized gift options, which up the ante in saying "thank you" to the woman who does it all. Though costly, these best Mother's Day gifts will be cherished and used time and time again. Hell, they may make mom forget that you forgot to do the dishes for the third night in a row.
Personalized Compact Swivel Cheese Board
As one of the best Mother's Day gifts for the warm seasons, this compact swivel cheese board is a cottagecore-picnic fantasy, enabling you to serve in style. Crafted with bamboo, this must-have set comes in a triangular shape, but then expands into a tiered server that's easy to assemble. It comes with a stainless steel cheese form, two knives, and a drawer at the bottom tier for utensils.
• Personalized Compact Swivel Cheese Board available at Uncommon Goods for $80
Personalized To My Lesbian Moms Coffee Mug
For the mom duo in your life, this durable ceramic mug is a heartfelt nod and love note. It'll become their new go-to staple, considering it includes a glossy finish, thoughtful details, and enough space for coffee and tea galore. Each mug is custom-designed, takes 4-8 business days to produce, and arrives in careful packaging right at your doorstep. You can choose between two sizes (11oz and 15oz), and it's dishwasher and microwave safe.
• Personalized To My Lesbian Moms Coffee Mug available at Etsy for $13+
Love Letter Blanket
Created by FrankiePrintCo, an Etsy storefront, this Love Letter blanket is a touching keepsake that can be passed down to succeeding generations. Each one is handmade and crafted from quality cotton, meaning it won't wear with continued wash and use.
During the customization process, you'll be prompted to choose your blanket's size and a writing option, either handwriting font or custom handwriting. You'll then be redirected to follow more instructions depending on what you choose. Who knew comfort could be so sentimental? Among the best mother's Day gifts, this one is in a league of its own.
• Love Letter Blanket available at Etsy for $135.15+
Food
The best Mother's Day gifts are culinary masterpieces that'll satisfy mom's cravings. As cuisine gurus and champion eaters ourselves, we've compiled our top food picks she'll rely on during good and bad days. Or, simply when she needs something delicious to nimble on.
Baked By Melissa You're Doing Great Cupcakes
When it comes to edible gifts, Baked By Melissa reigns supreme at crafting delectable, bite-sized treats. The "You're Doing Great" cupcake pack offers simple yet powerful words of encouragement. This best-selling assortment includes peanut butter, cookies and cream, red velvet, triple chocolate fudge, and more options to satisfy her dessert hankering.
• You're Doing Great Cupcakes available at Baked By Melissa for $32-$120
A Dozen Bagel Flowers
The Bagel Nook isn't a standard Ma and Pa shop; they invent uniquely flavored bagels and spreads to bring an otherworldly gustatory experience. Now, you can score a dozen flower-shaped bagels from the iconic New Jersey storefront, thanks to Goldbelly: a curated online marketplace for regional and artisanal foods. Each doughy-delight is individually wrapped and features a sweet candy center. Bon appétit.
• Bagel Flowers Dozen available at Goldbelly for $65
Last Minute
Contrary to popular belief, the best Mother's gifts can be purchased the day of at a moment's notice. And the options available certainly have merit in their own right. For those who need last minute finds, our best Mother's gifts curation is designed to cover all the bases.
Winc Subscription Digital Gift Card
Forgetting Mother's Day happens to the best of us. Nonetheless, you can still come out on top — thanks to Winc's Wine Gift Card with email delivery. For the mom who adores wine exploration and discovery, Winc is a direct-to-consumer winery that delivers tailored wines (starting at $13 per bottle) right to your doorstep. A gift card is always a safe option, especially if you're unsure of committing to a full membership. All in all, it's the best "I Forgot That Mother's Day Is Two Days Away" solution, hands down.
• Winc Wine Gift Card (Email Delivery) available at Target for $60-$200
Poo-Pourri Before-You-go Toilet Spray
Foul odors and stenches are no match against Poo-Pourri's Before-You-Go Toilet Spray, which is available in 15 unique scents. The bathroom must-have is simple to use — just spritz the bowl before you go. Its deodorizing formula harnesses the power of essential oils and natural compounds. And mom won't have to worry about harsh chemicals, aerosol, parabens, phthalates, or formaldehyde. It also makes for a practical party favor for any soiree and Oscars party. 10/10 recommend.
• Poo-Pourri Before-You-Go Toilet Spray available at Amazon for $5
Dominique (Dom) is a very online shopping writer at Woman & Home, where she covers products, sales/deals, and market news across categories. Before joining the team, she penned stories as an editorial fellow at Insider Reviews, the affiliate commerce team at Insider Inc./Business Insider. The bespectacled NJ transplant specializes in commerce journalism, women's lifestyle content, and hoarding makeup—much to her mother's dismay.
Her foray into storytelling began in the early aughts, the era in which she developed a passion for fiction writing and an aversion to math. This passion, along with many failed math exams, led her to Marist College, where she studied public relations, creative advertising, and English.
Aside from writing, she doodles in notebooks, crafts memes, and sleuths for homes out of her tax bracket on Zillow. Follow her adventures via the web:
Instagram: @dominiquemcintee / @drugstoredomi
LinkedIn: https://www.linkedin.com/in/dominique-mcintee-3a32ab9a/
To connect: dominique.mcintee@futurenet.com