Best bob hairstyles for women: from short to long lobs and curls
Get inspired for your next salon visit with the best bob hairstyles for every hair type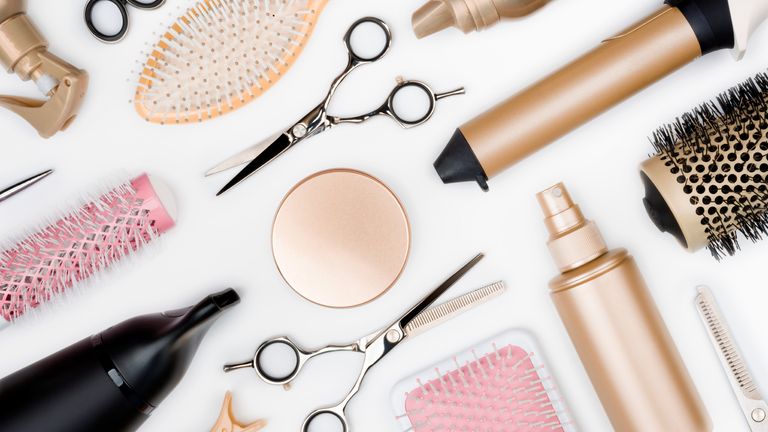 (Image credit: Getty Images)
There are so many options when it comes to bob hairstyles for women, but they all have one thing in common: versatility. This not-too-short and not too long cut is the Goldilocks of hairstyles so it's no surprise that it's so enduringly popular. 
Trends come and go but the key to most bob hairstyles is to ensure your look isn't too coiffed or overdone. This is easily achieved with a combination of a great cut and clever styling using the best hair dryer. A fringe is optional as are layers, a blunt finish or soft graduation of length. Whatever you prefer, there's a bob out there that will satisfy your hair desires. 
"The bob is a no brainer," says Stevie Holland, Senior Stylist at SALON64. "Not only is it still a hugely popular haircut but is also set to be this year's hottest trend. 
"Blunt, square bobs are hugely popular being a customisable cut that can work with most hair textures. Not to mention cool Netflix series The Queen's Gambit turning '60s bobs on their heads ready for today's trendsetter."
Intrigued? Here's everything you need to know about bob hairstyles for every length and face shape.
Will I suit a bob hairstyle?
The short answer to this question is yes. Much like medium hairstyles and short hairstyles, bobs can look good on everyone with the right cut.
"The bob is so versatile," says Caroline Sanderson from Ego Hair Design, Inverness. "You can wear it with or without a fringe and it can be adapted to pretty much every single face shape."
"Face shape, features, neck & height are all massive factors to assess when cutting a bob," agrees Stevie. "Oval face shapes are the most universal for bobs. You can do anything from blunt to short or long, and it can be done on most hair types with layers, bangs, curls or straight sleek shiny hair."
"The most important part of any choosing any style is taking into consideration face shape," explains Zoë Irwin, Creative Director at John Frieda Salons. "If you have a round face, then something lighter and layered is more flattering. If you have a longer face, long layers work well to lift and they work well with a fringe."
Sanderson adds, "On a rounder face you can wear it longer to elongate the face. The bob can be cut to emphasise or soften a square jaw. It's timeless and spans all generations."
Will bob hairstyles for fine hair make it look thicker?
With the right cut, absolutely. "A bob with a strong, heavy line is a great way to give the illusion of bulk," says Adam Reed, Editorial Ambassador for L'Oréal Professional and owner of Adam Reed Salon London. "The best cut to make hair look thicker will maintain weight at the ends as much as possible – think a strong, blunt Alexa Chung bob."
Siobhan Jones, Headmasters Color Ambassador for L'Oréal Professionnel agrees that a bob can work wonders at making hair appear fuller. "The new French girl bob is ideal for giving the illusion of fullness on short to long length bobs. The edges are cut blunt, which then gives the impression of bulk and defines the outline of the haircut. This makes the hair appear more full and weighty."
What about curly bob hairstyles? Do bobs work on textured hair?
"A curly bob and a textured bob is the dream!" says Ava Holland, Artistic Director at Gielly Green Salon. "I personally love a short jawline curly bob, it looks really cool and doesn't take long to dry. Curly hair is going to be big in 2021 and I think whatever length people have they will want it to be styled curly"
"With curly hair, I love a bang with a textured bob and normally a little bit of graduation to elevate the curls works well,' says Stevie. "You need to take into consideration that your hair will spring up into its curls once cut. So less is more."
'Heavier French bobs with a very long layer at the ends can also look really good," Zoë adds.
What are the different types of bobs?
Bob hairstyles are very versatile and varied. From the 'lob', aka long bob, which has been especially popular in recent years, to the blunt bob that's currently on trend, there really is something for everyone. 
"There is a bob for every face, Ava confirms. "When I help clients choose a bob, you need to look how low the hair line goes on your neck, as that has an impact on a bob length.
"I think about what the hair type is. Can I achieve the look they want on a daily basis? Would it suit your lifestyle? Do you need to be able to tie it up? That will then determine what length bob you go for as well." 
Types of bob include:
Layered bob
Long bob (lob)
Graduated bob
Inverted bob
Stacked bob
French bob
Textured bob
Shoulder-length bob
Blunt bob
Blended bob
Heavy bob
Of course, you don't need to know the technical names of all the different types of bobs to pick which cut is right for you. Simply look through our selection of the best bob hairstyles below, choose your favorite, then take it to your hairdresser and they will be able to advise on the style and how to tailor it to you.
Best bob hairstyles for women
Looking for bob hairstyles as inspiration for your next cut? Take these pics to the salon next time you visit to inspire a stylish, shorter 'do.
Rochelle Humes
Rochelle likes to mix up her hairstyle - and we're yet to see one she can't pull off - but we're particularly fond of this cool curly bob. By embracing her natural texture Rochelle's bob has beautiful bounce and volume, with clever hidden layers to help with shaping around her face. 
Thandie Newton
Cool and classy is a tricky balance to strike, but actor Thandie has this on-trend asymmetric bob in her signature sophisticated style down. The shorter side is cut bluntly and hits just above the shoulder, while a side parting accentuates the shiny, sleek longer side.  
Donatella Versace
Like or loathe her signature style, there is no denying that Donatella has nailed the perfect swingy blonde bob. This flattering longer cut grazes the shoulders and is styled in loose waves for extra glamour. Use a tapered wand and curl away from the face for a similarly flattering style. 
Lorraine Kelly
Lorraine Kelly has been championing shorter hair for decades. Her signature style is the perfect cut to keep fine hair looking thick and healthy. 
Award-winning hairdresser Lee Stafford says, "Textured waves are the style trend to go for if you have hair that needs some oomph and shape putting back in, and Lorraine has nailed it. Her hair has movement and body, which is really flattering on her face."
Saira Khan
Former Loose Woman Saira Khan has worn her hair in a flattering shoulder-grazing bob for years, styling it in a mixture of ways. This glamorous look can be achieved by drying hair into a deep side parting then tonging with a small barrel tong, beginning just above the ears. Once curled, rake through with fingers to make it a little more lived-in and set with hairspray.
Holly Willoughby
Holly Willoughby's slightly longer blunt bob is a great transitional style for anyone who wants to take their hair a little shorter without cutting it all off at once. The soft waves keep it feminine and her signature blonde is fresh and modern.  You'll need regular trims to maintain those chopped blunt ends, but otherwise this is a fairly low-maintenance style. 
Michelle Obama
The former First Lady's above the shoulder chop with a youthful centre parting and blunt ends is a modern cut that accentuates her high cheekbones. Hair guru Phil Smith says, "Long, thick hair can look heavy whereas shortening the length creates space and lightness which is more flattering." 
Jennifer Lopez
JLo's hairstyle is the dictionary definition of power bob. Poker straight and highlighted to perfection, this bob hairstyle complete with a centre part and is slightly asymmetric to boot.
Naomi Watts
Aussie actor Naomi's short bob really accentuates her beautiful bone structure, makes her fine hair look thicker and radiates confidence. If you fancy a chop like this one, your hairdresser can advise on the most flattering length for your face shape – this one hits right at the jaw for a swingy vintage-inspired look. 
Sandra Oh
The Killing Eve star makes the most of her natural curls by wearing them in a bouncy long bob with a flattering fringe. "Curly short hair with bangs was seen on the catwalks and after isolating people will be ready for the big chop," says Wendy Iles of Iles Formula Haircare. "Letting heavy, gorgeous, natural-looking hair fall like a curtain is luxurious. The key is to nurture the hair, so we can officially say goodbye to over-styled and over tonged locks."
Catherine Duchess of Cambridge
The Duchess of Cambridge's bob had everyone talking when she first stepped out with the hairstyle at Wimbledon. Chicly cut and expertly styled into soft, face framing waves, it's no surprise that many were quick to copy Catherine's iconic look.
Hairstylist to the stars Paul Edmonds explains why Kate Middleton's hair is such a stylish, yet practical, cut for so many, "A short choppy haircut is great for finer hair types. The front can be worn relaxed and loose or, to open the face and glam up for the evening, swept back.
Kate Mara
Complete with a side parting, actress Kate Mara is the perfect example of how to style a wavy, just-past-the-chin-length bob. Grab your curling wand and curl away from the face, leave to cool and then brush through before finishing with a little hairspray.
Gugu Mbatha Raw 
British actor Gugu channels old-Hollywood glamour with this side swept style. The medium bob length hits between her jaw and shoulders perfectly displaying her beautiful curls.  
When picking a flattering bob for curls and texture, hairstylist and founder of A Stylist's Secret Paul Bryan says, "depending on thickness and curl definition I would always start with a one length, feel then take weight out from there. The other extreme would be to over-layer for a more fun, scrunched look." 
Victoria Beckham
Victoria caused a sensation when she ditched her long extensions for a chic, shoulder-length bob. No wonder, because this tousled style is seriously flattering.
Hair guru Phil Smith says, "The loose curls compliment her bone structure while the slightly longer bob length draws attention to her décolletage. Adding a wave or curl to a bob automatically softens the look, making it more lived in and casual. Shiny hair will help achieve the expensive appearance that Victoria is known for."
Viola Davis
US actor Viola Davis shiny, volumised bob is just oozes class here. Try blow drying with a large round brush, curving the ends in at the bottom and towards the nape of your neck for similar timeless sophistication. Don't forget your shine spray!
Nicole Scherzinger 
Nicole perfectly demonstrates how modern a bob can be with this super sleek, blunt and centre-parted style. The ends need to be in tip-top condition to pull off this swingy do so regular trims are a must – we're talking every six to eight weeks here. After blow drying and straightening, try misting hairspray onto a dressing brush and running over the hair to smooth down any flyaways. 
Reese Witherspoon
Reese Witherspoon, 44, first credited celebrity hairstylist Lona Vigi for her "summer cut" when she went for the chop, swapping her signature long blonde locks for a style that was shorter and chicer. Talking about styling Reese's hair, Lona said: "We talked about keeping Reese's hair feminine and strong yet still soft." Clearly, they nailed the brief!
Ruth Wilson
Anna Wintour
The Vogue editor has worn her hair in this classic style for as long as we can remember. Never wavering from her glossy blow-dry, blunt fringe and jaw-length style, Anna knows what works for her and sticks to it. Phil Smith said, "Anna Wintour's bob is iconic – an extension of her personality and style. Her hair is thick and the cut sharp which creates a structural quality to the look which frames her face perfectly, always skimming her chin and jawline. Blow-dry using a wide barrel brush to create the curve and sleek finish."
Jane Fonda
Jane Fonda is the ultimate bob-wearer, having rocked some variation on the hairstyle for most of her career. Not only are bobs flattering at every age, you can style it just about any which way you want – with vintage waves, as seen here, straight or even slicked back. It's super versatile and easy to maintain too.
Rosamund Pike
Rosamund Pike's lightly tousled lob is the epitome of the sort of 'undone' hairdo stylists and real women love. Her style in I Care a Lot however is a much more square, blunt edged affair.
Phil Smith says,"Rosamund Pike has a strong, classic look that can carry a range of different cuts. Her asymmetrical bob is modern but feels classic paired with her style and timeless beauty. With this style, regular appointments with your hairdresser are imperative to keep on top of the length so this cut looks its best."
How to style bob hairstyles - the best hair products
Keep your bob looking thick and swingy with Adam Reed's blow dry tip. "It's an old one but a true failsafe; if you blow-dry hair upside down it helps to add root lift. Apply mousse when damp and comb through from root to end. The comb helps to evenly distribute and really spread the products perfectly through the hair and enhancing the lift to give the illusion of thicker hair."
Dionne Smith recommends "Using a little sea salt spray for beachy and tousled texture."
L'Oréal Professional Tecni.ART Volume Envy Mousse, $26, Hair.com (UK £10.80, Lookfantastic)View Deal
Shrub Sea Salt Spray, $11.20/£10, Beauty BayView Deal
Bumble and Bumble Pret a Powder, $28, Sephora (UK £23, Beauty Bay)View Deal
And if you don't have tie have time for a blow dry or heated rollers, the new breed of volumizing powders give lift in a flash, and are teeny-tiny enough to be taken everywhere. Just tap a sprinkling into fingertips, and massage into roots.
And voilà! Consider your crash course in bob hairstyles complete.