The 30 best Christmas gifts for dads who have everything
Browse our guide of thoughtful, unique Christmas gifts for dads this year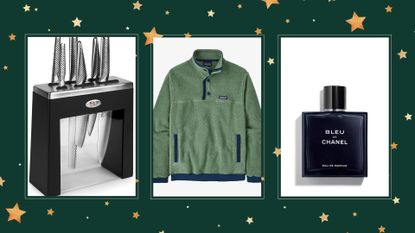 (Image credit: Future/Canva)
Finding the best Christmas gifts for dads is no easy feat. Our handy guide, featuring gifts that he'll actually use and appreciate, is here to help.
Most dads seem pretty easy to please; however, shopping for them is near-impossible - they seem to have everything they want already, or claim that they don't need anything for Christmas.
That's where we, the shopping experts, come in. We've put together a comprehensive list of Christmas gifts for men that includes ideas for every type of dad, whether they're sporty, outdoorsy, a foodie, techie, or into fashion and grooming.
The best Christmas gifts for dads to buy in 2022
Browse our guide of the best Christmas gifts for those hard-to-buy-for dads, to find something truly unique and special that he'll love this festive season.
Where to find the best Christmas gifts for dads in the US
Our pick of the best Christmas gifts for dads in the US
---
---
---
---
---
---
---
---
---
---
---
---
---
---
---
Where to find the best Christmas gifts for dads in the UK
Our pick of the best Christmas gifts for dads in the UK
---
---
---
---
---
---
---
---
---
---
---
---
---
---
---
How to choose great gifts for dads at Christmas - according to the experts
1. Don't shy away from fashion and accessories
Some dads are, by their own admission, not incredibly stylish. Maybe shopping for clothing and accessories is a daunting prospect to them, or their job/hobbies require a sartorial practicality which causes them to run from anything too high fashion. But this doesn't mean that when buying a gift for your dad, you should similarly avoid these items. Khabi Mirza (opens in new tab), fashion writer and men's trend expert, notes that you should "think about those must-have style-savers which the dad in your life may not have the confidence or foresight to shop for himself. Mirza claims that "Accessories are a perfect place to start", suggesting a new pair of sunglasses from a "trusted brand like Hackett (opens in new tab) or Moscot (opens in new tab)".
If your dad commutes to work and/or the gym, a new commuter backpack is also a great gift idea, as they'll likely use it every day. Just make sure you opt for a high-quality brand - Mirza recommends Eastpak (opens in new tab), The Cambridge Satchel Company (opens in new tab) and the Japanese brand Porter Yoshida. "While it's a cliche, the default option has to be socks", Mirza admits, adding that Argyle socks, available from retailers such as Burlingtons (opens in new tab), are always a safe bet.
2. Personal gifts will always be appreciated
The menswear specialists we spoke to at retail giant Matalan (opens in new tab) claim that "the key things to bear in mind when choosing a gift for a father are practicality and sentimentality". One way to combine the two is something like "a personalized mug", which "can be used every day, but the personal touch makes the gift that little bit special". Gifting them something you know they will really love also adds to the personalized aspect of a Christmas present - Matalan's experts suggest "books from their favorite author or genre", or "a selection of their favorite foods and drinks".
3. Choose a practical gift and consider what they really need
Menswear specialists at Matalan also suggest thinking about what your dad will use, and need, every day: "if he wears a suit regularly for work, a new tie is a good practical option. Alternatively, a cozy dressing gown is a great choice for dads who refuse to turn the heating on".
Echoing the practicality aspect of gifting for dads, Kunal Patel, business development director at tech brand Groov-e (opens in new tab), says that "Gadgets and tech always make great gifts for dads. The key to a good gadget gift is to find ways in which you can improve his entertainment set-up. Are the speakers on his TV not very good? Why not get him a new speaker or soundbar?" Patel also suggests a sunrise simulation alarm clock for dads who struggle with the dark mornings of the season, noting "there's a gadget solution to most problems!"