The best productivity planners to achieve your goals in 2023
We've found the best productivity planners for 2023, to help increase motivation and to help you plan and achieve your goals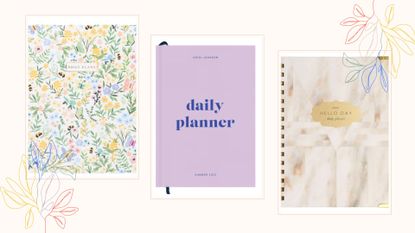 (Image credit: Paperchase/Papier/Hello Day/Future)
woman&home newsletter
Sign up to our free daily email for the latest royal and entertainment news, interesting opinion, expert advice on styling and beauty trends, and no-nonsense guides to the health and wellness questions you want answered.
Thank you for signing up to . You will receive a verification email shortly.
There was a problem. Please refresh the page and try again.
We've rounded up the best productivity planners for 2023, so you can get ahead of a productive year and begin planning your goals now.
The best productivity planners can increase motivation, help you plan out a busy schedule, and ensure that you prioritize your most important tasks. As well as helping you organize your life, they can also be a great self-care tool, reminding you to look after yourself.
One step further than a diary, weekly planner, or one of the best habit tracker apps, productivity planners feature daily planning pages which allow you to visualize your day at a glance and set out a plan for having the most productive day possible.
How can using a planner increase productivity and motivation?
Why you can trust Woman & Home Our expert reviewers spend hours testing and comparing products and services so you can choose the best for you. Find out more about how we test.
Productivity planners work around the idea that if your day/week/month is scrupulously planned, you can increase motivation to get all your tasks done and be productive at work or in your personal life. Writing lists on scraps of paper or using one of the best journaling apps might be your preferred method of planning, but lots of planners often go one step further by asking you to prioritize tasks in order of importance, or by prompting you to block out specific timeslots in the today to complete each task. Others have space for you to write a daily to-do list.
Productivity planners were likely influenced by the idea of bullet journaling, which became increasingly popular after it was introduced in 2013. Bullet journaling allows you to plan in your chosen way, with the simple pages of a traditional bullet journal only including dots - from there it's up to you how to organize your journal, but the traditional method includes a table for different tasks, for example, an arrow symbol to reference a task that you will complete tomorrow.
Whether it's one of your New Year's resolutions to be more organized, or you just want to upgrade your current planning method, there's a journal to suit everyone's preferred organizational methods.
How we chose the best productivity planners
As someone who's obsessed with planning every element of my life, I've used several productivity planners in my time. I tested each of the planners on this list to see how they held up over a week of use minimum - tracking how easy they were to use, and how I felt my productivity levels had been affected (positively or negatively) by using them. When testing the planners for productivity, planning, and motivation, I thought about the most important elements of the product, considering the following:
Size and weight: For most, using a productivity planner will mean writing on a daily basis. If you're commuting, you probably don't want to be lugging around a huge planner each day. However, for it to be worth the investment (and some planners can get pretty expensive), I thought that a planner which includes a minimum of three months would probably be necessary.
Ease of use: Spending hours working out how to use a productivity planner could have the adverse effect of wasting time when you could be, you know, being productive. The planner should be clearly set out, with each section easy to navigate. For some planners, this isn't always the case - due to the nature of the production method they encourage, it can take some time to familiarize a newcomer to this new way of planning. For this reason, there should be enough information to allow anyone to use the planner or diary, whilst still being succinct enough to not put people off.
Design: The original bullet journal is, at its core, not about a fancy design, instead allowing the user to get creative and decorate the pages themselves. Nowadays most productivity planners will have an aesthetically pleasing design, and if you like the way it looks, you're more likely to pick it up and use it every day. Saying this, the pages inside shouldn't be so filled with designs and patterns that it becomes even more distracting to look at the page while planning.
Motivation prompts: Some productivity planners and diaries spend a fair amount of time in the first pages 'getting to know you' - here's where you can often note what you would like to improve on, habits you want to track, keep or break, what your goals are and more. I didn't want this to take up too much of the planner's pages, but it is important to set out your goals (whether that be for your career, relationships or anything else), ready to look back on when you need a reminder of how far you've come or how far you've got to go.
The best productivity planners for 2023, tested by us
Image 1 of 2
1. Joy Daily Planner by Papier
Best overall productivity planner
Specifications
RRP: £25 / $32
Length of time covered: 16 weeks
Returns policy: Within 30 days of purchase, but personalized planners can't usually be returned
Reasons to buy
+
Clear layout and easy to use
+
Encourages prioritisation of most important tasks
+
Includes meal planning and shopping lists
When it comes to a planner which encourages productivity while also including sufficient space to see weeks and months in advance, Papier's Daily Planner ticks all the boxes. Each week begins with three weekly overview pages, which include a diary-style layout to write down plans, meetings, and any other important scheduled items for the week ahead. Opposite this, there's a page that asks you to write down your top three priorities for the week, whether those work, personal or self-care related. Then there's a space for 'important to-dos' to be ticked off, a habit tracker, and a section at the bottom of the page for 'notes and thoughts'. The habits you choose to track can be anything; I chose some reading goals and some exercise goals, thinking it might help me with motivation to work out in winter. I then simply filled in the circle for each day to show whether I had (or hadn't) managed it that day.
Probably my favorite function of the Papier planner is on the next page, which asks 'what's on the menu this week?', followed by a space to write your weekly food plan. As someone that meticulously makes food plans every Sunday before cooking in bulk for the week, the ability to see this information alongside the rest of my schedule was really helpful. The other half of the page is a to-do list-style section for 'my shopping list', which isn't so helpful unless you want to take your planner to the supermarket.
The undated daily planning includes an untimed schedule as well as a top three 'most important' checklist, a general daily to-do list, and a box for any notes. For the first few days of the week especially, it's really handy to be able to simply flick back to the weekly overview, inputting tasks and meetings each morning. The plan you made for the week ahead is never too far away, due to the chronological order of the planner (even though it's updated), so you don't need to constantly flip back and forth between a monthly/yearly planning section and the daily pages.
There's really only one downside to this planner, which is that the pages only span around four months of time. The planner is pretty reasonably priced and is so aesthetically pleasing - with the option of personalization being an added plus - that you might be willing to buy one every four months, but it is a shame that you would need to purchase a few of these each year.
Image 1 of 2
2. The Head Plan Productivity and Wellness Journal
Best planner for daily productivity
Specifications
RRP: £30 / $38 (plus extra for personalization)
Length of time covered: Six months of daily planning
Returns policy: Non-personalized planners can be returned within 30 days of purchase
Reasons to buy
+
Six month journal, but with 12 months of 'monthly glance' planning pages
+
Detailed instructions on how to use the planner
+
Encourages reflection and gratitude
Reasons to avoid
-
Daily schedule doesn't include timings
The Head Plan's planner focuses on 'SMART goals' - ones that are specific, measurable, achievable, realistic, and timely. As well as tracking habits, books you're reading and any other plans and meetings on the 'monthly glance' pages, at the end of each week, there's also a page to reflect on how well it's gone. Writing down high points and low points, and anything I learned about myself that week, were nice ways to keep on top of goals and habits without having to thumb back and forth between pages at the beginning of the journal - though if you do need to do this, there are three fabric page dividers to easily find different pages and sections of the planner.
Each 'daily goals' page is undated and asks you to write down one main goal of the day, the day's top three priorities, as well as space for 'other to-dos' and a 'notes and appointments' schedule. At the bottom of the page you can jot down your 'self-care and wellness actions'. Here I filled up the illustration of two empty bottles throughout the day as I sipped from one of the best water bottles, reminding me to stay hydrated. There's also a section for a 'productivity reward', 'today's high point', and 'today I am grateful for' prompts. I particularly like that these boxes don't suggest that any of the goals, priorities, and actions of the day need to be work-related, and the focus on gratitude as well as celebrating small wins is also a nice addition - making it great if you're trying to practice mindfulness.
Having said that, if you are using the planner for work, or just have a particularly busy schedule, the lack of actual timings on the 'notes and appointments' block is slightly annoying. This might be a bonus for people whose daily schedules are likely to change, but I personally would have preferred more of a time-blocking angle. However, writing down the main goal at the top of the page, followed by your top three priorities, is an undoubtedly helpful way to manage productivity.
Image 1 of 2
3. Intelligent Change Productivity Planner
Best planner for time-blocking
Specifications
RRP: £28 / $30
Length of time covered: 90 days
Returns policy: Retailer offers a six-month money back guarantee
Reasons to buy
+
Includes several pages of productivity tips and tricks
+
Clear layout
+
Focuses on an easy-to-follow productivity method
Reasons to avoid
-
May take up too much time for some
-
No monthly planning
-
Only lasts three months
The Intelligent Change productivity planner is based around the idea of time-blocking; rather than flitting between different tasks, or doing parts of them here and there throughout the day, this planner encourages you to block out sessions of half an hour, where you focus on one task and nothing else until the task is done. Several pages at the beginning of the planner are dedicated to explaining this method in detail which is helpful if you're looking to be guided through a new system.
The method itself is easy enough to use - on each daily planning page you write down the most important task of the day, e.g. if that was the only thing you got done that day, you'd be happy. You then write down 'secondary tasks of importance' and 'additional tasks', with a section at the bottom of the page for notes. Next to each task, you note how many 30-minute sessions you predict that the task will take you, then track each one, writing how long it actually took you once the task is completed.
This method undoubtedly increases productivity - when I used it, the competitive urge to beat my own target was enough motivation to put me off daydreaming or looking at my phone until the task I was working on was finished. For some, though, this pressure might be intimidating or overwhelming. I'd say this planner is best for people who have already used some form of productivity method but are looking to try a new one (and this planner will truly guide you through its process step-by-step). I definitely think this would be a good method to try if you're looking for tips to stay productive while working from home, for example.
The Intelligent Change planner is really focused on day-to-day task planning, with one page of end-of-week review and one page of weekly task planning for each week, and no way to plan by month or year. It also only lasts three months, but if you think you'll use the planner every day, and you prefer planning out your day via time-blocking rather than seeing your month's schedule all on one page, this is one for you.
Image 1 of 3
4. Hello Day 2023 Daily Planner
Best dated productivity planner
Specifications
RRP: £46 / $56.17
Length of time covered: 12 months
Return policy: Within 14 days of delivery, unless personalized
Reasons to buy
+
Instructions tell you exactly how to use the planner
+
Planning and goal tracking is yearly, monthly, weekly and daily
+
Dated means you won't lose track of your place in the planner, plus it's set out chronologically throughout the year
Reasons to avoid
-
Very large and bulky
-
Quite a lot to fill in
If you'd rather your planner was dated, the Hello Day planner really does it all. Admittedly it's a little bulky, but this is due to just how much is packed into it - from yearly goal planning and budgeting pages to monthly spreads, habit tracking and important date reminders. Peppered with motivational quotes throughout, the Hello Day planner features several different ways to track goals and habits, in the belief that goal planning should be a monthly, weekly and daily practice.
When I tested this planner, it did take me a while to get my head around using it - not because the instructions were unclear, in fact the opposite. There are two packed pages at the beginning of the planner which advise you of the best way to use it, and when it comes to the daily planning sections, there's a fair amount to fill in. Each week has a to-do list, habit tracker, and a section to write a goal for each day of the week; I would recommend sitting down to plan your week as part of your Sunday reset. It must be said, though, a goal a day is probably a bit much - these goals are meant to be separate from everyday habits, after all.
But the daily planning sections definitely inspire motivation and are set out clearly. I was glad to find that the planning for Saturdays and Sundays is shorter than those within the working week. It's fair to say that most people will be using productivity planners, at least in some part, for their day jobs, so I found this feature much more helpful than in some other planners, which expect a full day of planning and to-do lists even at the weekend.
While it's definitely not a small planner to carry around - it would maybe suit someone who works from home every day, rather than someone who needs to put it in their work backpack each day. In summary, the Hello Day planner literally covers every element of goals, habits, and productivity that you could ask for so it would be good for someone who is looking for a comprehensive planner that they're willing to dedicate some time to.
Image 1 of 3
5. Carrie & Co Perfectly Planned 2023 Planner
Best planner for busy schedules
Specifications
RRP: £59 / $72.18
Length of time covered: 12 months
Return policy: Within 14 days of delivery
Reasons to buy
+
Long daily schedule allows you to plan a busy diary
+
Doesn't waste space with too many prompts
Reasons to avoid
-
Heavy and thick
-
Quite expensive
While some of the pages at the beginning of this planner (and some prompts at the end of each month) are specifically catered to people who have their own businesses or side hustles, the Carrie & Co 2023 planner can still be used by anyone. After a few pages of goal reviewing and prioritization for the year, the monthly planning is split up into each month with tabs down the side of the planner, and begins by asking you to write your top goals for the month, as well as a tick list of tasks to complete. The weekly planner page features boxes to write out your schedule that week as well as a 'top to do' list, before a page is dedicated to each day of the week, with three 'top goals', a large box for any notes and a schedule for 'my perfectly planned day', which spans from 6am to 10pm.
In my research into planners, I found that it was hard to find a planner where the daily schedule was as long as I wanted it to be, already had timings on it, and also had tick boxes for each activity. This is my favorite way to write out a schedule - you can plan hour by hour, see all your meetings and appointments easily laid out, and tick them off when they're done with, which I find makes my days seem less overwhelming, which is helpful when working out how to deal with stress. The Carrie & Co planner also has the benefit of the 'less is more' approach on each daily page. Rather than filling out sections for habit tracking and various different goals, the daily planning pages here simply ask you to pick your top three goals, and write out your schedule to tick off as you go. Like the Hello Day planner, the weekend planning sections are shorter than the weekly ones, and there's only one page of reflection and review at the end of each month, so using this planner won't counteractively take up too much of your time, meaning you have less time to actually work.
With that said, and considering how much less the pages contain than some others on this list, this isn't exactly a lightweight - or cheap - planner. Yes, this is technically a productivity planner and a diary all in one, due to the monthly, weekly and daily planning that it features, but £59 / $72 makes this the most expensive planner on our list, and this may not be an affordable price for many.
Image 1 of 3
6. Personalized Create Your Future Life Planner
Best for tracking goals and habits
Specifications
RRP: £37.95 / $46.41
Length of time covered: 12 months
Return policy: Personalized planners are non-returnable
Reasons to buy
+
Not too bulky
+
Undated, but still allows you to plan each month and week thoroughly
+
Plastic, transparent 'bookmark' feature can be moved as you work through the planner
+
Envelope at the back of the planner for keepsakes
Reasons to avoid
-
The sturdy casing of the planner makes it a bit big
-
Daily planning sections could be longer
This undated planner from Martha Brook allows you to input your own dates, meaning there's no pressure to fill out all of the twelve months included; if you don't use the planner for a few weeks or a month, there won't be an awkward-looking gap in the middle as you can just jump back in where you finished off.
For those who want their productivity planner to also include a diary element, this one's for you. There's a year's worth of planning pages which include small boxes to jot down plans in for each month, and a notes section on the right of this for any extra reminders you want to write yourself. Then there's the monthly planning section, which consists of five weeks' of planning pages for twelve months. I particularly like the page before each month, which asks you to write down things like your personal goals for the month ahead, your work-related goals, and what you're grateful for. While I mainly use a productivity planner to stay on top of work goals (I prefer to journal in a separate notebook), I do think it's important to write down personal and self-care goals - after all, these are just as important to track!
This tracking doesn't end with the first page, or the page at the end of each month which encourages you to reflect on events that brought you joy, and what you're proud of from the month before. The weekly planning pages also include a 'self-care tracker' box, where you can note small goals and habits that you're trying to get better at enforcing. I wrote down things like drinking enough water, exercising or making sure I read a certain amount of pages of my book - rather than adding pressure to already busy schedules, this function gently reminds you to track these goals as and when they're achieved. The undated element of this planner makes it a good gift for anyone who's embarking on a new era of their life, whether you're buying an 18th birthday gift for someone heading off to university, or a 60th birthday gift for someone looking to achieve new goals during this milestone year.
Image 1 of 2
7. Paperchase Butterfly Garden Daily Planner
Best simple productivity planner
Specifications
RRP: £15 / $18.35
Length of time covered: 368 days
Return policy: Within 30 days of purchase
Reasons to buy
+
Simple layout with only daily planning pages
+
Large enough to cover very busy schedules
+
Cute design
Reasons to avoid
-
Very wide and fairly heavy
-
Doesn't focus on goals or further planning
You might only want a productivity planner for the precise purpose of writing down your tasks each day, focusing on a couple of goals, and planning your schedule for the day. If you have a separate diary for weekly/monthly/yearly planning, and you're not interested in the journaling aspects of some planners, this simple but effective option from Paperchase could be for you.
Each of the 368 pages in the Daily Planner are exactly the same: you write the date, a goal for that day, some tasks on a to-do list, a timed schedule, a self-care goal, and some notes if you wish. That's all there is to it - no need to write down any yearly goals, any habits to track, or to look any further than the day ahead of you. I thought of this planner as a more aesthetically pleasing way to get my daily schedule and to-do lists onto one page, and the gorgeous design definitely helps. I probably wouldn't want to take this planner around with me everywhere - it's fairly heavy and the pages are very wide - but I found that it was perfect for using at my desk while working from home.
The schedule was long enough to get all my appointments in, and I loved the 'time for me' prompt, which reminded me to fit in an action of self-care for each day, even if it was something small - this is a great thing to remember to do if you're looking for ways to recover from burnout especially. If you've used a productivity planner before that features more prompts or habit tracking sections, you might find this option to be a little too simple. But if you're after something which will do exactly what it says on the tin, you won't have to spend a huge amount to get it with this planner.
How do you use a productivity planner effectively?
Most productivity planners will include at least one or two pages of instructions that detail how to use it. Of course, you don't always have to follow these instructions if you know there's a section you don't want to fill in, or if you want to use it slightly differently to what's recommended. What's important is that the planner is actively improving your productivity, and one way to ensure this happens is to get into the habit of using it every day.
Business coach and mentor Ruth Kudzi (opens in new tab) recommends setting aside some time each day to use your planner "so it becomes a habit", whether this is "first thing in the morning" or each evening, jotting down your plans and tasks for the next day. Kudzi also suggests "scheduling in breaks and white space for reflection and thinking time". "Your best thinking is often not done at your desk, so create space in your day for reflection and thinking time", she says, adding "your brain needs regular breaks, so schedule these in".
Denise Kenny Byrne (opens in new tab), a life and wellness coach, also advises scheduling "time for important tasks, and prioritizing them based on their level of importance and urgency. This will make the most of your time and ensure you are working on the right things at the right times". The biggest thing to remember is that a productivity planner is supposed to increase motivation, productivity and scheduling. If you find that using a planner is making you feel overwhelmed, and stressed or actually reducing your productivity levels, it may not be working for you.
Hannah is the UK Shopping Writer for woman&home. As a shopping writer, Hannah has written on everything from period pants to wine subscriptions, and is especially interested in sustainable alternatives to well-known products, as well as books and homeware accessories.
Before she joined the team at woman&home Hannah headed up the social media accounts for Wonderland in 2019, where she was also a Contributing Editor for the magazine's sister titles. During the COVID-19 pandemic, Hannah also explored evolving shopping trends at New York Magazine's The Strategist UK, researching everything from face masks to status candles and even pens.