10 Black-owned beauty and skincare brands you should refresh your cosmetic bag with in 2023
Upgrade your beauty routine with these brilliant Black-owned beauty and skincare brands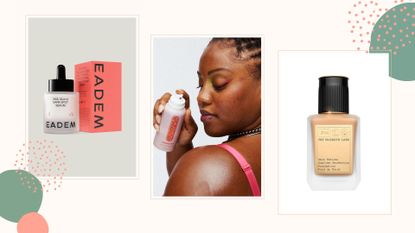 (Image credit: Future)
Looking for ways to celebrate Black History Month? Well, if you're a lover of all things beauty, why not support Black-owned beauty and skincare brands this month and year-round?
From luxury facial serums catered to every skin type to a silky smooth foundation that comes in 59 shades, the beauty industry is becoming more diverse and inclusive by being a space for Black creatives to produce products that work for every skin and hair type. But similar to the underrepresentation Black creators experience, their brands don't always get the recognition they deserve. And to be quite honest, there are a lot of amazing brands in this guide I didn't even know existed before researching.
So, to shine a light on these hidden beauty gems, we've rounded up 10 Black-owned beauty and skincare brands that are worthy of your support and, of course, deserve a spot on your vanity all 365 days of the year. Whether you're on the lookout for the best foundation, best mascara or best face moisturizer, you'll find it here.
Black-owned beauty and skincare brands to shop in 2023
Looking for the best lengthening mascara with loads of volume? Ami Colé is a clean beauty brand with mascara that conditions and nourishes your lashes while giving them the lift they need. And if you're on the hunt for the best cleansers, Rihanna's beauty brand, Fenty Skin, has a vegan and gluten-free cleanser that works with all skin types. Here are our other must-try brands...
1. Pat McGrath Labs
Reasons to buy
+
Over 25 foundation shades and 36 concelear shades
+
Buttery-soft eyeshadows with extreme pigmentation
+
Long-wearing lipsticks that last up to 12-hours
+
Lengthening mascara designed and used by makeup artists
You're not going to want to skip out on buying Pat McGrath Lab beauty products when Queen Elizabeth II awarded the founder herself a Dame of the British Empire (DBE) for services to the Fashion Beauty Industry and Diversity.
Legendary makeup artist and founder of the luxury cosmetic brand Dame Patricia Ann McGrath gives us long-wearing, pigmented formulas and quality makeup like no other.
(opens in new tab)
Pat McGrath Labs Skin Fetish: Sublime Perfection Foundation
RRP: $68 | If you're looking for the best foundation for every skin type, Pat McGrath Labs has you covered. With 36 shades to choose from, we're confident you'll find your perfect match. And if you aren't a fan of "cakey" makeup, no worries. This medium-coverage foundation is described as a second-skin tint with its silky, serum-like formula. And yes, we know $68 is on the pricier side, but with over 1,000 five-star reviews on Sephora alone, we're confident it's worth every penny.
(opens in new tab)
Pat McGrath Labs Skin Fetish: Sublime Perfection Concealer
RRP: $34 | Like the foundation, this Pat McGrath concealer comes in 36 colors to match every shade and many undertones. With its creamy and full coverage formula, you can apply this on your under-eye, and there will be no bags or dark circles in sight. Best of all, despite its impressive coverage, the formula feels super lightweight.
(opens in new tab)
Pat McGrath Labs FetishEYES Mascara
RRP: $32 | Put your best false eyelashes to the side and snag a tube of FetishEYES Mascara. This PatMcGrath Labs mascara was designed and used by makeup artists, so you know it's the real deal. The brand promises to give you lengthened and conditioned lashes with no clumps.
3. Eadem
Reasons to buy
+
Skincare by women of color, created for women of color and all skin types
+
Dermatologist recommended and tested skincare
+
Skin products that reduces and prevents hyperpigmentation without lightening overall skin tone
What was once a lifestyle blog created by two women of color, Alice Lin Glover and Marie Kouadio Amouzame, is now an inclusive beauty brand that creates clinically-tested skincare products that work on melanin skin, which are more prone to hyperpigmentation. Eadem is a skincare brand made by women of color for women of color and all skin types.
Eadem Milk Marvel Dark Spot Serum
RRP: $68 | As a Black woman whose biggest insecurity is my dark spots, it feels freeing to know there are skincare products specifically made for my skin type by women who look like me. Proven to be one of the best hyperpigmentation treatments by women of color dermatologists, the Eadem Milk Marvel Dark Spot Serum is like gold in a bottle. This cult-favorite serum decreases and prevents hyperpigmentation without changing the skin tone.
Eadem Dew Dream Hydrating Cleansing Balm
RRP: $30 | A nourishing cleanser packed with ingredients that help rebuild damaged skin, unclog pores and produces new skin cells. The Eadem cleansing balm is soft and soothing, leaving your face feeling cleansed, moisturized, and protected.
Eadem Cloud Cushion Airy Brightening Moisturizer
RRP: $58 | A moisturizer that prevents dark spots from forming with its innovative pigmentation-blocking four-amino acid peptide. This brightening moisturizer isn't called Cloud Cushion for nothing. Its lightweight, velvety formula is as light as a cloud and instantly soothes the skin.
3. Briogeo
Reasons to buy
+
Hair products for every hair concern
+
All products are made with plant-based surfactants and no sulfates
+
Natural ingredient hair products that works for every hair type
Whether you're looking for the best vegan shampoo and conditioner or the best hair styling products to prep your hair with, Briogeo is an amazing Black-owned beauty brand that has a natural hair product for every hair type and concern. The brand is known for its '6-free' hair care meaning all formulas exclude silicones, parabens, harsh sulfates, phthalates, artificial dyes, and DEA. So whether your hair is dry and damaged or fine and oily, there's a hair mask and deep conditioner made specifically for you.
(opens in new tab)
Briogeo Don't Despair, Repair Deep Conditioning Mask
RRP: From $39 | This fan-favorite deep conditioning mask contains moisturizing ingredients such as rosehip oil, B vitamins, and algae extract and claims to repair hair breakage after just two uses. The brand recommends using this richly-infused conditioner at least once every two weeks to transform your hair from dry and brittle to smooth, healthy, and shiny.
(opens in new tab)
Briogeo Curl Charisma Rice Amino + Avocado Leave-in Defining Créme
RRP: $24 | A hair product that nourishes the hair while defining the curls? I'll take two, please. The Curl Charisma Leave-in Defining Créme is made with rice amino that helps keep your curls frizz-free and avocado oil to lock in moisture. So no more bad wash-n-gos and dry, crunchy gel curls.
(opens in new tab)
Briogeo Farewell Frizz Blow Dry Perfection & Heat Protectant Créme
RRP: $26 | A 2-in-1lightweight créme that helps gives you a frizz-free, sleek blowout while protecting your hair from heat damage. The Blow Dry Perfection and Heat Protectant Créme consist of rosehip, argan, and coconut oil that nourishes, thermally protects, and tames your hair.
4. Lys Beauty
Reasons to buy
+
Clean, vegan makeup products
+
Highly pigmented cream blushes
+
A serum-based foundation that conceals and nourishes the skin
+
33 foundation shades with three universal undertones
Lys Beauty is the first Black-owned clean beauty brand stocked at Sephora. With over 30 foundation shades, long-wearing and pigmented cream blushes, and smooth, nourishing lip products, the beauty brand, which stands for "love yourself," redefines beauty by creating clean products suitable for all skin types and complexions. Whether you're looking for the best foundations for oily skin or the best foundations for dry skin, there will be a product for you.
(opens in new tab)
Lys Beauty Higher Standard Satin Matte Cream Blush
RRP: $16 | Add a pop of color to your makeup look with this highly pigmented-cream blush. This satin matte cream blush looks good on all skin types while giving your skin some TLC with its clean, nourishing ingredients. The Lys Beauty blush is made with kaolin clay, vitamin E, and avocado oil. If you don't already own one of the best cream blushes, add this one to your bag, pronto.
(opens in new tab)
Lys Beauty Triple Fix Serum Foundation
RRP: $22 | The Triple Fix Serum Foundation is skin care in a bottle. Made with clean, vegan ingredients such as hyaluronic acid, turmeric, avocado oil, and Ashwagandha (Indian Ginseng), your skin will be hydrated, moisturized, protected, and beautifully enhanced. And with 35 foundation shades and three universal undertones, we're confident you'll find the perfect match.
(opens in new tab)
Lys Beauty Speak Love Glossy Lip Treatment Oil
RRP: $12 | Lys Beauty's Glossy Lip Treatment Oil is the perfect beauty essential to add to your makeup bag or toss in your purse. This lip treatment keeps your lips dry and chapped-free with its hydrating and conditioning ingredients, such as chia seed oil, sweet almond oil, and more. And the best part is its universal shade, making it the perfect gloss for every skin complexion. This glossy product gives even the best lip balms a run for their money when it comes to hydration.
5. Bevel
Reasons to buy
+
A men's grooming line made by a man of color to cater to men of color's grooming needs
+
Skin and shaving products that helps with hyperpigmentation and ingrown hairs
+
Nourishing hair products for textured hair
+
Affordable
Bevel founder Tristan Walker created the first head-to-toe grooming brand catered to Black men. From nourishing textured hair products to shaving products that protect the skin from ingrown hairs and dark spots. Bevel is another brand that's brought inclusivity to the beauty industry by providing hair and skin care products for men of color.
Bevel 2-in-1 Exfoliating Toner
RRP: $13.95 | Men also deserve self-care, so why not surprise your nearest and dearest with quality skincare that works? Shaving can sometimes come with ingrown hairs or dark spots, but that can all be prevented with Bevel's 2-in-1 Exfoliating Toner. The toner includes 45 pads made of lavender, green tea, and 10% glycolic acid. Gently massage one pre-soaked cotton pad on your face twice a week for an even skin tone.
Bevel Premium Safety Razor
RRP: $49.95 | The most annoying thing after a clean shave is getting razor bumps. But, thanks to Bevel's sleek razor you'll be able to safely shave from the skin's surface. And with 190 positive reviews, (some from women) we're confident you'll be bump free after your next shave.
Bevel 2-in-1 Anti-Dandruff Shampoo & Conditioner
RRP: $9.95 | Wondering how to get rid of dandruff? Look no further. Bevel's 2-in-1 Anti-Dandruff Shampoo and Conditioner promises to restore scalp health with its infused hemp seed oil and remove buildup and dandruff flakes.
6. Bread Beauty Supply
Reasons to buy
+
Simple and easy-to-use hair products
+
Hair products that work on all hair types
+
Vegan and Cruelty-free products
With hundreds of products to choose from, shopping for the best hair care can be exhausting and tedious. That's why Bread Beauty Supply exists. Only carrying a few essential hair items, it's like Bread: a must-have.
(opens in new tab)
Bread Beauty Supply hair-oil-to-go
RRP: $18 | Known as a lip gloss for your hair, the Bread Beauty Supply hair oil to-go is a glossy oil that softens, hydrates, and adds shine to all hair types. You can toss this cute bottle in your purse or gym bag for a quick mid-day hair hydration.
(opens in new tab)
Bread Beauty Supply Mud Mask
RRP: $34 | Need a 21st birthday gift idea for the curly-haired girly in your life? No worries. Bread's Mud Mask is the perfect present for the giftee looking to add to their natural haircare. This detoxifying mask exfoliates the scalp while softening and adding life to your curls. Plus, she'll love how cute and vibrant the packaging is.
(opens in new tab)
Bread Beauty Supply Baby Bread-Puff
RRP: $16 | Between them breaking and disappearing, you can never have too many hair ties. And when it's a pack of cute, mini satin scrunchies, they are totally giftable. The Baby Bread-Puffs are small but mighty, stretching and holding the thickest and biggest hair.
7. Danessa Myricks Beauty
Reasons to buy
+
Cult-favorite blurring balm powder that adds hydration to skin
+
Multi-functional beauty products
+
Glowy serums and foundations
Celebrity makeup artist Danessa Myricks's range welcomes all races, genders, and ages and her collection features endless makeup items that are all multi-functional, highly pigmented, and high quality.
Danessa Myricks Beauty Yummy Skin Blurring Balm
RRP: $36 | If you're on TikTok, you've probably seen this blurring balm powder on your feed and the stunned reactions from TikTok users. The Yummy Skin Blurring Balm gives you a flawless, skin-like finish while giving you the coverage and hydration your skin needs.
Danessa Myricks Beauty Dew Wet Balm
RRP: $22 | A gorgeous and vibrant face and body balm that makes your skin look hydrated and dewy. You can wear it as a blush and add a pop of color to your makeup or tap it on your shoulders for a sun-kissed look.
Danessa Myricks Beauty Dewy Cheek & Lip Palette
RRP: $32 | If you haven't caught on to how multi-functional Danessa Myricks' beauty products are by now, look no further than this super-versatile cheek and lip palette. This palette is full of pigment and can be worn on the lips, eyes, or face as a bold makeup look. Basically, it's the best eye shadow palette, lipstick and cheek tint all rolled into one.
8. Fenty Beauty
Reasons to buy
+
Founded by Rihanna
+
Cult-favorite beauty and skincare products
+
50 foundation and concealer shades
+
100% cruelty-free
+
Gluten free and vegan skincare and beauty products
Rihanna never misses a beat, from her record-breaking hits to her inclusive Fenty brands that cater to all skin complexions, skin types, and body sizes. Fenty Beauty changed the beauty industry with its broad foundation shade range, ensuring a perfect match for everyone - and it remains a market leader to this day.
(opens in new tab)
Fenty Beauty Pro Filt'r Soft Matte Longwear Foundation
RRP: $39 | The foundation that forever changed the beauty industry with its 50 foundation shades and many undertones, the Pro Filt'r Soft Matte Longwear Foundation is a personal favorite of mine. I love its medium to full coverage, allowing me to cover my dark spots while still keeping my base flawless. And the best part? It's so lightweight you'll forget you have anything on your face.
If you need more persuading, check out our Fenty Pro Filt'r Foundation review.
(opens in new tab)
Fenty Beauty Stunna Lip Paint Longwear Fluid Lip Color
RRP: $26 | Looking for the best red lipstick or a sweet Valentine's Day gift idea for her? The Fenty Beauty Stunna Lip Paint is full of pigment, long-wearing, and comes in many gorgeous shades like this universal red.
(opens in new tab)
Fenty Skin Total Cleans'r Makeup
RRP: $26 | From clothing to beauty to skincare, there's nothing Rihanna can't do. Like all Fenty Skin products, the Total Cleans'r Makeup is cruelty-free, vegan, and gluten-free. This 2-in-1 cleanser is a makeup remover that gently removes dirt and revitalizes skin.
9. Topicals
Reasons to buy
+
Skincare products that reduces dark spots and hyperpigmentation
+
Products that can be used all over
+
Vegan products
+
Balances skin
From its bright, fun packaging to its effective, vegan, and cruelty-free formula, Topicals founder Olamide Olowe has transformed the way people view "perfect skin" with science-backed products and mental health advocacy.
RRP: $26 | Razor bumps and ingrown hairs are the worst, but Topicals' High Roller allows you to shave and tweeze, finishing scar-free. This ingrown roll-on tonic consists of salicylic acid, niacinamide, glycolic acid, and Zinc PCA, which together helps prevents ingrown hairs and blemishes, brighten dark spots, smoothen the skin, and reduce excess oils and redness. You can apply it on your face, bikini area, underarms, and all over.
Topicals Faded Brightening & Clearing Serum
RRP: $38 | If you're like me and suffer from hyperpigmentation or it seems like a new scar appears every week, I highly recommend adding the Faded Brightening & Clearing Serum to your skincare routine. After using this serum for two weeks, my dark spots became visibly less noticeable. And for once, I felt like I didn't have to hide behind my foundation.
10. KNC Beauty
Reasons to buy
+
All-natural, collagen infused lip mask
+
Lip, face, and eye mask that conditions the skin
+
Natural and moisturizing lip balms
+
Retinol-infused eye mask
A beauty brand that started after a trip to Tokyo and seeing a wall of lip masks. Kristen Noel Crawley saw the need for natural lip masks and created the very first natural, collagen-infused lip mask. And that's when KNC Beauty was born. The brand has since become a favorite of many TikTok and Instagram users with its cute-shaped eye mask and nourishing lip mask.
KNC Beauty All-Natural Retinol-Infused Eye Mask
RRP: From $25 | Start your mornings with a little 20-minute self-care with KNC Beauty's eye mask. Hydrate, soothe, and refresh your under-eye with these cute star-shaped retinol-infused eye masks. Your eyes will be bag-free, even if you didn't get a full night's beauty sleep
KNC Beauty Supa Balm OG Rose Lip Balm
RRP: $22 | Keep your lips soft and hydrated with KNC Beauty's Supa Lip Balm. Infused with moringa and kuki oil, this lip balm is like no other.
RRP: $28 | The perfect beauty gift idea for the giftee who needs to take some time out and indulge in a little self-care. The KNC Beauty Big Set comprises three all-natural and vegan face masks that tighten, hydrate, brighten, and soothe the skin.
How to support Black-owned beauty and skincare brands all year-round
Although Black History Month is a great time to celebrate and honor Black creatives and the contributions of African Americans, your support can continue outside of February. Consider snagging a Black-owned skincare product when you're replacing your regular skincare items, or you can try one new Black-owned beauty product every two months. And if you aren't sure of all the Black-owned beauty brands, retailers like Ulta (opens in new tab), Sephora (opens in new tab), and Walmart (opens in new tab) have sections on their sites dedicated to Black-owned brands.
Supporting small Black-owned beauty brands is also a great way to celebrate Black creatives. You can simply follow Black creatives and businesses on social media and share their content to bring exposure to their brands.
If you want to support small independents but aren't sure where to start, Etsy is a great starting point for small businesses. For example, if you're looking for Valentine's Day gifts for friends, you can surprise your Galentine with a body butter or other skincare products from a Black-owned Etsy store.
Don't forget to bookmark our page as we will update this article with more Black-owned beauty and skincare brands you can shop throughout 2023.
Kenedee Fowler is a shopping writer based in the United States. She joined woman&home in September 2022, and ever since has been sharing her expertise with the brand to help readers source gifts for any occasion and on any budget, reviews products so you don't have to, and scout out the best deals and products to give you the best value for your money. Before joining woman&home, Kenedee was a home editorial fellow for Insider Reviews, where she wrote in-depth reviews and articles across the home vertical.

Kenedee is a recent graduate from the number one journalism school in the US, the University of Missouri - Columbia, where she gained hands-on experience as a multimedia journalist at mid-Missouri's local news station.