The best hobbies for women in their 30s for boosting health, brain power and your social life
The best hobbies for women in their 30s that will inspire you to try something different...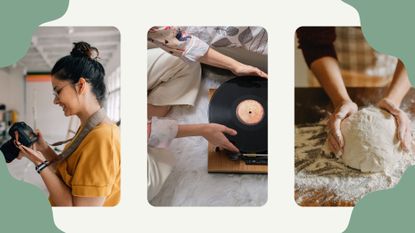 (Image credit: Future / Getty)
Our expert suggestions for the best hobbies for women in their 30s have been chosen because they are full of potential. Whether that's a gateway to a new career path, a fun way to make some extra cash, meet new people or simply provide some escapism from modern life.
Traditionally, certain hobbies for women like gardening and knitting were associated with retirement. But times have changed. Consumer strategist and trends forecaster William Higham claims hobbies are on the rise for younger generations: "Today, people don't feel as fulfilled by either retail therapy or a hedonistic nightlife as previous generations did, so they increasingly look for something fulfilling that doesn't involve consumerist acquisition or alcohol."
Higham, founder of Next Big Thing Consulting, explains, "at a time when more and more people are seeking the comfort of community, taking up a new hobby provides an 'in' to a new community, both in-person and via online groups."
From creative pursuits like photography and pottery making, to learning a new language, or fitness-boosting activities like cold water swimming and strength training, the best hobbies for women in their 30s are an act of self-care and could help boost your social circle as well as your skillset.
We sat down with hobbies experts and 30-somethings themselves to find out which hobbies are worth trying and the top trends for hobbies both this year and looking ahead to 2023...
Which hobbies are most popular for 30-somethings?
The pandemic presented people with more time to explore hobbies in general. In the US, cooking, reading and writing came out as the most popular leisure activities, according to a OnePoll on behalf of Ally Financial, as reported by SWNS. And while technology remains a big part of our daily lives, research carried out by YPulse found that the most popular hobbies among Gen-Z and Millennials are still offline, such as listening to music, sports and reading the best books for book clubs.
In the UK, the most popular hobbies for people in their 30s include cooking and reading, according to research from Statsica. Hobbies that require more financial investment, such as astronomy and playing a musical instrument, were less popular within any age range.
Best hobbies for women in their 30s to try
1. Wine tasting
Anyone who appreciates a delicious glass of wine can try wine tasting as a hobby, whether it's a quest to find the best champagne, or learning more about wine and food pairings to add a layer of sophistication when entertaining friends for lunch. As well as being educational, wine tasting is a social affair, whether that means trying out a wine club at your local pub or wine bar, or enrolling on a more formal wine tasting qualification.
For those who take their wine tasting very seriously, sommelier training courses will give you the tools to take the hobby one step further with professional qualifications (for the US, Liquor.com have ranked the best online sommelier classes, while in the UK, the UK Sommelier Association has plenty of resources).
If it's a more informal wine tasting atmosphere you're seeking, a DIY wine tasting event at home is easy enough to organize by decanting popular wines into indistinguishable containers and jotting down tasting notes, guessing which are at the more expensive end of the scale. You could also throw in a wine quiz to add a fun element to the evening - Decanter's wine quizzes are educational without being too formal.
How much does it cost to get started?
$$ There are plenty of free materials online to help you get started (bar the price of the wine itself), but if you want to take part in an online course, prices can range anything from $50/£50 to over $500/£500.
Why is this such a great hobby to start in your 30s? Wine tasting isn't just for the older crowd, who've become connoisseurs after years of experience. "Wine tasting has often had a reputation for being snooty or difficult," the buying team at Virgin Wines tells w&h. "It's something that people have often been a bit scared of, as they don't want to be seen to get it wrong, but taste is subjective, so you can't be wrong and many are now starting to realize that. Wine tasting is fun – it doesn't have to be serious!"
Access to local vineyards is also a reason to get excited about wine tasting, with the US home to some of the most famous vineyards in the world, particularly in California's Napa Valley. In the UK, the rise of English vineyards could also be a factor in the popularity of wine tasting among younger people. "Over the summer months, cellar doors and wine tours at a gorgeous local vineyard are delightful – and very Instagrammable way – to spend the day."
Life coach, Hannah Ellis Carmichael, suggests that wine tasting can really up your hosting game, too. "As home ownership typically increases once we reach our 30s, cooking classes or wine tasting can help hone hosting skills in your newly decorated space," she told w&h.
2. Sailing
One of Kate Middleton's favorite hobbies is rising in popularity - and it's not as inaccessible as you may think! "It took me about six months to go from never having sailed before, to being a 'day skipper' and able to charter a yacht for friends and family and go sailing for a week," 30-something Becks Grant-Jones told w&h.
You'll need to do your research before signing up for an intensive course to complete the relevant qualifications you need before embarking on your own. Sailing courses (try US Sailing in the US and the Royal Yachting Association in the UK to find out more) can be on the more expensive side, but there are plenty of tools online that will help you take the first steps and the rewards are plentiful, as Becks explains.
"Island hopping around the Med, dropping the anchor at beautiful beaches in Greece and swimming in clear waters was something I couldn't have imagined I'd ever be able to do without the help of a sailor. But I could! Once you're qualified, it's easy to get a few friends together and have a week aboard your own yacht for a few hundred pounds each. It's actually really accessible, particularly if you can avoid the school holidays."
How much does it cost to get started?
$$$ While there are plenty of tools to get you started online for free, learning to sail can be an expensive hobby with costs over $1,000/£1,000 for a sailing course.
Why is this such a great hobby to start in your 30s?
For Becks, turning 30 was the push she needed to commit to a new hobby - and she decided to try something that would allow her to have incredible experiences with her friends. "I was turning 30 and wanted to do something big. I'd always wanted to learn to sail but things kept getting in the way, like the cost and time. Having a milestone birthday gave me the push I needed to do something about it.
"After learning the ropes, I managed to turn my hobby into a new stream of income. I got in touch with a yacht charter company in Lymington and started crewing for their day sails to the Isle of Wight and back. Not only was I being paid to do something I love, I was meeting new people, learning more about boats and life at sea, and having a lovely time with the guests."
3. Pottery making
An obvious draw for pottery making is the beautiful ceramics you'll create, but pottery making can also be a very therapeutic activity, that allows you to practice mindfulness while creating something you'll cherish, or a thoughtful gift for a friend or unique wedding gift.
Pottery making proved to be one of the best hobbies for relaxing for ceramics enthusiast Katie Hutchinson. "Pottery making has really helped me slow down," she told w&h. "It's not often that I get to carve out some time just myself, but committing to a weekly pottery class gave me some much-needed downtime and a chance to focus my energy into creating something beautiful. I found that it's also helped to reduce my anxiety."
Local studios tend to offer everything from taster sessions, where you'll learn the basics of the craft, to longer courses that cover how to make different kinds of ceramics.
How much does it cost to get started?
$$ Prices start from around $100/£100 for a taster session and then can vary depending on how long the course is. To install a kiln at home, it will likely set you back at least $500/£500 for a small desktop kiln, as well as the investment for materials. You can also buy at-home pottery making kits for as little as $65/£60 from places like sculpd.com.
Why is this such a great hobby to start in your 30s?
After the often chaotic 20s decade, many of us are putting down roots in our 30s and building up our homeware collections. Pottery making not only acts as a calming and rewarding hobby, but also gives us a unique and attractive product as a result. "Now I've mastered the basics, I've been able to build up to creating my own kitchen essentials, as well as creating pieces for friends, which has saved money in the long run," Katie says.
4. Weight lifting
Weight lifting has soared in popularity over recent years, thanks to the recognition of strength training as a great way to boost overall fitness. Historically, cardio exercises such as running, cycling and aerobics have reigned supreme as popular fitness activities, but with a greater understanding of how strength training can build muscle mass, strength and endurance and the rise of weightlifting-focused gyms such as CrossFit (even Kate Middleton is a CrossFit fan!), weight lifting's popularity has boomed. So much so, that 60 per cent of CrossFit athletes worldwide are women, according to the American Council on Exercise.
How much does it cost to get started?
$$ Prices can really vary for weight lifting. Investing in your own small weights and the best dumbbells to use with the help of online tools at home could cost you as little as $10/£10 - and there are plenty of at-home workouts from reputable trainers online. A CrossFit membership, however, is on the pricier side, in the region of around $200/£180 per month. We recommend attending a gym class or getting a personal trainer for one session before you start weight lifting for the first time, just so a professional can show you how to lift weights properly and safely so you don't injure yourself.
Why is this such a great hobby to start in your 30s?
As we get older, building up our core strength is important in order to stay fit, healthy and mobile. Strength training helps to lower your metabolic age, meaning you'll burn more calories even when you aren't active, so it's great for fitness all round.
There's also a huge community attached to gyms like CrossFit, so it's a great way to meet new people and increase workout motivation, as Bronia Burlinska found out. "I started weight training to feel stronger and build my confidence in the gym, joining my local CrossFit branch in London. As well as feeling stronger and healthier, I really enjoyed the social element of going to classes and it was fun to take on group challenges together. I even ended up meeting my boyfriend there!"
5. DJing
Anyone who loves music can try their hand as a DJ - after all, mixing tracks in the comfort of your own home isn't nearly as intimidating as in front of a huge crowd at a festival. But if you do have a talent behind the decks, who knows where this hobby could take you.
The basics of mastering DJing are knowing how to pick a crowd-pleasing tune, which songs will suit a mood and being able to surprise an audience with an emerging new talent - all of which can be researched by having a good old root around Spotify.
For more formal training, there are beginners courses available (try Serato Certified DJ Schools in the US, and DJ School UK in the UK) that will teach you the basics of setting up, beatmatching and volume control. Of course, there are plenty of tutorials online too, if you want a more informal education.
How much does it cost to get started?
$$ Depending on which medium you want to use (your phone, a computer, or DJ decks) software costs can vary greatly. For vinyl-based DJs, setting up with turntables and a mixer, as well as a vinyl collection, can be very expensive. But if you simply want to try out some techniques via a music mixing app like Pacemaker on your phone, you can try the hobby for free.
Why is this such a great hobby to start in your 30s?
Many of us will enter our 30s with a back catalogue of favorite music that spans both decades and genres. And according to trends expert Higham, there's never been a better time to get into DJing, especially if you're a woman. "It's much easier to get started now than it used to be; it can be done virtually and trialed with comparatively cheap equipment," he told w&h.
"It's an opportunity to show off both your physical skills (beatmatching) and your mental ones (music knowledge). With more high-profile female DJs to provide inspiration, DJing as a hobby for women in their 30s is definitely on the rise."
6. Bread making
Baking in general is a popular hobby for women of all ages, but we're making a case for breadmaking specifically as a great skill to master. "Breaking bread has symbolized unity and community for thousands of years," chef and food blogger Francesca McKay, tells us. "It's such a versatile, comforting food and baking bread is a truly meditative experience. I religiously bake a loaf of sourdough every Sunday to eat throughout the week and find the experience so grounding."
One of the less expensive hobbies for women in their 30s on our list, bread making ingredients are cheap to buy and there are plenty of resources online or books to order that will help you learn the basics. Homemade bread is healthier, too, as you'll have full control of what ingredients are being used, without any preservatives.
How much does it cost to get started?
$ To get started you'll need flour, yeast and salt - all of which can be purchased for under $5/£5. There are plenty of free resources online, but if you do want to try a breadmaking course, head to Busby's Bakery for courses across the US, and The Sourdough School for courses across the UK and Ireland.
Why is this such a great hobby to start in your 30s?
As we enter our 30s, many of us become more conscious about what we're eating and cultivating a healthier diet that moves away from processed foods is a great way to boost overall health. Plus, breadmaking is a relaxing hobby that can provide some respite from the hectic daily grind and help to reduce stress. "I started bread making in my 20s, but truly mastered it in my 30s," Francesca told us.
"Bread making is definitely an emotional experience for me; it's helped me through tough times and the act of creating and nurturing something until it becomes a delicious finished product is enough to lift my spirits."
7. Wild swimming
The benefits of cold-water swimming for both body and mind are impressive, with a boosted mood, better cardiovascular health and improved circulation all linked to a dip in the wild. As well as being a fantastic workout, wild swimming has all the benefits of eco-therapy, allowing you to be immersed in nature, whether that means hitting the local lake, ponds or taking a dip in the sea (the various benefits of swimming in the sea are also worth considering).
There are safety factors to take into consideration when it comes to wild swimming, so a cold-water induction with a local lifeguard is advised beforehand. It's also important to have the right equipment - a wetsuit, swim gloves and socks/boots, and potentially a wooly hat - if attempting a wild swim in the colder months. In the US, head to the Open Water Swimming website for locations near you, while in the UK, the Outdoor Swimming Society's website has plenty of advice on how to get started as well as extensive list of local groups to join.
How much does is cost to get started?
$$ Depending on the time of year you want to try wild swimming, investing in the relevant equipment should set you back in the region of $100-$150/£100-£150, but admittance to public lakes and ponds is typically inexpensive.
Why is this such a great hobby to start in your 30s?
A fun hobby that also builds fitness is a great way to boost your health in your 30s and one of the biggest hobby trends for this year, according to Higham. "Wellbeing is very important to this generation and we'll want hobbies that build strength in the long run, like swimming and hiking." The benefits of swimming in general make it a great low-impact sport that won't put pressure on your joints while helping you stay in shape.
Wild swimming also has a great community element to it if you're looking to expand your social circle or have moved to a new area, with groups getting together to enjoy the natural wild swimming high together, often coupled with a sauna session to warm up afterwards, or a communal picnic in the warmer months.
8. Photography
Trying photography offers the chance to learn many different skillsets, whether that's traditional film photography, mastering using a high-spec digital camera or learning the tricks of shooting on a camera phone to create videos and reels. The rise of social media as a tool for business means that creating is a valuable professional skill that can open doors professionally, or help you enhance your own business.
Professional benefits aside, photography is a great way to document special moments and having an eye for what makes a good image can enhance not only your social feeds, but also make for keepsakes that can be framed and offered as thoughtful gifts for friends and family - particularly for milestone birthdays, if you're looking for 40th birthday gift ideas or 50th birthday gift ideas.
How much does it cost to get started?
$ To try out photography, a smartphone will suffice, but if you do want to invest in more expensive equipment, digital cameras tend to start at $100/£100 and can run into the thousands. There's a wealth of free information online in the form of blogs and YouTube tutorials, but if you want to take part in a photography course, head to The School of Photography in for online courses.
Why is this such a great hobby to start in your 30s?
For those who yearn for more creativity that a day job perhaps provides, photography is an accessible way to channel your artistic side and can potentially lead to other career opportunities, particularly with the rise of social media and visual content. "The pandemic gave people time to rethink what's important in their lives, and creativity came out particularly well," Higham explains.
While many of us do take photos in our daily lives, having a more in-depth knowledge of photography is an impressive skill. Higham continues, "Everyone today has access to unlimited data at the touch of a mouse, so having surface knowledge of something is often a given. But having an in-depth knowledge of something? That's a big deal."
9. Learning a new language
With travel being a passion for many 30-somethings, learning to speak the local language is a fun way to acquire a new skill that will enhance your experience, become more immersed in local life and even allow you the opportunity to work abroad.
Learning a new language is more accessible than ever before, with apps such as Duolingo and Babble that can be used on the go to boost language skills. There are also plenty of courses on offer, whether that means attending a night class once a week And the abundance of foreign films and programs on streaming sights mean that you can listen to your chosen language in action, all while relaxing on the sofa.
How much does it cost to get started?
$ Apps such as Babble and Duolingo are free to download and offer a comprehensive guide to learning a new language. If you'd rather take part in language classes, Language Course ranks the best across the US, while Language Courses UK offers online courses and face-to-face courses in the UK, with prices starting from around $350/£200.
Why is this such a great hobby to start in your 30s?
With higher incomes often comes the chance to travel more and learning a new language will undoubtedly enhance this experience. Once you've mastered the basics and can communicate via your chosen language, you'll find making new connections abroad easier, as Helen Robinson found.
She told us, "In my 30s, I started to travel more on my own as other friends were settling down and learning Spanish eased my mind when it came to travelling to places away from touristy areas. It meant that I was able to communicate with without having to rely on finding English speakers and opened up the chance to make connections with people I otherwise wouldn't have been able to communicate with."
How can hobbies benefit our health?
The best hobbies for women in their 30s offer numerous mental health benefits, including aiding mindfulness and relaxation, boosting endorphins and creating a sense of community, if carried out within a group.
Cultivating hobbies outside work has been linked to better overall health, according to a recent study from Psychosom Med. The study found that those who took part in more leisure activities had, in general, lower blood pressure and levels of the stress hormone cortisol, as well as higher levels of positive psychosocial states.
Life coach Hannah Ellis Carmichael explains, "Hobbies are great for our mental health - there's something very 'mindful' and calming about being completely involved in a task to the point where you forget what's going on around you.
"Getting into the 'flow' with something you're passionate about can also boost your confidence and self-esteem as you expand your comfort zone and complete increasingly more complex tasks."
Sign up to our free daily email for the latest royal and entertainment news, interesting opinion, expert advice on styling and beauty trends, and no-nonsense guides to the health and wellness questions you want answered.
Lauren is the former Deputy Digital Editor at woman&home and became a journalist mainly because she enjoys being nosy. With a background in features journalism, Lauren worked on the woman&home brand for four years before going freelance. Before woman&home Lauren worked across a variety of women's lifestyle titles, including GoodTo, Woman's Own, and Woman magazine.