How to use sex toys of all different types for your best ever orgasm
Sexologists explain how to use sex toys to increase your pleasure, plus tips on finding the right one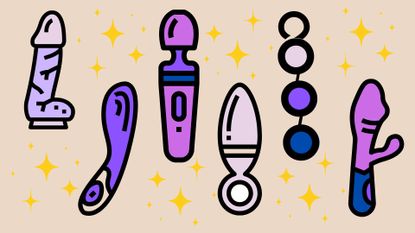 (Image credit: Future)
Many people don't know how to use sex toys properly, even though they're one of the biggest self-care purchases people make these days. This isn't so much of a problem if you're still getting what you want from your toy, as everyone will use them differently, but if you've made a purchase, or are thinking about making one, and you want to know all there is to know about the type of sex toy before you buy, we've got you covered.
There are so many different types of sex toys out there now, not just phallic-shaped manual dildos (although there's nothing wrong with being a fan of these - they're popular for a reason!). Vibrators, for instance, now come in so many different shapes, sizes, and colors, it can be difficult to figure out what part of the body they're even designed to be used on. While the age of sex positivity has opened our eyes to the possibilities of enhancing our self-pleasure, classic sex toys like nipple clamps are still not as widely represented.
Whether it's a dildo, vibrator, kegel ball, or something a little more daring, knowing how to use your pick of the best sex toys out there or possible next buy will be key to getting the most out of your toy. To help you out, we've spoken to four sexologists to get all the information you need about the most popular types of sex toys and how to use them.
How to use sex toys
1. External vibrators
External vibrators are some of the most common types of vibrators for a reason. Whether bullet vibrators, pebbles, clitoral stimulators like the Womanizer Premium Eco, or larger wand vibrators, external vibes are designed to target the area outside Womanizer Premium Eco, or larger wand vibrators, external vibes are designed to target the area outside of the vagina - especially the clitoris. Some external vibrators are also suitable for internal use, but many are too small to be safely inserted or not shaped appropriately to fit inside the body.
The best wand vibrators are some of the top external sex toys to invest in if you're looking to purchase them. Shaped like a back massager wand, they come in all sizes - from the medium LELO Smart Wand 2 to full-size Hitachi wands - and they work to stimulate a part of the clitoris, the opening of the vagina, and other erogenous zones like the nipples.
How to use an external vibrator
Depending on the size of your vibe, hold your external sex toy between your fingers or in the palm of your hand. Locating your clitoris, touch the toy lightly on either side of it, on the head, above, and below it. See what feels good for you as everyone will learn how to use a bullet vibrator, stimulator, and other external sex toys differently.
"Don't just focus on placing it directly over the clitoris. Putting the toy just below or on different areas of the vulva or even the pubic mound may be more pleasurable for some," advises sexologist Ness Cooper. "And explore attachments as well. Many external vibrators have compatible attachments offering the possibility to explore different forms of stimulation."
Be sure to use one of the best lubes with your toy and whenever you're learning how to use sex toys of any kind. Even though you're not using these toys internally, you'll want to make sure there's plenty of additional lubrication. "The vibrations can be very intense," Cooper, who is also the founder of The Sex Consultant, warns. "Lubrication not only helps make it more pleasurable but helps reduce friction burns during use."
2. Internal vibrators
Internal vibrators include popular sex toys like G-spot stimulators and the best rabbit vibrators. Just as external vibrators work on the outer part of the vulva, around the clitoris and the opening of the vagina, internal vibrators focus on the vagina. Their main role is to stimulate the G-spot, which is located on the front-facing wall of your vagina about two knuckles in. You'll probably find the area has a slightly rougher texture compared to other vaginal tissue.
If your internal vibrator is a G-spot stimulator, it's likely that you'll also be able to use it on your clitoris. Many types of internal vibrators come with additional attachments to make them combined toys, i.e. they stimulate both the G-spot and the clitoris at the same time to create a blended orgasm.
Confused about which one to choose when learning how to use sex toys? There's plenty to weigh up between rabbit vibrators vs clitoral stimulators, for instance, but it all comes down to intensity at the end of the day. One will offer clitoris-focused stimulation and the other offers both internal and external stimulation.
How to use an internal vibrator
Internal vibrators typically come looking like small batons with ribs around the edges for additional friction inside the vagina. They'll often have a curved tip at the end too, which is designed to perfectly hit your G-spot.
This is the time when you really need to learn what lube is if you're not already familiar with the personal moisturizer. It'll be pretty essential here as even when aroused, many people don't produce enough natural lubrication to make these vibes an enjoyable experience on their own. Cover your internal vibrator generously in the gel and you may also want to put some around your vagina and vulva too.
Then, place the vibrator inside at a point where it feels comfortable and cycle through the settings. Start on the lower settings to begin with, and as Cooper says, play around with what feels good. You can leave the vibe inside yourself in one place, manually move it in and out, move it around in circles, or use a wave-like motion to dip in and out. If it's a rabbit vibrator, be aware that you'll need to adjust to make sure the rabbit 'ears' match up with a good spot on or around your clitoris.
3. Dildos
Dildos are the most typical thing people tend to think of when they want to learn how to use sex toys - and they're the most varied type of sex toy.
The most typical dildos are shaped, sized, and colored to look like penises - although you can buy ones that are more smooth baton shapes. They often have exaggerated features to enhance stimulation as well, like artificial veins or slightly oversized heads.
Many dildos come with a flared base at the bottom too, which makes it easier for the user to handle and move in and out of the vagina or anus. These bases can also be suction cups that affix to walls and bathtubs for use in alternative settings - like sex in the shower.
Some dildos are manual and others come with vibration or thrusting motors, which aim to stimulate the feeling of penetrative sex.
How to use a dildo
Firstly, lube up your dildo more than you might think you need, and be prepared to administer more moisturized throughout. Then it's really up to you how you use your sex toy. You may decide to keep it in one place and use another type of toy to stimulate other areas like the clitoris, or you can move it in and out, up and down, in circles, or in wave-like motions.
Take it slowly if you're new to this type of penetration though and when buying one for the first time, always shop for the best sex toys for beginners as you're likely to find a better dildo to suit your needs.
4. Anal toys
Anal sex toys are very similar to dildos in many ways - they come in many different shapes, sizes, and colors, and can have lots of different functions. Butt plugs are one of the most popular types; large, often diamond-shaped plastic, metal, or silicone toys that sit inside the anus with a flared base to prevent it from moving too far inside. You can also use a dildo in this way and there are specific anal dildos as well, which tend to be slimmer in width and shorter in length.
Some of the best vibrators are also made for anal play, combining both anal and vaginal stimulation with two different heads - ideal for those who want to experience a totally new type of pleasure and orgasm. You'll also find butt plugs in one of the many sex toy kits available to buy online, so you don't have to invest in just one to get your money's worth if you want to try it.
How to use anal toys
After you've applied lube to your anal sex toy, start slowly. To begin with, as the entrance to the anus is naturally very tight, enter the tip of the toy first to help yourself relax. Pause at this point and assess how you're feeling, you might be ready to move it in more or give it a rest for the day and try again. The key with anal sex toys is not to rush; anal toys can either be a great way to learn how to have better sex or a painful diversion.
Lube is vital when using any kind of anal sex toy because this part of the body doesn't lubricate itself - unlike the vagina. Most lubricants will mention whether it's safe for anal sex on the packaging but it's best to opt for silicone lubricant as this lasts longer than many water-based lubricants. However, be sure to keep your silicone lubricant away from any silicone-based toys as these can cause erosion over time, and put a towel down since silicone lube can leave a stain.
Importantly as well, never use your anal sex toy anywhere else on the body after use - especially the vagina. Medical research from the University of Washington explains bacteria from the anus is likely to create the perfect environment for painful conditions like urinary tract infections (UTIs), bacterial vaginosis, and yeast infections.
5. Harnesses and strap-ons
Harnesses and strap-ons are other popular types of sex toys, most typically used by two people with vaginas to engage in different types of penetrative sex.
The harnesses look relatively similar to those you might use for climbing - just less sturdy - and the addition of a dildo or vibrator into a silicone ring that attaches to the front of the harness turns it into a strap-on. You can also buy so-called "strapless" strap-ons, which tend to work alongside an internal element that the person penetrating holds inside themself.
Strap-ons may change the game in some of the best lesbian sex positions, but they can also be used between male-female couples for sexual activity. "Pegging is the act of a person receiving anal sex from someone usually wearing a strap-on dildo, typically a combination of a harness and a dildo," says sexologist Kate Moyle. "It can also be done with a harness-free dildo, or it can be done with a handheld vibrator like a prostate massager."
How to use a harness and strap-on
For ease, fix your dildo or vibrator (you'll need one with a suction cup or flared base to ensure it stays inside the silicone ring) before getting into the harness. Step inside the harness and lift it to around your hips, tightening and adjusting the straps and front plate as needed.
Then, go slow. If you or your partner aren't used to penetrative sex normally, it can be quite an adjustment. Be sure to use plenty of lube and start super slowly, says Moyle, who is also the resident sex and relationship expert for sexual wellness company LELO.
6. Kegel balls
Kegel balls, love eggs, Ben Wa Balls, orgasm balls, whatever you like to call these insertable, wearable toys, they're one of the most popular types of sex toys. Many of them are weighted balls linked together on a string with a cord at the end to pull them out (a bit like a tampon), others vibrate while they're inside you, and others make up some of the best pelvic floor trainers as well.
Thanks to their wearable features, these vibrating love eggs are often used remotely, says sexologist Cooper. "Vibrating love eggs can be inserted into the vagina so the individual can experiment with hands-free stimulation. These eggs are known as wearable vibrators, which also allow people to explore sexual play in public as others around them can't hear or see the egg sex toy" she explains.
How to use kegel balls
Kegel balls are very simple to use. Using plenty of lube, slip them in until they're fully inside yourself with just the pull cord visible from your vagina. If they're weighted balls, you'll likely want to use other forms of stimulation at the same time, says Cooper. "While inserted into the vagina, they can also be great to use alongside other sex toys, such as a wand vibrator over the clitoris or a butt plug inserted anally."
Alternatively, flick the switch on your remote sex toy to make your vibrating love eggs buzz, and learn how to use sex toys by trying this one out for yourself.
You can also explore external stimulation and foreplay with these exciting balls. "While vibrating eggs are mostly advertised as insertable vibrators, they can still be great when exploring external stimulation and foreplay. The egg can feel a bit like one of the best bullet vibrators but wider and it can be used to tease the clitoris and nipples.
However, these love eggs should never be used anally and only ever inserted into the vagina or used to tease external body parts, she adds.
7. Cock ring
Cock rings are silicone rings that are traditionally worn around a penis to trap blood in the area or increase the amount of blood for a stronger erection. However, as some of them come with a mini bullet vibrator on the top, you can also wrap them around a dildo or another type of sex toy to create more of a makeshift rabbit vibrator.
"The ring can be worn in various ways, such as only on the shaft of the lingam, around the testicles, or around both the shaft and the base of the testicles," says Massimo Stocchi-Fontana, a sexologist and certified sex coach. "It can truly enhance the experience of the user and receiver."
How to use a cock ring
If you and your partner want to try a cock ring for better stimulation for both of you, Stocchi-Fontana has some advice. "If you're using the ring on a penis, for ease, place the ring over the head of the penis, sliding it down the shaft. Test out what feels better for your partner as some people prefer it being placed on when fully erect," he says. "This is quite a personal feel."
Just be sure not to use a cock ring for more than 20 to 30 minutes, he warns. "There is a reason why blood is constantly flowing through the lingam and we want to avoid any tissue damage. Remember that if any sensations feel uncomfortable or are inducing pain, remove the ring immediately, and be aware of drastic color changes as this could be an indicator that blood needs to flow back to normal."
And of course, lubrication is a necessary part of the process too, as this will help with everyone's comfort and pleasure. "Choose a non-silicone lube if you are using a silicone cock ring as this will damage the toy, and also remember that if you are using condoms, you'll need to be mindful of the type of lube you are using as well," he says.
8. Couples toys
Sex toys suitable for couples could include any of the above, as learning how to use sex toys for you may include experimenting with your partner. It could also include any of the best sex games - such as foreplay dice, playing cards, or more intimate question games. However, if we're looking at specifics, couple sex toys tend to be vibrators that both partners are involved with, either by wearing or controlling.
The original couples' sex toy is the We-Vibe Sync, a small combination vibrator that sits inside the vagina against the G-spot and wraps around the front of the vulva to target the clitoris. However, it doesn't take up too much space so many people also have some kind of penetrative sex at the same time. Similar toys include the LELO Tiani, which is operated by remote control, and finger vibrators can be a fun addition to this collection as well.
How to use couple toys
Choosing the right sex position here will be important if you're considering using a couple's vibrator while having penetrative sex. While the more unique positions may be more appealing, opting for something like the closed missionary sex position or the butterfly sex position may be a better option to help the toy stay in place.
Looking at the We-Vibe and the LELO Tiani specifically, you'll need plenty of personal lubricant to get started. Even if it's with a partner you're familiar with, having penetrative sex while using these toys could be difficult without additional lubrication.
What are the benefits of using sex toys?
The benefits of using sex toys are very similar to the numerous health benefits of using a vibrator, including improvements like helping to manage the physical manifestations of stress, improve sleep, and keep your vagina healthy, alongside more mental benefits for you and your relationship.
Trying something new: Learning how to use sex toys is a great way to try something new and normalize trying new things in your relationship, sexologist Stocchi-Fontana says. "Together, it allows us to realize that we are adding further pleasure to our partner's experience and when done with love that really should be a goal of ours."
Improving communication between you and your partner: "Using a toy with a partner engages our auditory, visual, and kinaesthetic faculties to really start seeing, hearing, and feeling what our partner is communicating," says Stocchi-Fontana. "This process then allows us to move away from the verbal communication to truly learn how to read the non-verbal cues."
Bringing a new sparkle to your relationship: "There may be moments when we are run down and our libido is low due to stress, but this doesn't mean that performance has to be an issue," the sexologist says. "Instead, using a toy can remove the focus on performing just long enough to connect with our partner's pleasure body and then harmonize ourselves with wanting to connect sexually with them. It really is a win-win on all fronts."