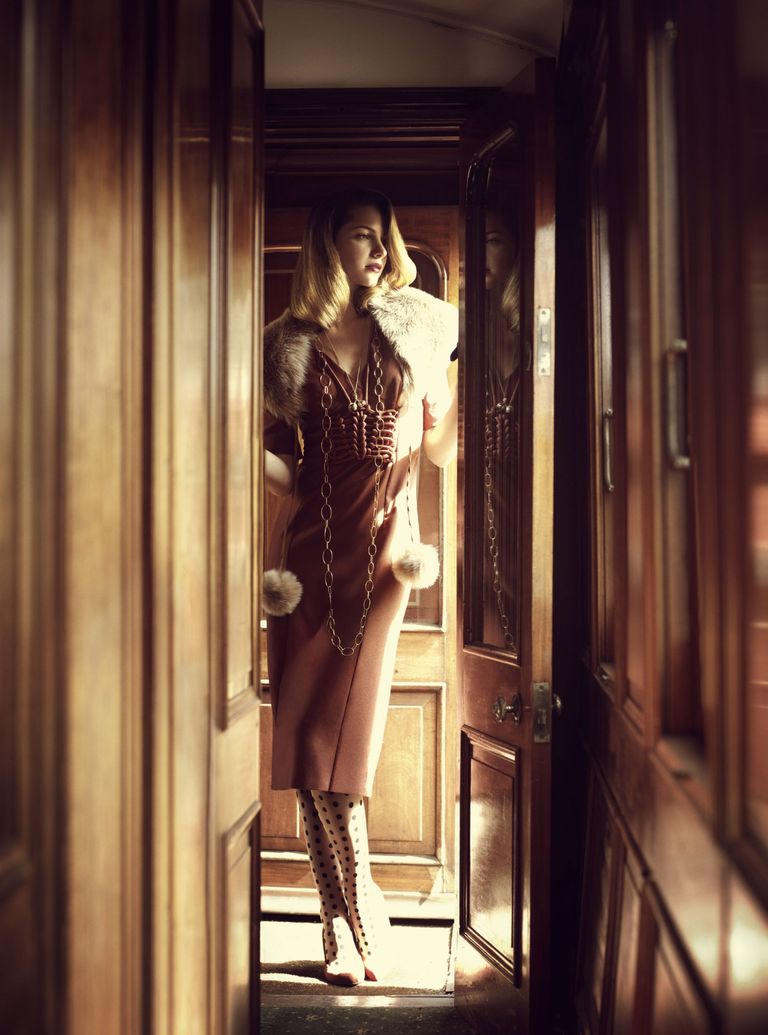 Update your wardrobe for the new season with some retro classics
February 5, 2013
Thanks to high profile celebrities walking the red carpet in beautiful retro dresses, vintage fashion is back in a big way. Vintage dresses can be hard to find and even harder to wear, so why not create the look with vintage-inspired dresses?
From the 40s right through to the 80s, vintage-inspired dresses can be found all over the high street. And it's so easy to work a vintage dress into your wardrobe.
Looking for a vintage dress you can wear every day? Why not try a 70s maxi dress, or a minimalist 60s shift dress? Or work the look in the evening with a glamorous 50s vintage dress or a pretty 40s tea dress. Stand-out 80s vintage dresses also look great, day or night.
Vintage prints are also big news. Keep your look modern, but opt for vintage prints such as polka dots or wide 60s stripes to give a nod to the vintage trend in your everyday wardrobe.
So whatever the occasion, find the perfect vintage dress for you here...
Find more dresses
ASOS Maxi Dress With Embroidered Waist Panel, £75
Who says maxi dresses are only for summer? Channel 70s bohemia with this ASOS Maxi Dress With Embroidered Waist Panel in the cold snap: Just add thick tights, boots and a shaggy fur coat to completely embrace the trend. Find more dresses
Michael Michael Kors Printed Stretch-Crepe Dress, £195
Brighten your wardrobe with this 80s-inspired Michael Michael Kors Printed Stretch-Crepe Dress. Wearable all year round, team with black tights and boots in the winter and bare legs and sandals on holiday this summer. Find more dresses
Jaeger Scalloped Lace Dress, £199
Go for all-out glamour at your next event with Jaeger's Scalloped Lace Dress. So feminine, this 50s-inspired number will cover mature arms, nip in your waist and flatter your figure. Perfect! Find more dresses
Topshop Limited Edition Pearl Swing Dress, £195
Looking for something special for your next event? Try this Topshop Limited Edition Pearl Swing Dress. So pretty, give this 60s-style dress an edge with some thick black tights, chunky boots and a leather jacket. Find more dresses
Oasis Fluro Belted Dress, £65
Work a retro 50s vibe into your workwear with Oasis' Fluro Belted Dress. The nipped in waist will create an hourglass silhouette, flattering both curvy and boyish figures. Find more dresses
A Wear Daisy Print Tea Dress, £35
A pretty tea dress is a summer must. Update the classic 40s style with this A Wear Daisy Print Tea Dress: Team with chunky heels or boots and a leather jacket to toughen up your look. Find more dresses
Coast Lois Crepe Dress, £135
Adding a bright pop of colour is a great way to update a vintage dress. This 50s-style Coast Lois Crepe Dress will hug a womanly figure, creating an enviable silouhette. Find more dresses
Michael Michael Kors Panama Polka-Dot Silk-Georgette Dress, £285
Give a nod to the vintage trend with this Michael Michael Kors Panama Polka-Dot Silk-Georgette Dress. Featuring a thoroughly modern cut, the 50s print adds a feminine touch to an on trend look. Find more dresses
Zara Wide Stripe Dress, £39.99
60s vintage styles are great for working into your everyday wardrobe. This Zara Wide Stripe Dress will work now with black tights and boots just as well as it will later, with bare legs and wedges. Find more dresses
Warehouse Lace Skater Dress, £85
Could this be your new go-to dress for summer and winter weddings? In pretty vintage-look lace and with a flattering cut, this Warehouse Lace Skater Dress just hit the top of our wish list for the new season. Find more dresses
Reiss Beya V-Back Bodycon Dress, £149
Add a modern twist to a minimalist 60s design with Reiss' Beya V-Back Bodycon Dress. In a unique icy blue hue, this dress will look striking next to a healthy summer glow (faked, of course) and some edgy black accessories. Find more dresses
Somerset by Alice Temperley Tile Print Silk Maxi Dress, £199
Looking for a dress to see you through all of your summer garden parties in style? This Somerset by Alice Temperley Tile Print Silk Maxi Dress is perfect for any special occasion. We love the vintage-inspired print, which is sure to get you noticed this season. Find more dresses
NW3 at Hobbs Mini Check Dress, £139
Give a nod to the 1920s with this drop-waisted NW3 at Hobbs Mini Check Dress. The youthful style of the dress will work well in the summer - just add loafers and a structured bag to finish your look. Find more dresses
All Saints Cancity Dress, £198
Give your next evening outfit a glam 40s makeover with All Saints' Cancity Dress. Work some modern touches in with skyscraper heels and statement jewellery. Find more dresses
Miss Selfridge Cape Texture Maxi Tier Dress, £45
70s maxi dresses were all about relaxed glamour. Channel the vibe with this Miss Selfridge Cape Texture Maxi Tier Dress - perfect for hot summer nights when you want to feel comfortable without sacrificing style. Find more dresses