How to spot flattering dresses for big busts without needing to try them on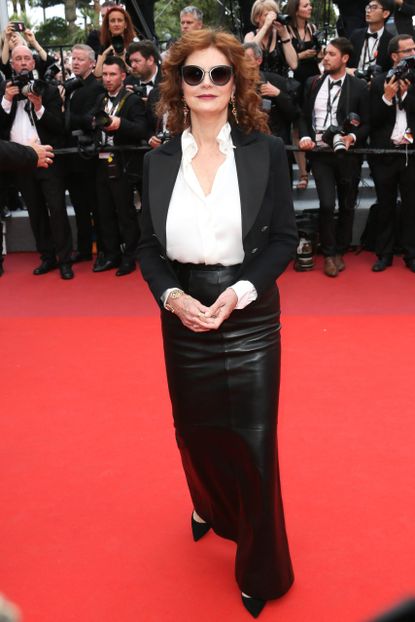 If you have been blessed with a big bust, it sometimes can be tricky to find flattering dresses that don't over emphasise your top heavy body shape. From the most flattering necklines, to the best colour combinations, we have rounded up eight easy ways to spot dresses for big busts.
If, like actress Susan Sarandon, you have a top heavy body shape, finding dresses for big busts to flatter your figure can feel difficult at times. But, with a few clever styling tricks you can look just as fabulous. It's just about learning the golden style rules to how to best flatter your figure. The main goals should be to accentuate your assets and create definition in your waist, resulting in a gorgeous silhouette.
Do you have a top heavy body shape? The easy way to tell is if you have a big bust and upper body area, and little waist definition. You may also have slimmer arms and legs, but tend to collect weight around your middle area. You'll also most identify with the Apple or Inverted Triangle body shape. Catherine Zeta-Jones, Oprah Winfrey and Angelina Jolie all fall into this category, so you're in good company!
MORE: What body shape am I? (opens in new tab)
With expert advice fromIsabel Virden of the Fashion Retail Academywe've picked out some of the best dresses for big busts, including dresses for work, an evening out, casual day-dresses and those all-important special occasions. We've also detailed how to wear these dresses and why they'll flatter your figure, meaning that you'll pick up more than just a few tricks to look and feel your best.
Some quick style rules to follow are to embrace the V-neck (which will show off your cleavage), stick to fitted pieces that nip in at the waist, and avoid items that constrict your top half (like buttons, high necks or tight collars).
Isabel advises, "I believe that body confidence is the key to looking good. A large bust can be celebrated and should not restrict choice of clothing or personal style. However, there are certainly some key style tips that bigger busted women can bear in mind. For example, roll necks and necklines that are too high may want to be avoided, but that's preference."
She continued, "It is most important tofeel comfortable in thechoice of clothing you have made that day. Confidence is everything and will enable you to look good whatever you are wearing.The material of the clothing is also important. If you have a big bust, it's often a good idea to opt for fabrics that are stretchy, but also provide support and structure."
Keep clicking for our edit of the best dresses for big busts...
Be bold!
Ignore the myth that you shouldn't wear bright colours or bold patterns if you have a top-heavy body shape. Bold, bright colours are a great way to anti-age any outfit, and they can also help balance out your shape. Opt for wrap-style dresses as made famous by Diane Von Furstenberg that will define your waist and have a flattering neckline, like this dress that comes in a variety of patterns from Boden, £98.00 (opens in new tab)
Make it a midi
Don't let your hemline swamp you. Sometimes a maxi-dress that falls all the way to the floor can end up looking boxy and unflattering. Instead, if you find a dress you like but it's not quite the right length, consider taking the hemline up and getting it adjusted. A dress that skims above your ankle, or a midi-dress that falls just below the knee and shows off your slim lower legs is a fabulous, playful way to dress your figure. Midi-dresses are this seasons hottest trend, so there are plenty on the high-street to choose from, such as this shirt dress by Warehouse, £42.00 (opens in new tab)
Belt it!
Belted dresses - like this one by Mango (opens in new tab) - will define your waist and bottom half, rather than leaving all the attention up top. Isabel said, "Belted dresses are also a good call for top-heavy body shapes as they help accentuate your middle and draw attention to your hourglass shape. Keep it simple and avoid any fussy details like ruffles, frills and breast pockets that may make your breasts look larger than they actually are."
Change it up
But don't let a belt restrict your wardrobe? It's not the only way to cinch in your waist and dress a top heavy body shape. The key is to accentuate your favourite part of your body, whilst balancing out your shape. Perhaps you want to wear a pair of fitted jeans to draw attention to your long legs, or a fitted skirt that shows off your amazing curves. Try this high waist pencil skirt midi dress, available at Ted Baker for £189 (opens in new tab).
Opt for a V
Reveal and conceal - there's a fine balance when dressing a fuller top half but low-cut V-neck dresses and tops are a quick way to flatter. Isabel advises, "The V-neck is one of the most flattering necklines for women with big busts because they lengthen the silhouette they draw the eyes downwards. However, it's advisable to avoid overly deep V-necks as they may show off too much cleavage, which might not be appropriate depending on the setting." Just be sure to go low-key on the bottom half for a really styled and pulled-together look. This dress by Sosander for £69 (opens in new tab) is perfect.
Balance out your shape
Balance out a larger top half with a full A-line skirts, like this one by M&S, £35 (opens in new tab), or wide-leg trousers. Isabel advises, "Fit and flare dresses as they are designed to balance out your figure. The fitted top half helps create a curvaceous shape, while the flared bottom half takes attention away from the bust area and helps balance the look."
What you wear underneath matters
Getting it right underneath should be the very first step to dressing top heavy figure. Isabel advises, "for busty women, a well fitted bra is essential. It should offer full breast coverage and give your chest shape without over-accentuating the size of your breasts." So, invest in a supportive and well-fitting bra like this one by M&S. Available at M&S for £18. (opens in new tab)
Draw attention away
A large tote bag, carried on the hook of the arm, will draw attention away from your top half. Pick up an elegant, roomy and stylish tote or shopper bag for less at M&S. (opens in new tab) Isabel advises, "Selecting the right accessories can also flatter your cleavage. For example, necklaces and earrings can help draw attention away from the cleavage."
Sibelle Mehmet started as a junior digital writer at GoodtoKnow and Woman and Home in April 2019.
Prior to landing her first job as a digital writer, Sibelle completed an MA in Magazine Journalism at City, University of London and is also a graduate of the University of Edinburgh with an MA in English Literature and History.
As well as writing extensively about the latest celebrity, showbiz and royal news, Sibelle also covered a wide range of topics from trending beauty products to have on your radar, to the latest fashion styles compounded on the catwalk.