49 shopping quotes: For some instant retail therapy inspiration
Shopping quotes that will both inspire and justify your next retail therapy outing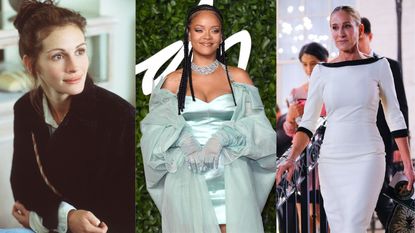 (Image credit: Getty)
When it comes to shopping quotes, inspiration is everywhere. From our favorite TV characters to top-end designers, writers and style enthusiasts, there is plenty to be said about one of our top hobbies.
Whether you're looking for a witty caption or fashion quote to bolster your latest Instagram post or the top Coco Chanel quotes to create some stylish wall art, being able to draw on shopping quotes from across the media landscape can help with sartorial one-liners.
Delivered by everyone from the best fashion bloggers, to some of our favorite designers and movie characters, they can help to articulate your latest and greatest buy. From the best designer bags to your best jeans, covering capsule wardrobe investments and frivolous buys based on the fashion trends 2022, these are some of our favorite shopping quotes that will slot easily into your social media patter.
49 brilliant shopping quotes
1. Shopping quotes from Carrie Bradshaw
If you've ever wanted to learn how to dress like Carrie Bradshaw, we can't say we blame you. Owner of some of the best designer heels, Carrie might be a fictional character but we can't help but have wardrobe envy every episode. With some of the best dresses and an enviable walk-in wardrobe, Sarah Jessica Parker, the actress responsible for our style crush is just as passionate about fashion, creating some of the Met Gala's best looks. If you grew up wanting to live that Big Apple dream, and shop til you drop, then Carrie Bradshaw's best shopping quotes are one to learn off by heart.
"Shopping is my cardio." - Carrie Bradshaw, Sex and the City
"I like my money right where I can see it: hanging in my closet." - Carrie Bradshaw, Sex and the City
"Women come to New York for two Ls: labels and love." - Carrie Bradshaw, Sex and the City
"I've spent $40,000 on shoes and I have no place to live?! I will literally be the old woman who lived in her shoes." - Carrie Bradshaw, Sex and the City
"And there, in the same city where they met as girls, four New York women entered the next phase of their lives dressed head to toe in love. And that's the one label that never goes out of style." - Carrie Bradshaw, Sex and the City
"With no man in sight, I decided to rescue my ankles from a life of boredom. By purchasing too many pairs of Jimmy Choo shoes." - Carrie Bradshaw, Sex and the City
"I have this little substance abuse problem... expensive footwear." - Carrie Bradshaw, Sex and the City
"A closet full of clothes, nothing to wear." - Carrie Bradshaw, Sex and the City
2. Shopping quotes from TV and Film
But it isn't just Carrie Bradshaw that sets our shopping senses alight. Over the years we have been treated to plenty of fantastic TV and film characters that have shared our desire for a good dose of retail therapy. From the early days of Clueless to the iconic Pretty Woman shopping scene, there are plenty of shopping quotes to be drawn from blockbusters and small screen stars. Whether you want to justify your obsession with the lastest fashion trends 2022 or revel in the top shoe quotes, here are a few of our favorites.
"Treat yo'self" - Tom and Donna, 'Parks and Recreation'
"I shop, therefore I am." - Heather Chandler, 'Heathers'
"Dionne: Dude, what's wrong, Are you suffering from buyer's remorse or something Cher: God no, nothing like that..." - 'Clueless'.
"Do you have anything In this shop as beautiful as she is?" - Edward, 'Pretty Woman'.
"You sold your soul to the devil when you put on your first pair of Jimmy Choo's, I saw it." - Emily, 'Devil Wears Prada'
3. Shopping Quotes by Designers & Stylists
Of course, we can't talk about shopping quotes without referencing the people that make and break the trends. The fashion crowd are always vocal when it comes to sartorial choices, whether that's calling out comfortable flats, or championing the big handbag trends 2022, these are the quotes that die-hard fashionistas adhere to when it comes to those all-important purchases. From wardrobe essentials to the best sustainable clothing brands and ways to shop smartly, these are some wise words to live by.
"Hanging onto a bad buy will not redeem the purchase." - Terence Conran
"Buy only because something excites you, not just for the simple act of shopping." - Karl Lagerfeld
"Style Strategy is about shopping smart, staying chic, and making it all last. It's about showing women how to shop for value without compromising style." - Nina Garcia
"You can never take too much care over the choice of your shoes." - Christian Dior
"I actually have more shoes than anyone will ever know." - Tamara Mellon
"The average woman falls in love seven times a year. Only six are with shoes." - Kenneth Cole
"T-shirts for ten dollars are even more fashion today than expensive fashion." - Karl Lagerfeld
"Buy clothes the size you want to wear." - Karl Lagerfeld
"Style is the only thing you can't buy. It's not in a shopping bag, a label, or a price tag. It's something reflected from our soul to the outside world - an emotion." - Alber Elbaz
"I tend to splurge on fancy dresses because I always think I'll get a lot of wear out of them, but it's false logic. You should really spend more money on the things you wear every day, like jeans." - Alexa Chung
"When I was going to Paris for Paris Fashion Week, I'd often walk down the street and go into all the different shops that we didn't necessarily have in the U.K., and Maje was definitely one of the ones that stood out for me." - Alexa Chung
"I spend most of my money on Prada or plane tickets." - Alexa Chung
"Buy less. Choose well. Make it last." - Vivienne Westwood
"Put your money into accessories. You could create a million different looks." - Iris Apfel
"The best things in life are free. The second best are very expensive." – Coco Chanel
"If I could be reincarnated as a fashion accessory, it would be a shopping bag." - Karl Lagerfeld
"I say all the time I think there should be some courses in the regular schooling system that isn't, even like about credit, things that matter later in life. I learned the harder way: 'Look, I got a $500 credit card in the mail, let's go shopping!" - Khloe Kardashian
4. Shopping Quotes by Writers
It's hardly surprising that the list of shopping quotes is dominated by Sophie Kinsella. The writer behind the literary series of books, 'Confessions of a Shopaholic', these breezy summer reads will fill you with enough style quotes for a lifetime. Playing on our love of retail therapy and penchant for justifying our latest best cashmere sweater, Kinsella's witty shopping quotes will have you grinning from ear to ear.
But it's not just Kinsella's character, Rebecca Bloomwood that can fill your closet walls with sassy slogans. Fashion writers such as Suzy Menkes and Devil Wears Prada creator, Lauren Weisberger have some great shopping quotes too.
"When I shop, the world gets better, and the world is better, but then it's not, and I need to do it again." - Rebecca Bloomwood, Confessions of a Shopaholic by Sophie Kinsella
"As I stare at it, I can feel little invisible strings, silently tugging me toward it. I have to touch it. I have to wear it. It's the most beautiful thing I've ever seen." - Rebecca Bloomwood, Confessions of a Shopaholic by Sophie Kinsella
"You can always find something you want."- Rebecca Bloomwood, Confessions of a Shopaholic by Sophie Kinsella
"Shopping is actually very similar to farming a field. You can't keep buying the same thing, you have to have a bit of variety." - Rebecca Bloomwood, Confessions of a Shopaholic by Sophie Kinsella
"I think, they should list shopping as a cardiovascular activity. My heart never beats as fast as it does when I see a 'reduced by 50 percent' sign." - Rebecca Bloomwood, Confessions of a Shopaholic by Sophie Kinsella
"If a man doesn't fit, you can't exchange him seven days later for a gorgeous cashmere sweater." - Rebecca Bloomwood, Confessions of a Shopaholic by Sophie Kinsella
"I NEED these cashmere gloves because it's winter…and I have hands." - Rebecca Bloomwood, Confessions of a Shopaholic by Sophie Kinsella
"Shopping is a woman thing. It's a contact sport like football. Women enjoy the scrimmage, the noisy crowds, the danger of being trampled to death, and the ecstasy of the purchase." - Erma Bombeck
"There is no doubt that online shopping has fed the craze for speed, because when you can't touch the fabric or try on the outfit, the only emotion you experience is the excitement of the purchase and the thrill of beating everyone else to it." - Suzy Menkes
"The closest I get to any sort of 'designer' items would probably be my weakness for jeans - they don't have to be any particular brand, but I'm willing to do almost anything, go anywhere, spend obscene amounts of money for that elusive 'perfect pair." - Lauren Weisberger
5. Shopping Quotes by Actors and Musicians
We're used to seeing celebrities and musicians deliver fantastic style ideas on the red carpet. From the best Oscars dresses to the Met Gala 2022 best dressed, the red carpet is essentially their runway. While many of the biggest names in the industry have a bevy of stylists to get them red carpet ready, for some that does not put a halt to their shopping habit, with confessions of mass shoe buying and discussing the gratification that shopping delivers... sound familiar?
"I love shopping. There is a little bit of magic found in buying something new. It is instant gratification, a quick fix." - Rebecca Bloom
"Whoever said that money can't buy happiness simply didn't know where to go shopping." - Bo Derek
"Happiness is not in money but in shopping" - Marilyn Monroe
"If you're a queen, you're powerless, so I'd probably demote myself and go shopping." - Helena Bonham Carter
"It's better to buy one good pair of shoes than four cheap ones." - Cary Grant
"I see a pair of shoes I adore, and it doesn't matter if they have them in my size. I buy them anyway." - Keira Knightley
"I'm obsessed with shoes. I must have hundreds of pairs...That reminds me- I need to go shopping!" - Keira Knightley
"Making music is like shopping for me. Every song is like a new pair of shoes." - Rihanna
Rivkie is a fashion editor, writer and stylist with over fifteen years' experience in the industry. Having studied design and pattern cutting at the London College of Fashion, Rivkie fell in love with styling and journalism, covering fashion weeks in London, Paris and New York.
Specialising in plus size fashion, Rivkie has long championed that style is for everyBODY and has been a regular talking head on a host of radio stations and television shows, pushing for greater representation for plus size women and fashion throughout her career.