Meghan Markle looks sensational in £95 dress on the penultimate day of Royal Tour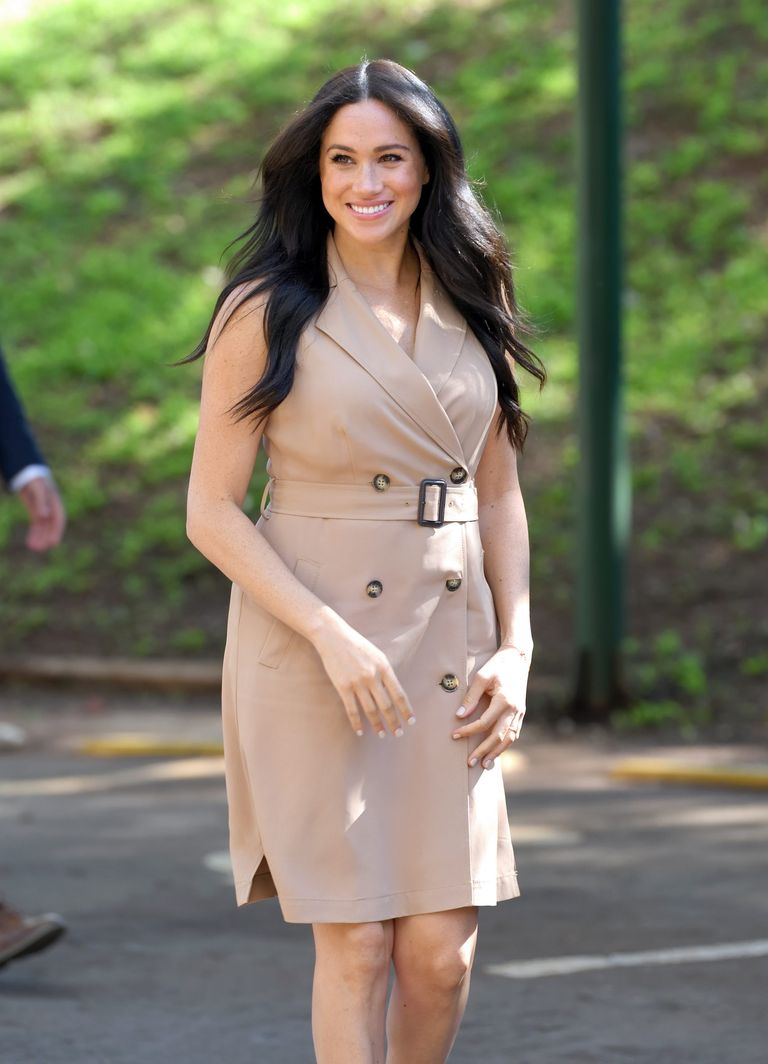 The Duchess of Sussex is currently embarking on the royal tour of South Africa, stepping out on the penultimate day wearing a Banana Republic beige trench dress.
• The Duke and Duchess of Sussex are currently on their royal tour of South Africa. • On the penultimate day, Duchess Meghan opted for a relaxed look in a double-breasted dress from Banana Republic. • This follows royal news that she and Prince Harry showed off some groovy dance moves on the first day of the trip.
As Duchess Meghan and Prince Harry headed out to the University of Johannesburg ahead of a discussion about access to higher education, the 38-year-old mother-of-one opted for a relaxed yet smart look wearing a £95 Banana Republic double-breasted beige dress.
With a pair of chic £295 nude stiletto heels by Stuart Weitzman and a £275 didem bracelet by Alemdara, the stunning royal nailed the practical and stylish ensemble.
Everything the Duchess wears tends to sell out very fast, and unfortunately this trench dress, which was available in tan, warm white and khaki, has now sold out in all colours.
Though, keep an eye out as it might be back in stock online very soon.
The '80s double-breasted dress trend is a must-have this season so we found you some alternatives if you'd like to try out Meghan's style.
Luckily, high street reliable Mango is selling a similar version online for just £49.99.
Swedish clothing retailer & Other Stories is also selling a similar frock - a belted mini dress in linen, with a double breasted trench style silhouette. This can be purchased online and in store for £85.
Royal fans have been impressed with the Duchess of Sussex's outfit choices on her first Royal tour.
Recycling her wardrobe on several occasions, Meghan was seen re-wearing her denim jacket for second day of South African tour.
And, the former Hollywood actress also recycled a classic, blue frock, worn once before during her and Prince Harry's trip to Tonga.
The stunning Veronica Beard Cary dress made its first appearance back in October shortly after the Duchess announced she was pregnant.
Meghan, Harry, and Archie's 10-day royal tour is set to come to end this week following what has been a very busy trip for the new family of three.