Introducing Party Trousers... They Look Fabulous AND They're Warm!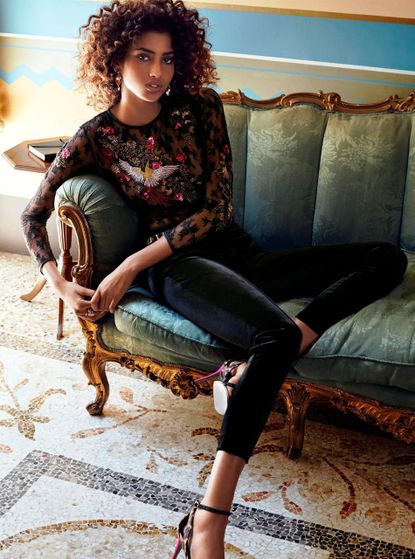 With party season fast approaching, we all face the annual dilemma of what to wear to festive events. Between work Christmas parties and family gatherings there are a lot of them. So if you're a little tired of dresses, opt for something more modern. There's an underated item that's both incredibly chic and functional: trousers.
We don't mean just any old pair of trousers of course. We're talking Party Trousers. This year has been the year of the trouser with A-listers including Helen Mirren, Victoria Beckham and (of course) Hilary Clinton all putting the trouser suit trend centre stage. These women are proof that you don't have to wear a dress to look like a total knockout.
If you need any more convincing that this trend is worth trying then just think about the practicalities: they're warm! And tailored trousers are incredibly flattering on your figure. Choose wisely and they'll accentuate your waist, slim hips, lift bums...
Happily there are loads of different trousers to choose from this year, from glittery sequinned styles to plush velvets and opulent brocades. Here's our edit of the best party trousers on the high street right now:
Fabrice Jacquard Trousers, £49, Monsoon
Gold is the ultimate Christmas colour, so these jacquard trousers are perfect for party season. Simply pair them with a blouse, some heels and glitzy accessories, and you've created a show-stopping festive outfit.
BUY NOW for £49 from Monsoon (opens in new tab)
High Waisted Cigarette Trousers, £40, Next
These plush burgundy cigarette pants ooze sophistication and are perfect for Christmas festivities. Accessorise with bold metallic accessories for a striking party outfit.
BUY NOW for £40 from Next (opens in new tab)
Darwin Flocked Lace Trousers, £89.00, Coast
These lace trousers are beautifully tailored and the slim fit makes them incredibly flattering on your silhouette, as they skim the legs and don't cling. They'll look divine with black flats, but pair them with heels to elongate and slim legs further.
BUY NOW for £89.00 from Coast (opens in new tab) (opens in new tab)
Sequin Trousers, £45, Next
Nothing screams Christmas party like a bit of sparkle and these eye-catching trousers will make your complexion look radiant too with their light-reflecting properties! Style with a simple silk blouse or dress down with a sweatshirt.
BUY NOW for £45 from Next (opens in new tab)
Satin Twill Peg Trousers, £45.00, Topshop
Two of 2016's biggest trends, pinks and metallics, combine into one standout party piece here. They could be worn with lots of neutral colours but we'd recommend grey.
BUY NOW for £45 from Topshop (opens in new tab)
Silver Jacquard Tailored Trouser, £31.50, Wallis
The uxurious jacquard fabric make these trousers feel partyish, plus they come with a matching jacket if you want to try the on-trend trouser suit combination.
BUY NOW for £31.50 from Wallis (opens in new tab)
Vivienne Velvet Wide Leg Trouser, £69.00, Monsoon
We've waxed lyrical about our love of velvet jackets before, but velvet trousers hold just as much allure. These wide-leg beauties will look fantastic paired with a matching blazer or a light-weight festive knit.
BUY NOW for £69 from Monsoon (opens in new tab)
Silver Trousers, £39.99, Zara
Metallics have been everywhere this year. These sparkly trousers tick that trend box but the thing we like about them is the unusual split hem feature at the ankles - perfect if you're looking to showcase some statement heels alongside your decadent party trousers!
BUY NOW for £39.99 from Zara (opens in new tab)
Black Velvet Trousers, £28, Next
These sleek velvet trousers look great styled with a whole range of tops, from shirts to camisoles. We fancy that we'd wear them lots casually too, with oversized knits and chunky boots.
BUY NOW for £28 from Next (opens in new tab)
Cropped Trousers, £29.99, Zara
All cropped trousers really need to look jazzy are a pair of fabulous shoes. These have a wonderful lustre to them so you don't even need worry about a fancy top. A simple black rollneck will do.
BUY NOW for £29.99 from Zara (opens in new tab)