12 of the best British skincare brands to try
Update your cosmetics portfolio with the best British skincare brands, recommended by our beauty team.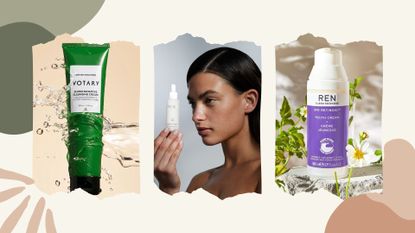 (Image credit: Future)
The best British skincare brands have so much to offer. Natural, sustainable, highly effective and incredibly luxurious, the UK beauty scene is more than impressive across the beauty board.
If you're someone who loves British clothing brands or Black-owned beauty and skincare brands then you'll want to hear about these heritage British skincare brands. Offering some of the best face moisturiser options as well as the best vitamin C serums, the best British skincare brands have it all. In this round-up- up there will be a mix of some known brands that have notable sustainable beauty credentials, locally sourced ingredients and other worthy benefits. In addition to introducing you to some lesser-known but equally as impressive products.
So whatever your skincare needs or your beauty budget, there's something here for everyone whilst celebrating all that's wonderful about the best British skincare brands.
The best British skincare brands, picked by our beauty team
Why you can trust Woman & Home Our expert reviewers spend hours testing and comparing products and services so you can choose the best for you. Find out more about how we test.
1. Liz Earle
Specifications
Price point: ££
Born in: Isle of Wight
Best for : Botanical-focused buys
Reasons to buy
+
Sustainable packaging
+
Cruelty
+
Naturall active ingredients
+
Certified carbon neutral
Founded in 1995, co-founders Liz Earle, an author and botanical beauty authority, and Kim Buckland, a skincare industry expert, were united in their quest to find beauty that would suit their different skin types. Believing in the potent power of naturally active ingredients, they were among the first to make sourcing botanicals for their unique efficacy a priority – and this is where one of the best British skincare brands was born.
Committed to building relationships with growers and farmers, not only to ensure the quality of precious ingredients but also to monitor their impact on the environment, the community and fair working conditions. The Hot Cloth Cleanse and Polish is a beauty staple in its own right, as it's the world's first naturally active triple-action cleanser and has won over 130 awards in the UK alone.
Hero hydrator
Liz Earle Skin Repair Hydrating Serum
RRP: £30
Say goodbye to dry skin with this supercharged serum that quenches thirsty complexions immediately. It's packed with plant-based hydrating hyaluronic acid, balancing niacinamide and nourishing snow mushrooms.
Cult buy
Liz Earle Cleanse & Polish Hot Cloth Cleanser
RRP: £30
Without a doubt, this is one of the best Liz Earle products. Not only does it smell like a spa, but the creamy formula works to melt away makeup, dirt, impurities and sweat with minimal effort.
Night worker
Liz Earle Skin Repair Hydrating Night Cream
RRP: £26
Let your night cream do all the hard work while you sleep with this intensive overnight moisturiser. The radiance-boosting and replenishing ingredients including avocado oil and seed oils help cheat a glowing, well-rested complexion.
2. Neal's Yard Remedies
Specifications
Price point : ££
Born in : London
Best for : Organic products
Reasons to buy
+
Organic and ethically sourced ingredients
+
Free from chemicals
+
Sustainably sourced
+
Cruelty-free
+
Carbon neutral
From small beginnings in a quiet corner of London's Covent Garden, Neal's Yard are now a global leader with a growing presence across five continents. Using ethically sourced herbs, botanicals and essential oils, their experts handcraft potent blends of love, science and nature – making them one of the best British skincare brands that care about the environment. They are proud to create effective, award-winning health and beauty products that are natural, organic and ethical.
From becoming the UK's first certified organic health and beauty brand, to helping ban plastic microbeads, Neal's Yard Remedies is a truly pioneering force. Best known for their indulgent bath and body products, the brand has gone on to create a seriously impressive portfolio of skincare products too.
Multi-tasking
Neal's Yard Remedies Wild Rose Beauty Balm One Pot Wonder
RRP: £43
This glow-giving, intensely nourishing and award-winning multipurpose balm is a Beauty Editor favourite. Take anywhere and everywhere with you to ensure your skin is looking and feeling hydrated.
Winter treat
Neal's Yard Remedies Rehydrating Rose Facial Oil
RRP: £28
Formulated with damask rose, organic geranium and rose oils (in our opinion, some of the best essential oils), this facial oil smells so relaxing. This particular product soothes your skin whilst still balancing your skin's natural moisture levels and will help boost radiance and plumpness too.
Best-seller
Neals' Yard Remedies Rejuvenating Frankincense Nourishing Cream
RRP: £33
Providing up to 24 hours of moisturisation, this bestselling cream is perfect for rebalancing dry and mature skin for a healthier complexion. Plus, it's dermatologically tested and vegan-approved.
3. BYBI Beauty
Specifications
Price point : £
Born in : London
Best for : Shopping by key ingredient
Reasons to buy
+
Upcycled ingredients
+
Recycled and recyclable packaging
+
UK manufactured products
+
100% vegan & cruelty free
+
Superfood ingredients
BYBI co-founders Elsie and Dominika started out in their kitchens, meticulously crafting DIY beauty recipes with potent natural ingredients. BYBI was born in 2017 and quickly became known for its efficacious, pro-planet formulas and standout eco packaging, in addition to being budget-friendly. It's one of the newest launches on our list of best British skincare brands.
The brand's philosophy is to be pro-planet from seed to shelf and is committed to producing skincare with the lowest possible environmental footprint, utilising low-carbon production processes across our entire supply chain. This led to the creation of the world's first carbon-negative skincare product; the Glowcurrant Booster.
Retinol alternative
RRP: £13
Best used with your best night cream, this booster targets lines and wrinkles to promote a smoother and retextured appearance. It's formulated with plant-based squalane and retinol alternative bakuchiol.
Rise and shine
BYBI C-Caf Vitamin C & Caffeine Day Cream
RRP: £26
Coming to the aid of dull, lacklustre complexions, this caffeine day cream is such a lifesaver for those mornings when you need a little extra help. Think of it as a shot of espresso for your complexion.
Wake up fresh
BYBI Night Nutrition Protein Night Cream
RRP: £28
Combining replenishing antioxidants, essential fatty acids, vitamins and ceramides to repair and boost your skin, this night cream really does it all. Wake up to fresh, revived, radiant and hydrated skin each morning.
4. Formulae Prescott
Specifications
Price point: £££
Born in: Kent
Best for : Travel
Reasons to buy
+
Multipurpose and benefit products
+
Natural active ingredients
+
Food, plant and botanical derived ingredients
+
Sustainable sourced
Founded through the desire to create a skincare range in which every product combines at least three essential benefits, using natural active ingredients derived from foods, plants and botanical oils; this British skincare brand's ethos is seriously impressive.
After 3 years of research and development, a capsule collection was launched, and then 19 months and countless formulations later they launched their first product, Tri-Balm - an award-winning 3-in-1 multitasker designed to effectively cleanse, exfoliate and moisturise in one simple step. They are constantly innovating to deliver multi-benefit, multi-purpose skincare formulated using the highest quality natural active ingredients, plus, actively seeking to reduce wasteful packaging and conserve water whilst sustainably sourcing ingredients.
Travel hero
Formulae Prescott 3in1 Tri Spritz
RRP: £59
This mist is deeply hydrating, anti-pollution and boasts blue light protection in addition to strengthening and conditioning your complexion.
Three-in-one
Formulae Prescott 3in1 Tri Balm
RRP: £59
Striving to help simplify your skincare routine without compromising on results, this multi-action cleansing balm is such a must-have for your beauty stash. It's been created with no parabens, silicones or synthetics and is suitable for all skin types.
Anti-ageing
Formulae Prescott 3in1 Eye & Lip Contour Cream
RRP: £65
Combining peptides, vitamins, powerful antioxidants and probiotics, this cream works hard to smooth fine lines and plump areas of ageing. After a few weeks of use, you'll notice fewer lines and a smoother and firmer complexion.
5. Oskia
Specifications
Price point : £££
Born in : Wales
Best for : Science-backed natural ingredients
Reasons to buy
+
Naturally derived ingredients
+
Use cellular nutrients
+
Cruelty-free
+
Charity focused
Georgie Cleeve launched OSKIA and the concept of nutritional skincare in 2009 after witnessing first-hand the skincare benefits of MSM, more commonly known as the 'Beauty Mineral'; a natural form of organic sulphur, MSM boosts collagen production, promotes circulation and helps decrease inflammation for a brighter, younger-looking complexion.
The concept based on one exceptional mineral soon evolved into a new and unique nutritional approach to skincare and after 3 years of extensive research, OSKIA launched in 2009. One of the most unique British skincare brands out there; OSKIA's bio-nutritional formulations are designed by Georgie and a team of internationally - recognised nutritionists and skincare experts, and manufactured in OSKIA's own factory and lab in Monmouth, Wales.
Blemish-buster
Oskia Violet Water Clearing Cleanser
RRP: £34
Deliver a much-needed surge of moisture to your skin with this hydrating daily cleanser. The refreshing blend of prickly pear extract, salicylic acid and pro-vitamin B5 work to blast blemishes and clear your complexion.
Rest and restore
RRP: £79
One of the best face oils we've tried. Blending a powerful mix of nutrients, starflower, sunflower and evening primrose oils, this works to boost elasticity, soothe and boost radiance all in one.
Brighten up
Oskia Super C Smart Nutrient Beauty Capsules
RRP: £70
These heart-shaped Vitamin C-packed skincare capsules really are irresistible. Each capsule contains a super-charged blend of smart nutrients and actives to boost skin health to reveal a youthfully radiant complexion.
6. Olivanna London
Specifications
Price point : £££
Born in : London
Best for : Homegrown skincare for all ages
Reasons to buy
+
Made from homegrown UK botanical actives
+
Inspired by the changing British seasons
+
Clinically proven formulas
+
A product for everyone no matter their age
From your very first skincare needs, British skincare brands; My Olivanna and Olivanna are designed to be passed from mother to daughter, friend to friend and women at every stage of their lives. Born out of her love for her children and belief in the power of botanicals, they combine potent, high-performing ingredients that are as safe for your skin as they are effective.
Wanting only the best for her family, founder Janine Summers was an early adopter of organic and natural beauty. Its luxury, clinically proven and sustainable skincare uses British-grown natural ingredients that have each been selected for their unique benefits to your skin. Offering customers products for every stage of their lives, Olivanna skincare has something to help with every skin concern and age.
Everyday protection
Olivanna Sun Defence SPF50 Drops
RRP: £56
A feather-light, reef-friendly sunscreen formula that promises to leave no greasy or white cast residue. Packed with antioxidants, these mineral-based broad-spectrum SPF50 protect against UV rays and environmental aggressors.
Skincare splurge
Olivanna Intense Repair Night Cream
RRP: £78
While an investment, this luxurious night cream is packed with so many incredible natural ingredients that it makes it worth every single penny. It contains everything from skin-nourishing ceramides and omega-rich seed oils to collagen-boosting Organic cotton thistle.