These skincare capsules will turbocharge your routine
Like single doses of vitamin C and hyaluronic acid serum, skincare capsules are like magic for rebooting your skin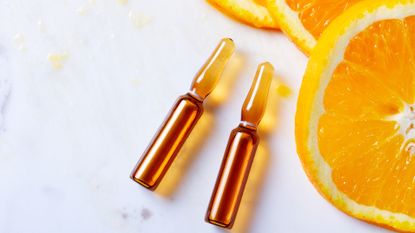 (Image credit: Neirfy/Getty Images)
Skincare capsules - in the from of pea-sized pods or glass vials - may be no larger than a 10p coin but they are perfectly micro-dosed with powerhouse ingredients.
While not exactly new - Elizabeth Arden pretty much invented the genre back in 1990 - mono-dose skincare is enjoying a renaissance now that we're more focused on easy beauty solutions in lockdown.
Convenience aside, there's actually a scientific argument for delivering skincare actives in pill-like capsules. Full of serum you break open and apply directly to your face, this delivery system dispenses only the exact amount of product you need. So you get just enough hyaluronic acid or brightening vitamin C for one application.
"Skincare capsules are deemed more potent because they are single use and sealed so there is no concern over degradation of the product over time," says Dr Dendy Engelman, consulting dermatologist for Elizabeth Arden. "They are customised with concentrated actives - and only these desired actives - as there are no preservatives in the formula."
There's also less chance of irritating your skin as what's inside is generally water-free (so also preservative-free). Plus, you avoid the temptation to go OTT with a serum packed with potent, yet potentially sensitising, actives.
"Cosmetic overload is one of the main causes of sensitivity, in the form of red skin and breakouts, that I see," says aesthetic doctor Sarah Tonks.
As well as portion control, skincare capsules provide a safe haven for effective ingredients such as vitamin C and retinol.
"Both of these ingredients are notoriously unstable," explains Engelman. "If exposed to light and air, retinol and vitamin C can lose their potency."
Vichy Liftactiv Specialist Peptide-C Ampoules, for example, is one shot of vitamin C combined with peptides housed in a tinted glass ampoule - use half a.m, the other half p.m.
These little containers are also a sterile means of delivering your skincare. As there's no bacteria from repeated finger-dipping into tubs, the efficacy of, say, a hyaluronic acid formula such as Elizabeth Arden's Hyaluronic Acid Ceramide Capsules, is never compromised.
While we're here, this capsule format also allowed Elizabeth Arden to come up with a way of delivering hyaluronic acid in a more effective way so skin stays plump full of moisture for longer.
The capsules use micronising nano-technology to shrink the hyaluronic acid molecules so they are 500 times smaller, helping them penetrate four times more deeply than traditional molecules. Combined with ceramides all that hydrating goodness stays locked in the skin.
While one teeny product may seem wasteful, it can actually be kinder to the environment as the glass vials are recyclable and the capsules biodegradable. In the case of Bolt Beauty Glow Don't Shine, the capsules are made from biodegradable seaweed and can be dissolved in water after use.
No wonder skincare capsules slip so effortlessly into your existing routine.
Fiona Embleton is a beauty writer who is now Acting Beauty Editor at Stylist. She is obsessed with Isabel Marant and cats.