Boyfriend jeans vs mom jeans: what's the difference, and which is best for your style?
It's boyfriend jeans vs mom jeans in the battle to become your new favourite denim.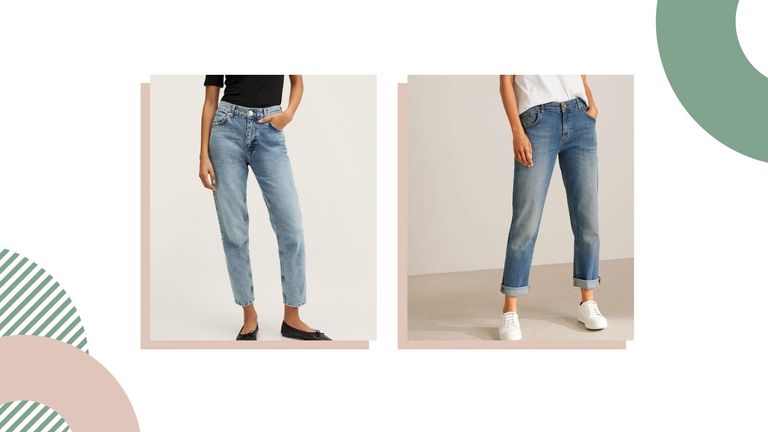 (Image credit: Mango / John Lewis and Partners)
Pitting boyfriend jeans vs mom jeans and not sure which to choose? We get it, shopping for the perfect denim can be tricky.
Dressed up with heels and a blazer, or down with a tee and trainers, find the best jeans for your shape and style and you're set for any occasion.
Mom and boyfriend styles may have started off as trends, but they have now become firm staples in our denim collection and shapes to consider when building a capsule wardrobe. Their relaxed cuts make them more comfortable (not to mention more modern) than a skinny jean, but they're just as versatile.
But what actually is the difference between boyfriend jeans and mom jeans, and which type of jeans do you need in your life? Let us break it down for you.
What are boyfriend jeans?
This borrowed-from-the-boys look was made popular in the 1960s, when Marilyn Monroe donned a pair in The Misfits. Since then, they have become a much-loved style of celebrities, seen on all the A-listers—from Victoria Beckham to Katie Holmes.
Slouchy and baggy, boyfriend jeans have a relaxed and comfortable fit, so if you've been loyal to your best skinny jeans, boyfriend jeans might take some getting used to. They often sit mid-low on the waist and should look a little oversized on the wearer. There are many variations of the boyfriend cut; some are slimmer than others, so if you prefer more fitted clothing you can opt for a style that is more structured, but still loose. Essentially, any style which is less-fitted than straight leg jeans but more fitted than wide-leg can come under the boyfriend category. They're also one of the best jeans for curvy women who want to skim their silhouette.
How to wear boyfriend jeans
Boyfriend jeans are perfect for creating an effortless off-duty look, but styling them can be tricky to get right—it's all about creating some balance. Offset the boyish, laid-back vibe with some of this season's best blazers, feminine blouses and heels (or fancy flats). A tight-fitting top will help balance out the looser shape of the jean for a more flattering shape.
"The easiest way to make a boyfriend jean look more polished is to throw on a blazer. It will instantly smarten the look, while adding more structure to your outfit, too," says Paula Moore, fashion director at Woman & Home.
What are mom jeans?
This retro-style jean was a favorite among mums in the 80s and 90s, hence the name. It's now back with a bang and a lot cooler than you might remember. Like the boyfriend jean, it has a relaxed fit but tends to sit high on the waist. Loose around the thighs, they then go down into more of a tapered leg, so they don't look as baggy overall. The goal here is structured, tapered comfort that can be pulled on and out the door while still having some of the shape that boyfriend jeans intentionally forego. The hem is often rolled up, finishing just above the ankle. The long back pockets tend to make the bum appear longer and flatter.
How to wear mom jeans
Mom jeans are easier to style than boyfriend jeans, thanks to their high waist, which makes for a less casual look. The key to making the most of your mom jeans is to tuck in your top, whether it's a tee, blouse, body or polo neck. A belt will also help add definition and create more of an hourglass silhouette. Toughen up with hefty ankle boots or keep it casual in chunky trainers—they are guaranteed to go with pretty much everything. Try pairing it with one of this season's best shirts for a retro and relaxed feel.
"A light blue or acid wash will give your mom jeans an extra retro vibe," says Paula. "They also look great with a turned-up hem, so if they are coming up too long, just embrace it and roll them up."
Boyfriend jeans vs mom jeans: The verdict
It mainly comes down to personal preference and working out which of the two are the most flattering jeans for your shape.
Boyfriend jeans require more thought and attention if you want to nail the look. However, if you find the right balance with a fitted top or shirt and offset with pretty footwear and accessories, the finished look can be really fashion-forward.
Word of warning: Do think about your height before investing. You may find that some boyfriend jeans drown your figure if you're petite.
Mom jeans suit more people, regardless of stature, and are generally more versatile. You could throw on most tops with a mom jean and the style would work. The high-waist and tapered leg combo delivers a flattering silhouette, and if you're partial to a bit of 80s or 90s nostalgia, mom jeans are a real winner.
Fashion editor's picks
Boyfriend jeans
We've rounded up some of our favorites on offer so you can find boyfriend jeans that work for you.
AND/OR Venice Beach Boyfriend Jeans | RRP: $103 / £75
Sizes: 26-36 waist
An ultra-chic jean for the fashionista who likes a laid-back look. This pair would work well with some of the best white trainers, thanks to the rolled-up hem and faded denim.
---
---
---
---
---
---
Mom Jeans
We've rounded up a few great options to help your weekend look come together.
---
Levi's High Loose Taper Fit Mom Jeans | RRP: $164 / £120
Sizes: 23-32 waist
An OG classic, these can be paired with minimalist wardrobe essentials such as your favorite white t-shirt or new season chunky knits. This much-loved pair by Levi's is available in seven different colors so you could essentially have one for each day of the week.
---
---
---
Charlie is the Acting Deputy Fashion Editor across multiple women's magazines and also a freelance fashion, beauty and lifestyle editor.
She bagged her first magazine job in 2009 and has previously written for titles including Woman & Home, Closer and Dare. Over the years Charlie has embraced anything that was thrown at her from styling celebrities to testing out the best jeans on the high street to writing about must-have beauty buys.
With a weakness for a printed midi dress, Charlie is on a mission to shop more sustainably and loves finding new ethical brands and second-hand buys.