British clothing brands to have on your radar
The British clothing brands you need to know about.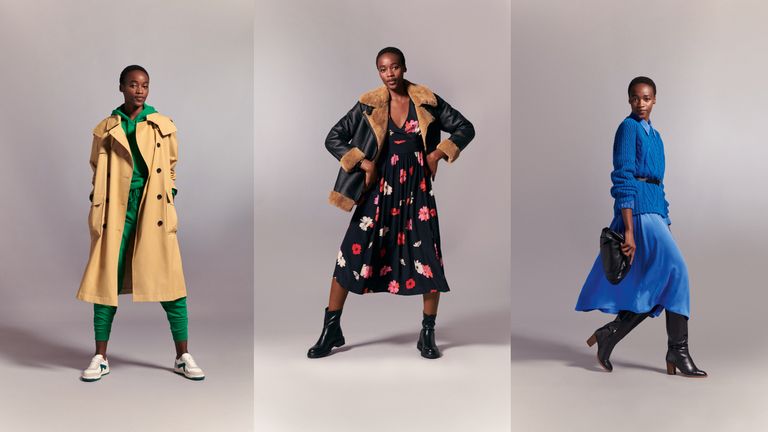 (Image credit: M&S)
Whether you're looking to create a capsule wardrobe or treat yourself to a statement piece, these British clothing brands will give your outfit a premium upgrade.
When we think of British clothing brands, shops like Reiss, Whistles, and Ted Baker instantly spring to mind. Fancier than your average store, they specialize in high-quality pieces which nod to clothing trends, but still have a timeless factor. As much as we love a good bargain, when you're shopping for the best jeans or best winter coats, it pays to pay more for these wardrbobe staples. If you shop carefully, you're guaranteed to get more bang for your buck as these well-made, carefully constructed items are likely to last a lot longer than fast fashion ones.
These high-end British clothing brands are our go-to for designer-worthy looks at a far more purse-friendly price. They may not be budget, but most won't break the bank either.
"There is so much history in British clothing brands, and the heritage favorites like Burberry, Liberty, and Pringle have paved the way for many designers, both in the UK and internationally," says Katie Eastwood, Stylist Ambassador at Stitch Fix.
Best British clothing brands—where to browse
Best British clothing brands as chosen by our fashion team
All Saints
Reasons to buy
+Our go-to for denim and leather+Fashion with an edge
Best known for their buttery-soft leather jackets for women, All Saints is a brand you can rely on for pieces with an edge. From luxe hoodies to well-cut denim, they make putting together a failsafe weekend wardrobe easy.
---
All Saints Juela Dress
RRP: $319/£199 | Sizes: XS-L
Perfect for party season and beyond, this slouchy sequin frock mixes comfort with glamour.
---
All Saints Balfern Leather Jacket
RRP: $489/£319 | Sizes: US: 00-10/UK: 2-14
One of the brand's bestsellers for good reason, this All Saints leather biker will only soften with age. Classic metal hardware and a detachable belt make it the perfect piece to toughen up girly dresses. 
---
All Saints Miller Mid-Rise Skinny Jeans 
RRP: $155/£99 | Sizes: US: 00-10/UK: 2-14
Made from a super soft, super stretchy denim blend, these jeans hold their shape brilliantly—snapping right into place every time you wear them. 
---
Barbour
Reasons to buy
+Heritage brand+Long lasting fabrics
A heritage British brand with country living at its core, the Barbour brand launched in 1894. They are best known for their wax jackets, which are still made by hand in their factory in the north of England and have been some of the best winter coats you can buy for generations. Expect hard wearing fabrics and timeless pieces across all their pieces.
---
Barbour Stanton Shirt
RRP: £64.95 | Sizes: US 4-14/UK 8-18
A checked shirt is a wardrobe staple and we love the frilly collar for a feminine twist. Wear with your favourite jeans on off-duty days.
---
Barbour Otterburn Sweatshirt
RRP: $76/£54.95 | Sizes: US: 4-14/UK: 8-18
A slogan jumper is an easy way to make a style statement. Wear with jeans or leggings during the day, or team with dressier pieces like a silk slip skirt, to give them a more laid-back feel. 
---
Barbour Greylag Jacket
RRP: $330/£199 | Sizes: US: 4-12/UK: 8-16
Both fashionable and functional, this sleek jacket is fully prepared to protect you from the elements. The zip fastening, large hood and breathable fabric make this a perfect addition to your transitional wardrobe. 
---
Baukjen
Reasons to buy
+Designs that won't date+Sustainable brand
Baukjen is a London-based womenswear brand with sustainability at its core, helping us look and feel good about our purchases. Their designs are timeless, with a cool, unique edge, putting their own stamp on each piece. Sure to be firm favorites in your capsule wardrobe for years to come.
---
Baukjen Alyson Newlife Jumper
RRP: $208/£149 | Sizes: US 2-14/UK 6-18
Elevate your basics with a chic stripy knit. It has a relaxed fit and a zip fastening for a sporty finish. It's crafted using plastic bottles too. A versatile piece you'll bring out every year.
---
Baukjen Enid Organic Dress
RRP: $194/£139 | Sizes: US 2-14/UK 6-18
This throw-on frock will be your go-to on those nothing to wear days. The organic cotton is soft on the skin and the loose fit makes it oh-so-comfy. 
---
Baukjen Perry BCI Cotton Dungarees
RRP: $208/£149  | Sizes: US 2-14/UK 6-18
Every wardrobe needs a pair of dungarees and these have a corduroy finish to give them an Autumnal feel. Wear with anything from the best t-shirts to roll neck knits.
---
Boden
Reasons to buy
+Playful designs+Move towards more eco-friendly fabrics
Dreamt up by founder Johnnie Boden from his kitchen table, this quintessentially British clothing brand is sure to bring some joy to your wardrobe. They're big on color and prints, crafted from seriously luxe fabrics.
---
Boden Mariam Dress
RRP: $360/£240 | Sizes: US 2-22/ UK 6-22
With its tapestry print, soft pink hue and ruffle details, this dress oozes romance. It's uber lightweight making it a dream to wear. The built-in belt helps to cinch you in too.
---
Boden Isla Frill Detail Blouse
RRP: $98/£75 | Sizes: US 2-22/ UK 6-22
Gingham is not just for summer, and with this chic blouse you can wear it all-year-round. Boden has pulled out all the stops with cute ruffles and color-clashing details. 
---
Boden Anna Cashmere Sweater
RRP: $298/£210 | Sizes: US 2-22/ UK 6-22
A worthy investment piece, the best cashmere sweaters are a must-have in your wardrobe. We love the bold fair isle pattern for a pop of color. Guaranteed to keep you toasty.
---
Desmond & Dempsey
Reasons to buy
+Vibrant prints and patterns+Classic silhouettes
Nothing quite beats changing into your pajamas after a long day, especially when they look this good. In fact, we'd merrily wear a set from Desmond & Dempsey out of the house too. Expect vibrant, joyful prints and quality fabrics from our go-to British clothing brand for all things lounge and the absolute best new pyjamas every season.
---
Desmond & Dempsey Marginata Cream Signature Pyjama Set 
RRP: $150/£120 | Sizes: Sizes XS-XL
Desmond & Dempsey started their British clothing brand with this very design, tailoring their typical men's-only pajama shirt for a female frame and adding a pair of cute shorts for good measure. A true crowd-pleaser. 
---
Desmond & Dempsey Unisex Corduroy Slides
RRP: $83/£68
A slider as pretty as it is practical. The solid sole is sturdy enough for taking the bins out, while the tropical print will have your neighbors green with envy.
---
Desmond & Dempsey Medina Stripe Print Long Pyjamas
RRP: $185/£150 | Sizes: XS-XL
Saturated hues give the humble stripe a modern update. These would make a gorgeous gift for a loved one and yourself. 
---
Hobbs
Reasons to buy
+High quality fabrics+Attention to detail
For fancy occasion outfits to smart and stylish workwear, Hobbs knows a thing or two about dressing well. Even their basics feel premium, the kind of pieces you'd imagine Kate Middleton dresses in on her days off from royal duties.
---
Hobbs Francesca Wool Blend Coat
RRP: $720/£359 | Sizes: US 2-14/ UK 6-18
A Hobbs coat will last throughout multiple winters and this military-inspired number is seriously flattering. With a tailored fit and a flared silhouette, it's smart, elegant and the wool will keep you toasty too.
---
Hobbs Mischa Roll Neck
RRP: $80/£39 | Sizes: XS-XL
Hobbs has got you covered when it comes to sleek separates that will last. This red roll neck is the perfect layering tool with a smooth figure-hugging fit.
---
Hobbs Amaris Aline Wool Dress
RRP: $315/£149 | US: 2-14/6-18
Heritage checks in a flattering shift silhouette, this power-dressing piece will take you straight from desk to dinner. Layer over your knitwear and finish off with knee-high boots.
---
Hush
Reasons to buy
+Laid back aesthetic +Investment pieces
Hush is about relaxed dressing at its best and has been slowly amassing a loyal following for a couple of years now. Their laidback designs are the perfect solution to our current isolation fashion dilemma. The brand was founded in 2003 by Mandy Watkins, an Aussie who, after moving to the UK, decided to start her own label when she couldn't find clothes she wanted to buy. Hush's signature style is cozy, stay-at-home pieces to escape from the British weather.
---
Hush Riva Ribbed Cardigan
RRP: $130/£89 | Sizes: XXS-XL
A slouchy cardigan is the perfect piece to throw over dresses and cute camis and this sky blue beauty has caught our eye. The fluffy ribbed finish is super soft on the skin too.
---
Hush Washed Utility Jumpsuit
RRP: $160/£110 | Sizes: US: 2-14/UK: 6-18
No longer a fad, jumpsuits have cemented themselves in our wardrobes, and they're a go-to choice for those 'nothing to wear' days. For easy daytime sophistication, opt for this chic utility style. A relaxed fit in a classic khaki hue, finish off with biker boots.
---
Hush Demi Floral Midi Dress
RRP: $160/£110 | Sizes: US 4-18/ UK 4-18
Sometimes only a floral dress will do and this show-stopping is a round-the-clock winner. Toughen up with stompy boots or add a sporty twist with the best white trainers.
---
Joules
Reasons to buy
+Great for off-duty styling+Practical as well as fashionable
Picture the British countryside and you've got the Joules aesthetic nailed. Think Breton striped tops, practical raincoats and denim basics to form the building blocks of the ultimate British summer wardrobe. They are big on their prints and vibrant hues, with heaps of punchy florals and colourful stripes to give your outfit a cheery boost too.
---
Joules Coast Waterproof Mac
RRP: $149.95/£109 | Sizes: US 2-22/UK 6-26
Everyone in Britain needs a rain jacket, and this sunny coat is an unexpected downpour dream. It's 100% waterproof and has a removable hood too.
---
Joules Elvina Button Through Blouse
RRP: $79.95/£59.95 | Sizes: US 2-22/UK 6-26
Joules are pros when it comes to pretty prints and this cute blouse proves it. It has a relaxed fit that's easy to tuck-in to jeans or worn loose over leggings.
---
Joules Miranda Knitted Intarsia Crew Neck Sweater
RRP: $89.95/£59.95 | Sizes: US 2-22/UK 6-26
A statement knit for those off-duty days that's bound to go down a treat if bought as a gift for dog-lovers.
---
Kitri
Reasons to buy
+Unusual, eye-catching designs+Limited runs for eco brownie points
A British clothing brand with a difference, the London-based label was born out of the frustration of not being able to find well-made, distinctive designs that don't cost a fortune. Their bold and colorful pieces will be sure to add a touch of luxury to your wardrobe.
---
Kitri Meadow Rose Intarsia V Neck Knit Vest
RRP: $198/£115 | Sizes: XS-L
Sweater vests are having a moment and we are obsessed with this vintage-inspired knit. Layer over a crisp white shirt or collared blouse.
---
Kitri Carrie Frill Neck Cotton Dress
RRP: $285/£165 | Sizes: US 2-12/ UK 6-26
For statement frocks like no other, you can't beat Kitri and this fun and colorful dress is a cheerful addition to your wardrobe. It's all in the details with a puffed sleeves, frilly cuffs and a ruffle neckline. Plus, there's pockets!
---
Kitri Harley Orange Checked Tiered Skirt
RRP: $145/£105 | Sizes: US 2-12/ UK 6-26
This bold check skirt needs minimal styling. Just a simple white tee and black boots and you've nailed the look. It's crafted from eco-friendly fabrics too, win-win!
---
L.K. Bennett
Reasons to buy
+Gorgeous prints and vibrant colours+Feminine details
Another British clothing brand favored by the Duchess of Cambridge, L.K. Bennett, was launched in 1990 with the dream of bringing "a bit of Bond Street luxury to High Street". 30 years later, it continues to do just that, letting everyone enjoy a slice of London-inspired fashion.
---
L.K. Bennett Nicolette Camel Quilted Coat
RRP: $540/£299 | Sizes: US 2-14/UK 6-18
If you've yet to snap up a quilted coat, now's your chance. The drawstring detailing pulls you in at the waist for a flattering silhouette and the camel hue will work with everything already in your wardrobe.
---
L.K. Bennett Arabella Cream Leather Lace-Up Boots
RRP: $590/£329 | Sizes: US 3-10/UK 2-9
Switch up your black ankle boots for fresh ecru. The square toe gives them a modern update whilst the block heel makes them comfy for all-day wear.
---
L.K. Bennett Boyd Teal Silk Jacquard Scattered Rose Print Skirt
RRP: $465/£259 | Sizes: US 2-14/UK 6-18
This hard-working wardrobe piece can be worn with a casual knit and pumps in the daytime or a strappy top and heels in the evening.
---
M&S
Reasons to buy
+Great for basics+Trend-led designs
Of all the British clothing brands, there are few as iconic as M&S. Brits shop here for everything from food to homeware, and their fashion offering is always reliable. Browse basics alongside more trend-led pieces. British TV star Holly Willoughby wears dresses from here on the regular and also has her own line with the brand.
---
M&S Floral Tie Front Midi Tiered Dress
RRP: $77.50/£45 | Sizes: US 2-20/UK 6-24
The M&S dress department is bursting with easy-to-wear frocks that will work for any occasion and this one does just that. Perfect for swishing your way into the new season.
---
M&S Leather Crossbody Camera Bag
RRP: $85/£49.50
Practical and stylish, a crossbody bag is an essential for when you're running errands. This sleek style will take you from day to night and the animal print detail adds extra interest. It's made with sustainably sourced leather too!
---
M&S The Argyle Jumper
RRP: $50/£29.50 | Sizes: XS-XL
Make everyday dressing a breeze with this chic argyle sweater. Super soft against the skin, it's a strong addition to your knitwear collection. Just add jeans.
---
Me + Em
Reasons to buy
+Could-be-designer looks+High quality tailoring
If you're thinking about creating a capsule wardrobe, Me + Em is a great place to start. Tailored separates and dresses in neutral tones sit alongside a careful selection of prints to create a coordinated edit of pieces that can be mixed and matched with ease.
---
Me + Em Fine Stripe Cotton Broderie Blouse
RRP: $195/£125 | Sizes: US: 2-12/UK: 6-16
The classic pinstripe shirt just got an upgrade thanks to this beauty. The broderie detailing on the collar and cuffs add a romantic and feminine flair to tailoring. A wardrobe staple with extra oomph, team with high waisted trousers and shorts.
---
Me + Em Colour Block Super Wide Leg Track Pant
RRP: $252/£185 | Sizes: US 2-12/UK: 6-16
Add more luxe to your loungewear with these sleek trousers. The wide-leg fit and side stripe are serious leg-lengtheners. 
---
Me + Em Merino Statement Collar Jumper
RRP: $265/£195 | Sizes: XS-L
Collared knits are popping up everywhere this season and they are perfect for adding a preppy twist to your look. Offset the sporty style and pair with a floaty skirt.
---
Never Fully Dressed
If you want to inject some color into your wardrobe, look no further than London-based brand Never Fully Dressed. Bursting with vibrant hues and playful prints, the brand is an Instagram fave and a hit with influencers and celebs. Many of the prints are designed in-house and the brand makes an effort to cater to everyone. They are one of the best plus-size clothing brands with the addition of their Curve range, which goes up to a UK size 26, and they also now have a kids collection so you can match with your mini me too. We guarantee NFD will become your new obsession.
---
Never Fully Dressed Camilla Leopard Tank
RRP: $115/£69 | Sizes: S-XXL
Another statement tank top to add to the collection. Wear with jeans or go all-out and team with the matching trousers. 
---
Never Fully Dressed Casey Dress
RRP: $145/£89 | Sizes: UK 6-24
A flattering v-neckline and stylish balloon sleeves, this floral frock makes dressing a dream.
---
Never Fully Dressed Mabel Knitted Jogger
RRP: $130/£79 | Sizes: S-XXL
Step away from the grey joggers and give your loungewear a colorful upgrade with this jazzy pair.
---
Omnes
Reasons to buy
+Sustainable fabrics+Unique prints
Not just one of the newest British clothing brands on this list, Omnes are also one of the best sustainable clothing brands on this list, too. From first sketch to final product, each part of the process has been carefully considered to minimise the environmental impact. Also, their pieces are so beautiful, that eco-friendly re-wearing is guaranteed.
---
Omnes Lucila Collared Wool Cardigan
RRP: $88.50/£65 | Sizes: XS-L
We adore this ladylike cardigan in a sweet mint hue. Crafted from 100% Mongolian wool—a natural, renewable, recyclable and biodegradable fiber, it's planet-friendly too.
---
Omnes Adelaird Midi Teal Dress in Orange Floral
RRP: $88.50/£65 | Sizes: US 6-20/ UK 6-20
Another sustainable style, you can't beat a cute tea dress. A nipped-in waist and an a-line skirt makes a flattering silhouette and the floral print is a round-the-clock winner.
---
Omnes Winnie High Waist BCI Cotton Wide Leg Trousers in Black Orange Check
RRP: $88.50/£59 | Sizes: US 6-20/ UK 6-20
Sitting high on the waist, these are delightfully comfy and will help elongate your legs too. Wear with tucked-in tees and fine knits and add chunky trainers for a cool finish.
Phase Eight
Reasons to buy
+Flattering cuts+Great for occasion dressing
Phase Eight has always been a go-to when it comes to figuring out what to wear to a wedding or what to wear to a christening, but the British clothing brand has really upped their game and expanded their range recently. You can now shop more casual pieces that are easily adaptable, meaning this brand is a great go-to for whatever event you have thrown at you. With a strong focus on fit, it's packed full of frocks and jumpsuits that not only make a style statement, but are flattering too.
---
Phase Eight Claira Floral Dress
RRP: $160/£89 | Sizes: US 4-14/UK 8-18
Crafted from recycled polyester, this has an easy-to-wear swing silhouette and a cute peplum hem. Add knee-high boots and tights for a chic winter outfit.
---
Phase Eight Tana Leaf Print Maxi Skirt
RRP: $110/£69 | Sizes: US 4-26/UK 8-26
Sitting high on the waist, tuck in a fine knit or simple tee and add trainers for a pulled-together weekend look.
---
Phase Eight Sophie Floral Print Jumpsuit
RRP: $250/£140 | Sizes: US 2-16/UK 6-20
A flattering fit on pear shapes, this two-in-one jumpsuit has a tapered leg fit and a frilly blouse top. Wear for your 9-5 or a special occasion.
---
Phoebe Grace
Launched in 2017, Phoebe Grace is a small luxury British brand that is rapidly growing in popularity. They are big on prints - mainly retro-inspired floral motifs - and their styles are flowy, feminine and crafted from top-quality fabrics, which are mostly sustainably generated and regenerated. It's feel-good-fashion at its finest and we can vouch for the fact their dresses are super flattering. As well as dresses, the collection includes puff-sleeve shirts and polished separates, plus their accessories are crafted from upcycled leftover fabrics. They ship to the US too - just check the shipping and customs costs.
---
Phoebe Grace Bettina Dress
RRP: $404.61/£295 | Sizes: US 4-12/UK 8-16
This 70s inspired frock has a flattering v-neck, long puff sleeves and a cool daisy print.
---
Phoebe Grace Peachy Shirt in Red Poppy
RRP: $240.02/£175 | Sizes: US 4-12/UK 8-16
It's all in the details with this ladylike blouse - from the frilly cuffs and matching collar to the unique poppy print.
---
Phoebe Grace Scooby Trouser in Black Daisy
RRP: $271.31/£200 | Sizes: US 4-12/UK 8-16
Another retro gem to add to the collection, these hug your thighs and flare out at the hem. Made from recycled polyester too.
---
Poetry
Reasons to buy
+Supersoft cashmere+Neutral colour palette
Poetry, in the brand's own words, is all about "understated luxury". Their hero pieces aren't necessarily eye-catching or showy, but you can guarantee they're well made and will last the test of time—both in terms of quality and design.
---
Poetry Printed Dress 
RRP: $234/£169 | Sizes: US: 2-18/UK: 6-22
The classic linen dress has been given a new season refresh with an abstract botanical print. The attention to detail is gorgeous, with soft pleats and Mother-of-pearl buttons. 
---
Poetry Collared Sweater
RRP: $139/£119 | Sizes: US: 2-18 | UK: 6-22
Sweaters don't get much more luxe than this. With a blend of silk and cashmere, the addition of a neat collar and buttons gives this normally relaxed shape a smarter feel. 
---
Poetry Tapered Trousers
RRP: $159/£119 | Sizes: US: 2-18/UK: 6-22
With a nipped in waist, straight leg and cuffed hem, this is the perfect silhouette for a casual look. Side pockets earn extra brownie points, while elasticated side panels ensure a spot-on fit. 
---
Reiss
Reasons to buy
+Great for work and play+Luxe fabrics
Favoring a muted palette of classic tones (think grey, beige and black - with a dash of pastels), anything from Reiss will slot seamlessly into your existing wardrobe. Expect high-end fabrics like cashmere and wool.
---
Reiss Hadi Reversible Shearling Aviator Jacket
RRP: $1,880/£998 | Sizes: XS-L
Get more bang for your buck with this reversible jacket. A classic aviator style, it has teddy-like shearling on the other side. Team with neutral shades for an effortless tonal look.
---
Reiss Petra Wide Leg Jumpsuit 
RRP: $495/£265 | Sizes: US: 0-12/ UK: 4-16
Giving a nod to the 70s, this flattering jumpsuit features a neat collar and buttoned-up top half that contrast perfectly with the wide-cut legs. Layer over a Breton top on chillier days, and wear with bare arms and tan sandals on warmer ones. 
---
Reiss Kara Knitted Bodycon Dress
RRP: $345/£188 | Sizes: XS-L
Give knitwear an elegant spin with a knitted dress. A wool-cashmere blend, this has a waist belt for added definition. 
---
Rixo
Reasons to buy
+Perfect for occasions+In-house designed prints
Launched in 2015 from the London living room of designers and friends Henrietta Rix, and Orlagh McCloskey, Rixo have cornered the market for personality-packed prints. From their best dresses to skirts, each piece has been carefully cut to suit a range of body types for a flattering, feminine silhouette.
---
Rixo Saffron Midi Dress With Frill Hem
RRP: $393/£325 | Sizes: US: 2-12/UK: 6-16
With its distinctive design, this mixed print frock is guaranteed to turn heads at any event. The colors and prints blend seamlessly making it an all-year-round winner. It's fitted on the waist and slim on the hips with a flared hem for a flirty finish. Keep accessories minimal when styling this one.
---
Rixo Dallas Driving Miss Daisy Night
RRP: $192/£165 | Sizes: XXS-3XL
How cute is this collared blouse? Perfect for nailing that jeans and a nice top combo, the floral print and lace detailing add a dose of femininity. 
---
Rixo Palma Leather Sandal With Flower
RRP: $224/£185 | Sizes: US: 4-9/UK: 3-8
Rixo's shoe collection does not disappoint. With a cool, vintage aesthetic, these block heel mules will elevate any simple look. They have a retro floral motif and a comfy block heel making them easy-to-wear all day long, we love!
---
Ted Baker
Reasons to buy
+Pretty florals+Spot-on attention to detail
One of the first names that springs to mind when you think of British clothing brands, Ted Baker is our go-to for something a bit special. Best known for their opulent floral prints, expect color and patterns galore, alongside high-end detailing.
---
Ted Baker Juliye Oversized Midaxi Dress with Sash Tie
RRP: $495/£295 | Sizes: US 2-12/UK 6-16
A show-stopping frock that delivers on comfort too, this dress ticks all the boxes. It has voluminous sleeves and a dipped hem for added interest whilst the belt cinches you in for a flattering finish.
---
Ted Baker Eelise Double Breasted Peaked Lapel Blazer
RRP: $550/£325 | Sizes: US 2-12/UK 6-16
Get suited and booted in this classic check blazer. A versatile investment piece, go all-out and wear with the matching trousers or mix and match with your denim for a polished weekend look.
---
Ted Baker Ayalina Leather Puffer Quilt Detail Mini Xbody Bag
RRP: $195/£130
Tap into the quilted trend with this cute crossbody. It fits all the essentials and its practical hands-free style leaves you able to dance the night away.
---
Toast
Reasons to buy
+Clothes that are built to last+Timeless style
Founded in 1997, Toast's collections feature fuss-free minimalist wardrobe essentials and are beautifully designed. It's one of the few British clothing brands with its own full pattern room, curating original high-quality pieces that are designed to last. Every piece feels like it's created with love and thought with modern, easy-to-wear silhouettes and five star fabrics.
---
Toast Garment Dyed Linen Sleeveless Jumpsuit
RRP: $205/£135 | Sizes: XS-XL
This relaxed fit jumpsuit is comfy and carefree. It's fitted at the top with a wide leg for a flattering finish. We love the soft lilac hue for a pop of color. It looks stunning worn on its own but can also be layered over tees and fine knits. You're guaranteed to get plenty of wear out of this one.
---
Toast Spig Print Easy Dress
RRP: $270/£170 | Sizes: US: 2-14/UK: 6-18
The rich hues on this frock makes it the perfect transitional piece. It drapes effortlessly across your figure with no restricting waistband. Give it a rebellious edge and team with a leather jacket.
---
Toast Organic Cotton Cord Boxy Jacket 
RRP: $245/£155 | Sizes: US: 2-14/UK: 6-18
The boxy fit gives this classic corduroy jacket a modern makeover. Wear buttoned-up for a preppy finish, or keep it open for a relaxed finish over a floaty frock or jeans and a tee.
---
Whistles
Reasons to buy
+Fashion forward designs+Unique prints
One of the most premium brands on the high street, Whistles' collections always feature right at the top of our wish lists. Although you can pay more for a dress from their bridal collection, some of their pieces are much more reasonably priced and will last you for years.
---
Whistles Authentic Slim Frayed Jean
RRP: $199/£99 | Sizes: US: 0-14/UK: 4-18
Everyone needs a good pair of blue jeans in their wardrobe, and these are a real crowd pleaser. We love the straight cut, classic shade, and lightly frayed hem.
---
Whistles Tie Dye Bias Skirt
RRP: $179/£89 | Sizes: US: 0-14/UK: 4-18
Nineties tie dye is back on the fashion grid, and the playful print gives us major summer vibes. This bias skirt has an elasticated waistband for added comfort and is cut to a midi length. Team with a pair of kicks for a casual vibe that looks effortlessly cool.
---
Whistles Floral Trapeze Dress
RRP: $299/£149 | Sizes: XS-L
Whistles have heaps of never-date dresses and this trapeze number is one of them. A relaxed fit in a wearable monochrome colour palette, it will suit all shapes, sizes and occasions. Team with sandals in the summer and swap for stompy ankle boots in the winter. 
---
White Stuff
White Stuff was created by two ski enthusiasts back in 1985 and the name of the brand refers to snow. It's evolved massively since then, from two guys who wanted to fund their stays in the French Alps by selling t-shirts to a giant brand with hundreds of stores across the UK and Germany. Expect quirky prints, unusual color combos and easy-to-wear silhouettes all built to last—they are big on the details. The brand has had a recent makeover and now features more trend-led pieces with the unique White Stuff stamp on them. Sustainability is also key, with 60 per cent of all clothing being made using materials that are kinder to people and the planet. White Stuff are working extremely hard to make that figure 100% by the end of 2023.
---
White Stuff Layla Midi Dress
RRP: $103.50/£65 | Sizes: US 2-18/ UK 6-22
The scalloped detailing gives this dress extra style kudos. The perfect throw-on and go frock, you'll get plenty of wear out of this beauty.
---
White Stuff Winnie Stripe Jumper
RRP: $86/£55 | Sizes: US 2-18/ UK 6-22
We can't resist a stripy knit and the super sweet colors on this beauty puts it top of our wishlist.
---
White Stuff Stacey Colourblock Mac
RRP: $155/£99 | Sizes: US 2-18/ UK 6-22
The color block detailing gives the classic trench coat a fresh update. Featuring a traditional double-breasted fastening, staying dry has never looked so stylish.
Which British clothing brands ship internationally?
All of the British clothing brands on this list can be shipped worldwide. Just be sure to check the shipping costs and whether there are taxes to consider before adding to basket. We'd also recommend making a beeline for the bricks-and-mortar stores if you happen to be visiting the UK.
With that in mind, here are the best British clothing brands to add a little luxury to your look—plus our favorite new-in pieces from each one.