As a fashion editor, these are the 2022 trends that we won't be taking into 2023
These are the styles our fashion editor says are out for 2023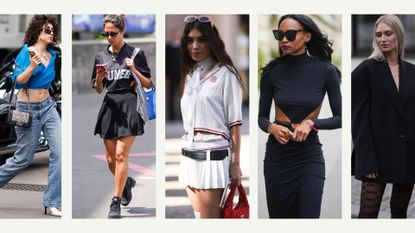 (Image credit: Getty Images)
woman&home newsletter
Sign up to our free daily email for the latest royal and entertainment news, interesting opinion, expert advice on styling and beauty trends, and no-nonsense guides to the health and wellness questions you want answered.
Thank you for signing up to . You will receive a verification email shortly.
There was a problem. Please refresh the page and try again.
As we get ready for the start of spring, it's time to access your current wardrobe and work out what's hot and what's not. With so many trends incoming for 2023, not every look from last year can make the cut. These are the trends that, as a fashion editor, I suggest you leave in 2022.
If, like me, you've been digesting the fashion trends 2023 since September, you'll already know that there are a lot of new and exciting ideas to slot into your wardrobe this season. But a strong capsule wardrobe is all about careful editing and the commencement of new styles means we have to retire others, leaving them in 2022.
Of course, following trends is optional, but choosing one of the latest handbag trends 2023, or updating to the newest shoe trends will help to make your look feel more directional and fashion-forward. And while there is no rule against wearing the fashion trends of 2022, when a style is retired, you're less likely to see that particular silhouette in store. And don't forget, there are several ways to remove items from your wardrobe, from putting items into storage (after all, trends often come back around), donating, recycling, or learning how to sell clothes online, to keep items in circulation for as long as possible for a more sustainable approach to the season switch over.
w&h fashion editor, Rivkie Baum reveals the 5 trends to leave in 2022
1. Relaxed blazers
The oversized blazer has reigned supreme in the style stakes for several seasons, but for 2023 it is finally being replaced with a slightly more tailored aesthetic. While we haven't yet returned to the tightly nipped in silhouettes that were popular prior to the pandemic, the over-the-top, oversized silhouettes of the last couple of seasons are slowly edging their way back out of fashion. A trend I could never quite get on board with, despite it regularly being hailed as the 'best blazer', I've always found this style to swamp most individuals, removing the polished and sculpted look a blazer is supposed to deliver on. So say goodbye to seriously oversized, and hello to regaining and creating silhouettes again. Swap out big and baggy for more figure defining looks, even if the tailoring is slightly more relaxed through the body, shoulders and sleeve lengths should feel defining.
Fashion stylist and editor, Antonia Kraskowski (opens in new tab) suggests exchanging baggy blazers for this 2023 update: "Swap those swamping shoulders for sharp, well cut suiting that flatters your figure instead".
The new, streamlined blazer shape also opens up far more stylish options for your bottom half. As with a tailored top, you can afford to play with shape on the bottom a little more. So test run your blazers and learn how to style flared jeans or use them as the answer to what to wear with wide leg pants.
2. Cut Outs
Another trend I'm relieved to see the back over in 2023 is the relatively inaccessible cut out trend. With a sliding scale of appropriateness, this look draws inspiration from '90s fashion trends that were dominant in 2022 and while the era is still influencing the first half of 2023, some of its more difficult looks are thankfully fading out of focus.
Many straight-to-market brands did their best to interpret this look with more subtle cut out details for a range of sizes and silhouettes, backing items in mesh, for a more concealed look, or injected subtle shoulder and collarbone cut out panels, for a low key version. However, for the most runway-worthy iteration, the cut out trend was defined by lots of flesh-flashing, meaning you had to have just the right occasion to wear it to. Even on the chicest of dresses, a slashed midriff isn't quite the right answer for what to wear to a wedding, and could even be too much for those brunch outfit ideas, making this one of the hardest trends to wear of 2022 and one I can't wait to see the back of.
3. Micro Minis
When it comes to skirts for 2023, there is heaps to look forward to. From chic midi hemlines to discovering how to style a leather skirt, and playfully getting to grips with long skirt outfits, there is no doubt, that when it comes to staple separates, the skirt is key to any minimalist capsule wardrobe.
However one skirt shape we're waving cheerio to for next season is the ultra micro mini. Heralded a hit on the runway, particularly for brands like Miu Miu last season, this higher than thigh grazing mini is set to be retired in the new season, in exchange for much more universally wearable designs.
"Whilst the micro mini was the one of the defining trends of 2022, hemlines have gone to the other extreme for 2023 with maxi skirts flooding the runways of Altuzarra and Givenchy. If you still want to flash a bit more leg, get the best of both worlds and try an asymmetric skirt instead as seen on the Prada runway. Incredibly flattering, the daring slit helps to lengthen your legs instead of cutting you off in the same spot. Finish with a pair of barely-there sandals and a simple tee for a clean '90s minimalist look," says Charlie Bell, w&h deputy fashion editor.
4. Skater Skirts
A trend I'm sadder about packing away in 2023 is the skater skirt, and while I have no doubt that this '50s silhouette will find its way back to our wardrobes in the not too distant future, for now, the swishy style has had its final spin (for now). A flattering silhouette on all body types, this shape typically nips you in at the waist, before fluting gracefully and romantically over stomachs, hips and thighs.
While this skirt style will always be one of the best for all body types, if you're worried about finding silhouette skimming designs, have no fear, as the A-line skirt is still very much in. An A-line has less volume than the skater, and taps more into tailored styles, but a high-waisted iteration will still tick all the right boxes. If you're after a little more drama, then look out for directional bubble hem skirts, which made a bold return to the runway for spring 2023. The bubble design offers fullness throughout and at the bottom of the skirt, playful and creative, it's ideal for special occasions.
5. Low rise jeans
Exiting the building as quickly as it tried for a comeback, this was the denim trend of 2022 that no one asked for, When it comes to the best jeans, style and support is key and the ultra low rise jean that returned as part of a Noughties resurgence was not great the first time round, let alone the second.
And Antonia agrees, "2022 saw the return of several popular Noughties denim trends from wide legs and flares to extreme low rise waistbands. The latter was a particularly low point (literally) for our jeans wardrobe, with the accompanying accidental knicker and bum flashing - this trend should've come with a warning."
When it comes to 2023 replacements for the low rise jean, in terms of directional styles, flared jeans, barrel legs and learning how to style baggy jeans are still relevant for the next season. In addition to new season denim trends, you can rely on the classic silhouettes to always be available and in style.
Rivkie is a fashion editor, writer and stylist with over fifteen years' experience in the industry. Having studied design and pattern cutting at the London College of Fashion, Rivkie fell in love with styling and journalism, covering fashion weeks in London, Paris and New York.
Specialising in plus size fashion, Rivkie has long championed that style is for everyBODY and has been a regular talking head on a host of radio stations and television shows, pushing for greater representation for plus size women and fashion throughout her career.