The Science Of Dressing For Success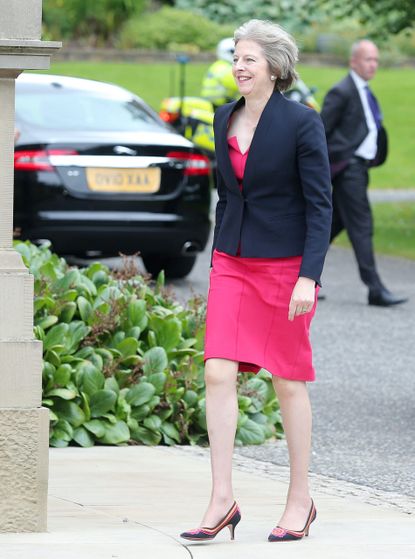 (Image credit: Press Eye Ltd/REX/Shutterstock)
woman&home newsletter
Sign up to our free daily email for the latest royal and entertainment news, interesting opinion, expert advice on styling and beauty trends, and no-nonsense guides to the health and wellness questions you want answered.
Thank you for signing up to . You will receive a verification email shortly.
There was a problem. Please refresh the page and try again.
With US presidential campaign season in full swing and Britain's new prime minister striding into office clad in leopard print kitten heels, colour blocked coats and thigh high leather, all eyes are on the wardrobes of the women gearing up to run the world. And with new research indicating that dressing well can close the 20% gap in earnings between people of above- and below-average attractiveness, it seems that what we wear really does matter. Need to nail an interview, make your colleagues listen up or find that perfect work-to-date-night outfit? We take you through the science behind dressing for success...
Dress up...
Research has found that women who wear more 'masculine' clothes (i.e. a suit) to an interview are more likely to be hired. Those dressed in more conservative attire are deemed more self-controlled and reliable, and strike more profitable deals in negotiation tasks. We're more willing to go along with someone wearing a suit: in one study, people were 3.5 times more likely to follow a man crossing the road against a red light when he was dressed more formally.
Varying the level of formality with which you dress can even affect your ability to think abstractly. Scientists believe that dressing more formally enhances perceptions of power, broadening horizons and encouraging more 'big picture' thinking.
Jacket (opens in new tab), £225; Trousers (opens in new tab), £120, both Reiss
Out to impress? Scientists suggest dressing 'one notch above' what you would normally consider appropriate - if your workplace or typical attire is more casual, that doesn't necessarily have to mean a suit - raising the style stakes just a little will likely have the same effects, both on your perceptions of yourself and on others' perceptions of you. If you do invest in a new suit, though, make sure you wear it a couple of times before the big occasion, to avoid looking - and feeling - stiff and uncomfortable.
But add a hint of individuality...
Some style experts advise 'branding' yourself by, for example, wearing only white, grey, black or some combination of the above (a strategy which could also safeguard you against those last minute 'what to wear' outfit panics). But injecting your outfit with a pop of individuality can also pay dividends. Research participants assessed a man wearing a red bow tie to a black tie do as higher in both status and competence, leading researchers to conclude that making a slight deviation from established convention suggests that you are powerful enough to risk the potential 'social cost' involved.
Shoes (opens in new tab), £175, LK Bennett
A ruffle-sleeved blouse, printed scarf or pair of tailored culottes or Theresa May-inspired statement shoes could be just the ticket...
Colour yourself successful...
Martial artists competing in red are able to lift a heavier weight pre-match and benefit from an elevated heart rate during competition, versus their blue-clad opponents. Whilst your day job may not involve lifting weights or throwing colleagues to the ground, colour still matters.
In general, darker tones are associated with confidence, intelligence and authority, whilst opting for lighter hues tends to make us appear friendlier and less intimidating. Even the colour of your glasses frames counts, with black conferring an impression of stability.
Bright colours convey confidence - whilst purple carries connotations of artistry and uniqueness, yellow is associated with optimism and creativity.
Ladies in red are viewed as bold and assertive but may also be seen as aggressive, rebellious or obstinate. One to watch at interviews, perhaps, but a powerful weapon (and confidence booster) when it comes to romance - women tend to be rated as more attractive and sexually desirable when wearing red, even when their clothing isn't visible to the rater. Experiment with more muted shades, such as claret or burgundy, if tomato red isn't for you.
Dress (opens in new tab), £49.50, Marks & Spencer
Beware of orange - employers associate the colour with a lack of professionalism.
Green, on the other hand, is associated with calm, wellbeing, wealth and prosperity, and is thought to be a winner with interviewers, whilst white, suggesting cleanliness, impartiality, attention to detail, purity and new beginnings, may be another good choice.
Those wearing brown are seen as reliable, but are also thought to be passive, staid and slow to change. Try switching chocolate for grey, which carries connotations of solidity, wisdom and reliability, but is best paired with a bold accent.
Navy is a good choice for those in more traditional roles, indicating someone who is enterprising, trustworthy, honest and credible, but may be considered a tad conservative in the creative industries.
If in doubt, go for blue. It's not only associated with knowledge, power and integrity, but has been found to invoke calmness and stimulate creativity - in both you and your coworkers!
Dress (opens in new tab), £190, Karen Millen
How you put colours together is also key. Teaming contrasting tones (e.g. black and white) together conveys an impression of power, whilst a combination of similar shades implies approachability. Researchers suggest that a sweet spot exists somewhere between 'too matching' and 'too contrasting'...