Ski Clothes You Need This Winter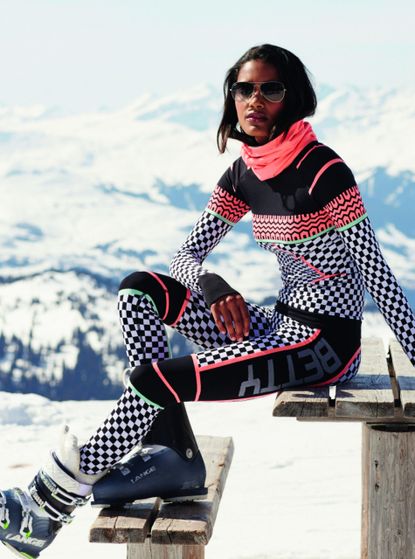 (Image credit: Sweaty Betty)
We've searched high and low to find the outfits that will take you from snow-tipped peaks down the mountain valleys
Going down the slopes at full pelt with the freezing cold wind through your hair might not sound stylist, but it can be utterly chic - if you have the right winter wear.
There's nothing wrong with hired salopettes, but if you're after a specific look this winter, w&h has something special for you. Click through the gallery to see the smartest items on the high street right now that will see you down the slopes in style.
Frieda Pinto, Kate Middleton, Elle Macpherson and Gwen Stefani have all been photographed looking fabulous and confident in snow wear, so there's absolutely no need to suddenly feel bashful when one of your family gets a camera out. With nipped-in waisted jackets, well-fitted trousers and unusual patterns on offer, you'll look smart and be able to get on with really enjoying the snow.
Ski Jacket, £31.99, Sports Direct
We love the zany, colorful print on this ski jacket from Sports Direct. (opens in new tab) And at just £31.99, this is an absolute bargain buy! Complete with a snow gripper, full padding throughout and an adjustable hook, this jacket is wind-resistant, waterproof and breathable all at the same time. It also has plenty of pocket space and comes with a fleece lining, making it both super-chic and impressively practical. (opens in new tab)
Women's Cable Knit Mittens, £21, The North Face
If you're stepping out for a drink after a long day skiing, then you won't want to forget these adorable mittens from The North Face. (opens in new tab) With a cosy fleece lining on the inside, and gorgeous cable knit on the outside, these little mittens are a must buy, and have even been reduced from £35!
Women's Quince Pro Jacket, £154, The North Face
Made with ultralight fabric, this jacket from The North Face (opens in new tab) will make for a perfect middle layer, keeping you extra warm on the slopes. What's more it will look good off the slopes as well when you get back home, making it the perfect weekend jacket. Hiking anyone?
Beanie Hat, £17, Blacks
Slightly reminisent of when Bridget Jones went, em, gliding down the slopes, this beanie from Blacks (opens in new tab) is a great way of adding a pop of color to your ski ensemble.
Hi Gear Duck Boot, £24.99, Go Outdoors
Could these be the most stylish and well priced snow boots ever made? They might very well be. These comfortable, grippy boots from Go Outdoors (opens in new tab) will be your saviour on the slopes of Val d'Isere. Featuring handy laces they can also be adjusted for the best possible fit.
Superdry Snow Pants, £149.99
These denim-hue ski trousers (opens in new tab) fit tidily around the hips and bottom, and then kick out into a flattering bootleg. Fully thermally lined, these have highlighter-pink pocket details so you won't forget where you put your ski pass, and will be able to easily find your phone to take those mountain pictures.
Topshop SNO Thermal Vest Top, £16
No matter how squashy and insulated your jacket and jumper are, you're never quite warm enough without a toasty vest on underneath. We love this chic number from Topshop (opens in new tab) - possibly the most stylish vest on the high street right now. A sporty metallic trim and a high neck mean it's cool and ever so functional. It could even be worn with a pair of smart trousers for apres ski.
Thermal Run Leggings, Sweaty Betty, £70
Sweaty Betty has knocked it out of the park this season when it comes to cool ski wear. Don't believe us? Click through the gallery for more of their fab snow gear. These plain-looking thermal leggings (opens in new tab) are 100 per cent opaque - meaning no accidental knicker show-through - and will be perfect for wearing under salopettes.
Nevica Vail Ladies Snow Boots, £56, Sports Direct
Bargain alert! These lined boots are (opens in new tab) currently priced at £59.99, down from £159.99, and come with a whole host of useful functions for when you're navigating the snow without skis. With waterproof uppers, grippy soles and a cushioned insole, you can't go far wrong with these on your feet.
Riggler Doretta Headband, £27.99, Snow + Rock
Hat hair won't be a problem as you probably won't want to take this off, even after you've retired from the slopes for a glass of gluhwein. This headband, available from Snow + Rock (opens in new tab), is fleece lined and will keep your ears snug while you're flying down the pistes. Stick it under your helmet and reap the snuggly rewards.
Superdry Ski Command Utility Hooded Jacket, £144.99
If you don't want to blend in on the slopes, then this incredibly jazzy Superdry jacket is just the ticket. This all-singing all-dancing coat (opens in new tab) will do so much more than keep you visible (and warm). It has a storm zip fastening, detachable hood, a bungee-cord hem, zipped under-arm vents, plus zipped pockets on both sleeves to keep your valuables safe.
Fat Face Kimberley Gilet, £70
Your torso won't know what's hit it. The bottom of this Fat Face gilet (opens in new tab) is ribbed for a flattering fit, and the rest of it is filled with feather and down for extra warmth. There's a detachable hood and also - joy! - double pockets. One set for putting your things in, the other for keeping your hands warm. It comes in a variety of colours.
Sweaty Betty Ski Trail Seamless L/S Top, £60
Possibly worth buying even if you're not going skiing, we love the look of this cool Sweaty Bettey top (opens in new tab). The distinctive chequed pattern teamed with pastel borders has a sporty look without being OTT. And the functions are also fantastic - it's quick drying and the sweat-wicking fabric will mean you're toasty warm all the time.
Sweaty Betty Exploration Softshell Ski Jacket, £360
And the Sweaty Betty chequed theme doesn't stop there. This jacket (opens in new tab) is the perfect combination of feminine, sporty and smart, with a flattering black-and-white pattern accentuating your waist even while you're taking on the black run. It's wind and wterproof on the outside, has a specially dedicated pocket for your ski pass, and is also fleece lined. Race you to the shops!