The Best Clarifying Shampoo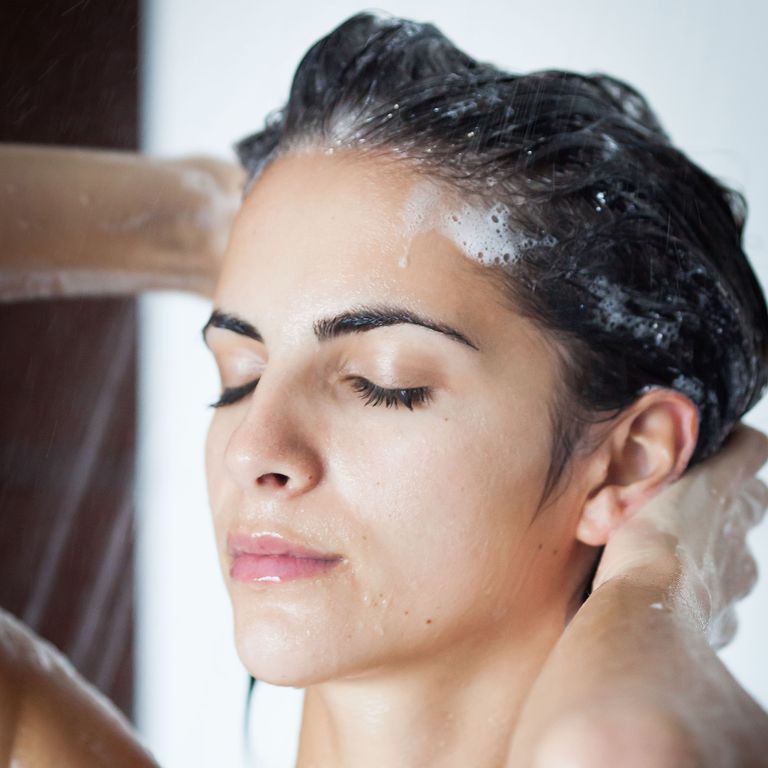 (Image credit: Rex Features (Shutterstock))
You should be using one every week
If you're doing winter haircare right, you'll be defying the chilly winds and central heating by lacing dry ends with nourishing oils, serums and creams. Perhaps you're also partial to a blob of gel in a ballerina bun or a hearty misting of dry shampoo when there's simply no time to lather up.
Whatever your product of choice, the build-up it creates combined with pollution, hard water and other lurking toxins can leave roots feeling oily and strands looking dull. What's more, build-up blocks the nutrients in your conditioners and masks from penetrating the hair shaft as effectively, so you don't see the full potential of your products.
The solution? Clarifying shampoo, which lifts away toxins, pollution and remnants of products in a way that many traditional cleansers can't. Use one once a week to press the reset button on your roots, and you'll soon be enjoying bouncier lengths, a balanced scalp and an overall brighter look.
Between that weekly detox, wash and condition your hair as you normally would, and you should notice that your former dependence on dry shampoo goes down a notch. The very best clarifying shampoos will help your roots remain cleaner for longer, all without drying out the tips of your hair. Click through for the picks that tick every box...
Bumble and bumble Sunday Shampoo, £18.50
Designed for use on, well, Sundays – or any day that you fancy a quick recharge – this shampoo removes a week's worth of build-up with a dose of astringent Panax Ginseng Root Extract. Delightfully refreshing, the foamy lather pulls out a build-up of serums and oils, as well as any pollutants or hard water lurking in your lengths. Try it if things are looking a little lank around the root area, and one wash will promote a lightness that makes it easy to create a big blowdry.
Pantene Pro-V Clarifying Shampoo, £1.99
If light, swishy hair is high on your agenda, this clarifying shampoo is one for you. The purse-friendly price is just a nice little bonus. One of few deep cleansers that is gentle enough to use on colour-treated hair, it removes build-up from root to tip and replaces it with an abundance of bounce.
Shu Uemura Art of Hair Anti-Oil Astringent Cleanser, £32
Don't let the word astringent' put you off. Though this shampoo for oily hair removes grease fast, it keeps the softness of your strands intact and laces them with a citrusy scent. The formula foams up well and creates a silky, light canvas on which to coif any style you please. Goodbye lank locks - that makes it ideal for volume-seekers.
Moroccanoil Clarifying Shampoo, £18.45
Its usage directions should give you a clue at how cleansing this shampoo is. It's to be used once every two weeks as a purifying treatment that battles the bad stuff in your roots. Perfect for those who tend to use hairspray, serums and gels often, a blend of essential oils clears embattled scalps of grease-inducing grime.
Paul Mitchell Clarifying Shampoo 3, £11.25
This is hair cleansing at its deepest, as the shampoo tackles grime beyond the usual product build-up by penetrating the hair shaft to draw out chlorine, iron and minerals. Great for swimmers, it defies green pool locks while removing remnants of trapped hard water, boosting the strength of strands, and being gentle enough to use daily on non-coloured hair.
Christophe Robin Cleansing Purifying Scrub with Sea Salt, £37
Now, this is an intensely purifying treat. Suspending scrubby sea salt in a cleansing paste to detox a clogged-up scalp, it makes light work of whipping out oil. What's more, as well as really ridding your roots of product build-up, a 100% plant-derived agent veils lengths in long-lasting hydration. It's the perfect balance.
Phyto Phytopolleine Treatment, £24.50
This treatment oil isn't a clarifying shampoo, but it shifts product build-up as well as one. In fact, it's one of the gentlest ways to purify your scalp. The unction offers a double-pronged approach by cleansing first, which paves the way for a botanical blend of oils to effectively penetrate the hair shaft. Dreamy, soft hair is ahead.