20 Christmas hair accessories, perfect for party season
Deck your 'do with our favorite grown-up Christmas hair accessories, guaranteed to add festive cheer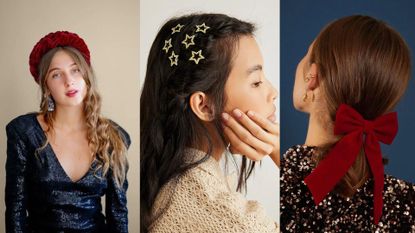 (Image credit: Future/ Tanya Litkovska/Accessorize/Free People)
Christmas hair accessories are the easiest way to add instant festive cheer to your look. Now that we're inching ever closer to party season, what better way to get into the festive spirit than with a sparkly new hair adornment?
From big velvet bows to crystal hair slides, the humble hair accessory works with plenty of Christmas hairstyles - up, down, long, or short. "Hair accessories are great at Christmas because everyone gets in the party mood and they can be the perfect way to elevate your hair look," says L'Oréal Professionnel Editorial Artist and celebrity hairstylist Louis Byrne. He continues, "They suit all ages - have fun and allow yourself to get playful. Don't be shy, make a statement and own it!"
It's all about finding the right accessory for you - do you fancy stacking up some slides, or opting for a fuss-free hair clip hairstyle? Whatever your festive season holds, it always feels cheering to get glammed up with Christmas makeup looks and Christmas nail designs. So why not take things up one more notch by shopping our round-up of the best Christmas hair accessories? There's a sparkly something for everyone.
20 Christmas hair accessories for 2022
Why you can trust Woman & Home Our expert reviewers spend hours testing and comparing products and services so you can choose the best for you. Find out more about how we test.
Christmas headbands
Headbands are having a moment and we can see why. They take seconds to put on, come in an array of sophisticated styles and flatter every hair texture, from curly hairstyles to beach hair waves or a pixie haircut. If you're wondering how to wear headbands, it's all down to personal preference, and the style you choose - you can make them work for you.
1. The Uniform Velvet Padded Headband
Specifications
RRP: $49/£40
Material: Velvet, Grosgrain ribbon lining
Throw it back to the '90s with this padded, sumptuously soft velvet headband, which is available in five colors, including this classic olive green. Try this one with hair pulled back or let loose to elevate your everyday look. It'll add a fun, preppy touch.
2. Zara Floral Headband With Shiny Motifs
Specifications
RRP: $45.90/£29.99
Material: Metal & glass
Make a statement with this luxe gold-toned studded headband. I love this vintage-inspired piece - it has an almost regal feel. The unique, artistic design is perfect for adding extra interest to a simple bouncy blow-dry. I also like that it has a ribbon-tie back, so you can adjust it so it doesn't dig in - a hair-accessory pet peeve of mine.
3. NamJosh Geometric Embellished Headband
Specifications
RRP: $50/£35
Material: Polyester, Plastic, Metal, Glass & Plastic beads
Anthropologie has so many gorgeous designs to pick from. You'll be seriously spoiled for choice - I picked this vibrant green shade for the extra festive feel. I love the jeweled detailing too, it's blingy without feeling OTT. The headband is so striking that it'd work best with a sleek, low bun, to let it take center stage.
4. Tanya Litkovska Velvet Headband
Specifications
RRP: $295/£305
Material: 20% silk, 80% viscose
This plush velvet headband from designer Tanya Litkovska is set to make a big statement this festive season. An investment piece, yes - but it's one you'll wear for years to come. Featuring a plaited design on a padded base, wear it with a hair up style like a loose plait or down with tumbling curls to emulate this pre-raphaelite chic look.
5. River Island Pearl Headband
Specifications
RRP: $19/£10
Material: Plastic
A simple but striking headband, this features a single row of pearls for a more low-key statement. With a smaller, slimline shape, this is an ideal headband for short hair. It's available in pearlescent cream or pale pink - the bargain price means you could probably pick up both! Because this is quite a neutral style, it's the perfect way of toning down a busy outfit. Team it with your best Christmas party dress and wait for the compliments to roll in.
Christmas hair bows
Big bows, pretty bows, and DIY bows are all set to make an appearance this party season. Get ahead of the curve and treat your tresses to a plush velvet or satin ribbon that will make a statement. Our top tip? Go for timeless jewel colors like dark green, ruby red, or glitzy gold, and these bows will work for any party situation, festive or not.
6. NA-KD Satin Hair Bow
Best satin bow
Specifications
RRP: $16.95/£10.95
Material: 95% Polyester, 5% steel
If you're not a fan of traditional Christmas colors, turn your head to this lilac satin bow that looks far more expensive than it actually is. The tone also means that it's wearable for those wedding hairstyles in the spring and beyond. Style with a romantic wavy hairstyle or a sleek updo.
7. Free People Lady Bow
Specifications
RRP: $16/£15
Material: Organza
I'll admit that I lightly swooned when I spotted these bows in store at Free People. The twirly shape combined with the luxe-looking organza fabric reminded me of the most expertly wrapped gifts under the tree, and I have to tell you - that's the exact vibe I look for in all my Christmas hair accessories. It's available in seven shades, including lilac, sage green, and crimson. Clip it on as part of a half up half down hairstyle or try securing it on the base of a plait. So chic.
8. Accessorize Velvet Bow
Specifications
RRP: $8/£6
Material: Velvet
A small bow can still make a big impact. The trick? Contrast the color of the bow to your hair so it stands out. This is available in black or red, can be worn in endless ways, and will suit all hair textures. I'd wear this over a high or low ponytail, to add a sweet little festive touch.
9. Anthropologie Embellished Bow Barrette
Pearls are perennially chic and never go out of style. Wear them on your ears (perhaps with Kate Middleton's earrings) and match up with your hair by wearing this beautiful black velvet and pearl embellished bow clip. It's the perfect accompaniment to your little black dress.
10. ASOS Design hair bow in white with pearls
Best affordable bow
Specifications
RRP: $11.50/£8
Material: Sheer chiffon
Fastening: Slide
This diamante and faux-pearl embellished bow makes quite the statement, so is the perfect pick for party hairstyles. It's also a great multitasker - dress it up with the best red lipstick or keep it casual with cozy knitwear and straight-legged jeans.
Christmas hair clips
Clips are some of the easiest Christmas hair accessories to wear because they can be as subtle and understated as you like. From crystal claw clips to statement slides, these are a fun, fresh addition to any party style. Byrne is a big fan too, saying, "I love stacking clips and clasps; especially if they're jeweled - just like you would with rings!" His favorite way to style them? It's all about mixing and matching. "I love pairing quite random pieces together. Opt for a deep side-part in your hair and then use slides and clips to hold in place."
11. Boohoo Embellished Pearl Hair Clips
Specifications
RRP: $8/£4
Material: Metal
Dial up your 'do this festive season with a sparkly brand-new hair clip. It would work perfectly for holding a layered hairstyle in place, or just to breathe new life into classic tousled hairstyles. Wear on its own or layer with multiple slide clips for all-out party hair.
12. Jennifer Behr Perla Pearl-embellished gold-tone hair slides
Specifications
RRP: $287/£225
Material: Faux pearl
Handmade in Brooklyn, this beautiful 'Perla' set comes complete with seven gold-tone hair slides, adorned with various-sized faux pearls. They would make one of the best jewelry gifts for anyone who wants to give an updo a glamorous edge. I'm adding this to my wish list, pronto.
13. Accessorize Heart Diamante Claw Clip
Specifications
RRP: $13/£10
Marerial: Metal
The '90s revival means that claw clips are back in a big way. To begin with, I was pretty unconvinced, as I am with all nostalgic trends that creep into the mainstream, but then newer versions of the retro style turned my head. I love this jewel-spiked gold option, that will elevate even the simplest of hairstyles and outfits.
14. Oliver Bonas Starburst Textured Barrette Hair Clip
Specifications
RRP: $22/£15
Material: Metal
If I had to pick just one from this list of Christmas hair accessories to wear this year, it would have to be this. It's got it all going on - stars, sparkle, and a sleek design. Wondering how to style it? Split your hair in half for a half-up, half-down 'do, twisting the sides and securing it with an invisible hair tie. Place this on top and voila - instant party-ready hair.
15. Dash Hair Clips set of 10
Specifications
RRP: $24/£20
Material: Metal
Stars are festive without being too OTT, in-your-face festive. You could definitely wear these layering slides all year round - unlike that rogue glittery Christmas tree clip you'll get in your stocking. Wear one or two for a more low-key look, or layer them up on one side of your hair, like the model above.
Christmas scrunchies and ties
Out of all the best Christmas hair accessories, a scrunchie is by far the simplest option to elevate any old easy hairstyle you have planned. Simply slip it on a messy bun or ponytail hairstyle and voila - you're good to go. Byrne likes using silk scrunchies and ties to create party-ready hairstyles in a flash. "A messy low-slung bun with a scarf tied round is always chic - and very quick to style!" What's more, many scrunchies (especially silk) have hair-health-boosting abilities, including retaining moisture and reducing snagging.
16. Liberty Thorpness Silk Satin Hair Bow Scrunchie
Specifications
RRP: $55/£45
Material: SIlk
Liberty prints will always do it for me - you can't beat the classic full-on-florals from the iconic brand. This scrunchie would be the perfect way to elevate your classic 'jeans and a white tee' outfit on Sundays - in December or otherwise. Bring your hair up to a high ponytail, secure it, and go! Pink lipstick would be the perfect accompaniment.
17. Slip Scrunchie Set
Specifications
RRP: $45/£45
Material: 100% silk
Cleverly crafted from mulberry silk, Slip's sleek scrunchies reduce tangling and breakage while adding a festive adornment to your everyday hairstyle. Treat yourself or give it to someone you love (it would definitely make one of the best Christmas gifts for friends). As well as looking pretty, the silky scrunchies reduce hair breakage and split ends while helping hair retain its natural moisture. The best part? They have a loose grip which means no more kinks or creases.
18. Jennifer Behr Henley Faux Pearl Hair Tie
Specifications
RRP: $100/£70
Material: Gold elastic cord, faux pearls
An elevated hair tie or scrunchie makes for one of the most striking Christmas hair accessories. This pearl-coated option by designer hair accessory label Jennifer Behr is so stylish and would work all year round. Pair with a crisp white shirt and a sleek ponytail for the ultimate chic, understated look.
19. WHISTLES X HAI SCRUNCHIE
Specifications
RRP: £22 (UK only)
Material: 100% silk
Nothing brings me joy more than neon hot pink. This oversized scrunchie would probably work best with long hairstyles, as it could look a bit too oversized and cartoonish on thin or fine hair. Place it around a messy bun to elevate the look, and add some extra zing with matching lipstick.
20. The Uniform Velvet Bow Scrunchie
Best velvet scrunchie
Specifications
RRP: $35/£25
Material: 100% velvet
We couldn't resist including more Christmas hair accessories from London-based label The Uniform. They hit the perfect sweet spot between feeling special and being affordable. Made from 100% sumptuously soft velvet, these plush scrunchies featuring an oversized bow make a great whimsical accompaniment to any ponytail or bun. Pick between blush pink, olive green, pale blue, or black.
Emma Stoddart is a freelance beauty journalist and self-confessed skincare aficionado with over five years' industry experience. Emma has worked for some of the UK's top women's titles including Net-A-Porter, Stylist and Grazia. Her experience spans online and print as well as producing editorial shoots with some of the industry's biggest artists, including Val Garland. Asides from working with them behind the scenes, she's also had the chance to interview the likes of Patrick Ta, Pat McGrath, and Sam McKnight for all their insider tips and tricks.