18 easy Christmas hairstyles you need to try in 2022
These glamorous Christmas hairstyles will help you sleigh this holiday season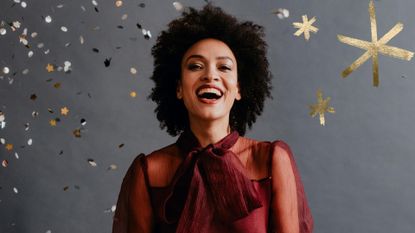 (Image credit: Future/Getty images)
Christmas hairstyles require a little more pizzazz than your weekday messy bun. And while we may not be able to bag you a PS5 or stuff the turkey, we can certainly help you cross holiday hairstyle off your to-do list. Put the planning in now and you'll be swishing and sweeping your way through party season.
So, what styles scream, "It's Christmaaas"? From intricate hair up styles to a salon-style bouncy blow dry, party-season hair should look glossy and glamorous. "The super sleek ponytail will be a festive favorite, elevating any outfit, balancing practicality with style," says Brian Cook, educator for Hot Tools, And what would Christmas be without a little extra sparkle? "Accessories are now a big part of hair trends," explains international session hairstylist, Syd Hayes (opens in new tab). "From beautiful clips to amazing headbands and cool ponytail bands." These are a great way to elevate a simple updo or even draw attention away from hair in need of a wash.
The good news is, you don't have to visit a salon to nail one of our top Christmas hairstyles. A little visual inspiration and styling tips go a long way – from learning how to blow-dry hair like a pro to complementing your Christmas nail designs with a headband in matching tones. No matter your hair type or planned social calendar, we have all your Christmas hairstyle inspiration covered.
Straight and sleek Christmas hairstyles
1. Twin braids
Great for those last-minute party plans, these cute-as-a-button braids will disguise day-three hair. Start with a center parting then loosely plait two braids on each side, leaving the ends untied, securing with a blast of hairspray.
2. Snatched back
If the holidays are all about being a little bit extra, then Helen Mirren has nailed the brief with XXL extensions and a super-snatched half up half down hairstyle. Start with poker straight hair (clip-in extensions will give you Helen's Rapunzel-level locks) then take the top section of hair, parting with your thumbs from above your ears, and secure at the crown. Warm some pomade in your hands and smooth through that top section, taming any flyaways with a toothbrush.
3. Modern top knot
Proving hair up needn't be complicated or fussy, this is the perfect Christmas hairstyle for those 'twixmas' in-between days. Keep the style sleek and shiny by misting a dressing brush with hairspray and using it to pull your hair into a high pony before pinning it in place. Don't worry about being too neat - those jutty-out ends keep the bun looking fresh, not frumpy.
4. Bouncy blow-dry
A classic volumized blow dry with flicky ends is sophisticated, timeless, and works as well for lunch with the family as it does a big night out. "The 90s Layered Blow-Out works well on hair that is naturally straight, as it can create a slight wave you never knew you had," says Jordanna Cobella (opens in new tab), Wella Professionals digital craft expert and Cobella Salon owner. "Hair mousse is a key product to create this look and adds subtle volume."
Using one of the best hair dryer brushes will help you achieve root lift and curved ends while you dry. Or, if you have the skills, use large vented round brushes and the skinniest nozzle on your dryer to create tension, root lift, and shape.
5. Ponytail with a bow
Ponytails aren't just practical, they can be party-ready too. The trick here is ensuring the hair has plenty of shine before sweeping it back and securing it right on the crown. Finish it off with an elegant black velvet ribbon. You don't need to splash out on pricy Christmas hair accessories, just grab a bow from a holiday gift or head down to the haberdashery!
6. Sweep over with a clip
This swept-over, pinned-back style is a show-stealing look for short hairstyles. Start by creating a deep side parting (using a tail comb will give this the sharp line it deserves) then pull one side back behind your ear securing it with a metallic slide or bejeweled clip. This works particularly well with a shorter-at-the-front U-shape haircut, or if you happen to have a bob like Michelle Williams, flick out the ends on one side using your straightening irons to keep it looking fresh and modern.
Wavy and curly Christmas hairstyles
7. Wet look waves
This glamlook lends itself to a natural wave but the high-shine finish would work equally well on curly and afro-textured hair. Wash hair then mix a little bit of hair gel and shine cream between your hands and smooth through the hair. Enhance your natural kinks by using the diffuser attachment on your hair dryer and follow up with curling tongs if needed. Finish with a blast of shine spray to set the 'wet' look.
8. Classic Hollywood wave
Gorgeous, glamorous Hollywood waves always go down a treat for special occasions. The best hot rollers beat curling tongs for creating large, tumbling waves like this. A misting of shine spray will keep the look super glossy, then add a nice ear tuck on one side and some glistening ear candy for extra Christmas appeal.
9. Bling braid
Something sparkly will always complement a glam Christmas hairstyle like this and Blake Lively has gone all out with a braided updo, woven with diamond and gold chains. Unless you've got some diamond swag lying in the family vault, a length of sparkly ribbon or even an old chain necklace will give a high-end twist to your boho plait. Secure hair in a mid ponytail, tie your chosen embellishment to the hairband, and loosely plait down to the ends.
10. Pre-Raphaelite curls
Our hottest Christmas hairstyle prediction? Soft, cascading curls. Step away from the mousse, or anything else that's going to crisp over their undone airiness. Kaia Gerber gives hers a disco twist made for the party season with two sparkly hair clips placed on either side of her parting. Use a narrow tong to achieve a tight curl then brush out. This is the trick to giving the curls a romantic frothiness.
11. Tousled hun
There are few hairstyles that excel in both practicality and prettiness but a half bun is one such style, keeping hair off your face (and showing off your fabulous make-up in the process) and adding oomph to curly and wavy hairstyles. Use your thumbs to separate the top section of hair from your ears up and secure it with a hair tie. Twist the loose tail around the base of the elastic and lock in with pins.
12. Glitzy headband
Syd Hayes has called it: "We're seeing a big uptake on the hairband trend." So dig out your glitziest Alice band and hit the town. It's the easiest Christmas hair trick in the book. Headbands make any hairstyle look instantly special, be it ponytail hairstyles, air-dried waves, or a messy beehive like actress Deepika Padukone.
Natural and textured Christmas hairstyles
13. Pile up
The best Christmas hairstyles are both chic and a cinch to create. First of all, follow the Curly Girl Method to ensure your curls are in tip-top condition. Dry your hair with a diffuser attachment to create curl definition, then pile it up into a high ponytail and secure with a strong snag-free band. Loosely pin the hair around the base of the ponytail then tease out tendrils near your face for a relaxed finish. Don't worry about being too neat - this piled-up style looks even more gorgeous when a little undone.
14. Embellished braids
Twin braids fastened into a cascading ponytail would be glamorous enough but Kerry Washington piles on the festive feels with these beautiful hair rings. Ultra neat braids like this may require a professional hand, but if you do want to have the skills search for 'Dutch braid' to find easy-to-follow tutorials.
15. Braided space buns
Space buns are the Christmas gift that keeps on giving. Not only do they look super cute, but they're a doddle to do. Part your hair down the middle so you have even amounts on both sides. Secure into two pigtails with a hair tie then wrap the ends around the elastic and tuck into place.
16. High puff with a twist
Another simple yet effective Christmas hairstyle, this high puffed 'do is perfect to let natural hairstyles' texture and curls do the talking. After pulling hair up into a high ponytail, wrap the lengths around and pin it in place. Then add some extra glamour with a length of black ribbon zig-zagging around your hair.
17. Micro braids
For these cool girl micro braids, hair needs to look nourished and glossy – think tinsel-shiny – so add some hair oil or leave-in conditioner. Keep that lovely natural texture and volume on top, with the sides a little tighter, and create four mini braids. Accessorise with a sparkly eyeshadow and lashings of black kohl.
18. Box braided high ponytail
Elegant and sophisticated, this is a great all-year-round hairstyle for anyone with or in the process of getting box braids. Instead of securing your ponytail with a basic bobble, wrap a few braids around the base for extra glamour.
Stephanie Maylor is a Beauty Editor working across five national magazine titles, with almost 15 years' experience in the industry. She has written for many brands, including woman&home, Grazia, Now, More!, Fabulous, NW, Woman, Woman's Own, Woman's Weekly, Essentials, Best, Chat, and OK! online.
In 2010 she launched her own beauty blog, which was shortlisted for Best Beauty Blog in the 2011 and 2012 Johnson & Johnson Beauty Journalism Awards. She has interviewed many high profile industry experts and celebrities including Alesha Dixon, Twiggy and Christina Hendricks.