Best places to travel in December for an unforgettable vacation
Our pick of the best places to travel in December, with destinations for sunseekers and culture fans alike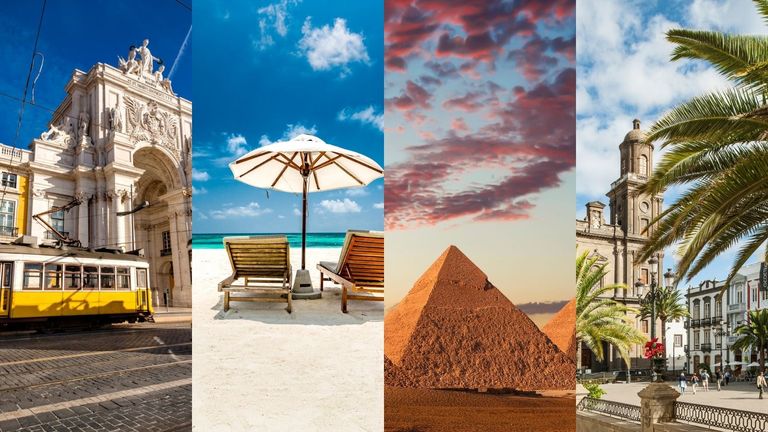 (Image credit: Getty Images)
The best places to travel in December all depend on what you're looking for from a vacation: sun-soaked shores, cities steeped in culture or perhaps a little festive cheer to brighten those winter days.
Now's the perfect time to put those travel plans into action as the world opens up again and tourists venture to international destinations around the globe.
While there are still travel restrictions in place, all of the best places to travel in December on our list are open and welcoming visitors once again.
Remember, though, that travel is a little different these days, and every country has its own requirements—you may be required to prove your vaccination status or show a negative COVID-19 test to travel. Make sure you're familiar with the protocol in your chosen destination before you book your tickets and travel.
But whether you want to travel in December, discover the best places to visit in January or look ahead and plan where the best places to visit are in February, it's time to dust off your passport once more and prepare to be inspired...
BEST PLACES TO TRAVEL IN DECEMBER
1. Cairo, Egypt
Best December holiday for: A megacity break steeped in history
There are few more mystical places than Cairo, the capital of Egypt. And if you're into ancient cities and history, this should definitely be on your bucket list.
With a dry, desert climate and very little rainfall, the best time to visit Cairo is winter, when temperatures range from mild to a warm 21°C/69.8°F.
Make sure you plan a day trip to the biggest-hitting tourist attraction in the region and the oldest of the Seven Wonders of the Ancient World, the pyramids in Giza, located approximately 11 miles south of Cairo.
The Egyptian Museum is also a must-visit, and houses an impressive collection of artefacts, including a Royal Mummies Hall.
Top tip: The pyramids can be very crowded, so try to go early in the morning or just after lunch.
See the latest official travel advice for Egypt here.
2. Barbados
Best December holiday for: Golden sand, turquoise sea and plenty of sun
If you're looking for picture-postcard beaches, swaying palm trees, friendly locals and a kick-back-and-relax vibe, the eastern Caribbean island of Barbados might possibly be your perfect holiday. With an average temperature in December of 29°C/84.2°F, it's certainly got the sun on its side.
With some of the more upmarket hotels and restaurants on the island, the west coast is the best place to stay for idyllic golden shores and bathwater-warm sea, while Unesco World Heritage site and capital Bridgetown is a historical highlight and also gives shopping addicts the opportunity to indulge in some retail therapy.
If you're into wildlife, you can even swim with turtles (who nest on many of the beaches) or explore the botanical gardens and rainforests.
Top tip: In the mood to party? Head to Oistins fishing village and join the throng for a fish-fry and street party every Friday.
See the latest official tourism travel advice for Barbados here.
3. Valletta, Malta
Best December holiday for: History and culture
Valletta is known as Europe's smallest capital, and is steeped in history and culture. However, there's so much more to this easy-to-navigate Unesco World Heritage site than ancient buildings. There's also a buzzing bar and culinary scene, plus some great beaches to relax on.
Take a walking tour around the fortifications and limestone pavements, and listen for the noon gun salute courtesy of the cannons. There's also Fort St Angelo on the waterfront, originally built in 1691 over the ruins of a medieval castle.
The Grand Harbour is a great place to take in a sunset, before heading to one of the many restaurants for dinner. Make sure you try some authentic Maltese food, particularly ftira, a flatbread with tomato, tuna, olives and capers, and pastizzi, a savoury pastry usually filled with curried peas or ricotta cheese.
Top tip: Did you know that Malta was once also home to the Queen? Queen Elizabeth II and Prince Philip lived in Villa Guardamangia in Malta, a beautiful grade 2 listed villa that is now privately owned, but can still be viewed from the outside if you visit Marsamxett Harbour.
See the latest official tourism travel advice for Malta here.
4. Gran Canaria, Canary Islands
Best December holiday for: Combining culture with relaxation
The "miniature continent" of Gran Canaria is known for its black lava beaches and contrasting landscapes—one minute you could be lounging on a superb beach, the next standing in a lush pine forest such as the Tamadaba Natural Park.
Also known as "dragon's tail', Tamadaba is one of the best preserved primitive pine forests in the Canary Islands, along with the Inagua Reserve which is home to the Gran Canaria blue chaffinch, a small bird that is native to the island.
Inland, you'll find charming villages such as Tejeda, known as one of the prettiest towns in Spain, and museums in abundance—notably El Museo Canario, which houses curious pieces including skulls and mummies, and Casa de Colón (Columbus' House), which demonstrates Christopher Columbus' connection with the Canary Islands.
Top tip: The westerly resort of Puerto de Mogán is ideal for snorkelling as the waters are calm and clear.
See the latest official tourism travel advice for Gran Canaria here.
5. Copenhagen, Denmark
Best December holiday for: A cosmopolitan yet traditional city break
Copenhagen really does have everything for all ages, and winter is the perfect time to visit and explore this dreamy destination.
You'll need to wrap up warm, although there's so much to see and do you won't notice the chill in the air. From fairytale castles to canal boat tours, first-class shopping and thrilling amusement parks, you may have trouble packing it all in.
Must-see December highlights include the waterfront district of Nyhavn which is lined with colourful houses (and hopefully a sprinkling of snow), some of the best Christmas markets in Europe and Tivoli Gardens, the third oldest amusement park in the world and especially magical in winter.
Top tip: Christmas markets just aren't the same without a mug of hot gløgg— steaming mulled wine with almonds and raisins.
See the latest official travel advice for Copenhagen here.
6. Dubai
Best December holiday for: Sunshine and shopping
Enduringly popular with Europeans craving winter sun, Dubai in the United Arab Emirates is a place of many contrasts, all rolled up in one seriously glamorous package.
For starters, the architecture and buildings are on another level—literally. Burj Khalifa is the tallest building in the world, so if you are looking for a stunning viewpoint and aren't afraid of heights, head here.
Dubai is also a veritable shoppers' paradise. As it's tax free, you can find some brilliant buys in the malls, while more authentic purchases can be found in the souks.
This glittering destination is blessed with year-round sun, and December sees the stars come out in force for Dubai's International Film Festival, which is held every two years. The New Year's Eve celebrations are also worth visiting for, with one of the best fireworks displays in the world.
Dubai is hot in November, December and January - even though these are technically the countries coldest months. The average high temperature in Dubai in December is 26°C/78.8°F - perfect beach weather for most.
Top tip: Don't be afraid to haggle with the shop owners in the souks—they are eager to sell and will try to match your price, within reason.
See the latest official tourism travel advice for Dubai here.
7. Cape Verde
Best December holiday for: Tropical sun and glorious beaches
Located off the west coast of Africa and with a tropical climate, the underrated islands of Cape Verde are perhaps best known for their beaches, with each island possessing its own unique identity, thanks to a diverse blend of influences.
Loggerhead turtles visit often to lay their eggs—Ervatão Beach, on the south-east coast of popular Boa Vista, is known as the third most important loggerhead turtle nesting site in the world. Boa Vista is also the place to spot majestic humpback whales and even dolphins.
One of the best places to travel in December for those looking for an active vacation, the archipelago is also a great place for water sports enthusiasts, with kitesurfing, windsurfing and scuba diving all on offer.
Top tip: Make sure you try the national dish cachupa rica, a maize, bean and fish stew that's normally accompanied by the local grogue—rum made from sugarcane.
See the latest travel advice for Cape Verde here.
8. Lisbon, Portugal
Best December holiday for: A European city break
There is a real buzz around Lisbon right now. From castles and culture to excellent cuisine and vintage tram rides, we defy you to be anything less than captivated.
For those on the culture trail, the city is brimming with must-sees, from the imposing Lisbon Cathedral to the Oriente Museum of Asian art. Once a Moorish castle, São Jorge Castle offers first-class vistas over the city, with its narrow rambling lanes and terracotta skyline.
And once you've had your culture fix, head to the Belém promenade for a stroll on a mild evening – you may even catch a live band before admiring the views towards the Ponte 25 de Abril bridge.
Top tip: Market lovers will enjoy the quirky Feira da Ladra (thieves' market) which runs every Tuesday and Saturday and sells anything from old vinyl to retro phones and furniture.
See the latest official tourism travel advice for Portugal here.
9. Paphos, Cyprus
Best December holiday for: Guaranteed sunshine and scenery
The legendary birthplace of Aphrodite, the coastal city of Paphos in Cyprus combines idyllic Mediterranean beaches with a decent smattering of history.
One of the best places to travel in December, most people head here for the brilliant Blue Flag beaches and glass-like waters, but there's also some rich culture and stunning scenery to be had, not to mention excellent drinking and dining.
Arguably one of the most important sites in Cyprus is the Unesco-listed Paphos Archaeological Park. This is where you'll find some of the most impressive Roman mosaics in the Mediterranean.
Whether you want to browse the local handicraft shops or enjoy a drink at sunset, Paphos harbour is a wonderful place to linger for a while, with many bars, cafes and restaurants offering tables next to the ocean.
Top tip: Paphos old town is a great place to explore with panoramic views, a market, street art and local handicraft shops.
See the latest official tourism travel advice for Cyprus here.
Award-winning journalist and editor Rebecca Barnes has written travel-related content for countless consumer titles and websites including The Telegraph, Daily Mail, Wanderlust, Tatler and Cruise Critic.
She's also worked with a number of brands creating content for commercial, marketing and social media campaigns.
A former editor of World of Cruising magazine, Rebecca is also co-founder of the premium blogazine, Cruise Blondes – as a cruise specialist, Rebecca spends much of her time sailing the world's oceans and waterways and checking out the latest ships - all in the name of research, of course.
When she's not jetting around the world, Rebecca enjoys Zumba, long walks and listening to music, in particular guilty pleasures from the 80s, 90s and 00s.