Revealed: the world's prettiest cruise destinations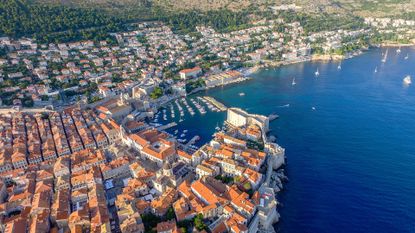 Travellers have been snapping, sharing and tagging all over the world, so here are the prettiest places for cruising according to Instagram.
Social media is an incredibly influential tool for travellers these days, and a vast majority of us use the likes of Facebook, Instagram and Twitter to share our experiences and holiday snaps.
On cruises, this is no different – according the Unforgettable Cruises (opens in new tab), there are almost two million photos on Instagram taken on cruise ships.
Using expert opinion and Instagram hashtag analysis, the company has now established the five most picturesque cruise destinations around the world.
More like this: The best mini cruises between two and four nights (opens in new tab)
1. Dubrovnik, Croatia
Made famous thanks to its starring role as King's Landing in the recently finished Game of Thrones TV series, Dubrovnik is a supremely popular destination for cruisers and city-breakers. We love its terracotta roofed houses, cobbled streets and old city calls from which you can get spectacular views. Well over two million photos have been snapped in this city on Instagram, so join the crowds and come for the spectacular sights, fascinating history and excellent Croatian wine.
Book it: Riviera Travel's luxury yacht cruises are the only way to explore Croatia's coast (opens in new tab)
2. The Maldives
A vast collection of soft-sand islands and atolls, this Indian Ocean destination has been snapped more than 6.7 million times on Instagram. This is the land of luxury resorts and white-sand beaches, so come prepared for long beach days and some serious relaxation. Visit the Maldives on a cruise and you'll be able to explore a few of the stunning atolls, as well as spend plenty of time in the water with turtles and tropical fish.
Book it: Unfortgettable Cruises have a Maldives islands cruise taking in 11 destinations from £1,923pp (opens in new tab)
More like this: European river cruises you simply can't miss (opens in new tab)
3. Halong Bay, Vietnam
There's no sight quite like the towering karst rock formations of Halong Bay in Vietnam. Legend has it, this unusual landscape was created by emerald-spitting dragons during a fierce battle against the country's enemies. A romantic notion indeed, but just a folk tale – these huge cliffs were actually created over 500 million years as a result of erosion from ocean currents and weather. Explore its many caves and swim in its warm waters on a traditional junkboat cruise from the mainland city of Halong – and make sure you stay overnight to see the place at sunrise.
Book it: Riviera Travel's Vietnam and Cambodia tour takes in Halong bay & much more (opens in new tab)
More like this: 10 trips every woman over 60 should take (opens in new tab)
4. Santorini, Greece
This glorious Greek island is famous for the white tumbledown houses and tight laneways on its hills, but there's a lot more to Santorini than the five million hashtags suggest. Beyond the glorious sweeping views there is a fascinating history to delve into. Head to the Museum of Prehistoric Thera in Firá, where you'll find 3,000-year-old murals from the Minoan civilisation. Coming here on a cruise means you can explore plenty of other Greek islands too.
Book it: Unforgettable Cruises run a gorgeous southern Greek islands cruise from £1841pp (opens in new tab)
5. Giza, Egypt
Sitting just west of the Nile, the ancient pyramids of Giza are an astonishing feat of human engineering and strength, and offer a stark contrast to the buzzy streets of chaotic Cairo nearby. There are more than 132,000 photos on Instagram taken here – to get the best shot, don't be afraid to stand on some of the rocks nearby for a good vantage point. Don't miss a shot of all three pyramids and the Sphynx all together from near the entrance.
Book it: Riviera Travel's Cairo to Luxor cruise is one of our favourites (opens in new tab)
Lottie is an NCTJ-trained journalist, an experienced travel writer and an expert in creating compelling digital content.
Lottie has been in the travel writing business for nearly a decade and has writing and photography bylines at The Telegraph, The Times, The Independent, the i and National Geographic Traveller. She's done broadcast work for BBC Radio 4 and have contributed to a number of guidebooks and coffee table titles during her career.