31 best sustainable Christmas gifts 2021: Eco-friendly gift ideas
Make a difference with these sustainable Christmas gifts, hailing from brands with transparent and ethical practices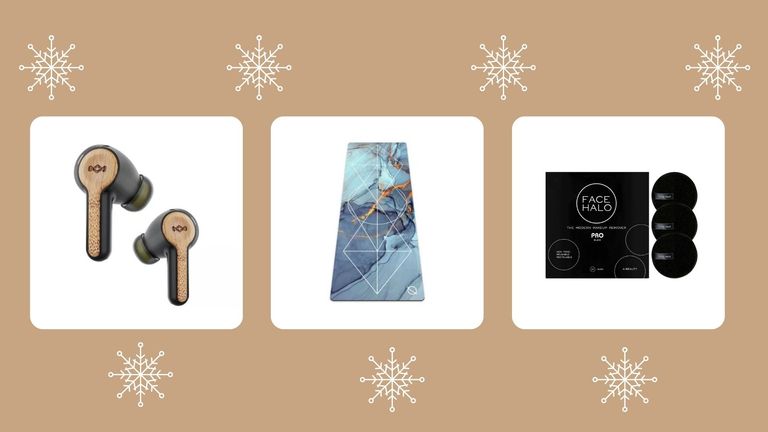 (Image credit: Future)
These sustainable Christmas gifts aim to make the world a greener place, meaning that you can give presents with peace of mind this year too.
With new technology and more zero-waste brands than ever before, it's never been easier to go green. But alas, most shoppers view planet-friendly products as too expensive, a universal belief that's far from reality.
These eco-conscious presents suit all interests, making them the perfect Christmas gifts for friends who fight for a greener planet—and many of them are reasonably-priced, so they're great picks for those looking for cheap Christmas gifts too.

Where to buy sustainable Christmas gifts in the US
Where to buy sustainable Christmas gifts in the UK
Our pick of the best sustainable Christmas gifts
Our list covers brands with transparent ingredients and processes, ethical supply chains and credible certifications—so whether you're looking for thoughtful Christmas gift ideas for coworkers or eco-friendly Christmas gifts for parents who need a nudge in a more sustainable direction, there's something here for you.
The best sustainable Christmas gifts for 2021
1. House of Marley Rebel True Wireless Earbuds
Specifications
RRP: $129.99/£99.99
Delivery: 2-5 day delivery
Refundable: 30-day return policy
Region: US and UK
Reasons to buy
+Ergonomic fit+Premium sound quality
If you're looking for the best Christmas gifts for husbands (or for anyone on your list), look no further. Launched by House of Marley, the Rebel True headphones deliver exceptional acoustics and noise cancellation. This gadget offers eight hours of playtime from a single charge, so they can jam out whenever.
House of Marley prioritizes craftsmanship and sustainability with every product. Specifically, Rebel is made with solid bamboo, natural wood fiber composite, and recycled plastic—always delivered in recyclable packaging. The company also plants a tree for each product purchased.
2. LARQ Water Bottle
Specifications
RRP: $98/£95
Delivery: 3-5 day shipping
Refundable: 30-day return policy
Region: US and UK
Reasons to buy
+Self-cleaning and sanitizing+Award-winning design
Powered by patented UV-C LED technology, the LARQ kills up to 99 percent of bacteria, odors, and viruses lingering in your water bottle, sans filter.
This reusable water bottle has a double-walled interior, which keeps drinks cool for nearly 24 hours. And for quality assurance, it's made of non-toxic materials.
3. Google Nest Learning Thermostat
Specifications
RRP: $249/£219.99
Delivery: 5-8 day shipping
Refundable: 30-day return policy
Region: US and UK
The Google Nest Learning Thermostat can decrease your monthly electricity bill and, ultimately, minimize your environmental impact. As one of the best Christmas gifts for mom on a budget, this intuitive gadget memorizes your favorite temperature settings and self-adjusts throughout the day. When you're not in the room, it turns off your heating and air conditioning—an efficient solution that conserves electricity and fuel.
Google claims the Nest Learning Thermostat has saved people on average of 10% to 12% on heating bills and 15% on cooling bills since its inception.
4. Blavor Solar Charger Power Bank
Specifications
RRP: $59.99/£32.99
Delivery: 2-5 day shipping
Refundable: 30-day return policy
Region: US and UK
This fast-charging power bank is fueled by direct sunlight, which penetrates through its built-in solar panels. Unlike conventional sources of fuel, solar power provides clean, renewable energy. And naturally, it's the most abundant renewable energy source available.
Sustainability aside, its rugged construction can easily withstand harsh weather, ideal for outdoor enthusiasts who regularly go camping and hiking.
5. Everlane The Tread Runner
Specifications
RRP: $64/£47
Delivery: 4-7 day shipping
Refundable: 30-day return policy
Region: US and UK
The Everlane Tread Runners are perennially cool, retro, and, more importantly, proudly carbon neutral. Made of sustainably sourced materials, these sneakers integrate comfortable and practical features. (Think leather paneling, a cushioned insole, a low-plastic sole, and recycled polyester lining.) Plus, the pair's laces and linings come from recycled plastic bottles. They're available in U.S. sizes 5-11.
Everlane partners with ethical factories and manufacturers to uphold an entirely transparent supply chain. With every product, the eco-chic leader minimizes water waste, chemical inputs, and carbon emissions. Talk about brilliant Christmas gifts for teenagers with an eco-conscience.
6. Personalized Reusable Bamboo Mug
Specifications
RRP: $28.35/£20
Delivery: 2-10 day shipping
Refundable: No
Region: US and UK
Crafted from sustainably farmed organic bamboo, the WAKEcup mug doesn't compromise ecological integrity. This handy cup features double-lined stainless steel that keeps drinks hot (or cold) throughout the day. Not to mention, its lid can be laser engraved with a message of your choice. The lid itself is made of BPA-free recyclable polypropylene.
WAKEcup donates 10% of profits to its partners, The Marine Conservation Society and Plastic Oceans. As advocates of marine sustainability, these charities educate and minimize the effects of single-use plastic pollution.
7. Lolly & Kiks Wax Ankara print cotton tote bag
Specifications
RRP: $59/£50
Delivery: Dependant on region
Refundable: 28-day return policy
Region: US and UK
As we bid adieu to plastic shopping bags, it's time to invest in a stylish tote bag. This is crafted from durable cotton fabric and is easy to store and even easier to carry, thanks to sturdy handles that offer a secure grip.
It also comes in a range of gorgeous bright and colorful unique designs so you can choose something to suit your loved one.
8. Boshiho Blocking Cork Wallet
Specifications
RRP: $19.99/£19.99
Delivery: 2-5 day shipping
Refundable: 30-day return policy
Region: US and UK
It's challenging to find the best Christmas gifts for dads—let alone the best Christmas gifts for men in general. Enter: the Boshiho Blocking Cork Wallet, a lightweight accessory with plenty of compartments and folders. Each Boshiho wallet is crafted from wood shavings, also known as cork.
Compared to leather, cork material is velvety and flexible to use; however, it's still undeniably hardwearing and resistant against abuse. Additionally, cork is a great renewable material and vegan alternative. As cork oak trees grow, they absorb carbon dioxide and thereby help reduce the environmental impact of emissions.
9. EcoTools BioBlender 3-pack
Specifications
RRP: From $11.99/£9
Delivery: 2-5 day shipping
Refundable: 30-day return policy
Region: US and UK
From the wizards behind the best makeup brushes, the BioBlender is dubbed as the first of its kind to naturally break down and decompose. Made of sustainable foam, each Bioblender is vegan, cruelty-free, and accredited by the U.S. Department of Agriculture (USDA).
(Editor's note: The USDA is the federal department that develops and implements laws relating to farming, forestry, etc.) Bioblender also has a patented shape, featuring three edges that fit the contours of your face.
10. Grohe Sense Smart Water Sensor
Specifications
RRP: $79.80/£76.51
Delivery: 2-5 day shipping
Refundable: 30-day return policy
Region: US and UK
Water waste consumes significant energy and adversely affects our carbon footprint and overall air quality. According to the United States Environmental Protection Agency (EPA), the average family can waste 180 gallons per week, totaling 9,400 gallons of water per year. Annually, household leaks can waste nearly 900 billion gallons of water nationwide.
Cue: the Grohe Sense Smart Water Sensor, a smart and simple solution. The gadget sense when there's a leak and sends alerts to your device accordingly. Best of all, it conserves energy and fuel, running on just three AAA batteries and a stable WiFi connection.
11. Patagonia Better Sweater Fleece Jacket
Specifications
RRP: $139/£101
Delivery: 5-10 day shipping
Refundable: 90-day return policy
Region: US and UK
As a fair trade certified favorite, this sweater is crafted from 100% recycled polyester and dyed with an energy-reducing process that sharply contrasts conventional methods. If your giftee values variety, this number comes in 10 colors and sizes XXS-XXL.
The crux of Patagonia's mission stems from the ever-growing climate crisis. Consequently, the contemporary fashion leader abides by sustainable manufacturing practices and campaigns. To reduce carbon emissions, the brand upcycles waste fabrics and old garments into new products. Patagonia also implemented the Worn Wear initiative, allowing shoppers to explore used items in select stores.
12. Girlfriend Collective Compressive High-Rise Legging
Specifications
RRP: $78/£65
Delivery: 5-10 day shipping
Refundable: 30-day return policy
Region: US and UK
Meet the best leggings everyone wants to live in, be it for exercising or lounging in front of the TV watching the best Christmas movies on Netflix. These high-waist pants feature a buttery-soft and stretchy fabric—made from recycled water bottles. Girlfriend Collective says that each pair diverts 25 bottles from landfills, a dedicated effort against plastic waste.
Hailed as an authority in athleisure, Girlfriend Collective curates comfortable and supportive collections from sustainable fabrics. (Examples include recycled polyester and nylon, and cupro—a fiber made from excess cotton.)
The brand also offers sustainable swimwear and a washing bag. When attached to a washing machine, the bag captures tiny microfiber plastics before they enter water streams and potentially cause harm to marine life.
13. 4ocean x To-Go Ware Bamboo Utensil Set
Specifications
RRP: $15/£11
Delivery: 2-14 day shipping
Refundable: 30-day return policy
Region: US and UK
4ocean claims that this utensil set replaces "an average of 1,300 single-use plastic utensils over its lifecycle." Made of bamboo and post-consumer recycled plastic bottles, it's free of phthalates and the industrial chemical Bisphenol A, also known as BPA. Its case offers a secure velcro closure, with a clip-on carabiner on the back.
In line with the brand's One Pound Promise, every set purchased funds the removal of trash from the ocean, rivers, and coastlines (one pound in total).
14. Recycled Wool Knee Blanket
Specifications
RRP: $70/£40
Delivery: 2-10 day shipping
Refundable: 60-day return policy
Region: US and UK
Along with matching Christmas jumpers, cozy blankets complete the holiday season. So, present them with the top-rated Recycled Wool Knee Blanket by Tartan Blanket Company, woven from recycled wool and mixed recycled fibers.
Generally speaking, wool is an ideal sustainable material as it's naturally hypoallergenic, sweat-wicking, and biodegradable. And obviously, wool gives it a plush, velvety feel that'll help you count sheep in peace.
15. OXO Good Grips Easy-Clean Compost Bin
Specifications
RRP: From $20.50/£13.21
Delivery: 2-5 day shipping
Refundable: 30-day return policy
Region: US and UK
If they want to establish simple, sustainable habits, consider gifting them a compost bin. Composting benefits the environment by recycling organic resources and conserving landfill space.
The OXO Good Grips Easy-Clean Compost Bin is a top-rated favorite, featuring practical functions for everyday countertop use. By design, this bin keeps bags and waste tucked in, plus locks in odors through a soft-close lid. Its smooth interior walls prevent buildup, while its removable lid lends for easy emptying.
16. Edge of Ember Just For You Bauble
Specifications
RRP: $100/£75
Delivery: Dependant on region
Refundable: 30-day return policy
Region: US and UK
Stun your loved one with this festive bauble that contains a pair of beautiful gold plated Star Charm Hoop Earrings with white topaz stones in them.
Edge of Ember is one jewelry brand that is known for championing sustainability, thanks to their 100% recycled materials, carbon-neutral production and jewelry recycling programme.
A great sustainable Christmas gift for those who love their trinkets but care about the environment too.
17. The White Company Kara Hemp Bed Linen Collection
Specifications
RRP: From $59/£40
Delivery: Dependant on region
Refundable: 30-day return policy
Region: US and UK
The White Company is a favorite for luxury bedding and this sustainable option makes a great Christmas gift.
Hemp is one of the most environmentally-friendly fabrics, as the plants grow quickly and need minimal pesticides and not much water, so this set is a fab option for an eco-friendly bedding product. It's also temperature-regulating so will keep you cool in the summer and warm in the winter.
18. Face Halo Pro pack of three
Specifications
RRP: £18
Delivery: Dependant on region
Refundable: 28-day return policy
Region: US and UK
Do away with single use makeup wipes and plastic bottles of makeup remover and instead steer your loved one onto these reusable facial cleaners.
All that's needed to use the Face Halo is water—simply wet the cloth and wipe it around your face and skin will be left squeaky clean.
19. FaceGym Supreme Restructure Firming EGF Collagen Boosting Cream
Specifications
RRP: $120/£95
Delivery: Dependant on region
Refundable: 28-day return policy
Region: US and UK
One for the skincare fans out there, this Collagen Boosting Cream from FaceGym works to boosts moisture levels, increase firmness in the skin and visibly reduce the appearance of wrinkles and fine lines.
What makes it a great sustainable Christmas gift pick is the fact that the inner pot can be replaced as a refill so that there's no need to throw away the container and buy a new one—clever!
20. Rahua Classic Shampoo & Conditioner Sustainability Set
Specifications
RRP: $140/£136
Delivery: 2-5 day shipping
Refundable: 6-year return policy
Region: US and UK
Gift them a sustainable shampoo bottle alternative with this set that comes with a bottle each of shampoo and conditioner and a refill pouch for each so that they don't have to buy another single-use plastic shampoo bottle again.
The pouches are made from 60% reneweable plant-based resources which break down to healthy biodegradable compost, which makes this an eco-friendly haircare option. There are different shampoo and conditioner types available, but this Classic version is made for all hair types and comes with a fresh and woody scent.
21. The Body Shop refill scheme gift card
Specifications
RRP: Dependant on product
Delivery: In-store only
Refundable: 28-day return policy
Region: US and UK
If your loved one is a fan of beauty and bodycare products, then The Body Shop's refill scheme is a thoughtful eco-friendly gift that they will be sure to appreciate.
All you have to do is buy them a Body Shop gift card and then they can head into their nearest Body Shop store to buy one of these clever reusable bottles and fill it up with all their favorite products.
22. Outerknown S.E.A. Suit
Specifications
RRP: $168
Delivery: 5-10 day shipping
Refundable: 30-day return policy
Region: US
Crafted from organic cotton and a linen blend, the cult-classic S.E.A. suit is a versatile staple. This ensemble features an easy-to-use button entry, along with ample pocket space, an adjustable waistline, and a tapered leg to be rolled up or kept down.
One of the best sustainable clothing brands, Outerknown prioritizes environmental integrity above all. The trend-led authority invests in employees through Fair Trade USA and standards established by The Fair Labor Association (FLA), an entity that holds brands to equitable international labor standards.
Outerknown also sources organic, recycled, and regenerated materials. And when it comes to denim, shoppers can repair, replace, and recycle their jeans to keep them out of landfills. Historically, the brand has furthered its ethos with cause-driven campaigns, like its debut of ECONYL® clothing, a process of turning fishing nets into endlessly regenerative fibers.
23. Able Mamuye Classic Tote
Specifications
RRP: $185
Delivery: 5-7 day shipping
Refundable: 30-day return policy
Region: US
The Mamuye Classic Tote boasts real leather, durable straps, and ample space for valuables. Each tote is thoughtfully hand-crafted, rather than cheaply mass-produced. So, it's safe to say this bag is a crowd-pleaser, whether you're shopping for yourself or exploring the best Christmas gifts for your wife.
ABLE is driven by corporate social responsibility. Since its genesis, the Nashville-based brand has employed and trained women in vulnerable populations, providing a ticket out of generational poverty. Today, the company partners with communities in Mexico, Brazil, India, and Ethiopia.
Why not fill this tote with locally-sourced ingredients and artisan treats to turn your gift into a bountiful Christmas hamper full of goodies?
24. Reusable Beeswax Food Wraps
Specifications
RRP: $22
Delivery: 2-8 day shipping
Refundable: No time limits on returns and refunds
Region: US
These beeswax-infused food savers are a simple solution to colossal plastic waste—and its ramifications at large. Crafted from cotton infused with organic beeswax and jojoba oil, these wraps draw away moisture to preserve the flavor and quality of your meals. Once they've been used, simply wash with soap and water. The whimsical design is a great creative touch and makes these some of the best Christmas food gifts to use as stocking stuffers this year.
25. Grove Collaborative VIP Subscription
Specifications
RRP: $19.99/year
Delivery: 5-8 day delivery
Refundable: Can cancel anytime
Region: US
Backed by two million members and growing, Grove delivers sustainable cleaning products every month. With this subscription service, members can choose from over 2,000 products, spotlighting the likes of Method Home and Mrs. Meyer's. The company only partners with brands that uphold ingredient transparency, ethical supply chains, and cruelty-free and plant-based formulas. Plus, it vows to become 100% plastic-free by 2025.
A great present for anyone, whether you need practical Christmas gifts for grandparents or monthly delights for yourself.
26. by Humankind Daily Routine Set
Specifications
RRP: $45
Delivery: 4-7 day shipping
Refundable: 30-day return policy
Region: US
by Humankind offers ultra-luxe bath, eco-friendly beauty, and grooming products in sustainable packaging—think shampoo and conditioner bars, mouthwash tabs, deodorant in a refillable bottle, and chewable toothpaste. The daily set bundles the brand's bestsellers, including mouthwash, toothpaste, deodorant, and floss. These inclusions help ease shoppers into eco-friendly living, starting with their morning routine. For that reason, we'd argue it's one of the best Christmas gifts for couples as they develop daily habits together.
27. Recycled Printed Kitchen Vinyl Mats
Specifications
RRP: From $50
Delivery: 2-8 day shipping
Refundable: No time limits on returns and refunds
Region: US
Reasons to buy
+Skid-resistant+Easy to clean and maintain
Allow these coverings to decorate your kitchen with eco-chic flair. Made of recycled vinyl, these mats won't slip or bunch up under doors and drawers. What's more, it's seamless to wipe away spills, splatters, and other stains. Shoppers can choose from three prints, each inspired by vintage tilework and traditional textile art.
28. Kintsugi Pro Studio Mat
Specifications
RRP: £64
Delivery: 5-8 day shipping
Refundable: 14-day return policy
Region: UK
The Kintsugi Pro Studio Mat boasts a negative carbon footprint, made from recycled natural rubber and recycled plastic bottles. To offset carbon emissions, the eco-centric brand works to restore degraded rainforests and capture biogas from livestock and methane from landfill sites. Unsurprisingly, the brand is certified by Climate Neutral, a nonprofit organization working to decrease global carbon waste.
In particular, the packaging and rubber are entirely biodegradable, meaning they can degrade naturally into the environment without releasing toxins. One of the best Christmas gifts for her, especially if she's a self-proclaimed yogi.
29. KanKan Natural Hand Wash and Glass Bottle
Specifications
RRP: £24
Delivery: 2-3 day delivery
Refundable: Case-by-case basis
Region: UK
This starter set spotlights botanical-rich soaps encased in refillable aluminum cans. Simply put, they're infinitely recyclable and won't end up in a landfill like plastic bottles. Additionally, they're free of gnarly parabens, sulfates, silicones, and artificial colors and fragrances. (Because luxury doesn't have to compromise sustainability.)
KanKan carefully sources ingredients that meet the Soil Association organic standards. Once a pioneer in the 1960s, The Soil Association now spearheads organic farming and growing guidelines for brands to follow.
30. La Basketry Matty Storage Bowl
Specifications
RRP: £32
Delivery: 5-10 day shipping
Refundable: 15-day return policy
Region: UK
Inspired by Senegalese craftsmanship, the Matty Storage Bowl is decorated with an ornate combination of blues and whites, making it a stunning addition to any space. Aesthetics aside, it's undeniably practical, holding small items like sunglasses and makeup.
From DIY projects to unique baskets and homeware, La Basketry offers a collection of woven creations from skilled artisans in Senegal. Beautiful, unique Christmas gifts, they're reusable and built to last.
31. Pott The Holly refillable candle
Specifications
RRP: £50
Delivery: Dispatched three times a week
Refundable: 14-day return policy
Region: UK
If you were hoping to treat your loved one to one of the best scented candles around, then this clever candle option is a great sustainable alternative. Simply buy them the pot for the candle to go in and a couple of refills and every time the candle finishes they can refill it with one of the pre-prepared refills.
There are five different colored pot available but this Holly version is great for Christmas. Choose from a range of different scents, including Fir and Noël for the festive season.
How can Christmas gifts be sustainable?
Fortunately, sustainable products are widely accessible. Today, many brands aim to minimize their environmental footprint, with a greater focus on conscious consumerism.
Still, the eco-friendly space is tricky to navigate amid greenwashing, hollow campaigns, and unsubstantiated claims. Therefore, if you're aiming to shop green, it's crucial to consider the following:
Ingredients and materials: With ever-evolving definitions on sustainability, focus on vegan, cruelty-free, organic, and non-toxic labels. Vegan items do not have any animal-derived and animal ingredients. Similarly, cruelty-free products have not been tested on animals at any stage of development. Organic and non-toxic products do not include toxic components, like parabens, manufactured herbicides, and artificial fertilizers.
Ingredient and material sourcing: Sustainable brands oversee their supply chain processes and, for their employees, ensure safe working conditions and livable salaries.
Ethical business practices: Think recyclable and/or reusable packaging and materials, designed to reduce waste. Brands with sustainable practices are dedicated to water and energy management, renewable energy sources, efficient programs, and minimizing carbon offsets and manufacturing waste. Many companies even partner with organizations to influence policy and legislation.
Certifications: Look out for credible certifications with rigorous guidelines. Top authorities include Fair Trade, Green Business Bureau, and Safer Choice by the Environmental Protection Agency (EPA).
Harvey Broadbent, founder of sustainable brand Positive Outlook Clothing, explains that Christmas gifts can be sustainable—but it all has to start with our mindset while shopping:
"If we as shoppers can shift our mindsets to buying long-lasting and ethically sourced items, from companies that are transparent about their practices, then positive steps towards a more sustainable Christmas can be made," he says.
"When contemplating buying a sustainable Christmas gift, the three main priorities to consider should be waste (packaging), longevity (product), and need (purpose). You should take time in your gifting decisions to think about what the individual truly wants or would need, as in the long run, this will bring them the most amount of joy and benefit, with the least amount of impact on our planet," Broadbent advises.
Eco-friendly gift wrapping ideas for your sustainable presents
When it comes to sustainable Christmas wrapping, it's important to think creatively; and as shopping experts, we've got you covered.
Here are five practical tips for wrapping your presents in an eco-friendly way:
Recyclable paper: We bet your drawers are chock-full of unique maps, glossy magazine ads, and newspaper covers, all of which can be used to bundle your precious gift.
Brown paper: More specifically, supermarket and paper lunch bags can be modified to protect your present. Plus, you can add decorative stickers, ribbons, and more.
Buckets: Now's the time to purpose any forgotten bucket or basket. Depending on the size, they can hold small and big presents with ease.
Containers: Albeit more suitable for smaller trinkets, clean containers can be used for everyday chores—in addition to your special gift.
Reusable tote bags: Simply put, two gifts in one—they'll enjoy your present and a bag for their everyday essentials.
Dominique (Dom) is a very online shopping writer at Woman & Home, where she covers products, sales/deals, and market news across categories. Before joining the team, she penned stories as an editorial fellow at Insider Reviews, the affiliate commerce team at Insider Inc./Business Insider. The bespectacled NJ transplant specializes in commerce journalism, women's lifestyle content, and hoarding makeup—much to her mother's dismay.
Her foray into storytelling began in the early aughts, the era in which she developed a passion for fiction writing and an aversion to math. This passion, along with many failed math exams, led her to Marist College, where she studied public relations, creative advertising, and English.
Aside from writing, she doodles in notebooks, crafts memes, and sleuths for homes out of her tax bracket on Zillow. Follow her adventures via the web:
Instagram: @domimcintee / @drugstoredomi
LinkedIn: https://www.linkedin.com/in/dominique-mcintee-3a32ab9a/
To connect: dominique.mcintee@futurenet.com