21 flattering jumpsuits for every body shape
Looking the most flattering jumpsuits for your frame? We've got you covered.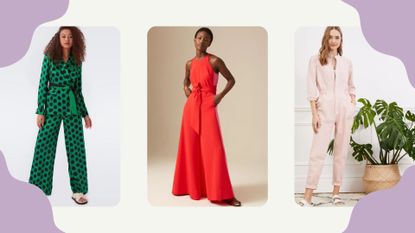 (Image credit: Future: Diane Von Furstenberg / Me+Em / Baukjen)
Flattering jumpsuits have become a mainstay of fashion collections. No longer seen as a trend or a passing fad, for many women, a jumpsuit is the perfect go-to piece for both smart and casual occasions.
While the runway was certainly responsible for their original return, flattering jumpsuits have now become a staple of both high-end and ready-to-wear collections. Comfortable, stylish, and available in multiple smart and casual iterations, the jumpsuit has firmly cemented its place in the capsule wardrobe. The most flattering jumpsuits straddle the line between great trousers and the best dresses. A one-stop outfit, it removes all the anxiety that comes with pairing up separates and has opened up a whole new world of styling possibilities for women who prefer trousers over dresses.
Jumpsuits have become unbelievably popular and with so many different cuts available, you can find a flattering jumpsuit, whatever your body type. Casual executions are chic and as reliable as your best jeans, while smarter, printed and more tailored versions can be the ideal solution for what to wear to a wedding. With a trouser bottom, they're more likely to have added convenience such as pockets too.
Whether you have a pear body shape, rectangle body shape, apple body shape or are looking for plus size or petite picks, we have pulled together some of the best jumpsuits on the market and given you some helpful tips for what to look out for when shopping too.
21 flattering jumpsuits for all body types—according to our fashion editor
Best jumpsuits for apple shapes
Finding a flattering jumpsuit for an apple body shape is easy when you know what to look for. While you might have previously leaned towards dresses to hide a tummy, a jumpsuit is a great silhouette for an apple body shape. It's all about finding one that defines your waist and is tailored for your legs.
Three fashion tips...
Wrap & V-neck lines draw the eye up to the bust and away from your middle.
Your focus should be on defining the waist and legs. Look for jumpsuits that tie at the middle or have structured waistband panels as these help pull you in.
Straight leg or tailored pants will complement slim legs.
(opens in new tab)
Great Plains Leni Jersey Jumpsuit
RRP: £75 (UK only) | While structured fabrics help to define you, jersey fabrics can work for your shape too. Supremely comfortable, opt for V-neck versions with waist-defining belts. Pair with your best white trainers.
(opens in new tab)
Phase Eight Darcey Floral Jumpsuit
RRP: $250 / £140 | Ideal for a dressy occasion, this jumpsuit features a great print. The fitted waist and V-neck will help to create hourglass curves and a longer silhouette. The fluted sleeve is a lovely touch too.
Baukjen Pink Cotton Zip Front Jumpsuit
RRP: £169 (international shipping available) | Crafted from premium organic cotton, this powder pink jumpsuit is ideal for casual dressing. Pair with your best sandals and a new season tote for a spring-ready twist.
Best jumpsuits for pear shapes
Pear-shaped bodies generally have a smaller bust and waist, with wider hips and bottom. For the most flattering jumpsuit for a pear-shaped figure, you want to look for shapes that create a balance between a wider bottom and smaller top half.
Three fashion tips...
Straight or wide leg trousers are your best friend. They'll glide and flow over your bottom half creating a streamlined shape.
Wide necks or off-the-shoulder styles work beautifully as they'll balance you out. Seek out jumpsuits with noticeable details around the neck or shoulder, such as a bold collar, a flounce or a striking one-shoulder detail for special-occasion looks.
Prints work especially well for pears as they draw the eye around the body, or look for styles that have a print on the top half and a plain bottom half.
Next Batwing Wide Leg Jumpsuit
RRP: $81 / £56 | This wide-leg jumpsuit with a spring-ready print is one you can wear for a multitude of occasions. Dress up with wedges or pair with sandals for a more laid-back look. The deep V-neck and batwing sleeve will help to balance out fuller hips.
(opens in new tab)
Phase Eight Mindy Wide Leg Jumpsuit
RRP: $235 / £139 | Front detailing such as this draped cross-over is extremely flattering on a jumpsuit. The high-waisted tailored trouser with softer chiffon top almost makes this jumpsuit feel like separates. Absolutely gorgeous for a special occasion this season.
(opens in new tab)
DVF Jacquard Wide-Leg Jumpsuit
RRP: $678 (international shipping available) | A flattering jumpsuit with the illusion of a two-piece, this bold emerald green design draws inspiration from some of the best pajama sets. With a fun polka dot print and figure-defining belt, this is a look to show off.
Best jumpsuits for rectangle shapes
Rectangle body shapes have the ability to turn their hands to most styles. An athletic, straight up and down silhouette allows you to play with a host of different styles, either leaning into that rectangular aesthetic or creating curves, depending on your mood. If you're looking to add curves and fullness, then the boilersuit is definitely worth a look. The front chest pockets help to add curves and you can easily play with proportion opting for super wide or super tailored styles too.
Three fashion tips...
Show off shoulders, collarbones and shoulders in halter neck or sleeveless styles. A halterneck draws the eye down the body so it will also add inches.
Boiler suits look great worn slouchy, especially if you have height. Try styling a crisp white shirt, Breton top or neckerchief underneath a boiler suit to help create shapely layers and interest.
Tailored trousers work well for you, however wide flowing trousers can create a beautiful hourglass silhouette when balanced with a fitted waist.
(opens in new tab)
RRP: £89 (UK only) | A super-wide leg is a look that's not easy to pull off, but for rectangles, it should be a breeze. Accentuate your waist with a wide belt and try a shirt or top underneath for added layering potential.
(opens in new tab)
Jigsaw Pink Silk Floral Jumpsuit
RRP: £350 (UK only) | If you're a fan of the best pink dresses, then you might want to inject fashion's favorite hue into your jumpsuit collection too. This gorgeous silk floral jumpsuit is a stylish option for what to wear to the races this summer.
(opens in new tab)
Me+Em Color Block Jumpsuit
RRP: $485 / £275 | With an almost maxi dress style effect, we love the red and pink combo on this jumpsuit. Playing homage to the dopamine dressing trend and fashion color trends 2022, this wide-legged jumpsuit creates a narrowed waist and fuller hips.
Best jumpsuits for hourglass shapes
Hourglass body shapes tend to have defined shoulders and hips of equal proportions, with a more slender waistline, creating what is literally the shape of an hourglass. This figure benefits from tailored styles and the most flattering jumpsuits will nip you in at the waist. They can easily wear tailored or wide-legged trousers, although fuller trouser legs will aid in accentuating small, fitted, waistlines for more exaggerated curves. V-necks work well to elongate hourglass silhouettes.
Three fashion tips...
Draw attention to your middle with a wide belt in a matching or contrasting shade.
Wide-leg jumpsuits will exaggerate your frame for a flattering look.
Wrap styles are a fail-proof option, giving you the freedom to adjust the fit to your figure.
(opens in new tab)
River Island Tailored Jumpsuit
RRP: $121 / £65 | From smart to casual occasions, this tailored jumpsuit with a tuxedo-style feel is super chic. The slightly cropped trouser hem makes this ideal for wearing with everything from your best designer heels to a pair of comfortable flats.
(opens in new tab)
RRP: $79.99 / £49.99 | Get ready for the summer season with this gorgeous green and white leaf print jumpsuit. The fabric belt draws attention to your waist, while the wide leg and squared off shoulder balances your frame, creating an hourglass silhouette.
(opens in new tab)
Claudie Pierot Printed Jumpsuit
RRP: $330 / £279 | Green clothing is one of the biggest fashion trends in 2022. The standout shoulder adds width to your top half which will make an hourglass waist seem even more nipped in. Team with any of the best denim jackets for an easy everyday ensemble.
Best jumpsuits for plus-size
The most flattering jumpsuits work on all shapes and sizes and when it comes to best plus size clothing brands, jumpsuits have become a particular hit. Plus size clothing brands will have taken proportions into account and so while the best brands still have plenty of trend-worthy styles, they've adapted them to work on fuller figures. Modeled by some of the best plus size models, jumpsuits are great for flattering curves.
Three fashion tips...
Opt for good quality fabrics and brands that cut for a plus size figure, this is because you want the right amount of stretch and fit for the most flattering finish.
If you want a streamlined silhouette, pair your jumpsuit with the best plus size shapewear. It will hold you in and sculpt your shape for a smooth finish.
Consult the rest of the guides in this feature. Just because you're plus size, doesn't mean you can't also be an hourglass, apple, or pear shape. The principles that work for those body types will also transfer for plus size bodies.
(opens in new tab)
Simply Be Wide Leg Jumpsuit
RRP: £39 (UK only) | The V-neckline will be great for those with a fuller bust, while the wide leg creates a flattering, almost A-line shape. This pop of green is great for those who love bright color clothes.
(opens in new tab)
Mango Floral Print Jumpsuit
RRP: $79.99 / £49.99 | Spanish clothing brand, Mango has a strong collection of directional plus size jumpsuits. This sweet floral printed design features a bust flattering empire line cut and waist-cinching belt.
Best jumpsuits for big boobs
Jumpsuits can be one of the most flattering and easy-to-wear silhouettes for women with large chests. V-necklines or scoops are an ideal choice to both flatter and enhance your curves. Looking for detailing that draws the eye downwards to add extra inches. From prints to block color, both work well for you.
Three fashion tips...
Straight or wider leg jumpsuits will balance out your chest.
V necks and wrap styles are most flattering. As with all jumpsuits you need to make sure your waist is well defined so avoid ones with excess fabric that bags down.
Make sure you've opted for your best bra and the straps are tightened to the correct amount so that your bust line sits in the right place to elongate your torso.
(opens in new tab)
Closet London Tailored Jumpsuit
RRP: £75 (UK only) | Opt for a V-neckline and darted body to contour your curves. The ankle-skimming hemline is great for shorter women too. This navy jumpsuit is great for summer or winter occasions.
(opens in new tab)
Phase Eight Pink Belted Jumpsuit
Best jumpsuits for petites
If worn correctly, a jumpsuit can really elongate your frame and be one of the most flattering pieces in your wardrobe. The all-on-one shape forms an unbroken vertical line that can give petites the illusion of extra height.
Three fashion tips...
Don't swamp your body, stick to tailored and fitted styles. You can get away with slightly oversized but the proportions must still be correct. Be mindful of the crotch area as this can not be altered by a tailor easily.
Slim and straight-leg trousers will make your legs look longer.
Stick to all one color or print to help elongate your body, if you are opting for a jumpsuit with added detail, look for detail at the top of the jumpsuit, along shoulders or yokes as this draws the eye up.
(opens in new tab)
Charter Club Petite Belted Jumpsuit
RRP: $89.50 / £73.60 | Tailored for petite frames, this jumpsuit takes proportions into consideration. The cropped hem will elongate pins, while the v-neck ruffle detail will elongate your torso. A great Memorial Day outfit, we love the spring-ready gingham print.
(opens in new tab)
Boden Pocket Detail Playsuit
RRP: $210 / £110 | With sunny days just around the corner, there has never been a better time to embrace color and print. This bold, tropical print jumpsuit is a stylish piece to slide into your suitcase this season. Just grab your best beach bag and you'll be vacay ready.
(opens in new tab)
Karen Millen Petite Block Color Jumpsuit
RRP: $342 / £199 | Traditionally petite body shapes might have avoided billowy-legged trousers. However, this chic jumpsuit, by British clothing brand, Karen Millen gets the balance just right. The tailored waist and stylish color-blocking will lengthen your torso in an instant.
Charlie is the Deputy Fashion Editor at Future plc across multiple women's magazines including Woman & Home, Woman and Woman's Own.
She bagged her first magazine job in 2009 and has previously written for titles including Stylist, Closer and Dare. Over the years Charlie has embraced anything that was thrown at her from styling celebrities to testing out the best jeans on the high street to writing about must-have beauty buys.
With a weakness for a printed midi dress, Charlie is on a mission to shop more sustainably and loves finding new ethical brands and second-hand buys.