The Best Places To Spend Your Christmas Vacation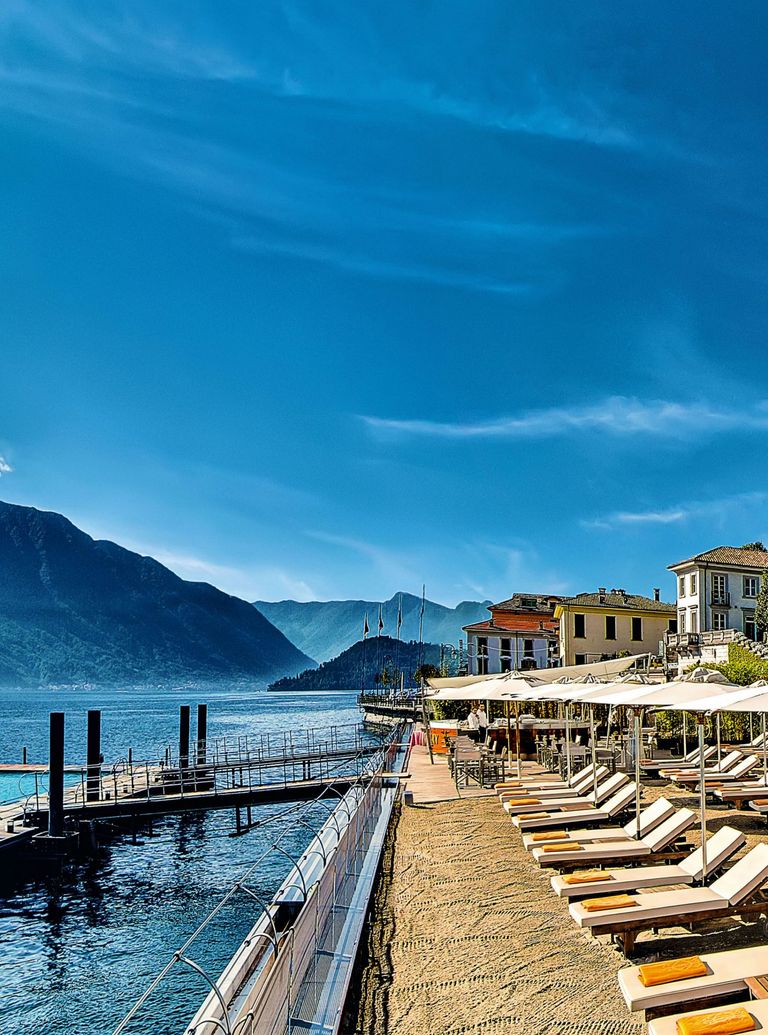 We've found eight of the best vacations to give this Christmas - so which destination would you like to find under the tree this year?
1 THE MALDIVES
Best for celebrating a special occasion with your partner
Arriving here is like finding paradise - everywhere you look is white sand, clear turquoise sea and blue skies - and it's like this all year round with average temperatures between 27-29°C. After a long-haul flight to Malé on the main island, most passengers wait for seaplanes in a smart, air-conditioned lounge. Once aboard (the pilot wore flip-flops!), we got a bird's-eye view of some of the 1,192 islands that make up the Maldives before reaching Coco Palm Dhuni Kolhu.
Not all the islands are inhabited - in fact, some don't even rise above the surface and Coco Palm's aim is to keep this paradise exactly as is. The eco credentials are paramount and they've just opened a Turtle Rescue Centre (cococares.wordpress.com) on the island in partnership with marine charity, The Olive Ridley Project. Unlike some luxury hotels in the Maldives, Coco Palm is casual and laid-back because the aim is to relax and unwind. Although, of course, you won't want to miss out on the boat trips to see dolphins, turtles and manta rays, plus some of the best diving in the world.
Twice a week there's a beach barbecue and a traditional boat, covered in fairy lights, becomes the platform for food. Chefs cook deliciously fresh seafood and meat to your specification and it's a wonderful experience, enhanced by warm winds and candlelight. Then it's just a short stroll back to your villa, with its simple but elegant decor of plain white textured walls, terracotta floors and wooden furniture. And the best thing is the showers and loo are outside!
THE COST
Coco Palm Dhuni Kolhu (cocopalm.com) offer ocean front villas from around £170pp per night (two sharing). Emirates flies from London Heathrow to Malé via Dubai from £712pp (emirates.com).
Insider tip: Want to make like Robinson Crusoe? The hotel can arrange an overnight stay on an uninhabited island. The experience is magical.
2 NEW YORK
Perfect for a short break with the girls
British Airways now flies daily to JFK from Gatwick (the flight takes around eight hours), and where better to go for a long weekend with the girls than the Big Apple? Highlights for 2017 include exhibitions to mark the 70th anniversary of the Guggenheim (on Fifth Avenue) and the breathtaking Couture Fashion Week in February.
The w&h fashion team stayed at Hotel Hugo in the West Soho district. Tucked away between SoHo and the Hudson River, the hotel is a trendy and sophisticated newcomer to New York's up-and-coming Hudson Square area, once the city's printing district and now known for design, the arts and 19th-century Greek revival homes. Head to the rooftop bar to enjoy a spectacular view of the city and river.
The best thing about the hotel (apart from its chic, low-key luxury feel) is the generous size of the rooms, and with beautiful custom wood furnishings and crisp white linens, it feels like you could be on an Italian yacht. Its location is great, too, and handy for Princes Street, with all its shops and restaurants. Hail a cab or jump on a bus north for the big sites (Empire State Building, Macy's, Broadway, Central Park) or you can stroll up through Greenwich Village to cross Fifth Avenue by the Hotel Pennsylvania.
THE COST
Return flights with BA (ba.com) from Gatwick cost from £482pp in February. Rooms at Hotel Hugo (hotelhugony.com) start from £170 per night.
Insider tip: For a pre-dinner cocktail, head to Bemelmans Bar in the Carlyle Hotel for its legendary Tequila Manhattan, £20.
3 LAKE COMO
Perfect for a romantic mini-break
There's a reason George Clooney has a villa on the shores of Lake Como - it's quite possibly one of the most beautiful places in the world. It's also one of the most romantic and so a weekend at the Grand Hotel Tremezzo - the finest on the lake - is the perfect present for someone special this Christmas.
Located on Como's western shore (just a 20-minute drive from George's pad in Laglio), the hotel offers breathtaking views over the deep blue water to Bellagio, the pearl of the lake, and the stunning Grigne mountains. No Facebook filter required!
A family-run hotel for more than 100 years (welcoming its first guests on the Grand Tour in 1905), it manages to feel friendly and informal while retaining five-star elegance and class. With beautiful, recently renovated, Art Nouveau features such as a grand mirrored entrance, classic façade and pastel coloured interior, you can understand why stars including Natalie Portman, Gwen Stefani and Uma Thurman have stayed here. One of the best suites is named after Greta Garbo, who said of the area: "It will be sunny in Tremezzo. I'll take a vacation. I'm going to live like a real woman... Perfectly simple, perfectly quiet, perfectly happy."
And that's exactly what you'll be, too, as you relax on your balcony overlooking the lake or take a swim in the "water on water" pool at the front of the hotel (there's another pool at the back, too). In fact that view is everywhere - you can even see it from the sauna!
The new T Spa is housed in the carefully restored 18th-century Villa Emilia just next door to the main hotel. There's an indoor infinity pool from which you can swim out to the outdoor hot tub, a Hammam Suite made of white Italian marble and blissful ESPA treatments (from £65 for a 25-minute body treatment).
Dinner is served (in flamboyant style with flambé dishes cooked at your table!) in the Terrazza restaurant, which has floor-to-window ceilings and twinkling lights. It's also where the extravagant breakfast buffet is laid out. If you want something more casual, delicious wood-fired pizzas can be ordered by the pool restaurant in the garden, and there's a "beach" bar (with real sand!) by the pool at the front, plus lively local restaurants a short stroll away.
Ferries over the lake to Bellagio are cheap (around £3 for a return trip) and leave from just down the road. There's also the 17th-century Villa Carlotta to visit next door. Inside is an impressive collection of art (plus changing temporary exhibits) but the highlight is walking around the 20 acres of botanical gardens that surround it. Visit in spring to see the 254 varieties of azaleas, the forest of rhododendrons and five classical terraces at the front filled with camellias.
THE COST
Citalia (01293 765006; citalia.com) is offering four nights for the price of three at the five-star-plus Grand Hotel Tremezzo (grandhoteltremezzo.com) on a B&B basis from £811 per person - a saving of up to £444 per couple. The offer includes return international flights with easyJet.
Insider tip: Visit the 18th-century Villa del Balbianello in Lenno (villadelbalbianello.it), where Casino Royale was filmed. Take the taxi boat to arrive in style (around £5).
4 PARIS
Best for a celebratory weekend
The French capital is a bit like Champagne - always perfect for a special occasion and you'll never go wrong buying that special someone a gift to spend the weekend here. If you really want to impress, treat them to a night in the Mandarin Oriental. Tucked away on the boutique-lined rue Saint-Honoré, it's a moment's walk from Place Vendôme and The Louvre. Rooms fuse French chaise longues and chic art books with slick Eastern technology (yes, those loos with more settings than you know what to do with!).
A private central courtyard, heated and covered during winter, is the perfect spot for an evening cocktail or the Camélia Restaurant's see-and-be-seen Sunday brunch. Staff are equally delighted to organise spa treatments and theatre tickets, or wish you a bonne journée as you head out into the city to do your own thing.
The beauty of this location is that from here you can get other authentic Parisian experiences for free. A gentle 30-minute amble takes you through the Jardin des Tuileries, across the Pont des Arts bridge, sighing with lovers' padlocks, and into the heart of the bourgeois-bohemian Left Bank. Finish up in the Jardin du Luxembourg to enjoy an espresso in the pavilion café and visit the Musée Du Luxembourg, which hosts big name art exhibitions without the crowds. Look out for Pissarro in Eragny, anarchy and the nature exhibition, which runs from March to July 2017.
THE COST
The One More Night package at Mandarin Oriental, Paris, costs £275pp per night with breakfast, with a minimum three-night stay (mandarinoriental.com/paris). Travel from London to Paris from £58pp return with eurostar.com
Insider tip: Stop on the heated terrace of the Café de la Mairie in Place Saint-Sulpice where around €12 buys a vin rouge, plat du fromage and world-class people watching.
5 AMSTERDAM
Perfect for a stylish shopping weekend
The best new hotel opening in Amsterdam is The Hoxton. Once the mayor's home during the 17th century, it's now a super-trendy place to stay along the Herengracht - the capital's most important canal. The w&h fashion team stayed here for a shoot and loved the old leather sofas and 1950s-style Scandinavian furniture.
No trip to Amsterdam would be complete without a boat trip and there are dozens to choose from. We loved the good ship Rederij Lieve (salonboot.nl), a genuine vintage craft built in 1935 but recently restored. There's room for up to 12 people on board, and a two-hour rental costs £438. Drinks and catering can also be supplied.
Away from the canals, how about an Amsterdam experience with a difference? The A'DAM Lookout is an observation deck with an unrivalled 360-degree view of the city. Whizz up 20 floors in just 22 seconds to reach the top, from where you can see for miles. And if there's a bit of daredevil in you, try the Over The Edge experience, which puts you on a swing - 100 metres above street level! Tickets cost £11, or £13.50 if you don't want to queue. An evening ticket with a cocktail and a photograph costs £18.
For dinner, try Bistrot Neuf (bistrotneuf.nl), a lovely family-run Dutch restaurant with a wine store next door. There's great food and the staff have an impressive knowledge of wines. You can also book wine-tasting courses at the store.
THE COST
The Hoxton (thehoxton.com) offers rooms from Shoebox (from £115 a night) to Cosy (£140) and Roomy (£165). Reach Amsterdam from London in four and a half hours on Eurostar (eurostar.com), with a change in Brussels (fares from £49 single).
Insider tip: The best designer and vintage shops and cafés are along what are known as The Nine Streets - the little roads that run between the canals. Just cross the Haartenstraat Bridge near The Hoxton and you're right there.
6 SICILY
Ideal for a cultural escape
Let's get one thing straight before booking... Sicily is so much more than just a southern part of Italy. Like much of the country, it's fiercely proud of its own heritage and identity - all the more so as it's an island. Here the Greek architecture is every bit as spectacular as you'll find in Greece. You can see mosaics of ancient islanders relaxing in bikinis... 2,000 years ago. And if you time your visit right, you can ski on a volcano!
Head for the island's capital, Palermo, where highlights include the 12th-century cathedral, the massive Teatro Massimo opera house and the Cappella Palatina, the chapel of Sicily's Norman kings.
Treat yourself to a five-star stay at the Grand Hotel Villa Igiea MGallery by Sofitel. Restored in Art Nouveau style at the end of the 19th century, the hotel still has original frescoes and decoration. Classic rooms are big, formal and airy. Grand deluxe rooms have a balcony, and tower suites include Art Nouveau furniture and fabulous views over the pool, sea and hotel gardens.
But you can't really visit Sicily and not get up close and personal with Mount Etna, Europe's highest and most active volcano. A cable car and off-road bus take you nearly 8,000ft up the volcano (from £25; funiviaetna.com). Day trips to Etna include a visit to the seaside town of Taormina and typically cost from around £60pp.
THE COST
Classic rooms at the Grand Hotel Villa Igiea MGallery by Sofitel (villa-igiea.com; +39 091 6312 111) cost from £186 per night; tower suites from £430. Flights from Gatwick to Palermo from £38pp one way with easyjet.com
Insider tip: The La Vucciria food market, at the southern end of the old town, has delicious street food, accompanied by glasses of decent house wine for less than £1.
7 CALIFORNIA
Best for a movie-style road trip
What better place than the Sunshine State to hire an open-top two-seater Mustang and enjoy the freedom of the open road? Start in LA, where spending some time on the legendary Sunset Strip is obligatory. The best place to stay in La La Land, which will be 2017's hottest travel destination after Ryan Gosling's film of the same name is released in January, is The London West Hollywood.
Relax in the rooftop pool, with its panoramic views across the city and beyond. Sip a cocktail as the sun slips below the horizon, then find your table at Boxwood on the Roof, the hotel's 10th-floor outdoor restaurant. Choose from dishes such as Dungeness crab toast followed by charcoal grilled skirt steak, or tuna tartare and a mushroom tagliatelle on the pub-style menu.
Next day, take a leisurely drive (it's barely more than 10 miles) to fabulous Santa Monica State Beach (santamonica.com), which is more than three miles long, and consists of around 245 acres of beautiful golden sand. Santa Monica was also the western terminus of Route 66 (it was decertified in 1985, but still retains its cult status as one of the world's greatest road trips).
Once you've had a wander among the musicians, dancers and artists that make the beach their home, head inland for your date with Hollywood's Golden Age as you check in to L'Horizon Palm Springs. It's a journey of around two and a half hours inland from Santa Monica, the same journey that was made by countless Hollywood celebrities from the 1940s, all wanting to escape to a desert playground for a few days. Palm Springs was at one time home to Dean Martin, Sammy Davis Junior, Frank Sinatra and Kirk Douglas - and even Einstein holidayed there!
L'Horizon Palm Springs was built in 1952 by the celebrated architect William F Cody. During its heyday in the 1950s and 60s, the hotel welcomed Marilyn Monroe, Betty Grable and several US presidents. Stay in one of its 25 bungalows, spread across the three-acre site, and enjoy a private patio, outdoor shower, marble bath and high-end vintage furniture. Make sure you book a table at the So.Pa restaurant for another fabulous alfresco dining experience. And just to complete the luxurious experience, indulge in a 60-minute Therapeutic Nirvana stress-relief massage (£150). Away from Palm Springs, you can continue and end your road trip in Las Vegas, a four-hour drive north in Nevada, or head east towards the desert metropolis of Phoenix, Arizona (around four and a half hours away).
THE COST
Rooms at The London West Hollywood (thelondonwesthollywood.com) cost from £245 per night. Bungalows at L'Horizon Palm Springs (lhorizonpalmsprings.com) cost from £462 per night. Rent a Ford Mustang Cabrio from £268 for seven days in February (rentalcars.com). Flights to LA from London from £545 with Virgin Atlantic (virgin-atlantic.com) in February. For more information and holiday planning, go to visitcalifornia.co.uk, visitwesthollywood.com and visitgreaterpalmsprings.com
Insider tip: You can join beach fitness classes free of charge at Annenberg Community Beach House on Santa Monica Beach. It's also where many dance and art events take place.
8 Halkidiki
Best for a family or three generations
Forget Mykonos or Santorini - for a sun-drenched Grecian holiday try the lesser known region of Halkidiki, on the mainland. It's quieter and more relaxed with a stunning combination of mountains, shady forests and sandy beaches. The stunning Ikos Oceania is a luxurious cliffside resort with jaw-dropping views over the Med. It might be big - there are 298 rooms, a private beach and six swimming pools - and all-inclusive, but we were impressed by the way it still maintains the feel of a much smaller, boutique hotel. It's on six different levels, and each one has the feeling of being separate from the rest of the hotel.
Five restaurants are included in your stay (as well as drinks) and only one of them is a traditional buffet - the rest are à la carte. Our favourite was Ouzo, a traditional Greek taverna offering fresh salads and grilled fish drizzled with olive oil and lemon. Ikos Oceania also offers an innovative Dine Out option, which means you can eat at a handful of local restaurants with the bill included in your all-inclusive rate.
As well as a kids' club, there's an adults-only Astra Club, which is open until 2am, and an array of fitness classes from Pilates to Zumba. A highlight was morning yoga practised in a shady spot with the heavenly sea view as a backdrop. If you'd rather relax, book in at the spa, where French beautician Anne Semonin, who specialises in anti-ageing skincare, has devised the range of treatments. Try the blissful Shiatsu massage (£105 for 1 hour).
For those who prefer to be more active, canoeing, windsurfing and snorkelling are also included. If you can tear yourself away from the hotel, visit some of the picturesque villages nestled in the region's forests (the hotel can book taxis and make suggestions). Nikiti Old Town is beautiful with narrow cobbled streets and a 16th-century church.
THE COST
Classic Collection Holidays (classic-collection.co.uk) offers seven nights at Ikos Oceania (ikosresorts.com) from £877pp in April, based on two adults sharing, on an all-inclusive basis with return flights from London Gatwick to Thessaloniki and private transfers.
Insider tip: For a more exclusive stay, splash out on one of the 30 larger Deluxe Collection rooms. These have their own private pool and beach area.
LAST-MINUTE TRAVEL GIFTS
What could be more exciting than receiving a voucher for a day out, a weekend break or a main holiday? Here's our pick of the best...
mrandmrssmith.com/roksanda - Grab one of these limited-edition gift cards designed by Roksanda Ilincic. Prices from £50, valid for visits to any of the 950 properties in the worldwide collection. UK delivery within five working days. shop.nationaltrust.org.uk/gift-cards-vouchers/c252 - Gift vouchers from £10 to £500 in multiples of £5. You can spend them in National Trust shops, cafés and admission points, or even use them towards a year's membership or a holiday cottage booking.
prideofbritainhotels.com/gift-vouchers - Use vouchers to pay for rooms, meals, spa treatments or activities such as horse-riding or cookery classes. Better still, all vouchers redeemed in January are worth an additional 20% of the face value.
eurostar.com - Create e-vouchers from £10 to £250, with a festive design and personal message. Use towards any Eurostar booking - passengers get two-for-one entry to a range of museums and galleries in France and Belgium. thevirgingiftcard.co.uk - Gift vouchers cost from £5 to £500 and can be used for holidays, flights, cruises, wine, hot-air balloon flights, cooking lessons and experience days.
secretescapes.com/vouchers-offer - Gift vouchers from £25 to £10,000 for destinations as diverse as Lima and Iceland. The selection of spa breaks is fab, and there's always a line-up of tempting featured breaks at big discounts.
For more great Christmas travel ideas and w&h experiences, visit womanandhome.com/travel