How to shrink jeans: 4 tips to get the perfect fit
Wondering how to shrink jeans? These expert tips and tricks make the process simple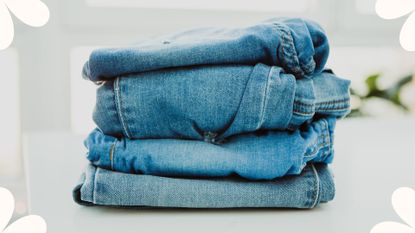 (Image credit: Getty Images)
Learning how to shrink jeans is somewhat of an art form. It can be risky to attempt to shrink any item of clothing from home, but once you've mastered it, it can be one of the most useful tricks for getting your denim to fit just right.
Nailing down the best jeans that fit perfectly on both the waist and legs isn't easy, which is why it's often necessary to make a few alterations to get a fit you love. As denim can stretch over time, and weight can fluctuate, if you've found yourself with a pair of jeans that are now too big or lost their shape, working out how to shrink jeans could save your denim.
Adjusting the fit of your jeans is also a fantastic way to update your wardrobe without having to buy new ones. From the best high waisted jeans to the best straight leg jeans, all silhouettes can be adjusted for little to no money if you know how to shrink jeans. That's why we've enlisted the help of experts to break down exactly how to get this process right, plus the key things you need to know before you decide to shrink your jeans.
How to shrink jeans, according to the experts
Before you set out shrinking your jeans, there is something you need to know. Deyan Dimitrov, CEO at Laundryheap, advises you to "keep in mind that how much they will change depends on their fabric and construction. Check the care label on your jeans to understand their fabric content. If the jeans are made of 100% cotton, they will shrink more easily compared to those that also contain elastane," he says.
Dimitrov also suggests you "only shrink your jeans as a last resort: there is always a risk that they shrink too much and are no longer wearable." But if you've weighed up your options and have decided that shrinking seems to be the best solution, here's how to do it right:
1. Wash your jeans
Learning how to wash jeans is the key to ensuring your best denim stays fitting well. Although most jeans brands only recommend washing your jeans every 10 wears to keep them in the best condition, it can be a shortcut to shrinking your jeans quickly. If you're after drastic results, you will probably see the most success with this method.
1. Turn your jeans inside out: "This will help protect the colour and finish of the denim. You can also add half a cup of vinegar to help set the colour and prevent fading," says Dimitrov.
2. Set to the highest heat possible: Stylist Josh Herbert of Captain Creps notes that a hot wash and a round in the dryer at a high heat "usually shrinks your jeans at least one dress size, and sometimes more."
3. Add laundry detergent: If you're concerned with ruining the texture of your jeans, "you can use laundry detergent while doing this, and fabric softener can help to prevent the jeans from going stiff," says Raymond Lam, fashion expert from Vendula London.
4. Put in the tumble dryer: "After the washing machine has finished, put the jeans in the dryer on a high heat and leave them in there for the full cycle. For better results, leave your jeans in the dryer for five to ten minutes after the cycle has ended, but you should not let them air dry if using this method as it may cause the jeans to lose some of their shrinkage," Lam explains.
5. Try on: Finally, "when they are completely dry, try the jeans on to see how much they have shrunk. If they are still too big, repeat the washing and drying process. It may take a couple of cycles to achieve your desired fit," says Dimitrov.
2. Boil your jeans
If you don't have easy access to a washer and dryer, you can get a similar effect by boiling your jeans. This is also a great method if you're working with a more premium pair, like the best designer jeans, as you can keep a closer eye on their progress and avoid any damage. Dimitrov recommends using the boiling method if you have already tried to shrink your jeans in the washing machine but didn't get the results you'd hoped for.
Both Lam and Dimitrov recommend the following steps:
1. Find a pot or pan large enough to fit your jeans into
2. Fill it completely with water
3. Boil for 30 minutes
4. Carefully remove from the pot
5. Put in the drier at high heat or allow to air dry
A very straightforward approach to shrinking jeans, this is the trick to go for if you're tight on time.
3. Iron your jeans
For a more targeted approach for shrinking jeans, the iron is your secret weapon. If you struggle to find the best jeans for your body type and need to alter certain parts of your jeans rather than the full pair, this is the trick we recommend. "Keep in mind that this method is only suitable for shrinking small patches, and you will obtain better results using other methods if trying to shrink a whole pair of jeans," says Lam - so don't rely on this hack if you have a bigger job on your hands. For best results, Lam says you want to:
1. Dampen the target area of your jeans with water
2. Run over the area with an iron until it is dry
The key to truly comfortable jeans is getting the right fit around the waist, so if you have a pair that is too baggy or loose on the waistband but perfect everywhere else, you can put your iron to good use and take some inches off.
4. Bathe in your jeans
"Picture the 1970s… Levi's were all the rage and wearing them skinny was the height of fashion. The way to get that look? Sit in the bath wearing your new denims," says Herbert. It might be one of the most unusual tricks on our list, but it is one the experts swear by. If you're in need of the best petite jeans and regular cuts are too long for you, this is the tip for how to shrink jeans you'll want to know.
"This method will work for jeans that are true to size for your waist, but can also work for jeans that are two to three sizes larger in length," says Lam.
1. Fill your bath with warm water
2. Step inside with your jeans on
3. "Soak in the bath wearing your jeans for around half an hour before getting out," says Lam.
And to seal the deal, you'll need to keep them on for a while. This isn't an essential step, but it can really help to get the right fit. "True dedication to the style would mean soaking in a hot bath and then wearing your jeans until they had fully dried so they shrank to your shape," says Herbert. Be prepared to be soggy for the best results.
Can you shrink all types of jeans?
Before you start testing out any of these tricks, there's one thing you need to know. "Check your jeans 100% cotton before doing any of the above. If they are a synthetic mix then you may end up damaging them and they won't be salvageable," says Herbert. Styles like the best skinny jeans are usually made with added elastane, which is something to look out for. Review the inside label of your jeans to find out what they're made from and be sure you're working with the right fabric to avoid any disappointing results.
Tried the above methods with no luck? "If all else fails, it's probably time to consult the professionals," says Dimitrov. "Take your jeans to the tailor or dry cleaner and they will help you achieve your desired fit."
How much can you shrink jeans?
Jeans can shrink up to 15% after using just one of the methods above, so you can expect noticeable results after just one try if done right. However, you can continue to repeat your method of choice if you want to make your jeans even smaller. It may also be necessary to repeat your hack of choice on a regular basis to keep the fit perfect, especially when working with slightly baggier cuts like mom jeans.
Herbert explains that "when shrinking jeans, it isn't permanent. They always relax and loosen with wear, which some may say is more comfortable! To retain that skinny pant look you will have to regularly heat them to keep them suction tight," he says.
It is also worth keeping in mind that "shrinking is effective if you do not want to change the size too much, but is unlikely to cause any drastic changes," says Lam. "You can try to use adjustable buttons to take in the waistline if you are unable to go to a tailor or cannot sew. This will be much cheaper than buying a new pair of jeans and increase their longevity."
Do jeans shrink permanently in the dryer?
Using a tumble dryer is one of the key ways to shrink jeans effectively, and once they have shrunk, it can be tricky to stretch them out again. However, as long as you can still get your jeans on, you can expect them to loosen up with wear.
If you want to pop your jeans in the dryer without altering their size, there are a couple of things to do: put your jeans in the dryer at a very low heat and use dryer balls to prevent too much shrinkage.
Deyan Dimitrov is CEO and co-founder of Laundryheap: the world's leading on-demand laundry and dry cleaning service. Deyan launched Laundryheap in 2014 after becoming frustrated with the limited and slow laundry options available in the city. The Laundryheap app allows customers to easily arrange dry cleaning and laundry services for their clothes and bedding, all delivered within 24 hours.
Sign up to our free daily email for the latest royal and entertainment news, interesting opinion, expert advice on styling and beauty trends, and no-nonsense guides to the health and wellness questions you want answered.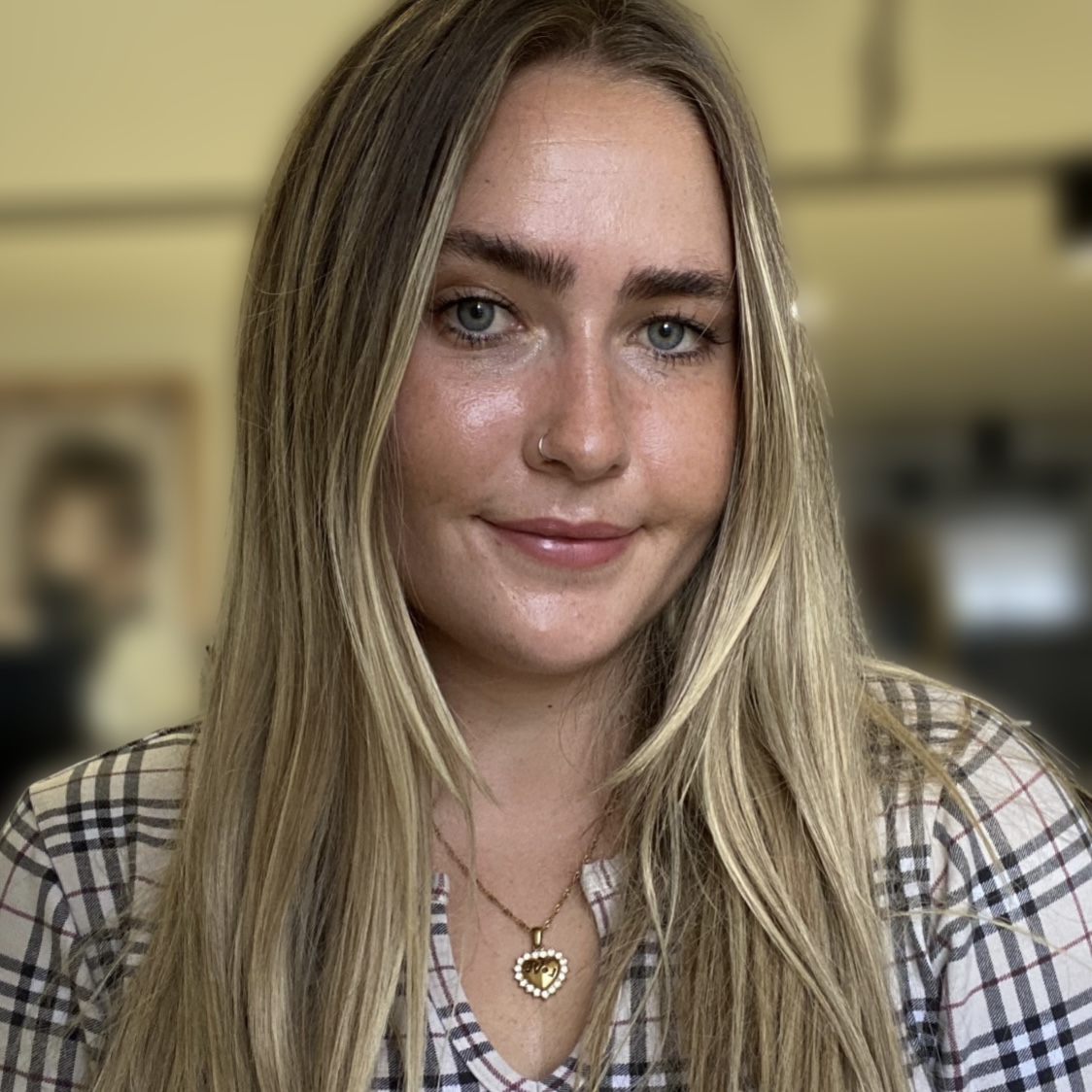 Amelia joined woman&home in 2022 after graduating with an MA in Magazine Journalism from City University and is now a senior writer. She began building her career as a lifestyle journalist after completing a fashion journalism course at the Condé Nast College of Fashion & Design in 2019, writing for a variety of titles including OK! magazine, New! magazine and Notion on topics such as sustainable fashion and entertainment. She specialises in fashion and beauty content, covering everything from product reviews and nail art trends to reporting on fashion weeks and the best-dressed celebrities at red carpet events. With a keen eye for lifestyle trends, she is always on the lookout for the latest products and brands to hit the market.