I'm a fashion writer and these are the best Cyber Monday clothing deals under $50 that I would actually buy in today's sale
I've scoured the internet for the best Cyber Monday clothing deals, and these are the ones that I'd genuinely spend my money on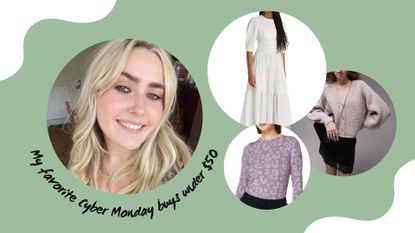 (Image credit: Amelia Yeomans)
Cyber Monday clothing deals present an opportunity to make huge savings across major fashion brands, including high-end and designer labels. However, it can be a struggle to sift through the pages of discounts to find what is really worth spending your money on - particularly if you are working with a budget of under $50.
Thankfully, there are a whole host of Cyber Monday sales with a multitude of items below $50 just waiting to be snapped up - if you know what to look for. Whether you are hoping to replace your best jeans or want to start building a capsule wardrobe, you can find high-quality pieces for unbeatable discounts today.
I tend to use the Cyber Monday sales to snag pieces I've had my eye on from stores that I may not usually have the budget to shop at, such as SSENSE or Free People, where reductions make a huge cost difference. However, remember not to neglect your go-to everyday brands, as you will be able to get timeless and versatile pieces for a fraction of the usual cost. These are the pieces I'm adding to my cart today, all of which are under $50.
Where to find the best Cyber Monday clothing deals under $50
1. Everlane
Everlane is one of my go-to clothing brands for all manner of occasions, as it produces both sustainable and extremely high-quality garments that are totally timeless. From the best sweaters to staple outerwear, any purchase from Everlane will serve you well for years to come, with no danger of going out of style. Plus, at under $50, all of these items are a real steal.
2. Nordstrom
Nordstrom has offered some of the best Black Friday deals this year, but the Cyber Monday clothing deals are what really stood out to me. You will find thousands of pieces discounted today, with huge savings on staple brands like Topshop, Madewell, Good American, and even some of the best shapewear on offer. Due to the amount of deals on the site it can be tricky to ensure that you find the best of the best, so I recommend filtering by brand to see the best reductions from your favorite labels.
3. Free People
I love browsing the Free People sales as the pieces are usually at the higher end of the price spectrum, so not always the most affordable. Luckily, when Free People launches a sale, it is always a big one. Today, you can get an additional 40% of all sale styles - one of the best Cyber Monday clothing deals I've come across. For more unique and distinctive pieces that will stand out from the crowd, like the best sequin skirts or statement tees, Free People is always my go-to store.
4. Saks Fifth Avenue
Department stores are always the first places I head to when sale shopping, as they offer the most versatility in terms of brands, and often the most generous discounts. This Cyber Monday, there are over 1,000 clothing items under $50 on the Saks Fifth Avenue website, so you can be certain you will find a piece you love for a budget price. From the best wallets for women to Christmas pajamas, you can get it all on offer today.
But be careful not to add things to your cart just because they're cheap. I use the '30 rule', where I ask if I can see myself wearing this item at least 30 times. If the answer is no, keep scrolling. But if it's a yes, or it's a piece you've had your eye on for a while, make the most of today's sales by snapping it up.
5. SSENSE
If you like to shop designer and independent brands, the SSENSE sale should be one of the first places you head for Cyber Monday clothing deals. With up to 50% off today, there are some incredible discounts to grab hold of. I also like to use SSENSE to shop more unusual pieces from some of my go-to brands, as you can usually find unique colorways or quirky iterations on classic pieces on the site. From the best bras on the market to some of the best white trainers, you can find something for every budget and taste in the SSENSE sale.