I'm a fashion editor and these are the fashion Black Friday deals I think are worth investing in
When it comes to the Black Friday deals 2022, as the woman&home fashion editor, this is what I recommend investing in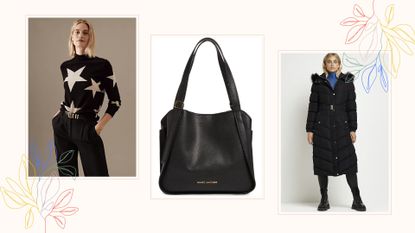 (Image credit: M&S / Nordstrom / River Island)
When it comes to fashion Black Friday deals, it's easy to be sidetracked by great discounts - but are the pieces you're looking at great investments? If you're planning on shopping the Black Friday sales, use it as an opportunity to shop for timeless basics that will last.
I love a bargain as much as the next person, but there is a difference between bagging a sale item that will become integral to your capsule wardrobe and getting something for less that you'll barely wear. The fashion Black Friday deals are a great opportunity to take stock of what you have and bolster those wardrobe essentials, ensuring your sale purchase becomes something you want to shout about.
While you should use the Black Friday sales to buy items you've had your eye on for months - if you're still thinking about an item a month later, it's worthy of closet space; It's also the true start of the winter, making it a great opportunity to shop for high-quality winter basics, such as the best winter coats and lush cashmere sweaters, with a lower price tag.
Black Friday deals 2022: As a fashion editor, this is what you should be snapping up
1. Cashmere
The best sweaters are integral to building winter outfits and cashmere is by far the best way of regulating your body temperature. A natural fiber, cashmere jumpers are smart as they keep you just the right level of cozy. Add them to work or weekend outfits, half-tucking them into waistbands for a more figure-loving finish.
(opens in new tab)
M&S Pure Cashmere Star Print Sweater
20% off
This British clothing brand makes some of the best and most cost-effective cashmere, in all manner of colors and prints. The star graphic adds a bit more of a festive feel, for wearing throughout December.
(opens in new tab)
Vince Wool-Cashmere Black Roll Neck
30% off with code at checkout
A black cashmere sweater is possibly the smartest item to invest in. Keeping you snug all winter, it will go with everything. To add a pop of color, wear a bold necklace to throw light back toward your face.
(opens in new tab)
Boden Cashmere Pink Chunky Crew Tank
40% off with code at checkout
Boden has great offers on right now, including on some cashmere sweaters. This pink sleeveless design is ideal for what to wear over a dress, adding brightness to dreary winter days. It can be worn over shirts too.
2. Coats
There are a number of types of coats every woman should have in their outerwear arsenal and if you've got a winter coat missing, the Black Friday fashion deals are a great time to stock up. From the best wool coats that have office appeal to weekend wonders, like a puffer, use the Black Friday deals to snap up items with down filling and high-quality wool and cashmere blends for ultimate cozy vibes.
(opens in new tab)
GANNI Double-Breasted Recycled Wool Coat
30% off with code at checkout
Scandinavian clothing brand GANNI has become a firm favorite with the fashion crowd and this textured coat gets extra points for using recycled-wool. Smart enough for winter office outfits or for evening occasions, you'll wear this for years to come.
(opens in new tab)
River Island Long Line Belted Black Puffer
20% off
One of the top coat trends of the season, the puffer coat has become a firm favorite. As the style has grown in popularity, we're seeing more tailored and waist-cinching styles, making this cut of cut universally flattering. I love the long line and belted finish here.
(opens in new tab)
M&S Collared Longline Duffle Coat with Wool
20% off
Adding a touch of Paddington Bear to proceedings, this cute duffle coat is smart enough for everyday but still has a playful element thanks to the toggle fastening. Crafted from wool, you can guarantee that this coat will help you beat the winter chill.
3. Handbags
A great handbag will always make your outfit feel more complete and as with outerwear, there are several styles worth owning that will always solve those accessory dilemmas. From the best crossbody bags for everyday essentials to the best designer bags for work - for added polish, I am a fan of a designer handbag - but, I always keep my eyes peeled for great offers. Whether you're after Gucci Black Friday deals or are seeking a style steal in the Mulberry Black Friday deals, or simply want the best designer bag - at a cut price, my advice is to opt for neutral colors and silhouettes, particularly if this is your first designer bag purchase. Having an edit of quality handbags that can work throughout the year will also up their cost per wear, making them even better value for money. Here are three of the best I have spotted.
(opens in new tab)
Marc Jacobs The Director Faux Leather Tote
40% off
The best designer tote bags are great 'throw-everything-in' styles for the office. This plain black leather tote bag features subtle Marc Jacob branding to give it that designer edge, but ultimately it's just a quality leather look that will get better with age.
(opens in new tab)
Anya Hindmarch Black Commuter Bag
30% off
I've got my eye on this bag - so I was in two minds about sharing this one, but it's one of the best I've spotted in some time. Named 'The Commuter', the multi-front pockets add fantastic playfulness as well as great storage. The black hue keeps it timeless.
(opens in new tab)
Alexander McQueen Skull Stud Bag
20% off
One of the best British designer brands, McQueen makes some of the best evening styles. A ladylike design, with the brand's signature edge, this sleek shoulder bag features a delicate silver skull emblem and is ideal for pairing with the best cocktail dresses.
4. Trainers
The best white trainers are a key piece of footwear in a capsule closet and a style that will never go out of date. Giving all outfits a cool smart-casual vibe, white trainers are a great piece to snap up in Black Friday fashion deals, as unless you learn how to clean white trainers to expert levels, you might find they need replacing semi-regularly to keep them as pristine as possible - so stock up on your favorite fits. Look for classic, plimsoll silhouettes that are unfussy and timeless as these will work with dresses, jeans and suiting. If the price is right, you may even want to grab more than one.
(opens in new tab)
Converse Chuck Taylor All Star Cx Explore Hi Trainers
(opens in new tab)
Reebok Classic Club C 85 trainers In White Leather
20% off
A style classic, the C85 delivers on '80s styling for a sportier finish. Not quite as polished as sleeker, plimsoll designs, Reebok C85s feel a little more casual. With classic branding along the foot, these are better teamed with denim for dressed-down days.
(opens in new tab)
Dune London Everleigh White Trainers
20% off
Bright white and relatively branding free, these white trainers can do it all. From teaming with your best blazers, to slipping on under a wedding dress as a pair of the best wedding shoes for brides, this smart panel design feels fresh and modern and I love the gold accents.
Rivkie is a fashion editor, writer and stylist with over fifteen years' experience in the industry. Having studied design and pattern cutting at the London College of Fashion, Rivkie fell in love with styling and journalism, covering fashion weeks in London, Paris and New York.
Specialising in plus size fashion, Rivkie has long championed that style is for everyBODY and has been a regular talking head on a host of radio stations and television shows, pushing for greater representation for plus size women and fashion throughout her career.