How to get thicker hair, according to pro hairstylists
From diet to styling tricks, hairdressers and trichologists share 12 tips for getting thicker hair...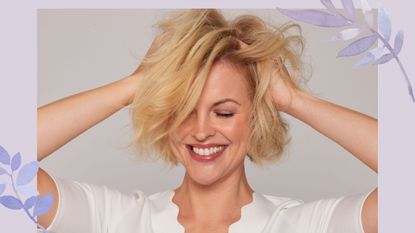 (Image credit: Future)
woman&home newsletter
Sign up to our free daily email for the latest royal and entertainment news, interesting opinion, expert advice on styling and beauty trends, and no-nonsense guides to the health and wellness questions you want answered.
Thank you for signing up to Woman & Home. You will receive a verification email shortly.
There was a problem. Please refresh the page and try again.
Want to know how to get thicker hair? It could be that your hair is fine, and its natural wispiness has been a long-time bugbear of yours. Or, you could be experiencing thinning, and noticing that your strands are sparser than they once were.
Although the adjectives tend to be used interchangeably, fine and thin hair is not the same thing. To put it simply, "fine hair is about the size of the diameter of a single strand of hair," explains pro hairdresser and founder of MD London, Michael Douglas. "Thin hair is the amount of strands of hair you have." Keep this key difference in mind when shopping for the best shampoos for fine hair, or mood-boarding hairstyles for fine hair.
"Fine hair refers to a specific hair texture characterised by the diameter of individual hair strands," elaborates Anabel Kingsley, Brand President and Consultant Trichologist at Philip Kingsley. "It often has a small diameter, which means the individual strands are thinner and more delicate compared to the other hair types. Fine hair often lacks volume and can appear limp and flat, especially when it grows long."
"Hair thinning is different," Kingsley continues. "It refers to reduced hair density and is medically termed Androgenic Alopecia or Female Pattern Hair Loss. It is a genetically predisposed, progressive type of hair loss that happens very slowly and is not always accompanied by increased hair shedding, which means it can be hard to spot in the early stages. It is estimated that at least 15% of the volume is lost before reduced volume becomes apparent." As well as your genes, thinning hair can also be caused by fluctuating and decreasing hormones (especially common around the time of menopause) as well as things like stress and poor diet.
As we have established, fine and thin hair are different – even if the result of both is hair that's lacking in body and oomph. If your hair is naturally fine, there are ways to make it look thicker, but you won't be able to actually increase its density. If it's thinning, then you can create the illusion of more strands in the short term as well as get to the root of the problem in the long term.
How to get thicker hair: 12 expert-approved tips
1. Take care of your scalp
Interested in how to get thicker hair? You need to look at the bigger picture and think beyond your strands. We rarely pay much attention to our scalps, but creating a healthy environment is key to encouraging hair growth. "Looking after your scalp and ensuring your hair is in tip-top shape are important," explains Kingsley. "Scalp health had a profound influence on hair health. After all, one supports the growth of the other. Weekly targeted scalp masks and scalp toners are fantastic in this instance." Scalp scrubs teamed with scalp massage techniques are great too and will help to dislodge follicle-blocking dead skin cells that can prevent new hair from making its way through.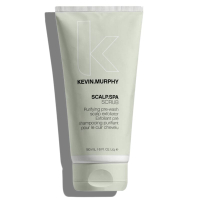 Kevin Murphy Scalp.Spa.Scrub Purifying Pre-Wash Scalp Exfoliator | RRP: £33 / $41
Designed to persuade out all the product build-up, excess oil and dry skin that your shampoo doesn't quite dislodge, this is great as a twice-a-month treatment. It's really satisfying to use and leaves your scalp feeling balanced.
2. Consider your diet
Eating well will improve your all-round well-being, but unfortunately, our hair is last in line for the good stuff. If you're poorly, or experiencing bad gut health, it gets pushed even further back in the queue, as your body prioritises the organs or areas of the body that needs nutrients most. This is why you may notice a knock-on effect on your hair when you've been reaching for takeaways and sugary snacks instead of nutritious meals.
"Eating a healthy, balanced and varied diet is key," says Kingsley. "The impact that nutrition has on hair growth should not be underestimated. As hair is a non-essential tissue, and hair cells are the second fastest growing cells your body makes, its nutritional requirements are very high." For the reasons we just mentioned though, "it is also quite hard to give your hair what it needs through diet alone," Kingsley continues. "This is why I often recommend supplementing a healthy diet with nutritional supplements." In your quest for how to get thicker hair, look for supplements containing iron, biotin, zinc and proteins.
3. Re-think your blow-dry
Learning how to blow-dry hair and create an at-home bouncy blow-dry is easier than you might think, and can be achieved with minimal effort and without arm-ache. The key is adding volume at every stage of the process, rather than focusing on smoothing and straightening. "Apply a volume-boosting spray to your roots and pre-dry your hair upside down, lifting your roots with your fingers," explains hairstylist and Maria Nila Brand Ambassador Diego Marinda. "Then you can start using your round brush and hair dryer to maximise overall volume." If you find it fiddly to balance a brush and a dryer at once, the best hair dryer brushes are a great two-in-one solution when working on how to get thicker hair.
4. Choose curls and waves over straight styles
Hairstyles for straight hair look great when you've got a lot of hair to work with, but if your hair is fine or thinning, then they can make your locks look limp. If you want to know how to get thicker hair, the key is in curls and waves – from curl types 2a all the way to 4c.
"Curls and waves are a must," says Marinda. "The movement helps to create visual depth which makes the hair appear thicker. If you struggle with fine hair, a good quality curling iron and a great heat protection spray will be your best hair friends." If your strands are stubbornly straight and you don't want to rely on heat, then try some heatless curl techniques and learn how to curl hair overnight.
5. Switch up your parting
Of all the tips on how to get thicker hair on this list, this one is the easiest. Centre partings have been popular for a while now but will do you no favours if you want your hair to look thicker. By dividing the hair in this way, it can appear flat on both sides. "I usually suggest a side parting, which will help to volumise the top of the hair more than a middle parting," advises hairstylist Michael John Guzzon.
The other option is a diagonal parting. "I think diagonal parting, where the parting starts on one side at the front and goes diagonal to the top of the head, works well," says Douglas. "This allows the hair to be distributed more evenly on both sides of the head." Yet, unlike a centre parting, you'll still get a level of lift in the process.
6. Stock up on texturising spray and dry shampoo
Good styling products make all the difference to your finished style, especially when you're focusing on how to make hair look thicker. "Dry shampoos and texturising sprays are great for putting a bit of body and thickness in the hair," advises Douglas.
Apply sparingly though. If you're too heavy-handed then fine and thin hair can quickly become overwhelmed with product, giving it a slick look and an unnatural, sticky texture – quite the opposite of what you were hoping to achieve.
7. Lay off the heat tools
When used too frequently, or at too high heat, even the best hair dryers, best hair straighteners and best curling irons can damage your hair. Heat styling weakens the hair, leading to split, frazzled ends, as well as breakage further up the strand – none of which make hair look thick and healthy. "Hair can appear thin for a number of reasons, which are most commonly shedding and breakage," advises Kingsley. "If you regularly mechanically process your hair it can be more susceptible to damage and therefore breakage."
8. Lose the layers – or don't
Adding layers to your hairstyle is the process of cutting the top sections of your hair shorter than the section beneath. Some experts recommend them to make hair look thicker, while others prefer cuts that are all one length. "On long hair, long layers and a short face-framing fringe or curtain bangs will give the illusion of thicker hair," advises Miranda. "For medium-length hair, a shaggy hairstyle like a wolf cut with short or medium bangs can create depth and a thicker appearance."
Michael Douglas, however, is on the other side of the layers fence. "Fewer layers and a more one-length style will be better," he says.
9. Consider going shorter
If you're finding that your hair is thinning, it might be time for The Big Chop. When your hair is long, sparser areas are more noticeable, and it can make your lengths look scraggly. It can be especially visible when your hair is tied up too. "It's much easier to disguise thinning hair when it's short, think a pixie crop or a short, feathery cut," says Douglas. "I try and avoid long hair altogether when creating the illusion of thickness and go for hair above the shoulders or shorter."
If you're nervous about going shorter, remember you don't have to go the whole hog all at once. Dip your toe in by taking a couple of inches off every time you visit the salon. This way, it'll be more of a gradual transition towards a short hairstyle rather than one dramatic transformation.
10. Avoid block colours
Always opt for a full-head tint rather than faffing around with foils? It's certainly easier (and often cheaper) but having hair that's all one shade can emphasise and draw attention to its lack of fullness or areas of thinning.
"I tend to encourage clients away from block colours, especially dark tones, firstly as many skin tones struggle with this, and secondly as if your hair is particularly thin or a little greasy the show through at the root or lengths is more apparent," explains Miranda.
11. Colour clever
Colouring your hair is not just a way to cover greys or switch up your look, but can actually be used to make hair look thicker. This is first, as "colour generally thickens each strand of hair as the hair shaft swells when coloured," explains Douglas. That means that fine hair will instantly look fuller after it's been dyed – a bit like filler for your hair. Secondly, techniques that use a blend of tones (such as highlights, babylights and balayage) will add depth to an otherwise singular colour. "Having a mixture of dark and light tones is a good way to create the appearance of texture and thickness in the hair," Douglas continues.
There's also the debate about whether brunette hair or blonde hair looks thicker. "Darker hair tends to reflect the light better, so can look thicker than blonde, as light passes through blonde hair which can make it look finer and thinner. The problem though, is that darker hair can emphasise the white scalp of a parting, and therefore gives the overall appearance of thinning. If you're worried about your visible parting, then going blonder is maybe better, but if it's overall thinning you're concerned about, then a darker colour can create the illusion of thickness. It really is horses for courses though. I would have to see a person to make a judgement on the best thing to do." Ask your hairdresser for their expert opinion on the best approach for you.
12. Look after your hair
In addition to cutting down on heat styling, limiting the use of harsh colourants and chemicals on your hair is also important when understanding how to get thicker hair. "It's really important to take care of your hair by avoiding colours with peroxide and ammonia that dry and thin the hair," advises Guzzon. "In our salon, for example, we only use colours that don't damage the hair."
If this is a concern for you, speak to your hairdresser about the kind of products they use next time you visit, or book a consultation to discuss your options in advance. Regularly using the best hair masks or investing in a treatment for damaged hair like Olaplex or K18 can help to bring hair that's been overprocessed back from the brink.
---
Main image photography: Iulia David
Sign up to our free daily email for the latest royal and entertainment news, interesting opinion, expert advice on styling and beauty trends, and no-nonsense guides to the health and wellness questions you want answered.
Jess Beech is an experienced fashion and beauty editor, with more than eight years experience in the publishing industry. She has written for woman&home, GoodtoKnow, Now, Woman, Woman's Weekly, Woman's Own and Chat, and is a former Deputy Fashion & Beauty Editor at Future PLC. A beauty obsessive, Jess has tried everything from cryotherapy to chemical peels (minus the Samantha in Sex and The City-worthy redness) and interviewed experts including Jo Malone and Trinny Woodall.