Scalp massage for hair growth stimulation—does it really work?
Learn how to give yourself a scalp massage for hair growth stimulation and discover the best scalp health products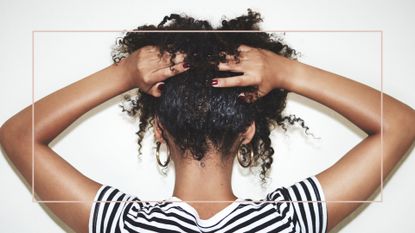 (Image credit: Future/Getty)
Many of us scour the net for remedies to hair loss, but could scalp massage for hair growth be the solution to our problems? If you've ever experienced a scalp massage, you'll know it does a great job of releasing tension and feels sublime—but is there any truth in the idea that scalp massage promotes hair growth? We asked the experts to weigh in and share the science behind this beauty rumor.
Hair thinning is an incredibly common problem, with more than 40% of women experiencing hair loss or slowing growth. It can be caused by a number of factors such as pregnancy, medical treatment, stress, or just plain old genetics. It can also be triggered by heat-styling habits—even when using the best hair dryer or best hair straighteners.
Countless remedies promise to thicken and fortify thin locks; there's plenty of hype out there, for example, about scalp massage, scalp facials, and scalp oil for hair growth.
In short, it has been said that massaging your scalp stimulates blood flow to the area, which in turn promotes quicker and healthier hair growth. But could the solution to our fine-hair woes really be as simple as a regular scalp massage for hair growth?
Does scalp massage for hair growth work?
We put this question to Trichologist Dr. Nick Fisherman of Wyndham Private Specialist Clinic. "Certainly—a scalp massage using the right technique can help hair growth by stimulating and improving the blood circulation within the hair follicles," he explains.
Every hair starts in the hair follicle, where the bulb of the hair sits, and a good blood supply is essential for healthy hair growth. According to research, scalp massage causes blood vessels under the skin to dilate, generating more blood flow to the area. The stimulation stretches out the cells of hair follicles, which causes them to produce thicker hair strands.
We asked Zoe Irwin, hair expert and woman&home Hair Awards judge (who helped us pick the best hair products of 2021), her thoughts on scalp massage. "It's really about creating a healthy environment for hair to grow," she told us. "If you can just manipulate your scalp every day, all through the crown, I promise you will see much better quality hair come through."
Scalp massage step-by-step
1. Use your fingertips
"Boost blood and circulation to the follicles by gently massaging and moving your scalp with your finger pads or, for a more in-depth massage, use a brush to help increase hair health and shine," says Zoe. There are other benefits of this process: if you massage your scalp gently before bed it can induce relaxation, while massaging your scalp throughout the day is also a quick pick-me-up.
2. Try a brush
For an effective scalp massage that won't damage your hair, a flexible brush—such as a Manta—works wonders. Place the brush on the head, so it sits flat on the scalp at the base of your skull. Then start to scrape in an upwards motion towards the crown of your head.
3. A gentle press
Zoe suggests that 'pressing' your scalp brush into the hair produces an acupuncture-like effect. "When you go to India, you lie on something called Shakti (acupressure) mats, which stimulate your body; I use my brush in the same way." Move the brush through the hair, pausing at intervals to press gently into the scalp.
4. Make small circles
Regardless of whether you're using your fingers or a brush, gently move around the head using small circular motions to release tension and really manipulate the skin. The goal is to bring blood to the area, and small circles will focus your energies.
Which essentials oils to use for a scalp massage
Using essential oils can help to increase the effectiveness of your scalp massage for hair growth, as not only do they help your hands to slide around more smoothly without pulling and putting extra pressure on the hair and scalp, certain oils also have certain benefits for different hair types—including stimulating growth.
We asked essential oil expert at Bio-Scents, Emilie de Block, which essential oils we should use when practising scalp massage for hair growth.
Ylang Ylang
"Designed for those of us with dry scalps (anyone with oily hair and skin should skip this) Ylang Ylang works to naturally stimulate sebum production, which is needed to stop hair becoming dry and brittle," says Emilie.
How to use:
"Mix 5 drops with 2 tablespoons of warm oil (olive or coconut is great) and massage it gently into your scalp. Wrap your head with a warm towel and leave it in for 30 minutes before washing out."
Best for:
Dry scalp, brittle hair
Lavender
"Known for its antibacterial and antimicrobial properties lavender can help improve scalp health including acne, build up and dandruff," explains Emilie. "It is also one of the few essential oils that contains the natural compound Linalyl Acetate which is known to strengthen your hair.
How to use:
"Add a few drops to a carrier oil (like coconut oil) and apply it directly to your scalp - leave for at least 10 minutes before washing it out and shampooing as you normally would."
Best for:
Dandruff-prone, acne-prone
Rosemary
"This is one of our favourite oils for hair loss, and is especially loved by my male clients who suffer from hair loss within their beard," says Emilie. "Known to support hair growth and increase thickness, it can promote hair growth in the areas where applied."
How to use:
"Add a few drops of Rosemary to a carrier oil and massage it directly into the scalp or skin in the areas required. Repeat twice weekly for best results."
Best for:
Thinning hair
Lemongrass
"This essential oil is an anti-dandruff hero—a common ailment for many of us! It's most effective when used daily."
How to use:
"Add a few drops to your shampoo or conditioner bottle and massage into your scalp in the shower. Just remember to massage deeply and rinse it out!"
Best for:
Dandruff-prone
Bergamot & Clary Sage
"Both of these essential oils contain the natural compound Linalyl Acetate, which is known to strengthen your hair, in addition to increasing hair growth and making hair more difficult to break," explains Emilie.
How to use:
"Mix 3 drops of either oil into your daily conditioner (or with 1 tablespoon of carrier oil if you prefer) and allow it to work it's magic when applied. If you are using it daily, leave the conditioner (or oil treatment) on for 2 minutes, or if you are doing it twice per week, leave it for 10 minutes as a self care treatment."
Best for:
Weak or brittle hair, split ends
Cedarwood
"This oil is known to help promote hair growth and reduce hair loss by balancing the oil-producing glands in the scalp," says Emilie. "It also has natural antifungal and antibacterial properties which can help treat different conditions that may contribute to dandruff or hair loss.
How to use:
"I like to mix a few drops with our carrier oil of choice, then massage it onto the scalp and leave for 10 minutes before washing it out."
Best for:
Hair loss, thinning hair, weak hair, dandruff-prone
The best products for scalp health
Scalp massage is certainly an effective hair hack for boosting growth and encouraging healthy, thicker hair to grow. You can take your scalp massage to the next level, however, by incorporating a few scalp health products as well.
---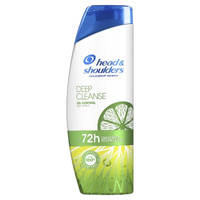 Head & Shoulders Deep Cleanse Oil Control with Citrus
A flaky scalp isn't just an annoying blocker when you want to wear your new LBD, it can also be a sign of unhealthy growing conditions. This new treatment shampoo from Head & Shoulders treats the root cause of itchy and flaky scalps with hero ingredient piroctone olamine. This deeply clarifies and unclogs pores to create a healthy scalp environment. It also smells far nicer than most medicated shampoos. Bonus!
---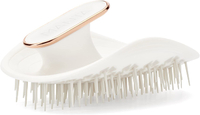 Manta Brush in White
To effectively stimulate your scalp without pulling at the hair, we suggest investing in a scalp brush, such as a Manta. Zoe swears by this tool. "Run a Manta through your hair throughout the day, instead of your hands. This will promote shine by smoothing the cuticle without transferring products, such as hand lotion from your hands, which can load your hair and make it look dull."
---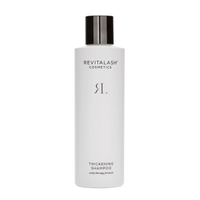 Revitalash Thickening Shampoo
Shun average hair care and go professional; opt for the best shampoo and conditioner designed to plump up thin hair. Revitalash (the brand behind the iconic lash serum) produces a shampoo and conditioner duo that looks after your scalp, making it the perfect environment for healthy hair growth.
---
---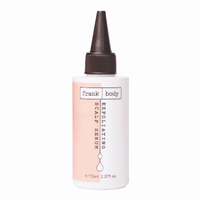 Frank Body Exfoliating Scalp Serum
Like skincare for your barnet, this water-based serum is massaged into the scalp to break down product buildup and excess oil. It contains lactic acid, a gentle acid that's perfect for sensitive areas. Leave it on for 10 minutes for a mild treatment or overnight if you feel your scalp needs a really deep clean.
Frank Body Exfoliating Scalp Serum at Frank Body for £16.95
---
---
How to prevent hair loss
If you want fuller, thicker hair, there are some dos and don'ts when it comes to lifestyle. Obvious factors—such as partaking in regular exercise, eating a healthy, balanced diet, and quitting smoking—will contribute to the normal functioning of the cells in your body.
Dr. Fisherman also suggests being aware of hair accessories and hats—constant use may contribute to hair loss. "Avoid wearing caps all the time and, if you have long hair, avoid tight banding of hair to avoid traction alopecia," he says.
Traction alopecia is a hair loss condition where if the hair is repeatedly pulled on, whether that's through hair ties, clips or braids, you are left with bald patches. It can be reversed with care and attention but, in severe cases, it can be permanent.
Sometimes there is no physical reason as to why you might be experiencing hair loss. Your hair follicles might be perfectly functional, but intense feelings of stress and inward emotions can trigger this outward symptom too.
It might be easier said than done, but try to remove, reduce or avoid highly stressful situations in your life. There are many different ways of coping with stress, but meditation techniques, regular exercise, and seeking professional help are all options that you can explore to help you cope during stressful times.
Aleesha is a digital shopping writer at woman&home—so whether you're looking for beauty, fashion, health or home buys, she knows what the best buys are at any moment. She earned an MA in Magazine Journalism from City, University of London in 2017 and has since worked with a number of brands including Women's Health, Stylist and Goodto. A year on the w&h news team gained her invaluable insight into where to get the best lifestyle releases first—as well as an AOP awards nomination.