Scalp massage for stimulating hair growth—does it really work?
Learn how to give yourself a scalp massage, and discover the best scalp health products for healthy hair growth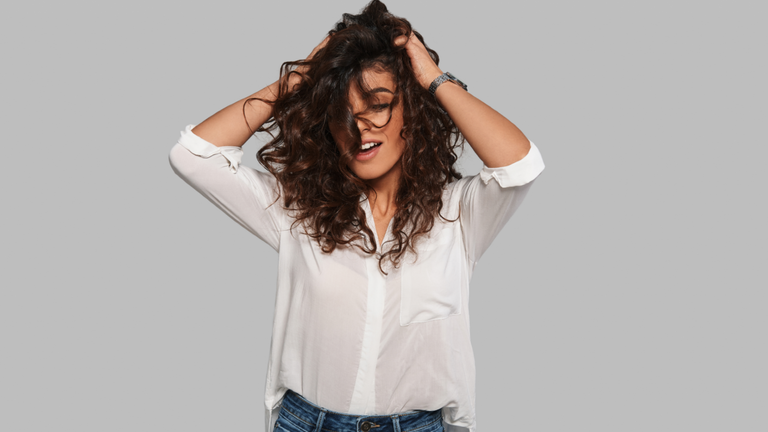 (Image credit: Getty images)
By Emma North
If you've ever experienced a scalp massage, you'll know it does a great job of releasing tension and feels sublime—but is there any truth in the idea that scalp massage promotes hair growth? We asked the experts to weigh in and share the science behind this beauty rumor. 
Hair thinning is an incredibly common problem, with more than 40% of women experiencing hair loss or slowing growth. It can be caused by a number of factors such as pregnancy, medical treatment, stress, or just plain old genetics. It can also be triggered by heat-styling habits—even when using the best hair dryer or best hair straighteners.
Countless remedies promise to thicken and fortify thin locks; there's plenty of hype out there, for example, about scalp massage as a hair-growth treatment. 
In short, it has been said that massaging your scalp stimulates blood flow to the area, which in turn promotes quicker and healthier hair growth. But could the solution to our fine-hair woes really be as simple as a regular scalp massage?
Does scalp massage for hair growth work?
We put this question to Trichologist Dr. Nick Fisherman of Wyndham Private Specialist Clinic. "Certainly—a scalp massage using the right technique can help hair growth by stimulating and improving the blood circulation within the hair follicles," he explains. 
Every hair starts in the hair follicle, where the bulb of the hair sits, and a good blood supply is essential for healthy hair growth. According to research, scalp massage causes blood vessels under the skin to dilate, generating more blood flow to the area. The stimulation stretches out the cells of hair follicles, which causes them to produce thicker hair strands. 
We asked Zoe Irwin, hair expert and woman&home Hair Awards judge (who helped us pick the best hair products of 2021), her thoughts on scalp massage. "It's really about creating a healthy environment for hair to grow," she told us. "If you can just manipulate your scalp every day, all through the crown, I promise you will see much better quality hair come through."
Scalp massage step-by-step
1. Use your fingertips
"Boost blood and circulation to the follicles by gently massaging and moving your scalp with your finger pads or, for a more in-depth massage, use a brush to help increase hair health and shine," says Zoe. There are other benefits of this process: if you massage your scalp gently before bed it can induce relaxation, while massaging your scalp throughout the day is also a quick pick-me-up.
2. Try a brush
For an effective scalp massage that won't damage your hair, a flexible brush—such as a Manta—works wonders. Place the brush on the head, so it sits flat on the scalp at the base of your skull. Then start to scrape in an upwards motion towards the crown of your head.
3. A gentle press
Zoe suggests that 'pressing' your scalp brush into the hair produces an acupuncture-like effect. "When you go to India, you lie on something called Shakti (acupressure) mats, which stimulate your body; I use my brush in the same way." Move the brush through the hair, pausing at intervals to press gently into the scalp.
4. Make small circles
Regardless of whether you're using your fingers or a brush, gently move around the head using small circular motions to release tension and really manipulate the skin. The goal is to bring blood to the area, and small circles will focus your energies. 
The best products for scalp health
Scalp massage is certainly an effective hair hack for boosting growth and encouraging healthy, thicker hair to grow. You can take your scalp massage to the next level, however, by incorporating a few scalp health products as well.
---
---
---
---
---
Frank Body Exfoliating Scalp Serum at Frank Body for £16.95 
---
---
How to prevent hair loss
If you want fuller, thicker hair, there are some dos and don'ts when it comes to lifestyle. Obvious factors—such as partaking in regular exercise, eating a healthy, balanced diet, and quitting smoking—will contribute to the normal functioning of the cells in your body.
Dr. Fisherman also suggests being aware of hair accessories and hats—constant use may contribute to hair loss. "Avoid wearing caps all the time and, if you have long hair, avoid tight banding of hair to avoid traction alopecia," he says. 
Traction alopecia is a hair loss condition where if the hair is repeatedly pulled on, whether that's through hair ties, clips or braids, you are left with bald patches. It can be reversed with care and attention but, in severe cases, it can be permanent. 
Sometimes there is no physical reason as to why you might be experiencing hair loss. Your hair follicles might be perfectly functional, but intense feelings of stress and inward emotions can trigger this outward symptom too. 
It might be easier said than done, but try to remove, reduce or avoid highly stressful situations in your life. There are many different ways of coping with stress, but meditation techniques, regular exercise, and seeking professional help are all options that you can explore to help you cope during stressful times. 
Emma North is the Beauty Writer at Future Publishing working across print and digital titles including woman&home, Woman, Woman's Weekly, Woman's Own, Chat and GoodtoKnow. 
Before pursuing a career in beauty journalism, Emma worked as international cabin crew for over 4 years. Travelling around the globe and working night flights across several time zones at once, she is the perfect person to judge whether makeup and skincare claims actually hold up. If you want to know which foundations last 18+ hours or how to keep your lipstick looking flawless in 40º weather, she's your go-to girl. 
Emma's flying career came to an end when she realised that beauty journalism was her true passion and she undertook internships across publications including Vogue, Elle, The Telegraph and Glamour. She was then taken under the wing of Funmi Fetto, Contributing Beauty Editor at Vogue where Emma assisted with Funmi's debut beauty book, Palette. 
Her big passion is finding truly beneficial skincare but, when she's not testing out the latest products, you'll find her trying to muscle her way into London's best restaurants or relaxing at home in Devon with her dogs.