Sephora UK: here's where you can buy Sephora brands online in the UK now
We've tracked down Sephora UK retailers and hero beauty buys—they're more widely available than you think!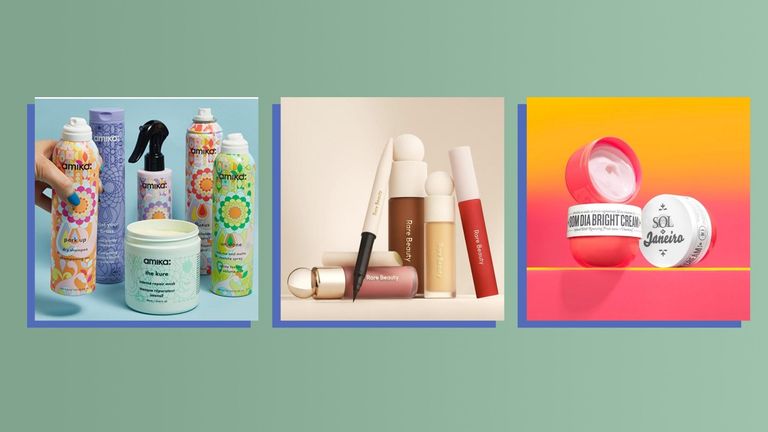 (Image credit: Amika, Rare Beauty and Sol de Janeiro)
Ever wondered if there's a Sephora UK? Join the club. There are tens of thousands of Google searches for Sephora UK every month as British shoppers clamor to get their hands on the beauty mecca's selection of cult brands and buys.
Hailed as the ultimate destination for beauty, and home to nearly 3,000 brands, it's unsurprising that shoppers seeking out easy makeup looks and effective new buys for their skincare routine are so keen for Sephora UK to happen.
Sadly, however, the French multinational retailer is not currently on British soil and back in 2018 the website stopped shipping to the UK entirely. The good news? Plenty of Sephora brands, from huge sellers to lesser-known niche lines, can be sourced online in the UK. From the best mascara to a cult new makeup primer and the best hair mask everyone is talking about, our beauty team has tracked down the hottest Sephora brands and their hero beauty buys with no plane ticket required.
Is there a Sephora UK store in London?
The short answer is no. Sadly, there are no Sephora stores here in the UK. It has been rumored over the years that Sephora would be opening a store in London's Westfield shopping center—but the rumors turned out to be just that and the beauty mecca never materialized.
But while Sephora UK may not be a thing, luckily for us the internet definitely is. If you want to shop the retailer's buzz-worthy brands without having to trawl for hours online—we're here to help. From the best face moisturizer to the hair waver that might convince you to throw away your best curling iron, here's our pick of the best Sephora beauty brands that you can buy here in the UK, too.
Where you can buy Sephora brands in the UK
1. Amika
This cool brand was founded by a collective of creatives in Brooklyn with a focus on fun, cruelty-free, ethical hairstyling. It has 10 haircare collections in total, catering for every hair type and concern going—including damaged hair, curly hairstyles, frizzy hair, and more. While each collection is formulated with specific ingredients to cater to that hair concern, the one thing they all have in common is sea buckthorn berry.
Hailed as a superstar ingredient, sea buckthorn berry contains over 190 active ingredients (including vitamins, amino acids, and antioxidants) that help protect hair against free radical damage, like pollution. All Amika products come in bright, stand-out packaging and the brand also offers styling tools including our personal favorite, the Amika High Tide Deep Waver.
---
2. Anastasia Beverly Hills
Anastasia Soare, CEO, and founder of Anastasia Beverly Hills, is the go-to brow artist for Hollywood's A-List, and her excellent beauty range more than matches up to her impeccable reputation. The first product line-up landed on US shelves in 2000 and quickly accumulated an impressive fanbase that has since grown beyond belief.
It goes without saying that the eyebrow products are top drawer (Brow Wiz and Dip Brow Pomade are our must-haves), but the gorgeously toned pigment-rich eye palettes have also earned a huge cult following for creating beautiful eyeshadow looks too.
---
3. Biossance
This California-based skincare brand launched into Sephora in 2017 and has since become one of its top-selling ranges. The USP is squalane, a plant-derived ingredient that mimicks and replenishes our skin's natural squalene (with an 'e') levels. This is a lipid in our skin that helps it feel plump and moisturized but depletes with age.
Every product in the range contains nourishing squalane, and is formulated sustainably using natural ingredients, and is housed in recyclable packaging. Our favorite products are the 100% Squalane oil, which can be used on the face body, and hair, and the Squalane + Vitamin C Rose Oil.
---
4. Briogeo
Not yet familiar with Briogeo? Let us introduce you. A buzz-worthy brand, Briogeo has been making waves in the beauty industry since it first launched in 2013. Founded by Nancy Twine, the haircare line is 100% cruelty-free as well as being free from sulfates, silicones, parabens, artificial dyes, and phthalates. What's more, the packaging is both recycled and recyclable. Tick, tick, tick.
Split into eight collections (Farewell Frizz, Scalp Revival, Curl Charisma, Blossom and Bloom, Don't Despair Repair!, Superfoods, B-well and Be Gentle, Be Kind) there's a product to cater to every hair type and concern. Our favorite? The deep conditioning mask from the Don't Despair, Repair! line which makes hair feel silky soft after just one use.
---
5. Christophe Robin
Ask any US or French beauty editor to name a hairdressing guru and the chances are Christophe Robin's name will come up. His legendary Atelier has welcomed every supermodel and celebrity going, including the likes of Catherine Deneuve, Tilda Swinton, and Léa Seydoux.
Renowned for his color expertise, the Paris-based hairstylist became frustrated by the lack of hair styling products available to protect and maintain his clients' color-treated hair. This is why he decided to launch his eponymous brand in 1999. The luxury range makes the best of natural botanicals to create effective solutions. If you try one thing, make it the Cleansing Purifying Scrub.
---
6. CLEAN Reserve
Since 2003, CLEAN Reserve, a classy fragrance brand, has been creating scents that smell exactly as they sound: Clean. At first, they burst onto the scene with fragrances based on Clean Laundry and Warm Cotton, but now they've moved into citrus and warm solar styles without losing the brand's refreshing, unisex characteristics.
All the scents are fresh and, unsurprisingly 'cleanly formulated', using just the essential ingredients which are a mix of sustainably sourced and tried-and-true synthetics. From clean classics to fresh florals, there is a scent to suit everyone.
---
7. Farmacy
Several beauty brands claim to be clean beauty (an unregulated label) when in actual fact, they're not. This New York-born brand is different. It lives and breathes the philosophy, sustainably growing and farming its own ingredients to deliver farm-to-face skincare that delivers on results.
Conscious as well as clean, the brand is on a mission to use 80-90% non-virgin material and 100% zero-waste packaging by 2022, with 100% conflict-free ingredients. For any Farmacy newcomers, we highly recommend trying the Green Clean cleansing balm as well as Honeymoon Glow (a 14% skincare acid night serum).
---
8. First Aid Beauty
Founder and CEO Lilli Gordon launched First Aid Beauty with Sephora back in 2009. Gordon saw a gap in the market for a skincare line that provides solutions to different skin challenges—not just ageing. From tackling KP to combatting pigmentation, there's a skincare saviour for every concern in the range.
As for the products—there's no fancy packaging, just hard-working formulas that boast effective (often natural) ingredients that have been allergy-tested and are free from parabens and artificial fragrances. The brand is also 100% cruelty-free and PETA-certified. Tick, tick, tick!
---
9. ILIA Beauty
A 'clean' beauty line that launched in Vancouver in 2009, ILIA Beauty is available to shop here in the UK on Net-A-Porter. Described as a 'modern line of natural skincare and organic cosmetics', the products combine a large percentage of certified organic and bio-active botanicals with a small amount of safe synthetics that help the products perform.
The products feel luxurious and are a dream to apply with pigment-packed formulas that blend in effortlessly for a natural, polished finish. Fans adore the award-winning Multi-Stick as well as the True Skin Radiant Priming Serum.
---
10. Living Proof
Launching back in 2005, Living Proof was created by a group of editorial hairstylists and professors to combine scientific innovation with real-world results. The products, of which there are 45, all boast hard-working ingredients and clinical technologies that work for all hair types.
Devoted fans will wax lyrical about the best shampoos and conditioners from the brand that tackle every concern from frizz to dullness. Others, who may not have tried the products, will likely have heard of the miracle dry shampoo that really is the best in the business.
---
11. Makeup By Mario
One of the world's most influential makeup artists—with 20 years of industry experience—Mario Devidanovic (who counts Kim Kardashian as a regular client) decided to launch his own brand of cosmetics, Makeup by Mario, back in 2020.
With luxurious textures and incredible colour payoff, the products stand out from the beauty crowd—inspiring experimentation within makeup. Choose between metallic eyeshadows, matte eyeshadows and metal eyeshadows (or try all three).
---
12. Olaplex
Colour-treated hair? It's likely you've already heard of Olaplex—the brand that totally revolutionised the hair industry by launching a product that effectively repairs damage and strengthens strands. Hairstylists swear by it and now everyone can get their hands on this miracle-working range.
Developed by a team of US scientists, the patented technology works by re-building broken bonds for hair that feels fuller and gets stronger over time. Since launching in 2014, Olaplex has expanded from a single product to a full haircare range that spans everything from shampoos and conditioners to scalp treatments and the beloved Olaplex No7 Bonding Hair Oil.
---
13. Ouai
This hair and body brand is the brainchild of celebrity hairstylist extraordinaire, Jen Atkin. As well as her impressive A-list client roster (including the Kardashians and Chrissy Teigen), Jen is a star in her own right who has amassed millions of online followers for her fun video tutorials and direct approach to making hair look great.
This, her beauty range, is an absolute smash hit with innovative products—the best dry shampoo (opens in new tab) in foam form, for example. Plus our favorite Fine Shampoo (there are medium and thick versions too) with a gorgeous fragrance that actually sticks around, giving you lovely little wafts throughout the day.
---
14. Peter Thomas Roth
Skincare that really works is the philosophy behind Peter Thomas Roth, and it shows in the products. This New York-based brand is particularly well known for its active-packed masks and treatments, which are brimming with high levels of ingredients and often have the tingle to prove it.
If you're not particularly sensitive and like to get bang for your buck try the cult Pumpkin Enzyme Mask, it deeply exfoliates for effective skin smoothing and glowing (and in our case, a touch pink, too). For something a little more nourishing, give the beloved Water Drench Cream a whirl—it's super soothing and is jam-packed with hydrating hyaluronic acid.
---
15. Rare Beauty by Selena Gomez
After launching in the US in 2020, Rare Beauty by Selena Gomez finally made its way to UK soil earlier this year. The hotly anticipant collection, which spans everything from lip balms and lip creams to foundation and concealer, has certainly lived up to the hype.
Gomez's goal was to launch a collection of makeup will make you feel good—offering products that embrace individuality. The formulas are pigment-rich and many come in an impressive array of shades—for instance, the concealer comes in 48 shades. Beauty benefits aside, 1% of all sales go directly to the Rare Impact Fund, an organisation founded by Gomez to help increase mental health resources.
---
16. Sol de Janeiro
This Brazilian-inspired body brand can't help but put a smile on your face. The only thing better than their cheeky names (Brazilian Bum Bum Cream is a particular highlight) is the way these products smell. Think caramel, praline, pistachio, and everything else sweet and sexy—but with woody undertones to keep things grown-up, not sickly.
Body creams are how Sol de Janeiro made their name, but just about everything is worth a shot. We love the Samba Foot Fetish Cream with its kitsch surfboard foot file, or the Rio Sunset Glow Motion, a beautifully shimmery instant bronzing body oil. Oh and don't miss the Bom Dia Bright Cream—it seriously smells sublime.
---
17. Summer Fridays
Founded by Marianna Hewitt and Lauren Gore, beauty influencers and experts, Summer Fridays is a feel-good beauty brand that's famed for its sleek, Instagram-friendly aesthetic. Initially launching with Jet Leg Mask in 2018, the brand was catapulted to success after beauty editors and beauty enthusiasts alike wanted in on the cult treatment's skin-soothing action.
Since the famous mask, the brand has grown with serums, moisturizers, and one of the best lip balms we've tried in years, all featuring clean ingredients and luxurious textures that are a pleasure to apply. As well as the Jet Lag Mask, we're hooked on the nourishing Lip Butter Balm and CC Me Serum.
---
18. Tarte Cosmetics
There were times when this cult beauty brand felt like it would never arrive in the UK. Even worse, US Beauty Editors and influencers wouldn't stop banging on about it. But what is it about Tarte that fans love so much?
It's billed as 'high-performance natural' makeup and that neatly sums it up. Mineral cosmetics often sacrifice pigment or color payoff to stick to their natural ethos, but Tarte is truly a best of both worlds situation. Luckily for us, arrive it did (eventually) so we can enjoy their best-selling wares including Shape Tape Concealer, Tartlette eye palettes, and the Amazonian Clay Bronzer.
---
19. Tata Harper
Say the name Tata Harper in a room full of beauty fans and you'll be met with a sea of superlatives. "Amazing", "incredible" and "life-changing" are all likely to come up, and here's why:
Most 'clean' beauty aims for simplicity—the fewer ingredients the better—but this brand prides itself on its complexity. These are some of the most serious, active-packed, best skincare products (opens in new tab) around that just so happens to be green. The high-end packaging and gorgeous textures reflect the steep prices, and just about everything is designed with healthy, glowing skin in mind.
---
20. Tower 28 Beauty
Named after a lifeguard tower in Santa Monica, Tower 28 Beauty was created by founder Amy who's experienced sensitive skin her entire adult life. "I was frustrated that my sensitive, problem skin meant I was limited to serious brands that felt clinical," she says on the website. As a result, she developed her very own fun, non-toxic brand that's full of calming, nourishing ingredients.
Take the SOS Daily Rescue Facial Spray, for instance. It's 100% natural and dermatologist tested, so is an easy beauty solution to treat sensitive skin that can be spritzed on AM and PM over freshly cleansed skin. As well as this skincare spray, there's lots of makeup to marvel at including the ShineOn Lip Jelly, blended with nourishing oils, and the SuperDew Highlighter Balm, laced with skin-loving chamomile and green tea extract.
---
21. Wander Beauty
Launching back in 2014, New York-born Wander Beauty was created by two busy working mums Lindsay Ellingson and Divya Gugnani. Focused on multi-tasking makeup that's easy-to-use, the line has quickly accumulated an A-list following (including Heidi Klum, Emma Roberts and Sarah Jessica Parker).
The everyday essentials span everything from the best cream blush and bronzer duos to lip and cheek pots. If you're already familiar with the brand, you'll have likely heard of their award-winning Baggage Claim Eye Masks that brighten, hydrate, and reduce puffiness with hyaluronic acid, aloe leaf, and amino acids.
---
22. Youth To The People
Inspired by their grandmother (who was a pioneer in skincare), co-founders and cousins Greg Gonzalez and Joe Cloyes dreamt up Youth To The People, a greener-than-green natural skincare brand. Powered by superfoods, the eco-conscious line-up boasts antioxidant-rich greens (like kale, spinach, and green tea) as well as skin-loving vitamins. Every product, including the hero cleanser, is cruelty-free and 100% vegan.
Making its way from California to the UK, you can now shop this brand on e-tailers such as Cult Beauty and Amazon. Take your pick from the affordable range that spans everything from brightening face masks to one of the best vitamin C serums we've tried.
---
Emma Stoddart is a freelance beauty journalist and self-confessed skincare aficionado with over five years' industry experience. Emma has worked for some of the UK's top women's titles including Net-A-Porter, Stylist and Grazia. Her experience spans online and print as well as producing editorial shoots with some of the industry's biggest artists, including Val Garland. Asides from working with them behind the scenes, she's also had the chance to interview the likes of Patrick Ta, Pat McGrath, and Sam McKnight for all their insider tips and tricks.