The best charity gifts to make you feel warm and fuzzy inside
These best charity gifts can make giving feel so good. Why stop at buying just one?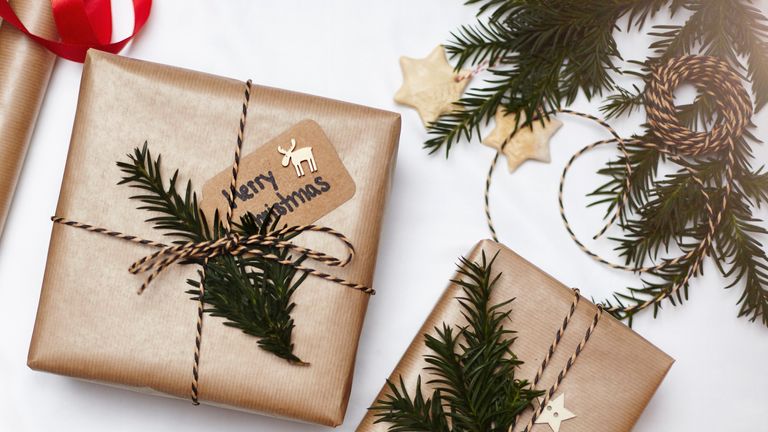 (Image credit: Getty / Mara Ohlsson)
Looking for the best charity gifts to help give back this festive season? Then you've come to the right place. Christmas is a time when many of us take stock and feel thankful for everything we have in life. But, for those less fortunate, it can be the worst time of the year. That's why making at least one of your gifts a charitable one can really help to make the world a better place.
Some of the best charity gifts are donations straight to the charity, while others involve buying a gift with a portion of the profits helping a project or charity continue its good work.
Whichever one you choose, always remember that for someone out there it can really make a difference.
Here's our round-up...
Best charity gifts 2020
1. The Teddy's Wish Baby Loss Tea Package
Best for those who have experienced loss
Specifications
Charity or project: Teddy's Wish, a charity that supports grieving families as well as funding research into the causes of baby loss
Donation: Portion of content's price
When tragedy strikes, it's often hard to find the right words, which means many of us don't reach out to those in need for fear of saying the wrong thing. This hamper by Don't Buy Her Flowers has been designed as a gift to show bereaved parents that you care, with a donation going to a charity which funds research into the causes of baby loss.
2. Treedom
Best for a last-minute gift
Specifications
Charity or project: Treedom
Donation or gift: Plant a tree remotely and reduce CO2
Christmas Eve and not done your shopping? Then send the gift of a tree instead. The lucky recipient will be sent a virtual gift of a tree which will help farmers in rural communities. But, one better than that, your tree will be photographed and geolocated so you can follow its journey. Choose from Avocado trees in Kenya, coffee trees in Guatemala and many more.
3. Carrie Elizabeth Jewellery 14k Gold Plated "A Change Is Gonna Come" Coin Necklace
Best for inspiring change
Specifications
Charity or project: Stephen Lawrence Charitable Trust
Donation or gift: 100% of profits
Not only does this necklace look stunning, but it's great for inspiring change. The bird symbolises freedom, with the hope that change is on the way. It's hoped it will bring more awareness of systemic racism, and inspire people to educate themselves to change the world for the better. What's more, 100% of the profits are donated to the Stephen Lawrence Charitable Trust.
4. Sugarhill Brighton Zadie Cyber Candy Shirt Dress #WearAndCare
Best for fashionistas
Specifications
Charity or project: Split between The Rainforest Trust, Plan International UK, Stephen Lawrence Charitable Trust, Whoopsadaisy, Rainbow Trust, The Clock Tower Sanctuary, and Give Directly
Donation or gift: £5
This hand-drawn shirt dress has been designed to look more than just beautiful. With each dress purchased £5 will be donated to one of Sugarhill Brighton's chosen charities. This really is an easy way to give back. And no one will blame you if you get it as a gift for yourself, either!
5. Olly's 'In The House Mix' box
Best for foodie fans
Specifications
Charity or project: One Feeds Two, an organisation devoted to providing children in the poorest parts of the world with regular school meals
Donation or gift: One school meal
Feeling hungry? Then you need to snap up this charitable bargain quickly! Olive experts Olly's are giving away £40,000 worth of food. All you have to do is pay the postage. Each box is worth £40 and contains all the best snacks, including brownies, biscotti and cheese. But that's not the best bit. With every free box ordered, Olly's will be donating a free school meal to children in poverty. It's win, win. Just get in quick - sign up to the website now for when the campaign starts on Wednesday 9 December. Be quick!
6. Frontline19 Rainbow Tote
Best for a stocking filler
Specifications
Charity or project: Frontline19
Donation: Free psychological support to NHS workers
NHS workers have had a tough year, so here's an easy way to give back. For each item sold by Frontline19, profits will be used to give those working in NHS and Frontline services free psychological support. You can also choose from T-shirts and hoodies, and the rainbow or bolt designs are really bright and eye catching.
7. Cool Earth Shop Terrific Toilet
Best for that tricky person to buy for
Specifications
Charity or project: Cool Earth, who support rainforest conservation
Donation: Direct gift to help stop deforestation
What do you get someone in your life who has got everything? Something for someone going without, that's what. A gift of a Terrific Toilet will really help a community in Papua New Guinea who are struggling with sanitation. Your gift recipient will get a certificate and news about the project, plus a warm, fuzzy feeling inside.
8. Nereus Luxury Sustainable Christmas Gift Set
Best for making someone feel special
Specifications
Charity or project: Ocean Bound Plastic
Donation: For every gift set purchased 3kg of Ocean Bound Plastic will be collected through Nereus' partnership with Plastic Bank.
Plastics have been hitting the headlines recently, and we've all been trying to use less. But, if you want to go one further then why not gift a friend this luxury shampoo, body wash and hand sanitiser set? Not only does it smell amazing, but for every gift ordered, 3kg of Ocean Bound Plastic will be collected on your behalf.
9. Emma Bridgewater Tusk 2020 1/2 Pint Mug
Best for coffee drinkers
Specifications
Charity or Project: Tusk
Donation: £5
Mugs are loved by everyone at Christmas, especially when they are made by Emma Bridgewater. This year, there are three in the collection which include a donation to charity when ordered. This one (pictured) supports Tusk, while there is also one in aid of the British Legion and one for Marie Curie. Three great causes, three fabulous gifts!
10. Vegan Suede Yoga Mat With Bio Rubber Tulip Design
Best for fitness fans
Specifications
Charity or Project: Barnardo's
Donation: All profits from sale
Charities have been struggling this year, and none more so than Barnardo's who had to temporarily close many of their stores during the lockdown. Help them get back to where they need to be by ordering one of the many great gifts from their website. This vegan yoga mat is perfect for any fitness fanatic in your life.
11. Thumbs Up Christmas Charity Gift Pack
Best for teaching kids about giving
Specifications
Charity or project: Great Ormond Street Hospital and The Salvation Army
Donation: £30 worth of presents
Want to give someone you will never meet a Christmas gift they deserve this year? The easiest way is with Thumbs Up. There are four packs to choose from: Teen Girls 12-17, Teen Boys 12-17, Male or Female 18+. All you have to do is pick which one you want to give, then pay a donation of £5. The charity package is actually worth £30, so it's a really great option. They aim to donate 2,000 gifts, which will be distributed with help from Great Ormond Street Hospital and The Salvation Army.
12. Toybox "Not Just a Gift"
Best for changing lives
Specifications
Charity or project: Toybox
Donation: Direct to the children who need help
Looking for a virtual gift that will help change a child's life? Toybox's "Not Just a Gift" campaign aims to do just that. Starting from just £3, you can donate a hot drink and warm meal to a street child in need. If you have more to spend, you can "buy" a birth certificate for a child when you donate £32. This will not only help them enrol in school, but also gain state benefits, and even be able to get married in the future.
13. Juliet Travers original watercolour
Best for arty types
Specifications
Charity or project: Muscular dystrophy charity, ACE
Donation: 50% of proceeds
Looking to brighten up your home? If you love home decor, you may have already seen some of wallpaper and fabric designer Juliet Travers' work. Now, for December, she is painting exclusive watercolours and selling them in aid of muscular dystrophy charity, ACE. Each painting will be sold for £130, with 50% of proceeds going to ACE. They can be bought through her Instagram page @juliettraverswallpapers. Get in quick, as these will go fast!
14. BHF Ladies Christmas Tree Knit Hat
Best for buying multiple gifts in one place
Specifications
Charity or project: British Heart Foundation
Donation: All profits go to charity
Left it late and need a lot of gifts for different people? Then shop in once place online at the British Heart Foundation. They have a range of great gifts, including the Christmas Tree Hat (pictured above) for just £5.99. Not only is there a gift and price point for everyone, but 76p of every £1 raised goes on life-saving research to help fight heart and circulatory diseases.
15. Canford RNLI Rescue Edition
Best for that special man in your life
Specifications
Charity or project: RNLI
Donation: £35 goes to the charity
Not only is this watch effortlessly stylish, but £35 goes directly to the Royal National Lifeboat Institution (RNLI), to help save lives at sea. Perfect for the hero in your life, each watch is engraved with the motto "With Courage Nothing Is Impossible." We love this great-looking watch!
16. Kanula Unisex Ultra Premium Zip Hoodie
Best for teens
Specifications
Charity or project: Sea Turtle Conservancy
Donation : 8%
Available in 21 different colours, not only will this zipped hoodie keep you warm in the winter, but it has been sustainably produced to reduce impact on the environment. Plus, 8% of all profits from items sold goes to help the Sea Turtle Conservancy, the world's oldest sea turtle research and conservation group.
17. Framed Red Riding Hood Print
Best for something different
Specifications
Charity or project: Plan International UK
Donation: 12.5% of sale price
Let children discover fairy tales from a different perspective with one of these new prints which helps rewrite how we stereotype genders from a young age. A donation from every print sold goes to Plan International UK to help create a world free from gender.
18. Miracle's Mission Christmas dinner or gift for homeless dogs and cats
Best for animal lovers
Specifications
Charity or project: Miracle's Mission
Donation: All profits
Christmas is a time for family and, for many of us, that means the four-legged members, too. If you want to do something for those dogs and cats who aren't as lucky as yours, then a donation to Miracle's Mission could be ideal. Just £5 will buy either a dog or cat a Christmas meal or gift while they live in a rescue centre waiting to be rehomed. What's makes this charity special is that they work with sick, injured and disabled animals, too.
19. Keep Leeds Warm Badge Pack
Best for helping a local area
Specifications
Charity or project: Simon On The Streets
Donation: All profits from sales
With the weather cold and wintry outside, living on the streets can seem unthinkable. Yet, in many major UK cities, such as Leeds, this is common place. Keep Leeds Warm is a campaign hoping to raise £50,000 for Simon On The Streets to help those who are homeless and vulnerable in West Yorkshire. Choose from the pin badges (pictured above), or why not invest in T-shirts, tote bags, mugs and hoodies to help them reach their target.
20. Room To Read's Be Brave book
Best for young children
Specifications
Charity or project: Room to Read
Donation: All profits from sale
What better gift for young children this year than the gift to read. This book is ideal for children who are nervous or scared to attend school. Plus, profits from all sales goes to children across Africa and Asia who are struggling to stay in education during Covid-19. Not only is the charity aiming to end global illiteracy, but they also want gender inequality in education. A great buy.
Faye M Smith is an award-winning journalist with over 15 years experience in the magazine industry. Her continued work in the area of natural health won her the coveted title of theHealth Food Manufacturers' Association (HFMA) Journalist of the Year Award 2021.
Currently Acting Health Editor across several brands including woman&home, Woman and Woman's Own, Faye specialises in writing about mental health, the menopause, and sex and relationships. In fact, having previously been the go-to sex columnist for Now magazine, there isn't much she won't discuss when it comes to women's health. This makes her the best person to review must-buy sex toys, describe how to have a mind-blowing orgasm or explain how to navigate sex in the shower without it ending in a medical emergency.
While not anti-gym, Faye's fitness routine is more focussed on finding inner balance rather than burning excess calories. An advocate of mindfulness, she loves power breathing, yoga and plenty of walking in nearby woodlands rather than a sweaty HIIT class. Follow her @fayetuned