The best jeans for curvy women—the best plus size cuts from flares to straight leg
Meet the best plus-size jeans that deliver on style, comfort and quality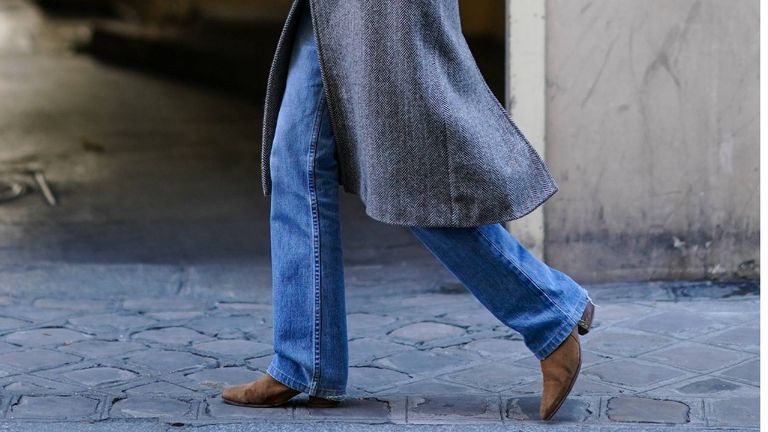 (Image credit: Getty)
Hunting down the best jeans for curves can be a real challenge. Despite denim pants being an everyday sartorial essential, shopping for jeans in person is one of fashion's trickiest tasks, whatever your size.
It's not even just about sizing, but knowing which cut to choose from: vintage mom cut, classic straight leg, flares?! There's also the nightmarish job of finding a pair that hug waists, fit thighs, and make bottoms look great. All too often, plus-size shoppers have been left with uninspiring, unflattering styles that sag, bag, and gape. Sizes that vary from brand to brand also make trying to find the perfect fit harder, not to mention frustrating when you have to take three different options into the dressing room with you. And with the definition over what is plus-size unclear, it can be hard to know where to start looking.
Considering the average dress size in the US and UK is a 16, (AKA plus-size territory) it's high time finding the best jeans for women with curves became an easy and enjoyable task. Fortunately, plus-size offerings have grown recent years and there is a great selection of jeans that fit and flatter plus-size figures at any end of the price spectrum. From American Eagle's top-rated Curvy Mom Jeans to Levi's Straight Cut 501s, the best plus-size clothing brands offer a style to suit all.
What to look for in the best plus-size jeans
Despite online shopping making the trying on process a little lengthier, trying on jeans in the comfort of your own bedroom—rather than unflatteringly lit changing rooms—makes for a more enjoyable shopping experience. Plus, it gives you the opportunity to try styles on with different tops and shoes to ensure you're choosing the pair that works best with your existing wardrobe.
When it comes to finding the perfect pair of plus-size jeans that deliver on style and comfort, there are some key details to consider:
Be flexible: Jeans with a high percentage of elastane will hug curves and styles with a lot of stretch will prove as comfortable to wear as the best plus-size jeggings.
Button up: Look for jeans with a combination button and zipper fastening that offer extra security and prevent flies coming undone.
Be upfront: Side pockets positioned on hips can add bulk, so choose jeans with neat front pockets that sit a couple of inches either side of the zipper instead.
Back it up: Larger back pockets that sit wide and angle upwards will make bottoms look perkier.
The thicker the better: Avoid very lightweight denim which can tear. Reach for jeans made from thick, good-quality denim will hold you in and last a long time.
Which style of plus-size jeans are best?
With so many jeans shapes around this season, it can be hard to know where to begin. But with fashion currently celebrating every cut-from retro flares to vintage-inspired mom silhouettes-there's a style to suit whatever you're looking for.
Wide leg: Tapping into to 90s nostalgia, wide-leg jeans make for a relaxed take on denim pants. A-line shapes skim thighs and wide hems balance out bigger bums.
High-waisted: These jeans are great for those wanting to highlight their waistlines. Look for styles with wide waistbands that create a smooth line.
Retro flare: They never fail to make legs look longer, especially when teamed with a platform or wedge.
Vintage: "Mom" and "boyfriend" styles are perfect for off-duty wear. Stick to slimmer cuts rather than anything too slouchy which will add bulk.
Classic skinny legs: They're versatile and easily go with every shoe in your wardrobe. Look for styles with front pockets, rather than side pockets which make hips appear wider.
Whatever style you opt for, as plus-sized fashion influencer Nelly Elliot says, it's all about wearing the jeans that make you feel most confident, "I spent years in skinny jeans and long tops trying to hide my shape, and it made me miserable. As I have started to love my body more, I find I feel more confident in trying new styles. My top tip for buying jeans is just to try new things—don't be inhibited by fashion 'rules' or what is 'flattering' and branch out."
The best plus-size jeans as chosen by our fashion team
We've compiled a list of the best plus-size jeans that sculpt, shape and promise not to gape. From classic cuts to on-trend silhouettes, these are the styles worth adding to your wardrobe.
Universal Standard Seine High Rise Skinny Jeans
Best plus-size skinny-leg jeans
Specifications
Price: $98/ £71
Sizes: US 00-40 / UK 0-38
Material: 73% Cotton, 23% Polyester, 4% Elastane
Reasons to buy
+Available in regular, tall and petite+Invisible stretch
Widely considered one of the best plus-size clothing brands, Universal Standard is built on the ethos that women should be able to shop stylish, well-made clothing no matter their dress size. The brand's comprehensive offering spans everything from loungewear to occasion dresses by way of chic workwear and wardrobe basics, with sizes running US 00 - 40.
The Seine High Rise Skinny Jeans are their best-selling jean, and with a good reason. They're constructed with invisible built-in stretch to give a comfortable, snug fit that holds its shape all day long. The high waist makes you feel secure and is perfect for tucking in t-shirts and shirts, plus it doesn't gape at the back. We love that they come in three fits: regular, tall and petite. The style is also available in five versatile colorways.
American Eagle Stretch Ripped Curvy Mom Jeans
Best plus-size mom jeans
Specifications
Price: $49.95/ £74.95
Sizes: US 000-20/ UK 00- 18
Material: 81% Cotton, 13% Modal, 5% Polyester, 1% Elastane
Care: Machine wash cold
Reasons to buy
+Specially designed hip to waist ratio +Made with water-saving processes
Reasons to avoid
-Little stretch
Well loved for its expertise in this field, American Eagle is a leader in the world of inclusive denim. One of the few brands to feature models over a dress size 18, it's 2019 denim campaign featured body positive activist and size 22 plus-size model Saaneah Jamison—a move that was widely celebrated.
While the brand's entire denim offering is covetable, with over 800 five star customer reviews, we especially rate the AE Stretch Ripped Curvy Mom Jeans, which have a vintage-inspired cut and make for the perfect off-duty style. A small amount of stretch allows the denim to comfortable hug hips and thighs, while the high-rise waistband offers midriff support. Particularly clever is that the waist to hip ratio is 13 inches, as opposed to the standard 10 inches, meaning they properly fit both areas without any gape. Extra points goes to the fact they're made with water-reducing processes. Choose between four easy-to-wear washes.
All Worthy Hunter McGrady Flared Leg Jeans
Best plus-size flared jeans
Specifications
Price: $63.73 / £46.69
Sizes: US 0-36 / UK 2-34
Material: 69% Cotton, 29% Recycled Polyester, 2% Elastane
Care : Machine wash
Reasons to buy
+Holds shape+Cut to hug curves
Reasons to avoid
-Size runs small
Plus-size model Hunter McGrady's All Worthy collection has become a go-to destination for curvy women. Not only are the styles, which range from XXS‒5X, on-trend, they boasting some best fits on the market.
The flared leg jeans are no exception, with a cut-to-contour fit, which hugs and shapes every dip and curve. The gentle flare widens from the knee, balancing out bigger hips, and making for an easy-to-wear retro shape that can be worn just as easily with sandals in the summer or boots in the fall. The high waist offers hold and creating a streamline silhouette, while large back pockets give bottoms a lifted look. They come in a classic mid and bleach wash.
Eloquii Button Front Barrel Leg Jeans
Best plus-size barrel leg jeans
Specifications
Price: $109.95 / £80
Sizes: US 14-28 / UK 12-24
Material: 97% Cotton, 3% Spandex
Care: Wash before wearing. Machine wash cold gentle cycle with like colors
Reasons to buy
+Fashion-forward silhouette
Reasons to avoid
-Only comes in one colour
Running from a US size 14 to 28, Eloquii has a covetable selection of on-trend pieces, ensuring plus size women don't feel as though they're being left behind in the style stakes.
These barrel leg jeans are a case in point. We love the fashion-forward silhouette, which is made extra flattering thanks to a high rise waistband and large back pockets. The easy fit from hip to thigh is skimming rather than hugging for those who don't want a tight fit. Spandex offers a comfortable amount of stretch that doesn't bag after wearing. The narrow cuff pairs easily with myriad footwear styles, from boots to trainers.
Levi's Classic Straight Jeans
Best plus-size straight jeans
Specifications
Price: $59.50 / £100
Sizes: US 14-26 / UK 12-24
Material: 79% Cotton, 19% Polyester, 2% Elastane
Care: Machine wash inside out
Reasons to buy
+Bum-sculpting+Contains sustainable fabrics
Reasons to avoid
-Mid-rise waist band
Undoubtedly the most iconic denim brand in the world, Levi's has made a name for itself offering top quality jeans that last a lifetime. The brand's plus size range runs up to a US 26, and includes some of the best plus-size jeans on the market.
Every wardrobe should have a versatile classic straight leg, and Levi's Classic Straight Women's Jeans are the style to choose. Made using the brand's innovative Levi's Sculpt fabrication, the style hugs thighs and hips while lifting the bottom and offers supportive hold. The super-soft denim contains plenty of stretch for comfort. It's worth noting that these have a mid-rise waistband so they don't offer as much hold over the stomach as high-rise styles. They comes in five classic washes and contain ECOVERO™, a sustainable alternative to viscose rayon.
Torrid Pull-On Boyfriend Jean
Best plus-size jeggings
Specifications
Price: $65.50 / £48
Sizes: US 00-30 / UK 0-28
Material: 65% Cotton, 20% Rayon, 13% Polyester, 2% Spandex.
Care: Machine wash cold inside out
Reasons to buy
+Drawstring waist +High stretch
Reasons to avoid
-Only one color
Popular among plus-size models and influencers, Torrid specifically caters for dress sizes 10-30, offering up stylish, flattering wardrobe pieces from work to occasionwear. However, it's the brands robust denim collection where it really excels with myriad on-trend styles coming in five fits: extra short, short, regular, tall and extra tall.
If you're seeking maximum comfort, these top-rated pull-ons are the best plus size jeggings we've come across. Made from a super-soft denim, they have extraordinary stretch with a soft buttery brushed feel. The loose cut and lack of hardwear and buttons make for extra comfort and give a stylishly laid-back look. We also love the drawstring waist which can be adjusted to fit. These fit true-to-size, but it's worth sizing up for a slouchier fit.
Serra Retreat by Joie Rucker El Sol Straight-Leg Jeans
Best plus-size cropped jeans
Specifications
Price: $94.70 / £69
Sizes: US 00-28 / UK 0 - 26
Material: 99% Cotton, 1% Spandex
Care: Machine wash
Reasons to buy
+On-trend raw hem finish+No-gap waistband
Reasons to avoid
-Size runs small
An off-duty staple, a cropped jean can be worn with trainers of ankle boots for easy weekend style. Hems that hit on the ankle bone are also universally flattering, show casing the slimmest part of your leg.
With the brand's signature laid-back Californian aesthetic, Serra Retreat by Joie Rucker's El Sol style come top of the list for cropped plus-size jeans. Crafted with a smart no-gap waistband, they sit snug to waist and hips creating a smooth silhouette. Angled belt loops are flattering over the stomach, while large back pockets make bottoms look lifted. We love the straight-cut leg which gives an long, lean look and on-trend raw hem finish.
Only Curve Veneda Mom Jeans
Best plus-size white jeans
Specifications
Price: $48 / £30
Sizes: US 12-22 / UK 16-26
Material: 98% Cotton, 2% Spandex
Care : Machine wash cold
Reasons to buy
+Stretch for comfort +Stylish ecru color
Reasons to avoid
-Size runs large
Danish high-street brand Only is a favourite among fashion fans seeking Scandi style on a budget. It's collection of cool, contemporary basics is well with having on your radar, not least for its inclusive range of plus-size jeans.
The Veneda jeans come in a stylish ecru shade, which looks far more expensive than bright white and pairs easily with both neutrals and brights. The waist band sits high on the waist creating a nipped in shape and adding length to legs. A good amount of stretch makes these very comfortable to wear and we love the classic straight cut that slightly tapers as the ankle, and works with myriad shoe styles: ankle boots, trainers, heeled sandals. They're also a great price, hitting under $50.
NYDJ Teresa Wide Leg Jeans
Best plus-size wide-leg jeans
Specifications
Price: $119 / £119.95
Sizes: US 14-28 / UK 8-22
Material: 99% Cotton, 1% Elastane
Care : Machine was cold
Reasons to buy
+Bum sculpting+Slimming panel
Reasons to avoid
-Only one colour
Wide-leg jeans are having a fashion moment this season and make for a fresh take on denim. The trick is not to go too baggy, and NYDJ's iteration have the perfect amount of width.
They also contain the brand's innovative Lift Tuck® Technology – a slimming panel with cross-cross stitching at the front to smooth and flatten the stomach, and a contoured construction at the back which hugs and lifts bums. The extra-high, thick waist band helps hold you in and is perfect for tucking t-shirt and blouses in to. We love the frayed hem finish, which gives a relaxed nod to the style. The slimming technology means you end up taking a size smaller than your regular dress size.
Good American The Weekender Jean
Best plus-size boyfriend jeans
Specifications
Price: $159 / £125.47
Sizes: US 00-26 / UK 00-26
Material: 99% Cotton, 1% Elastane
Care: Machine wash cold inside out
Reasons to buy
+Feature recycled trims+Drop crotch for comfort
Reasons to avoid
-Little amount of stretch
Founded in 2016 by Khloé Kardashian and Emma Grede, Good American has swiftly become one of the go-to destinations for the best plus-size jeans and best jeans for women with curves, and is often worn by plus-size models, celebrities and influencers.
The product lives up to the hype, none more so that the Weekender Jeans. This relaxed, boyfriend style have a stylish amount of slouch with a rolled hem for casual appeal. The high rise waist keeps muffin tops tucked in, while the drop crotch means they have a roomy fit. These are made from thicker denim with little stretch for a vintage feel, but the loose leg means they still deliver high on comfort-factor. We also love that they feature recycled trims, and have been made with energy-saving processes in a solar powered factory.
How to style plus-size jeans
A bonafide wardrobe essential, along with the best plus-size leggings, the best plus-size jeans are a staple in your capsule wardrobe. Perfect for weekend wear with trainers and t-shirts, smarter indigo and black denim can also be worn into the office with the addition of a shirt and sleek flats. Pair with statement jewelry and heels, and you can even wear your favorite pair out for dinner. Looking for outfit inspiration? Look to stylish plus-size models such as Ashley Graham and Candice Huffine, who regularly showcase chic denim outfits on their social media feeds.
Charlie is the Acting Deputy Fashion Editor across multiple women's magazines and also a freelance fashion, beauty and lifestyle editor.
She bagged her first magazine job in 2009 and has previously written for titles including Woman & Home, Closer and Dare. Over the years Charlie has embraced anything that was thrown at her from styling celebrities to testing out the best jeans on the high street to writing about must-have beauty buys.
With a weakness for a printed midi dress, Charlie is on a mission to shop more sustainably and loves finding new ethical brands and second-hand buys. You can follow her on Instagram @fashionabell_