Your ultimate skincare routine for acne and acne-prone skin
Say bye to blemishes with the best skincare routine for acne, according to an expert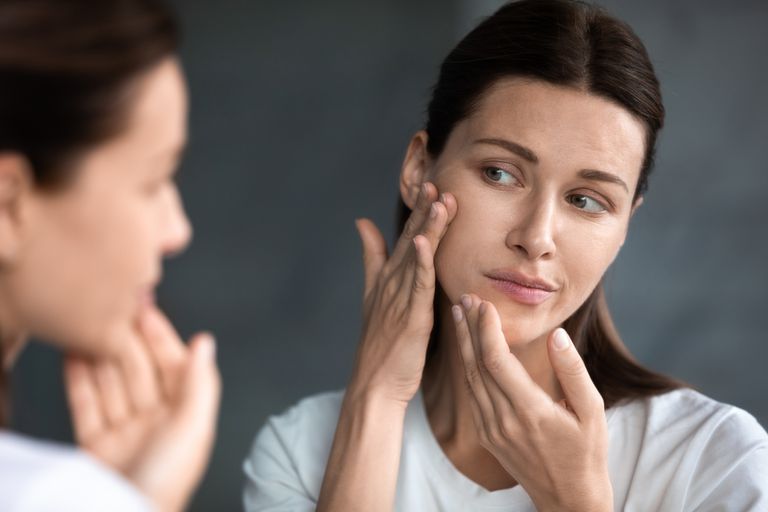 (Image credit: Getty Images)
If you're looking to develop a foolproof skincare routine for acne, first, you'll have to assess your current skincare routine, and you'll also want to understand the causes of acne and how to treat it. To bring you up to speed, acne is clinically known as acne vulgaris, a chronic skin condition characterized by clogged hair follicles, according to Dr. Ifeoma Ejikeme, medical consultant and skin expert.
"Once pores are clogged by bacteria, inflammatory cells, and mature skin cells, it leads to open (and closed) comedones and cyst formation," Dr. Ejikeme , who is also the founder of the West London-based Adonia Medical Clinic, tells women&home. "Usual locations of breakouts include the face, back, and chest areas, although they can occur anywhere on the body." 
While acne can happen to anyone at any time, the biggest driver is genetics, meaning if you have a family history of acne, that means you may be more likely to develop it, says Dr. Ejikeme. However, there are additional triggers that contribute to breakouts. These include stress, over-exfoliation, use of occlusive products, and even having a high-sugar diet.
Developing a sound skincare routine for acne means introducing the right ingredients (more on those below!) that can eliminate acne-causing bacteria. At the same time, Dr. Ejikeme also advises focusing on treating inflammation, as this is a big part of the skin condition as well. 
"For bacteria to turn into acne, it must spark inflammation," she explains. "This inflammation is the body's response to the presence of the bacteria, and it sends cells to get rid of the bacteria, causing the skin to become inflamed with redness, pain, and puss. For this reason, the inflammation, as well as the bacteria, must be addressed."
The best skincare routine for acne
So what's the best skincare routine for acne and acne-prone skin? Unfortunately, there is no magic wand or quick fix for acne, as it is a chronic condition that can be managed, but not quickly cured, according to Dr. Ejikeme. 
However, there are simple courses of action one can take in order to manage acne symptoms, and keep new breakouts from forming. 
Assess the products you're using
While some skincare products claim to nip blemishes in the bud, there are times when they actually make breakouts worse. This makes it important to carefully assess the products you're using to see if they are contributing to breakouts. 
"Anything that leads to excess oils on the skin, or occlusion of the pores, can make acne worse," Dr. Ejikeme says. "Remove these products from your regimen and look for water-based products (including sun cream) instead."
Add salicylic acid to your routine
The American Academy of Dermatology (AAD) recommends adding this active skincare ingredient to your routine if you're looking to tame blackheads and pimples, as it has been proven to unclog pores and prevents new breakouts from coming to the fore. 
However, much like other active ingredients (vitamin C, retinol, etc.) in skincare, Dr. Ejikeme says you'll want to exert caution when using salicylic acid, as it causes irritation on dry, sensitive skin types. 
To use salicylic acid correctly, she recommends adding a two percent-strength salicylic acid into your evening skincare regime, after cleansing. We like the convenience and efficacy of First Aid White Clay Acne Treatment Pads with 2% Salicylic Acid, which can be swiped on directly after cleansing as a toning/problem-solving step in one before moisturizer. 
Invest in retinoids 
Retinoids are a hero product for acne-prone skin, as they help balance excess oil production, reduce inflammation, reduce clogged pores, and even have antibacterial properties, says Dr. Ejikeme.
But much like salicylic acid, you'll want to use retinoids with caution, as applying them incorrectly onto skin can cause irritation and sun sensitivity. Instead, Dr. Ejikeme recommends using them once a week to start, at night, after cleansing. For beginners, we like the smaller concentration in The Ordinary Granactive Retinoid 2% Emulsion; its also highly absorbable despite its thicker formulation, making it great to wear under makeup (don't forget the SPF!).
How to acne-proof your skin: an easy 3-step guide
"The key with acne is to seek help early, especially if you are developing scarring of any kind," Dr. Ejikeme says. "At Adonia Medical Clinic, we successfully treat hundreds of people every year with acne, where we follow a three-step approach." 
Step 1: Reevaluate your skincare routine.
First, you'll want to take some to evaluate the products you are currently using, and stop using any products (and practices) that may make things worse, she recommends. 
Step 2: Stick to the basics.  
"Next, add in a basic routine with key ingredients (though, sometimes prescription medication is needed)," Dr. Ejikeme advises. "Start with a foaming cleanser that doesn't strip your skin, and use a two percent salicylic acid cleanser (or serum) a few times a week. Finish with a light, non-comedogenic moisturizer and sunscreen." 
Try: Clinique Acne Solutions Acne + Line Correcting Serum; Murad Skin Perfecting Lotion for Blemish-Prone and Oily Skin; Supergoop! Smooth & Poreless 100% Mineral Matte Screen Sunscreen SPF 40
Step 3: Address scarring.
Acne can cause scarring and redness in lighter skin tones and hyperpigmentation (plus textural changes) in darker tones, Dr. Ejikeme explains. 
To treat scarring, topical treatments (and products) recommended by a dermatologist can definitely help improve their appearance overtime. 
However, if your skin is not responding well to these treatments/products, the AAD advises asking your dermatologist about in-office treatments. 
These include laser skin resurfacing, chemical peeling, dermabrasion, and microdermabrasion, which are safely administered in your dermatologist's office. 
When to see your dermatologist
When in doubt, Dr. Ejikeme advises booking a consultation with a skin specialist or board-certified dermatologist to discuss your skincare routine for acne, as these trained individuals can help issue and draw up a personalized treatment plan. 
"I would always recommend seeking professional help rather than relying on over-the-counter self medication for acne, as it is a chronic condition that needs expert management," she explains. "When speaking with an expert, they may prescribe anti-inflammatories to reduce the inflammation, and medication to address the bacteria."
woman&home thanks Dr. Ejikeme for her time and expertise. You may follow her on Instagram @dr_ifeoma_ejikeme or contact Adonia Medical Clinic.