Pretty pedicure ideas: 33 designs from color trends to toe nail art
Get happy feet with these beauty ed-approved pedicure ideas—there's something for everyone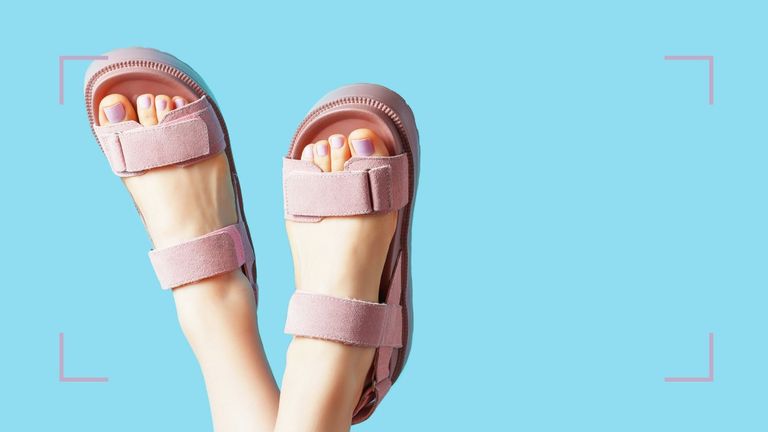 (Image credit: Future/Getty images)
Looking for some pedicure ideas in time for sandal season? Our guide has endless inspiration, from the bold and beautiful to the stylishly understated.
We have a tendency to focus on the beauty goals we can see. Whether that's perfecting your spring nail designs or experimenting with easy makeup looks, our feet usually are the last thing on our beauty to-do list. Toes are easily neglected when we keep them hidden away in boots and socks for most of the year. But paying them some attention and trying out exciting new pedicure ideas will make you feel pampered and help you feel confident in the best sandals and heels.
Whether you're booking in at the salon or wondering how to do a home pedicure, make sure to prep your feet well first, which means removing dead skin, hydrating, and shaping before deciding how to paint your nails. When you've done the prep, then you can focus on the fun stuff like pastel nail polishes and cute toenail art.
33 pedicure ideas, picked by our beauty editor
1. Matchy-matchy mani-pedi
French tip nails are undoubtedly one of this year's biggest trends, and this cute combo shows how you can complement your French manicure without having to attempt complicated French tip toenails. We love the sunny orange color too—it's cheerful and flattering.
---
2. Matte watermelon pedicure
This gorgeous look shows how much impact something as simple as a change in texture can have. You can buy a matte topcoat to switch up the finish of your favourite polish, or many salons offer powder dipping pedicures for that ultra-matte look.
---
3. Leopard statement toe
Wearing nail art on the big toe only in a monochromatic tone is a sophisticated way to try a jazzy design on your feet. You'll need a very steady hand and a striping brush to try this at home, or try a nail wrap sticker to cheat the look.
---
4. Burgundy shimmer
If moody hues are your thing, there's no need to force yourself to wear brights just because the skies are blue. This deep red wine tone is livened up with a shimmery finish that looks particularly good on squared-off toenails. In a rush? Our guide to how to dry nail polish fast can help you hurry things along a bit.
---
5. Speckled pink pop
This eye-popping pink with a speckled design will get you noticed but also gel with almost any outfit or skin tone. To create the feature toe, use black polish and a striping brush or a very skinny eyeliner brush. The beauty of this look is that the little splotches are supposed to be uneven, making them far easier to achieve at home than perfect polka dots.
---
6. Pastel sparkle
Pastel tones always look sweet and spring-like, and the glossy finish plus sparkly accents here keep the look flattering. Pick up a packet of nail jewels to create the look at home, or simply dot a glitter polish on for a similar effect.
---
7. Icy blue pedi
If nail art and complicated designs aren't really your thing, picking an unusual color is a great way to liven up a single-tone pedicure. This powdery ice-blue hue is so on-trend for 2022, and particularly flatters medium to deep skin tones.
---
8. Bronze shimmer
Something about this pedicure idea just radiates holiday vibes. But you don't need to be jetting abroad to enjoy this luxe look, a few coats of finely-milled glitter polish on a well tended-to nail will bring a shimmering, sun-drenched feel to wherever you are.
---
9. Luxurious lavender touches
You'll be seeing a lot of lavender in trend roundups, thanks to Very Peri being selected as Pantone's color of the year 2022. The combination of block colors and arty statement nail design makes this one of the boldest pedicure ideas, but it's a brilliantly striking look.
---
10. Wearable sparkle
Sometimes the subtle details can be the most effective. The shimmer detailing on the nail bed of the big toe adds just the right amount of sparkle without looking OTT. Take the detailing onto the whole pedicure for fancy events.
---
11. Blue sky ombre
Get creative and blend some colors together for a unique, joyful look. When it comes to pedicure ideas, this is a simple but effective option. Apply a small amount of nail polish to the bottom, and swipe on a clashing color to the top. Use a makeup sponge to blend the tones together, and finish off with a top coat.
---
12. Surprisingly stylish stickers
Adding fun jewels or stickers will create a statement look to go along with party makeup, without having to faff with intricate nail art. It's especially handy if you haven't got a steady hand for tiny brushes and patterns. Apply nail stickers to the area and cover with a top coat to seal them in place.
---
13. French pedicure ideas
Blame the 90s revival, but the French manicure is back with a bang. Subtle, subdued but still stylish—it's a look that goes with everything and adds a bit of doneness to everyday outfits. It makes sense, then, that the trend has found its way down to our feet too. You don't have to stick to just nude and white though—there are plenty of ways to wear French tip nails. Go for bolder colors to mix things up.
---
14. Marbled moment
If you're feeling creative, experiment with some more abstract pedicure ideas to challenge yourself. The marbled effect here makes a statement without being OTT and is a great grown-up way of incorporating color and patterns. The touches of gold up the ante too.
---
15. Cherry picked pedi
Pedicure ideas don't have to be so serious—add some fruity fun with this retro cherry print design. The design is surprisingly simple to achieve too. Use the end of a makeup brush (the best makeup brushes for this are generally liner brushes) and dip it into a red polish to create the cherries, then follow on with a skinnier brush to create the stems. It's perfect for pairing with red polish and rockabilly gingham print.
---
16. Tangerine tones
It's not all about out there designs and prints—block colors can be just as effective. The perfect orange-toned red is the ideal, goes-with-every-shoe shade for a pedicure. This glossy finish completes the look perfectly. Apply another layer of topcoat to boost shine a few days after painting.
---
17. Kitsch colour-pop
Go artistic with multiple patterns and prints, for a fun, kitsch feel. Paint your base coat and block color, then once it's fully dry add your designs. Think smiley faces, rainbows, and flowers.
---
18. Abstract and arty
Add some luxe factor to nude pedicure ideas by adding in touches of gold. You can do this by applying gold leaf, or applying gold nail polish to your perfectly-painted pedicure.
---
19. Pristine white nail polish
It may not be for everyone, but a few coats of white nail polish is simple, effective, and works brilliantly with deep skin tones. We wouldn't necessarily pick it for a manicure, but there's something about a white pedicure that just feels clean and pristine. It will pair perfectly with all shoes and clothes and is one of those simple pedicure ideas that's fuss-free and effective.
---
20. Rainbow sparkle stripes
For a real statement, mix multiple tones with some glitter for an all-out fun pedicure. Sticking to pastel shades like they have done here helps dial down the look a tiny bit, stopping it from looking too circus-like (unless that's the look you're going for). To get this look without having to paint any stripes, paint a different tone on each toe, then go in with some glitter.
---
21. Merlot tones
This wine-inspired hue is a great go-to pedicure color. It's wearable but still stylish, and will look just as good with your gold strappy heels for date night as it will with your Birkenstocks for weekend mooching. Curved edges help finish off the look perfectly.
---
22. Pineapple pedi
This fruity design may be one of those looks that's easier to achieve on someone else, rather than hunching over your own toes for an hour. If you can't go pro, rope in your artistic niece or daughter to give this a go. She'll need detailing brushes and a steady hand—a great way to keep them occupied on a rainy Sunday. We love the mix of yellow and nudes on the other toes too, to add an extra element of design.
---
23. Go for graphic lines
This blue-toned gray is a lovely wearable shade that will suit all ages and skin tones. Add a designer-inspired element by adding linear detailing in a clashing color. If you're DIY-ing it, practice on some paper before trying it out on your nails—it'll only take a few tries to master it, as it's such a simple design.
---
24. Barely-there posy pink
We immediately bookmarked this as one of the first pedicure ideas we'll be asking for at our next salon appointment. It's the perfect not-quite-nude, not-quite-pink shade that offers a really sleek, chic finish. Paler colors are usually best painted by professionals as they're less likely to streak. This color in particular works best with pampered feet, so treat yourself to a salon appointment if you're going for a nude look.
---
25. Emerald city sparkle
Emerald green is one of those colors that looks luxurious without any effort. This iridescent shade in particular has us swooning. The square shape helps add a graphic dimension—paint two thin coats and finish off with a high-shine topcoat to seal in the color and boost gloss.
---
26. Love heart pedicure
Hearts aren't just for Valentines day nails! This simple twist and swish adds a romantic, pretty feel to any pedicure. We love the classic red and white color combination, but it would also look beautiful with bolder clashing tones—think orange and pinks, and greens and blues.
---
27. Iridescent glitter
Sparkly pedicure ideas are perfect for weddings or big events, taking the party all the way down to your feet. This cream shade helps give glitter a more grown-up feel, while still adding the fun factor.
---
28. Flower pedicure
You can't go wrong with a bit of flower power. This blooming beautiful design adds just a touch of florals and is the perfect way to try out some nail art ideas. Paired with nude it becomes more subdued, but you could always pair it with brighter shades like pinks and purple.
---
29. Cornflower blue hues
A medium blue with hints of green, cornflower blue is a shade that works all year round and suits all skin tones. Pairing the soft pastel color with a square nail shape adds a nice bit of contrast too—this is a pedicure look we'll definitely be trying.
---
30. Golden touch
Gold pairs so well with nude, so this color combination is a no-brainer for pedicures. Paint your toes in shimmery gold and paint the big toe in the best-suited nude. Then apply the same gold along the nail bed to tie the whole look together.
---
31. Rainbow confetti
The combination of multicolored rainbow shades and sequin dots makes this pedicure look a serious joy-sparker. You can either dot multiple shades onto a plain block colour, or layer up nail stickers. It's the perfect way of adding interest to plain outfits.
---
32. Neon effect pedicure
We love this artistic look. The combination of neon pink blended with white gives a really color-popping effect that makes the bright pink look even bolder. It's all about layering and blending the two tones together. Use a sponge to get the effect, or show this to your nail technician for a professional finish.
---
33. Stipes and gold blocks
Taking on multiple trends in one, this striped pedicure has a lot going on, without being too busy. The key is sticking to two tones, which helps keep it cohesive. The mix of block colors, glitter, and stripes work well together as the colors are subdued and wearable.
---
Rhiannon Derbyshire is the Senior Beauty Editor for Woman & Home and other publications.
She started interning for magazines while working alongside her Fashion Journalism degree. There, she was lured to the beauty desk, seduced by matte lipsticks, posh shampoos and every skincare product imaginable. A first-language Welsh speaker, she can tell you why the best mascaras are always high street, why SPF is a non-negotiable all year round and how to find the exact right red lipstick in two languages.