30 Christmas makeup looks for the 2021 Holiday season
Take inspiration for your Christmas makeup looks from these beautiful ideas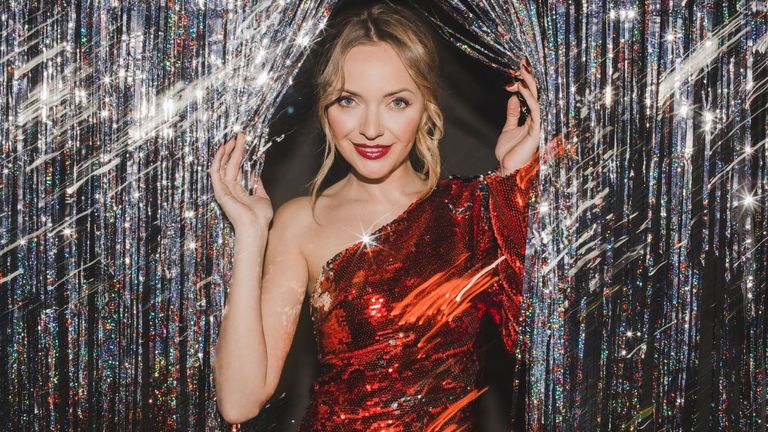 (Image credit: Getty)
There are countless Christmas makeup looks you could try, but the one thing they should all have in common is a sense of joy. It doesn't matter if you prefer subtle makeup or want to go full glitterball, trying a new spin on your everyday look will help you embrace party season in all its fun and frivolous glory.
Christmas is the ideal time to try something new, and whether you've decided to treat yourself to one of this year's Christmas makeup gift sets, are counting down the days with one of the best beauty advent calendars, or are looking for Christmas nail designs to jazz up your manicure, the festive season is all about getting glam, feeling great and indulging yourself with a sprinkling of extra pizazz.
"Nothing screams Christmas more than adding a sparkle," says Bobbi Brown Pro Artist, Hollie Ellis. "Gold and silver sparkles will help to not only brighten your eye area but to take the look to that next level— and Christmas is the time to go all out!" Fancy more of a lip look? "Red lips, matte or gloss, can take your daytime makeup to that 'I can take on anything' look," says Hollie. "The best thing about throwing on a red lip is you can pair it with natural makeup and still feel dressed up."
Of course, Christmas makeup looks don't have to be all about bold lipstick and glitter-packed Christmas eye looks. To get you in the mood and to get the creative juices flowing, we've curated this handy list of top Christmas makeup ideas—from subtle radiance to the best red lipstick and learning how to apply eyeshadow for Christmas eyeshadow looks that will dazzle your friends and family.
Ready to get inspired? This gallery of easy Christmas makeup looks will help you find your sparkle this season.
Christmas makeup looks for the 2021 Holiday season
When you're choosing your makeup, experiment and have fun! You can always wash it off and start again. Not sure where to start? Take in a few simple considerations:
Think about your usual look
If you turn up to a Christmas 'do with a full face and false lashes but a natural makeup look is normally more your thing, you might feel uncomfortable. Choose a look that you feel great in, not one that just isn't 'you.'
Identify an area to accentuate
Pick your best feature, be it lips, eyes, or dewy makeup on the skin, then play to your strengths. If you know how to apply eyeliner try a feline lick, if not little sparkle on the lids looks fabulous. Want your lips to look fuller? A matte berry lip might not be the best idea, but glossy lips and a creamy nude shade will work wonders.
Practice makes perfect
Don't attempt to master how to apply lashes five minutes before it's time to leave the house. There's nothing wrong with going with what you know, technique-wise, then ramping up the drama with a bolder shade than usual. Or if you want to try something new, give it a go beforehand so you know what works for you.


Christmas makeup inspiration—our favourite looks
---
1. Satin berry-red lip
A red lip is a festive look that will never go out of style. For a modern twist on this classic idea use a berry red shade. This deeper red has a wintry vibe and, if you pick one in a sheeny finish it'll be more flattering than classic matte scarlet, making fine lips look fuller.
---
2. Copper smoky eye
A classic makeup look to master in time for Christmas has to be the smoky eye. Create it with classic brown shades, greys or go a bit more festive with a metallic tone. Caroline Barnes, makeup artist, and Max Factor ambassador has teamed a copper smokey eye with nude lipstick and lashings of black mascara to create this soft, smokey look. If you have blue eyes this will really make your color pop.
---
3. Subtle shimmer lip
Innovative makeup artist Clare Mac created this gorgeous, glossy, glittery lip and we are in love. Despite being as festive as they come, there is something supremely wearable about this lip look, due to the subtle iridescence in the gloss. Seek out products with finely milled particles and be prepared to re-apply in between glasses of fizz.
---
4. Sapphire shimmer
This wonderful blue shimmery eye on Thandiwe Newton really makes her brown eyes stand out. It's easy to recreate at home with one bold shadow and a blending brush, just be careful to apply in the right order. "If you're going for a bold eye look the risk of fallout is greater than normal," advises makeup artist Saffron Hughes from FalseEyelashes.co.uk. "Apply your face makeup after your eye makeup to decrease the chance of the dreaded 'raccoon eyes', where pigment has fallen underneath your eyes. Not only can this completely ruin your base makeup, but it can create an aged appearance too."
---
5. Full-on glossy lip
This red lip look by Bobbi Brown pro makeup artist Amy Conway is statement glamour in its truest form. Matched with lots of the best mascara and glowy skin, it's the perfect festive option for any party.
---
6. Super-natural glow
Christmas makeup doesn't have to be a statement to make an impact, as demonstrated here by Janise aka Mamainheels' gorgeous glowing look. The trick here is careful skin prep before you start—exfoliation, hydration, and knowing how to use face primer should do the trick. "With skin primers taking away the need for excessive layers of base and setting powders, the new finish is breathable, soft-focus and packed with moisture," says MAC Director of Makeup Artistry, Terry Barber.
---
7. Emerald eye with pink lips
Celebrity makeup artist, Lisa Eldridge, makes her brown eyes really stand out next to this smoked-out emerald eyeshadow. This deep green shade means the focus is on the eyes so pair it with a nude-pink lip to keep it wearable. "'Pulling off a bold color on the eye is usually about decluttering the details and avoiding the complicated shading," says Terry Barber. "A block of one color teamed with a good coat of mascara is usually sufficient to add the drama without resorting to looking clownish."
---
8. Winged-out grey shimmer
Smoky eyes look really Christmassy with a dab of glitter on the lids. This look created by Patsy O'Neil on Holly Willoughby includes a winged-out black liner, smoky grey transition shades, and a little silver sparkle. A great look for those with blue eyes!
---
9. Candy cane eyes
This look won't be for everyone, but Christmas makeup doesn't get much more, well, Christmassy than a candy cane eye and matching nail look. You'll need red and white liquid liner and a steady hand if you want to give this a go, but the nails should be easier to achieve (and to wear) if you visit. a good manicurist.
---
10. Blotted lips and brushed up brows
If you're going to a Christmas party with lots of eating and drinking, the easiest way to wear a red lip is in a blotted style like this one created by makeup artist Monika Blunder. Apply your lipstick as normal but press a clean tissue over the lips to diffuse the pigment and your color will last much longer. Teamed with fluffy eyebrows and nude shadow it's a modern spin on party lipstick.
11. Rose gold glamour
We can always trust makeup artist Charlotte Tilbury to create glamorous Christmas makeup. Here, in her holiday campaign, we see supermodel Jourdan Dunn in a flattering rose gold smoky eye with megawatt lashes and a red pout. More is more darling!
---
12. Low key lip and dewy skin
Beauty influencer Lesley (aka FreshLengths) shows here how red doesn't have to be a bold statement. This lippie is perfectly lined and paired with fresh-looking skin and an understated eye for a polished yet effortless finish. Want to highlight without looking metallic? Saffron Hughes advises using a fan brush. "With their unique shape, fan brushes can lightly pick up powder highlighter and dust it along the tops of your cheekbones and bridge of your nose. If you are ever in a predicament where you have applied too much highlighter, don't panic. Simply go over the highlighter with a powder brush to knock down some of the shine."
---
13. Natural finish
This simple look on model Caroline Labouchere is so easy to recreate. A satin finish foundation with concealer only where you need it, a peachy cream blush, brow powder, and the best lengthening mascara are the only products needed to recreate this look at home. Mastering how to apply foundation is key to nailing this look, "When applying, start on any areas that may need some extra coverage and blend outwards towards the edge of the face to create a dimensional finish," advises Bobbi Brown Senior Pro Artist, Warren Dowdall.
---
14. Diamond eyes
Ultra glamorous, ultra-fabulous, and as Christmassy as a St Nic himself, how could you not love this sparkly eye look? "'Disco inspired glam is definitely having a moment with ith metallics and glosses adding a more dressed-up feel to a classically neutral face," says Terry Barber. "Gilded lids and glazed lips are definitely representing a return to a more decadent and luxurious beauty." You'll need the patience to apply large individual glitter flakes (biodegradable please!) and then to remove them again at night. The overlined nude lip turns this into a complete look worthy of any event.
---
15. Elegant beauty
Actor Rosamund Pike looks incredibly fresh with this less-is-more approach to party makeup created by Amanda Grossman. We love that you can still see Rosamund's beautiful skin shining through the baby-pink blush. Feeling exposed by such a barely-there look? Use concealer for some clever contour action."Extend your concealer underneath the eyes, so that it is in line with the end of your eyebrow to create a sculpted and lifted appearance to the face," advises Saffron Hughes. "If you apply a little concealer on the bridge of your nose, it can be used to highlight, while applying three vertical lines of concealer in the middle of your forehead can illuminate your face. Just remember to blend!"
---
16. Two-tone sparkle eyes
Spice up a traditional gold shimmer with this modern take created by makeup artist Katie Jane Hughes. Add your gold to the bottom lid but take a dazzling green on the top for more festive fun.
---
17. Brown smoky eye
Celebrity makeup artist Jo Hamilton created this classic, brown smoky eye on Shirlie Kemp and we can't get enough of this wearable look. Teamed with soft statement brows and a nude, glossy lip, this look defines the eyes and adds instant glamour to any outfit.
---
18. Subtle contour and highlight
Mega-influencer Patricia Bright shows that contour doesn't have to be full-on with this subtly defined and highlighted look, teamed with a modern glossy lip. Use cream formulas rather than powder for effortless blending, and keep the rest of your makeup simple.
---
19. Orange-red lip
A classic look for Christmas time, red lips can come in all sorts of shades and styles. This orange-red lip look teamed with the tiniest slick of micro-thin black liner feels more modern than classic red, as does laying off statement colors on the rest of her face. "With pops of color being essential for new beauty, try a vivid orange as an alternative to a classic red lip," says Terry Barber. "Wearing a shot of orange on an otherwise decluttered face will always ensure its chic, not garish."
---
20. Classic matte red lip
MAC Cosmetics shows the effortless beauty of a perfectly executed red lip in the brand's iconic blue-red shade, Ruby Woo. The secret with a bold shade like this is knowing how to apply lipstick using careful prep. Exfoliate first then line the lips with precision and blot, blot, blot afterward. If you don't have a lip scrub to hand, follow Saffron Hughes' DIY recipe, "Simply mix 1tsp of honey with 2tsps of sugar, massaging the mixture onto your lips. Leave this on for five minutes before using a washcloth to gently remove the product from your lips."
---
21. Electric blue flick
An eyeliner flick is a classic beauty look that can really elevate your look. Give it a seasonal twist by using vibrant color, like this blue metallic shade as created by makeup artist Wayne Goss to jazz things up. If you're worried about wobbles try propping your elbow on a surface and pulling your lid taut while you go.
---
22. Peachy lips and cheeks
If you're not sure which colors suit you, peach is a great area for experimentation as it is universally flattering. Here Catherine makes a focal point of her peachy blush with brushed up eyebrows for a soft, fresh, and feminine look. "From a sweet cherubic flush to an outdoorsy sweep across the nose, blush is most definitely back. Teamed with glowing skin and freckles, it's a new and fresh alternative to the power contour," says Terry Barber.
---
23. Raspberry kiss
Christmas day walk—but make it fabulous! Ageless style icon Linda Rodin shows how it's done here with beautiful raspberry lipstick, statement specs, and plenty of colorful faux fur.
---
24. Golden girl
The queen of everything sparkly, Tess Daly, had this glitzy look created by Aimee Adams. We love the ultra-glam gold shadow, long feline flick, and glowing skin to compliment her navy sequin ensemble.
---
25. Soft pink sheen
It's that time of year when sparkly everything is not only okay, we think it should be encouraged! This sparkly look is surprisingly subtle and easy to recreate. Using only Charlotte Tilbury products, Maggie Gyllenhaal looks elegant and full of festivity, we'd recommend finding a sheer cream shadow and applying it over eye primer to recreate the look. We love the matching pink glossy lip too.
---
26. Sheer shimmer lids and glossy red lips
This is a perfect modern take on Christmas makeup looks by beauty brand Bobbi Brown. Created using the brand's 2021 Holiday collection. "Our Luxe Eyeshadows are the real deal to elevating and adding a pop taking your makeup look,' says Pro Artist, Hollie Ellis, who also recommends this glossy red lip to top off the look. "I love our Luxe Lip Colours for the ultimate luxurious formula, especially the shade Parisian Red."
---
27. Toasty, fluttery eye
This gorgeously warm, sheered-out shade is just a notch or two bolder than your average nude, making this a perfect Christmas eye makeup look to try. Apply it in light layers with a fluffy brush to ensure plenty of skin show-through and blend, blend blend. A relatively subtle fair of false eyelashes will set the look off nicely.
---
28. Ultra-highlighted eye
Another gorgeous Christmas eye look, this time from beauty influencer and entrepreneur Deepica Mutyala. The key to this look is using a lighter, shimmery highlighting eyeshadow in the center of the socket, then a deeper bronze shade above the crease, blending the two for a seamless transition. The eyes have it all in this look, so stick with a nude lip and brushed up brows for balance.
---
29. Ombre lip
Ombre lipstick sounds intimidating, but Pro Makeup Artist Adeola Gboyega shows here just how wearable this Christmas makeup look can be. The key is subtle graduation of color between the deeper lip liner and the punchier red in the middle. Ensure they are only two to three shades apart then blend carefully. The glossy finish makes this look even more special.
---
30. Glazed port lips
Not the sort of port lips you spot in the mirror after the cheese course on Christmas day. This ultra-deep glossy lip created by makeup artist El Said is glamorous, fabulous and ultra-modern. You will need to work with precision to attempt this at home—a steady hand, lip liner and matte lipstick underneath your vinyl shine gloss will all help.
womanandhome thanks Terry Barber, Hollie Ellis and for their time and expertise
As woman&home's Beauty Channel Editor, Fiona Mckim has tried more beauty products than she's had hot dinners and nothing makes her happier than raving about a brilliant find on womanandhome.com or her instagram grid (@fionamckim if you like hair experiments and cute shih-tzus)

Fiona joined woman&home as Assistant Beauty Editor in 2013, working under industry legend Jo GB, who taught her everything she needed to know (clue: learn about ingredients and employ extreme cynicism).
In a previous life, Fiona studied journalism back home in bonnie Scotland and honed her skills as a features writer at publications including Junior and Prima Baby, with a brief and terrifying stint on the showbiz pages of a tabloid newspaper in between. She's a skincare fanatic who can't resist adding an extra step to her routine, adores fragrance, has fun with makeup and never turns down the chance to test a new hair tool. Basically, she loves it all.

When not slathering herself in self tan or peering at a tiny ingredients list on a moisturiser, you'll probably find Fiona enjoying something to do with food - cooking it, eating it, cajoling her friends into trekking across London to try a hyped pop-up in a dirty car park.
Come to think of it, the hot dinners and beauty products are probably about even.