Christmas makeup - easy beauty ideas for festive lips, eyes, nails and more
Real inspiration for Christmas makeup - because a party on your face is still a party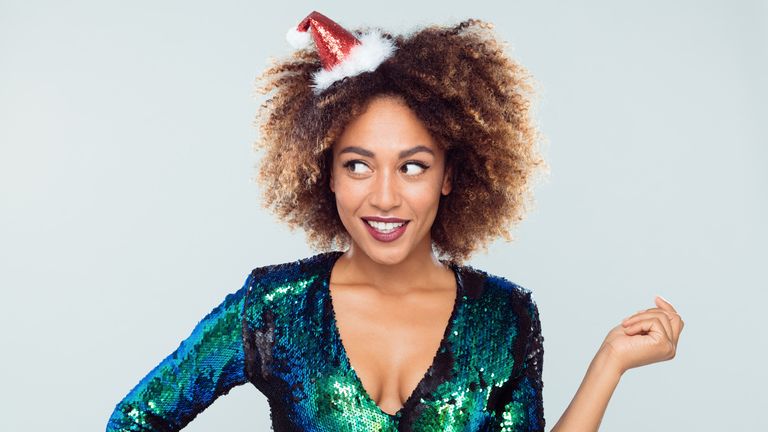 (Image credit: Getty Images)
You won't be dashing between parties this year and the concept of desk to dance floor died some time back in March, but that's not to say all the joy of Christmas makeup expired along with it. 
In fact, this is the ideal time to try something new with your beauty look. Chances are you've got plenty of time to spend playing with products, for one thing. You may have self-gifted the best foundation or perfect nude lipstick along with presents for your loved ones (easily done with online shopping) Or perhaps you've spent the majority of the year in the land of no make-up makeup and fancy a trip back to glamtown to round things off. 
Whatever 2020 version of the festive season is on the agenda, I suggest you sprinkle some magic on your bubble or virtual celebrations with a lovely Christmas makeup look. I've curated this handy list of my favourite ideas on social media right now - from the most fabulous pink pout to take on a walk to an eminently-easier-than-it-looks festive smoky eye. 
Ready to get inspired? These easy Christmas makeup ideas will help you find your sparkle this season...
Orange-red lips
British make-up artist and beauty entrepreneur Sam Chapman has an instagram page packed with beauty inspiration, but this fiery lip look teamed with the tiniest slick of micro-thin black liner feels just right for Christmas 2020. The orange undertone of the lippie feels more modern than classic red, as does laying off statement colours on the rest of her face. 
Blotted berry lips
If you don't already follow Grece Ghanem on instagram I'd suggest you rectify that immediately - the Montreal based fashion and beauty influencer is full of inspiration. This look is ideal for a Zoom catch up as it can be applied in a hurry and only requires two things: Well looked after skin (you can take care of that bit) and a berry liquid lipstick, blotted down with a finger. I love Brilliantly budge-proof Maybelline Superstay Matte Ink for a similar effect. 
Feline liner flick
An eyeliner flick is a classic beauty look that - as demonstrated by influencer Karen Blanchard - can elevate easy casual wear to a great look for a spontaneous virtual drink. If you're worried about wobbles try propping your elbow on a surface and pulling your lid taut while you go. Expect to make mistakes and have cotton buds handy - it's all part of the process! 
Super-natural glow
Christmas makeup doesn't have to be statement to make in impact, as demonstrated here by Janise aka Mamainheels' gorgeous glowing look. The trick here is careful skin prep before you start - exfoliation, hydration and the best radiance boosting face primer should do the trick. 
Peachy lips and cheeks
If you're not sure which colours suit you, peach is a great area for experimentation as it is universally flattering. Here Catherine matches creamy peach lips with blush and brushed up eyebrows for a soft, fresh and feminine look. 
Subtle sparkle
Well it wouldn't be Christmas without a bit of glitter, would it? Here fashion and beauty creator Karina shows how to wear sparkle the subtle way, with just a light wash of a gel-based formula over her lids. Sadly the Glossier product she used has been discontinued, but Urban Decay Heavy Metal Glitter Eye Gel, £8.70, has a similarly spreadable texture. 
J-Lo inspired glam
Lisa Maynard's seriously glamorous bronze make-up look reminds us of another fabulous 50+ style icon, and as her step by step video shows it's easier than you think to achieve. 
One for your household New Year's Eve celebration, perhaps?
Vampy lips and nails
There's something about a classic deep burgundy nail that speaks of festive sophistication, here influencer Dawn Lucy has paired a vampy rouge noir mani with deep berry lips to glamorous effect. The trick with darker lipstick is careful prep - exfoliate with a lip scrub or old toothbrush then use lip liner to keep the edges neat. 
Subtle smoky eye
Kat Farmer aka influencer Doesmybumlook40 shows us how to achieve a subtle smoky eye along with pretty rose-nude lips and blush to set off the look. This would make perfect Christmas makeup for any small bubble celebrations you have planned - special, yet low key. 
Raspberry kiss
Christmas day walk - but make it fabulous! Ageless style icon Linda Rodin shows how it's done here with beautiful raspberry lipstick, statement specs and lots of colourful faux fur. You may not have a huge gathering planned but if you take this look for a spin around the block I'm sure the neighbours will enjoy your effort at the very least. 
As woman&home's Senior Beauty Editor, Fiona Mckim has tried more products than she's had hot dinners and nothing makes her happier than raving about a brilliant beauty find on womanandhome.com or her instagram grid (@fionamckim if you like hair dye experiments and cute shih-tzus)

Fiona joined woman&home as Assistant Beauty Editor in 2013, working under legend Jo GB, who taught her everything she needed to know about the industry (clue: learn about ingredients and employ extreme cynicism). 
In a previous life, Fiona studied journalism back home in bonnie Scotland and honed her skills as a magazine features writer, with a brief and terrifying stint on the showbiz gossip pages of a tabloid newspaper in between. She's a skincare fanatic who can't resist adding an extra step to her routine if it's all the rage in Japan, loves fragrance, has fun with makeup and never turns down the chance to test a new hair tool. Basically, she loves it all.

When not slathering herself in self tan or squinting at a tiny ingredients list on a moisturiser, you'll probably find Fiona enjoying something to do with food - cooking it, eating it, cajoling her friends into trekking across London to try a hyped pop-up in a dirty car park.