W&H shopping edit: What to buy in August
Discover the new products across beauty, fashion, wellness and lifestyle that have caught our editor's attention this summer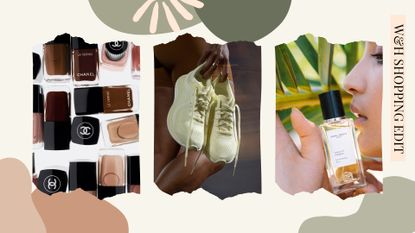 (Image credit: Future)
We are well into the summer months now and there's plenty of people taking a well-earned screen break and heading out of office to spend some quality time with friends and family.
This month it's all about holiday prep. Whether that's planning what to pack for a beach vacation, finalising your holiday outfit ideas or digging out your SPF from last year and wondering does sunscreen expire?
But while we head off on vacations or enjoy the summer months at home (whilst frantically googling how to keep a room cool without ac), there's also a sense of what is to come.
The fall fashion trends for 2022 have begun to roll in and we're seeing lots of neutral shades and the continuation of sportsluxe - both big trends from this year that will be key for a transitional summer-to-autumn wardrobe.
What to buy in August: The W&H shopping edit
Beauty
1. Chanel Le Vernis Tone-on-Tone
RRP: £25
The days of beauty brands bringing out 'nude' nail polish in one pale beige shade are mercifully (mostly) behind us. And Chanel, ever a pioneer of desirable DIY manis, has formulated these seasonal Le Vernis colours to perfectly align with the shades of their Ultra Le Teint Foundation.
The collection includes 12 luxurious, glossy neutrals from milky porcelain to rich mocha, with a choice of warm or cool undertones, so everyone can get involved. Nude varnish that replicates a variety of skins should be about as groundbreaking as florals for spring. But actually, this is groundbreaking. Très Bien Chanel.
---
2. Sana Jardin Venus of Verbena EDP
RRP: £95 for 50ml, £28 for 10ml

Has anyone been veering between joy about the lovely summer we're having and... existential dread? Sunshine and gelato, yay! Decaying, bleached-out grass and houses combusting in 42°c heat, oh no.
Where are we going with this? Here, to this drop-dead gorgeous, summery, citrussy, dewy-green perfume that's also very environmentally friendly. It's made with sustainable ingredients, harvested by indigenous Moroccan women within a circular economy. The outer packaging is made from upcycled coffee cups and the caps are textile waste from the fashion industry. Conscientious chic is so August '22.
---
3. Jo Malone London Rodin Olio Lusso Jasmine & Neroli Luxury Face Oil
RRP: £66
Beauty insiders mourned the loss of Rodin when it exited the market in 2021. The cult brand redefined face oils in the '00s, taking them from homespun-hippy to high-end and high-performance – and now it's back. For a limited time only in an unexpected hookup with British fragrance institution, Jo Malone London.
The collection includes a face moisturiser, hand cream and cleanser, but really it's all about the oils, so we'll be slathering this one on while we can. The skin-replenishing blend of rose seed, neroli and jasmine smells glorious, feels even better and looks the part on your dressing table.
Fashion
1. The chargefeel training shoe from lululemon
RRP: £128
Following the successful launch of lululemon's Blissfeel running shoes earlier this year, the fashion-forward fitness brand have launched a brand new shoe to the wellness market, this time with a versatile cross-training shoe.
With most women participating in more than one sweat activity per week, lululemon wanted to create a shoe that could support them in every activity, whether it's for running, training, or on the go.
This brand new shoe design comes in 1 different colorways and features 'bounce and forward motion' technology combined with the stabilising side-to-side motion of a trainer and a dual-density foam layering system for added comfort.
---
2. Ditsy Floral V-Neck Midi Tea Dress
RRP: £69
Sponsored
M&S have teamed up with women's designer fashion brand Ghost to launch a new collection of affordable, super wearable dresses with day-to-night potential. Exclusively available online, the dresses come in a variety of pretty floral prints and could easily be worn to christening (opens in new tab), to a family BBQ or become a go-to in your cruising wardrobe (opens in new tab).
Shop the full M&S X Ghost collection here (opens in new tab).
---
3. Balfern Leather Studded Jacket
RRP: £399
Sponsored
AllSaints bestselling biker jacket is back from A/W 22 but this time it's got added studs.
Crafted from two-tone leather for a vintage look, the iconic design will make a great piece to add to your transitional wardrobe this year as the best leather jackets (opens in new tab) stand the test of time and will quickly become your go-to as the arrival of autumn days make an outer layer necessary but when it's still too early to dust off your best winter coat (opens in new tab) and knitwear.
---
4. Maeve Flutter-Sleeve Midi Shirt Dress
RRP: £130
We love Anthropologie on womanandhome.com and you can't go wrong with a few key pieces from their collection in your capsule wardrobe (opens in new tab).
A brand known for their boho style (opens in new tab) and colorful prints, this stylish shirt dress fits this retailer's aesthetic to a T whilst also leaning into some of this year's biggest fashion trends (opens in new tab). Wear it to work, as a brunch outfit (opens in new tab) or pack it for your summer holiday - this shirt dress is as versatile as it is flattering.
---
5. Red Broderie Tiered Smock Dress
RRP: £45
Sponsored
An easy dress to throw on no matter what the occasion, this is a heatwave wardrobe essential that will come in handy at home this month as well as being a perfect holiday outfit to wear abroad.
Coming in two colour-ways - white and red - we love the bold red option as a bright nod to one of our favourite fashion trends this year - dopamine dressing (opens in new tab).
---
---
7. Giselle Silk Floral Dress
RRP: £329
Sponsored
We're still very much in summer wedding season at the moment and when we saw this gorgeous silk dress at Hobbs we immediately thought it would be the perfect outfit to wear for a wedding (opens in new tab).
With a fashionable and flattering silhouette and a longer length that makes it appropriate for both formal and more laid-back events this is going straight in our basket for late September weddings.
---
8. Mischa Roll Neck
RRP: £39
Sponsored
A good roll neck is an Autumn/Winter staple and this simple yet chic version from Hobbs is great value for money considering the quality and cut.
While a black roll neck will go with everything and is a true minimalist wardrobe essential, this style also comes in deep orange and cobalt blue for those game to experiment with colour next season.
Lifestyle
1. Petrossian Afternoon Tea Hamper
RRP: £149
Just in time for Afternoon Tea Week (8th - 14th August 2022), luxury Parisian brand Petrossian have launched a brand new Afternoon Tea Hamper, full of sweet treats and fizz.
Perfect to share with friends at home or in the park if you can't get to one of the best afternoon teas in London (opens in new tab), the hamper contains smoked salmon, Blinchikis, macarons and a bottle of Roederer Brut 2017 Champagne amongst other treats.
---
2. Huawei Watch Fit 2
RRP: £129.99
The Huawei Watch Fit 2 (opens in new tab) is one of the best fitness trackers (opens in new tab) out there if you want an easy-to-use wearable with amazing features. You can track everything from your heart rate, steps, and calories burned to your oxygen saturation levels in just a few swipes, plus you have access to loads of virtual workouts and programs to support your health goals.
---
3. Bollé C-Shifter sunglasses
RRP: £145
Inspired by the Tour de France Femmes this weekend? Clip into your cleats and make the most of the summer with these Bollé sunglasses. Available in a range of colors and shades, they offer 100% UV protection, increased depth perception, and with 30% more color enhancement than the human eye, the C-Shifter are also ideal for skiiers as they aid vision in snowy conditions too.
An internationally published digital journalist and editor who specialises in SEO strategy and content production, Rachael has worked as a writer and editor for both news and lifestyle websites in the UK and abroad.
Rachael's published work covers a broad spectrum of topics and she has written about everything from the future of sustainable travel, to the impact of the coronavirus pandemic on the world we live in, to the psychology of colour.