Trends To Liven Up Your Space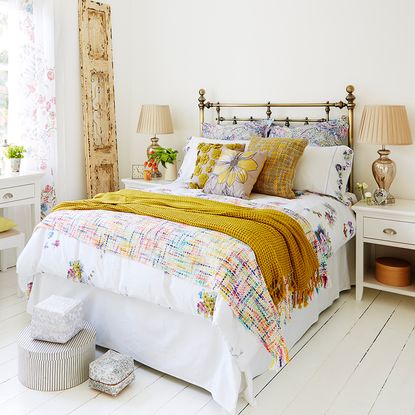 woman&home newsletter
Sign up to our free daily email for the latest royal and entertainment news, interesting opinion, expert advice on styling and beauty trends, and no-nonsense guides to the health and wellness questions you want answered.
Thank you for signing up to . You will receive a verification email shortly.
There was a problem. Please refresh the page and try again.
From geometrics to pattern clashes, follow these design ideas to make sure your home is up to trend!
Chic, pretty and oh so trendy... make your bedroom bright with detail-oriented bedding mixed with bold pillow and throws.
Imperial king-size bedstead, £689, furniturevillage.co.uk (opens in new tab)
Brillant Colours
Never be afraid to go bold and mix and match bright colours! It can work really well and brighten up any room for a classy, modern look. Side cabinet £129.99, Velvet armchair £199.99, large cushion £19.99, small cushion £16.99, all tkmaxx.com (opens in new tab)
Beautiful Blues
Navy blue will never go out of style! Play around with different patterns to create a fresh look. Sofa in Beverkey dark navy, footstool in Stanley dark navy, curains in Linton dark, all fabric £49.50 per metre, all Ianmankin.co.uk (opens in new tab) launching in September 2016.
Wow Wallpaper
Mix up any room in your home with some fabulous patterned wallpaper. It always adds a touch of edgy, modern, style! Alan wallcovering, Newmor.com (opens in new tab)
Gorgeous Greys
You can never go wrong with beautiful textured wallpaper. It adds a completely new look to your room! Heidi beige grey wallpaper, £68 per roll, sandbergwallpaper.com (opens in new tab)
Classy Elegance
Incorporating these beautiful greys with a light green or blue is a fabulous look for a living room. It creates such an chic design for a beautiful space in your home. Botanical fabric print £795, Nura table lamp £195, Bishop occasional chair £1570, Carrara sculpture from £195, all thesofaandchair.co.uk (opens in new tab)
Pretty in Pink
Lighten up your living room with bright furniture mixed with gold accessories. The Vintage Rose Berkley Collection, £1495, sweetpeaandwillow.com (opens in new tab)
Modern Walls
Wallpaper does not have to be boring! You can customise your own to anyway you desire for a breathtaking look in your bedroom. Custom sized and made to order, 323.50 per sq metre, muralswallpaper.co.uk (opens in new tab)
Terrific Tables
Add some style to any room with these gorgeous, floral side tables. Night flower side tables in 3 sizes, starting at £125, outthereinteriors.com (opens in new tab)
Girly Glam
Beautiful pink wall cut-outs make for a fun way to add creativity to your home. Why not add a vintage swing to decorate in flowers? Hua trees mural pink, £175 for 2.1mx3m, sianzeng.com (opens in new tab)
Wooden Details
Create a cosy corner by adding soft throw blankets and cushions to design a stylish, warm space to relax. Velvet cushion cover, £15, round velvet cushion, £67, outthereinteriors.com (opens in new tab)
Beautiful Bedding
Add unique bedding to your sleeping space to add some spice to your bedroom. Lake Cave Breeze bed linen, from £19-£129, sheridanaustralia.com (opens in new tab)
Brillant in Brick
One way to really transform a room is to add stylish, textured wall paper for a whole new vibe. Brick wall covering, newmor.com (opens in new tab)
Fantastic Fur
Fur is the perfect way to make your bedroom feel cosy and warm. Add a fur rug with a nice mix of throw pillows for a relaxing look. Foxtail bedstead in elk, £625, buttonandpsrung.com (opens in new tab)
Textured Trends
Create a beautiful, 3-D look by adding this geometric marble wall paper to spice up your walls. Marble Geo, newmor.com (opens in new tab)
New and Navy
You can never go wrong with navy blue. Give your bedroom some classy colour by mixing and matching navy blue with a flattering yellow. Guest left hand facing 3 seater corner sofa bed, £1895, DFS.co.uk (opens in new tab)
Modern Dining
Greys are a great modern touch to any kitchen. Also adding a modern, fun pendant really adds the perfect touch. Malham grey curtains, Stanley grey table cloth, Ripon Grey chair cushion, all fabric £49.50 per metre, launching in September by ianmankin.co.uk (opens in new tab)
Elegant Butterflies
This is the perfect way to add some floral and nature into your bedroom. Pair this gorgeous bedspread with a nice chandelier for the ultimate classy look. Butterfly Collective and Encyclopedia Floral, available September 2016, ashleywildegroup.co.uk (opens in new tab)
Beautiful and Bold
Pair a bold wall colour with a patterned rug and some sleek gold charm. Branching Out Gold Console Table £395, frenchbedroomcompany.co.uk (opens in new tab)
Snuggle Up
Add unique and stunning paint affects to your walls for a chic new look. To lighten up any room, contrast bright colours for a bright interior. Colours Pink Pink Matt Emulsion paint, £13.94 for 2.5L, diy.com (opens in new tab)
Colourful Cushions
Add pops of colour to your living room with fun pillows paired with a colourful rug. Diamond shadow floor cushion Indian blue, £75, Maharani Orrisa coffee table, £375, Java medium sofa, £1900, Twill stripe rug£325, all johnlewis.com (opens in new tab)
Go Out of the Box
Get creative with a modern feel while you relax in your living room with bold pillows, copper accessories and dark walls. Copenhagen snuggler, £425, furniturevillage.co.uk (opens in new tab)
Bright Bowls
Lighten up your kitchen by adding some colourful bowls to your eating area. Estella mini bowls, £6 each, oliverbonas.com (opens in new tab)
Mod Appeal
Choose a modern trend for your study for the perfect way to focus and get work done in the office. Fisnet chair, from £1426, walterknoll.de/en (opens in new tab)
Fashion Forward
A modern and fashionable living area will create the ideal vibe in your home. Stick to bold colours, state-of-the art accessories and your decor will not disappoint! Magnut two seater sofa, £499, furniturevillage.co.uk (opens in new tab)
Fabulous in Floral
Create a spring-time look with gorgeous bold furniture with a beautiful statement lamp. Floral floor lamp, £79, very.co.uk (opens in new tab)
Mix It Up with Marble
This gorgeous marble kitchen table adds a modern sophistication and elegance to your kitchen. Mangus and Madena table with 4 chairs, £499, furniturechoice.com (opens in new tab)
Delicate Details
Dark grey walls make for a perfect palette to add lots of great colour to your bedroom. Get creative with adding different mixtures of cushions and designs for the perfect bedroom decor. Axis bench £139, Maple leaf cushion £25, Indigo maple leaf towels from £12, Intarsia ditsy bedspread £100, Triangle bedspread £120, Multi weave throw £75, Spot Matelasse bedspread £120, Duck egg cushion £20, Coral cushion £35, Embroidered yellow flower cushion £35, Green cushion £20, Beech leaf jacquard double duvet set £80, Tessa table lamp £56, Alison column vase £30, Retro tulip vase £25, all houseoffraser.co.uk (opens in new tab)
Effortless Design
A beautiful effortless Two and Half seat Avalon Sofa covered in Tumbled Denim, £1080 and the Three Seat Avalon Sofa is covered in Chelsea Linen, £1360. Sofa.com (opens in new tab)
Colourful Pouffes
Footstools are the perfect place to take the weight off your feet, and can even double up as a coffee table if you so wish! Why not upholster it in a fabric that complements your sofa or do a bit of colour clashing to make a real style statement. Felix Footstool, £210 each, sofa.com (opens in new tab)
Time to Relax
Taking the time to just sit back and relax is definitely one of life's simple pleasures. But you need a soft cosy sofa to start with. Ikea has sofas that you can just sink into and a wide range that will suit any style. Soderhamn 3 seater sofa, £450, Tofteryd coffee table, £170, all ikea.co.uk (opens in new tab) (opens in new tab)
Let there be Light
Wall lights that are small and elegant will cast off a gentle light. And a very striking glass and brass lantern in agorgeous star shape works fantastically as a centrepiece. Stanley wall pendant £45, Connie pendant, £100, pooky.com (opens in new tab)
Pale and Interesting
Re-create a simple Scandinavian look in your own home but mixing and matching pale and natural colours. Price start from £15 for tableware to £268 for chairs, all amara.com (opens in new tab)
Rustic Dining
Create a relaxed rustic feel in your dining room. Low lighting creates a intimate feel when you want to entertain friends. Rustic Scandi dining prices start from £4.50 to £265, all Amara.com (opens in new tab)
A Place for Everything
Long lasting stylish and practical furniture is perfect for a office at home. This reclaimed teak wood range from raftfurniture.co.uk (opens in new tab) has beautiful desks, cabinets, and bookcases to quench all your office needs. Prices start from £393 for a Hudson 3 drawer desk cabinet.
Boldly Coloured
A wallpaper that definitely says 'Wow' is the Pop Skin collection. You will have to be pretty daring, but what a difference it will make. This high quality, stylish wallpaper comes in many colours, so there's bound to be one that suits your taste! Pop Skin collection, from £33.95 per roll, galeriehome.co.uk (opens in new tab)
Purple Rain
The brighter the better! You can never have too many colourful pieces.Combine bright daring colours for a playful yet elegant look.
Wide French bedside table in purple, £325.00,Simple wooden dinner chair, Grey 50p stamp rug, All Out There Interiors (opens in new tab)
Raspberry Ripple
Dive into the lap of luxury with posh seating selections from Duresta.
Minnelli Day Bed in Marble Butterfly Raspberry,
Duresta
(opens in new tab)
Drinks All Round
Consider yourself invited! This Luxe Round Bamboo Drinks Trolley will make your dinner party one to remember. £395, oliverbonas.com (opens in new tab)
Statement Piece
Make a statement with your next sofa. Try a daring colour or print to wow your guests!
Jumbo sofa, £3100, Jumbo tub chair, £1800, Both Archer and Company (opens in new tab)
Springtime Look
Real or fake, roses are a lovely addition any room and will give you a fresh spring feel.
Crystal bed, £169, Jacquard brush strokes cushion, £8, Watercolour floral cushion, £12, Floral fractured photographic double duvet set, £12, Birds in a bell jar, £12, All George Home (opens in new tab)
Mix it Up
A compact table can make a big statement! Trade in your oversized dining table for this geometric shaped modern one. Throw around some varied coloured chairs and finish with some vintage decorations.
Eiffel dining chair with beech legs, £59.00, Eiffel dining table with beech legs,small, medium or large, £149 - £249, Set of four champagne flutes, £20,Geometric vase, £39.95, Copper tealight holder, £4.95, Dot table lamp large,£149, All Dwell (opens in new tab)
Moroccan blue
Dial up your style with monochromatic dramatic blues.
Moroccan blue 3 printed exercise book gift set, £10, Moroccan blue cereal bowl, £3.50, Moroccan blue mug, £4, All Sainsbury's (opens in new tab)
Green with Envy
Mix textures and colours for an eclectic look that will pop.
Angeloarne jacobsen style egg chair, £455, Two tone glass and bronze candle sticks,£77 per pair, Giant floor-standing candle stick, £199, Sheepskin rug, £149,Antiqued Venetian side table, £295, White beaded chandelier, £729, All Out There Interiors (opens in new tab)
Candle in the Wind
What a fun way to display your trinkets! Take it off the wall and hang it from the ceiling instead.
Rectangular display tray, £60, Nordic House (opens in new tab)
Perfect Patterns
Make your room stand out by introducing patterned walls. Pull out the patter by accessorising using the same pallet.
Baker wallpaper, Guilgud sofa in driftwood, Jacobi armchair in driftwood, Clement nest of tables in ivory, Elmo table lamp in cream, Elephant cushion, Harlequin Savannah cushion, Butterfly cushions, Harlequin Papillo cushion, All
Brewers Home
(opens in new tab)
Real Retro
This retro sofa is the perfect addition to any classic living space. Its retro angled legs and curved lines ensure it to be a statement piece for your home.
Finn Juhl style poet sofa, £569.99,
My Furniture
(opens in new tab)
Secret Garden
Use art in a new way! We love this cushion inspired from a painting by Sharon Lomas.
Painting cushion, £55, In Spaces (opens in new tab)
Moody Blue
Mix light and dark colours for a contrasting mood.
Nelly bedside cabinet, £155, Scarlet bookshelves, £785, Oliver Bonas (opens in new tab)
Whiter Shade of Pale
This wicker pendant is the easiest way to get that lovely, Scandi feel without scouring the supermarket for pickled herring and cloudberry jam.
Stringer pendant light, £65.00, Loaf (opens in new tab)
Pretty Plates
Set your table for an outdoor lunch with painted plates for an instant spring look.
Melamine dinner plates with embroidered flower print, £17.50 each, Sisters Guild (opens in new tab)
Through the Trees
Bring the outside in with bold botanical rugs.
Kodari Anemone rug, from £794, Modern Rug (opens in new tab)
Pastels
Whichever you fancy, choose it in colour! Bright coloured furniture pieces are sure to make any room pop.
Armchairs, sofas and poufs, all £240 each, Sisters Guild (opens in new tab)
Time for Bed
A sanctuary you'll want to come home to! Liven up your living space with bold colours combined with soft sweet details.
Sophie bed, £1045, Sofa (opens in new tab)
Add a Colour
Revamp a tired look with bright new colour and patterns.
Canvas fabric on chair, £44.80 per metre, Rosemary pattern cushion, £46,
Étoile Home
(opens in new tab)
Shapely
We simply love this brass wire storage basket for its fabulous unique shape and versatility. Who doesn't need more storage when it's this stylish?
Brass wire basket, £32, Brass plant pot (inside basket), £32, Both Mia Fleur (opens in new tab)
A Bit Potty
Transform the classic potter with some new legs!
Mid century turned leg planters, £149 each, West Elm (opens in new tab)
French Boudoir
Give your bedroom a chic feel with this classic French decorative wallpaper.
Toile De Jouy wallpaper, £42 per roll,
Scandi Living
(opens in new tab)
Wall Art
Forget the table! Try the walls for your plates to create a fresh and eclectic atmosphere.
Collector's edition plates, £6 - 24, West Elm (opens in new tab)
All Natural
Less is more with neutral tones and simple furniture.
Rattan stone curtains, from £151, Mineral linen Roman blinds, from £148 Hillarys (opens in new tab)
On Trend
Get a new take on seating with these trendy blue pouffes.
Selection of blue pouffes, £89 each,
Swoon Editions
(opens in new tab)
Stripes are In
With its delicate, ornate lace fabric detailing, this wallpaper softens the look and feel of any room.
Sari Stripe by Albany Indian Summer, £25 per roll,
Wallpaper Direct
(opens in new tab)
Bright Bolds
Perfect for both a traditional or contemporary home, the Mirage line compliments any setting.
Mirage large sofa in Jackson fuchsia, Marble butterfly cranberry large scatter cushion, Mirage reader chair in marble butterfly cranberry,
Duresta
(opens in new tab)
Sparkling!
Leave a little sparkle with your next wallpaper design.
Glitter hedgerow by Albany glamour, £16 per roll, Wallpaper Direct (opens in new tab)
A Place to Write
A classic French design that will appeal to those who love traditional, timeless pieces.
Etienne writing desk, £595,
Within Home
(opens in new tab)
Modern Life
Simple, chic and easy to clean! This concrete line from Loaf will give your home a clean, modern aesthetic.
Conker kitchen table, £745,
Loaf
(opens in new tab)
Sit Back and Relax
Add some greenery, fun lighting and posh bedding and you've got a bedroom ready to let you relax and unwind.
Lanton bed linen in cotton sateen, from £59, Loni rug in wool & cotton, from £159, Tudela cushion in mohair, £45, Veiros cushion in cotton, £15, All
Urbanara
(opens in new tab)
All About Cushions
You can never have too many mismatched cushions!
French stripe cushion, from £26, Fair trade Guatemalan plastic basket, from £10, Lambswool fringed rug, £99, All
Re-found Objects
(opens in new tab)
Black and White
Precise, posh details make all the difference in the whole of your room.
Cude Star by Jocelyn Warner wallpaper, £59 per roll,
Wallpaper Direct
(opens in new tab)