Gary Barlow joins Amazon Prime Day deals by giving fans chance to buy signed copies of his new album
Gary Barlow fans can bag themselves a signed copy of his new album Music Played By Humans - but you have to be quick!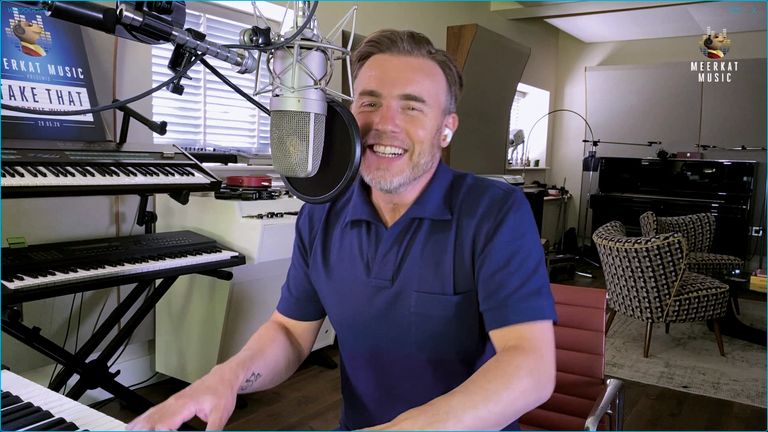 (Image credit: Getty Images)
The former Take That star has got fans into a frenzy over his signed albums.
Gary Barlow has announced he is giving fans the chance to buy some limited edition signed copies of his new album - exclusively on Amazon Prime Day deals.
The singer-songwriter, who kept everyone going through lockdown with his all star collaborations, has teamed up with some familiar faces for his new album Music Played By Humans and Amazon Prime members can snap up a signed copy.
You'll need a Prime membership to take advantage of this amazing deal though – so make sure that you sign up for a free, 30-day trail with Amazon now.
DEAL IN FULL:
Music Played By Humans [Amazon Signed Exclusive Deluxe CD Book Pack] - now £14.99
Gary, announced the news to fans via email and also on his social media when he tweeted, "This is exciting ! As part of the @AmazonUKPrime Day, we've got some limited edition deluxe CDs of 'Music Played By Humans'... but not only that, I've signed them. It's exclusive to Amazon UK, so head to the link below to get your hands on this one…"
Save £5 and also receive a signed copy of the new album - of which the deluxe version has five extra tracks to the standard 14 featured on the regular version.
Deluxe Album extra tracks featured are
Let's Get Drunk
The Day The World Stopped Turning
You Make The Sun Shine (ft Barry Manilow)
Incredible (Live)
Incredible (F9 Charleston Remix)
Gary is currently taking pre-orders of his album ahead of it's official release on 27th November.
Last week he gave fans who pre-ordered his album chance to buy early release tickets to his 2021 tour And now he's giving fans the chance to own a signed album keepsake.
The album leads with the Latin inspired single 'Elita' featuring Michael Bublé and Colombian star Sebastián Yatra. It also features collaborations with stars from around the world including James Corden, Barry Manilow, Chilly Gonzales, Alisha Dixon, Beverley Knight, Ibrahim Maalouf and Avishai Cohen.
READ MORE: Gary Barlow's Surprising New Blockbuster Film Role
Speaking about the new direction, Gary said, "My ambition when we started this album was to create something really bright, a celebration of music and the wonderful musicians we have in the UK and around the world. Some of it is recorded with an orchestra, some with quartets, a Latin band, and some of the tracks have jazz and big band sections. It really is music played by people, hence the title of the album - Music Played By Humans."
So what are you waiting for? Even if you're not a Gary fan - you will know someone who is, and they'd love to find this sweet signed copy in their Christmas stocking. Click here to view the deal and make Xmas their Greatest Day!