The biggest bathroom trends to transform your space into a cozy retreat
The biggest bathroom trends of 2022 are all about creating a spa-like sanctuary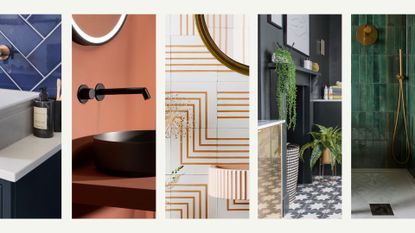 (Image credit: BC Designs | JTP | Hyperion Tiles | Future )
The top bathroom trends of 2022 will help to elevate your space to new levels of interior design, with inspiration for all – whether you're planning to completely renovate your bathroom or just tweak it with a few cosmetic changes to create a spa-like sanctuary for cozy nights in.
Despite being used daily, bathrooms tend to be overlooked when it comes to refreshing the design. That may be because a full bathroom renovation is costly and a huge inconvenience, but applying the top interior design trends of 2022 to your space doesn't have to be. It can be as simple as adding a new on-trend color to the walls or an abundance of plants.
From wood-effect tiles and fluted textures to bold wallpaper – yes, wallpaper trends have arrived for bathrooms too – to neutral accessories, these are the top bathroom trends, colors, and styles that interiors and trends experts agree are proving most popular this year and beyond...
Top bathroom trends 2022
1. Bathroom fireplaces
Bathroom fireplaces are trending, not necessarily as a means to keep your house warm in winter but to provide a design focus that welcomes an element of coziness.
Monya Boyle, senior interior designer at Showers to You (opens in new tab) offers her thoughts as to why bathroom fireplaces have become increasingly popular. "Bathroom fireplaces have become the unlikely trend taking off this season because homeowners are looking to create larger bathroom spaces that increase our sense of well-being and allow us to indulge in self-care rituals. Real Estate agencies have also confirmed that fireplaces are one of the top-ranking features that homebuyers search for when hunting for a new property, so a fireplace can be an especially attractive asset in the bathroom.
"Fireplaces are more of a luxury, romantic feature, than an energy-efficient item, but we still love them! Over the recent months, we are embracing having fireplaces in bathrooms as we love to save original features where possible. Having a fireplace in the bathroom creates a beautiful focal point and gives real character to the bathroom."
2. Impactful patterns
Similar to choosing a bolder choice of living room paint color or daring kitchen cabinet choices, the bathroom no needs to be a white space devoid of personality purely because of resale value.
"Patterned tiles in vibrant hues and bolder styles are becoming more popular as homeowners are willing to unleash their creativity in the bathroom," explains Richard Skeoch, director at Hyperion Tiles. "There are a variety of ways in which you can use them to achieve a greater effect."
"From choosing mosaic tiles to clad a statement bath to large-scale patterned tiles such as this Bert & May Marigold Maze tile (opens in new tab) in a compact cloakroom, there are plenty of options, which can help you add your own personal touch to your project. Using patterns can elevate any interior design."
3. Fluted textures
As we've seen in the biggest kitchen trends for 2022 fluted finishes, whether it be glass or cabinet panels, are hugely popular to add a tactile element to both kitchen and bathroom designs. Lee Reed, Design Director at Easy Bathrooms, says: "Fluting originated from architecture and is usually achieved through a series of shallow grooves that run across a surface, creating texture and interest."
"We're seeing more demand for fluted bathroom products as they add three-dimensional elements to bathroom design that can otherwise be quite stark. While fluting can add character and quirkiness, it doesn't overpower a space and is instead classic and understated, making it one of the biggest trends going into 2023."
4. Thoughtful splashbacks
While kitchen splashback ideas are a priority for most designs, often in bathrooms they are forgotten about – but they are just as essential, if not more so because of how often we splash water around.
Thankfully bathroom splashbacks are back in fashion for cloakroom designs this season, "With a growth in demand for stylish yet practical bathrooms we believe splashbacks shouldn't be limited to just kitchens," says Claire O'Brien, head of design at Splashback (opens in new tab). "Individuals shouldn't have to compromise on style to protect their walls, stylish bathroom splashbacks are perfect for those that want a reliable design that does the job while adding a sleek sophistication to their bathrooms."
"Bathroom splashbacks are available in the most versatile colors and stylish finishes to ensure everyone can find one that's right for them. Clear designs go even further offering individuals the ability to match their existing bathroom hardware to the decorative caps on the splashback, while protecting painted, wallpapered, or wood-paneled walls."
5. Marble moments
While the use of marble in the bathroom is nothing new, the luxury stone slabs will prove more popular than ever. Instantly adding a luxurious feel to any space, popular choices include classic white marble with distinctive gray or gold veins running through the stone and black marble that gives a sleek, contemporary finish.
"Marble is being adopted at a higher rate by renovating homeowners this year, with increased usage in shower flooring, non-shower flooring, and non-shower walls," Houzz reports.
Although a worthwhile investment, marble often comes in at the higher end of the price scale and can be out of budget for some. For a less expensive option, choose marble effect tiles in porcelain. They will still have the opulent look and feel of real marble tiling, but at a lower price point and with the added benefit of being easier to clean and maintain.
6. Industrial inspiration
According to B&Q (opens in new tab), industrial-style bathrooms will reign supreme in 2022 into 2023. Think New York City loft-style exposed brick, brass accents, and rustic bathroom accessories.
"Achieving the industrial decor aesthetic can be done without a major overhaul to your space," comments B&Q's Director of Interiors & trends expert, Susie Spence.
"You can't go far wrong so long as you're coordinating carefully to complete the monochrome industrial-inspired space, bringing your New York-inspired to look all the way across the Atlantic to your very own bathroom."
7. Bathroom plants
Bringing a touch of nature to your bathroom design with plenty of greenery is a growing trend. Low-maintenance house plants you can buy online are your best bet, and this is also a huge 2022 bedroom trend this year too. Bonus points if they're air-purifying - think Snake Plants, Bird's Nest Ferns, and Monstera Plants.
"Surrounding ourselves with nature can instantly make us feel more relaxed and plants are renowned for helping us breathe better as they can increase oxygen levels in the home," says Lucy Ackroyd, Head of Design, at Christy (opens in new tab). "As the days turn colder it can be difficult to venture outdoors so now is a good time to bring the outside in using your home interiors.
"In the bathroom, adding green accessories and soft furnishings are a great way to add a pop of color into the space without a full bathroom revamp. Position plant pots on your bath tray, whilst you while away time indulging in a comforting soak."
"Just search Instagram or Pinterest and you'll find tons of inspiration for this trend," says Susie. "Plant walls are a great way to bring a touch of serenity to your bathroom. Simply dot them around a baron wall to create an urban jungle. If [you're] tentative about keeping a whole wall of plants alive, opt for artificial ones to achieve the same look!"
8. Black accents
Adding black accents will give your bathroom a sleek and sophisticated finish without overwhelming the space with too many dark hues. Contrast hints of black with neutral colors and raw materials for a bold look. Black faucets and light fixtures are a great place to start.
"Complementing sleek and sophisticated settings, the prominent finish of Matt Black is impactful within itself, working seamlessly against both muted and bold palettes," say bathroom designers at JTP (opens in new tab).
"Black finishes transcend all styles of interior decor making them a popular choice in any room," says Peter Legg, lead designer at där lighting (opens in new tab).
"Recently this color has been increasingly adopted within the bathroom to add drama and depth but, when used in small areas, black can sometimes be overpowering," Peter warns. "Combinations contrasting the tint with ribbed and opal glass shades are rising in popularity as they introduce softness, balancing out the look and creating a perfect blend."
9. Bold wallpaper
Have you ever thought about wallpapering your bathroom? If not, 2022 could be the year to give it a go. Rikki Fothergill from Big Bathroom Shop (opens in new tab) predicts that bright and bold wallpaper will prove popular this year, adding a playful pop to otherwise serene bathrooms:
"As the new year approaches, it may feel as though we are taking a step back in time," says Rikki. "Wallpapered bathrooms of the 1980s will be making a comeback and with the right choice, any room can be transformed."
"Whether you decide to create a tropical-themed powder room or choose a romantic floral pattern for your washroom, the possibilities are endless. This is another opportunity to get creative and bring some fun to a room.
"Vinyl wallpaper is best to use in a bathroom due to its resistance to moisture and humidity. If decorating a large space, go for a large-scale print or pattern. For a smaller space, choose a singular wall or the corner of a room to give the illusion of a bigger bathroom."
10. Spa aesthetic
Create a serene spa-like experience at home with the addition of a few luxurious extras such as the best scented candles (or opt for flameless candles if you have small children and/or pets).
Hannah Conway, director of Bathrooms Of Distinction (opens in new tab), explains how you can achieve a relaxing space with a few simple tweaks:
"In the highly stressful lives we all lead our bathrooms are becoming more of a sanctuary as it is a place where we can practise mindfulness in a peaceful and private environment. Minimal changes can be made to achieve this such as keeping away from bright and vibrant colour schemes and decluttering. You can go bold and install a bath and minimalist furniture or simply add a few candles and crystals and get yourself an over bath book or tablet holder, which we are seeing more of recently."
11. Wood-effect tiles
When considering a new tiling scheme opt for a wood-effect for the win. As with our living rooms, the desire for wood floors and feature walls is soaring in other key rooms, namely our bathrooms and kitchens. But to make wooden floors more practical in rooms where there's likely to be spills and splashes, this latest trend sees tiles taking on the look of wood rather than using real wood. Tiles are more durable and easier to maintain, so when they look as realistic as the real thing, wood-effect tiles are perfect for the job.
"With the increased desire to bring warm tones and natural materials into the home, homeowners are looking to incorporate the look of wood into their interiors, but without the demanding and expensive upkeep," explains Amanda Telford, CTD Tiles (opens in new tab). "Wood-effect tiles are an increasingly popular choice, particularly in bathrooms where the benefits of porcelain are most noticeable."
"Offering the stylish modern aesthetic of wooden floors, wood-effect tiles provide beautiful details of natural wood, including subtle colors and textures whilst also boasting the practicalities of porcelain, including slip resistance, easy maintenance, and strong durability - something real wood can't provide."
See our guides to how to clean tile floors and how to clean porcelain tiles correctly for everything you need to know about keeping your floor in tip-top condition.
12. Cottagecore charm
One of the most popular interior trends for furnishing our homes in recent years has to be 'Cottagecore'. The trend is all about creating a wholesome, laidback and rustic aesthetic as you might see in tradition cottage garden ideas. The idea is that it makes you feel at ease, making it perfect for a relaxing bathroom scheme.
When looking to bring this charming trend to life, think homely and cozy with a hint of nostalgic, heirloom treasures. Don't think bathrooms can't cater for the aesthetic, because there are so many ways to get the look.
"It is all about creating a space that feels inviting and charming' says Sally Cutchie, Marketing Manager at BC Designs (opens in new tab). "Think warm whites, pale pinks, duck egg blues for a colour palette. Along with the use of natural materials and lots of textures," because the layered look adds to the style. "Layer this with feminine touches; soft lighting, cotton rich towels and scented candles."
Choose lighting and decorative touches, such as mirrors, that exude an air of vintage charm to add add an elegance to the overall look. You could also feel inspired to use touches of a sophisticated blush pink paint color to perk up your bath tub as in the Cottagecore inspired bathroom above.
13. Twin designs
It seems our bathrooms are seeing double in 2022. Whether it's two sinks, shower heads or bathroom cabinets the trend for 'twinning design' is growing ever more popular.
Phil Etherden, Managing Director at The Albion Bath Co (opens in new tab) says: "His & hers (or His & his; Hers & hers; Theirs & theirs) bathrooms have been rapidly growing in popularity with features such as double basin vanity units and twin showers. Not only do they provide an aesthetically pleasing room symmetry often found in luxurious hotels and spas, but they also offer practical advantages."
Driven by a desire to add a practical yet pleasing aesthetic for couples' master bathrooms Phil explains: "The trend has been largely driven by the professional couples who require a space to prepare for the day ahead simultaneously, thus maintaining relationship peace and harmony!"
The trend for doubling up doesn't mean you have to double the size of your space, it means being clever with your design choices. So instead of one big sink you choose two small designs to sit side-by-side.
14. Luxury wet rooms
Wet rooms are no longer reserved for only the best luxury hotels in the world, but are popular for our homes too. "Wet rooms have grown in prominence as a bathroom trend over the last two years and are a great way of opening up a space to make it feel larger," explains Barrie Cutchie, Design Director at BC Designs.
To save falling foul of a common bathroom design mistake Barry advises, "Wet rooms tend to not need enclosures or bulky shower trays and can blend into the aesthetics of the rest of the room. Glass screens can still be used to 'zone' areas but keeping the flow of the same tiles can help the room to feel much larger without defined areas (unless that is a look you are after!)." As bathroom design evolves, laying the foundations for a wet room has become second nature to almost every bathroom fitter.
Barrie goes on to advise: "Wet rooms are particularly effective in small or awkward spaces where head height is limited or there are strange layouts. Choosing this style of shower, it can still provide ample room for a bath, especially under the roof eaves. "
Paul Wells at Sanctuary Bathrooms agrees, sayings: "More people are choosing to go for walk-in showers and wet rooms over baths, while also moving away from smaller cubicles to much bigger and larger enclosures. It doesn't mean the death of the bath, but there is certainly more of a slowdown over the last few years. People have such fast lives that showers are a convenience but the luxury and eye-catching freestanding baths will always have a market."
15. Japandi minimalism
While a maximalist approach to decorating may be dominating other rooms within the home, the key look for bathrooms in 2022 is calm and minimalist. And for that we welcome the trend for Japandi style, a blend of Scandinavian and Japanese interior design styles.
This effortlessly cool interior design trend combines the coziness of Danish 'Hygge' with 'Wabi-Sabi', the Japanese concept of celebrating and accepting the imperfect. the result for bathrooms is a calming sanctuary that feels comforting yet chic.
"Renowned for its simplicity, clean lines, and warmth, Scandi has been in vogue for the last few years. To evolve the trend, interiors have taken the very best of Scandi and integrated it with Japanese design," explains the design team at Crosswater (opens in new tab). "The result is Japandi - a contemporary bathroom idea that embraces richer color palettes, sleek styling, and incredible functionality for newfound comfort and a sense of Hygge in the home."
To recreate this serene aesthetic at home the key is to keep things pared back. "Opt for simple, modern design elements and ensure that the space is free of clutter," advises the design team at Coalbrook (opens in new tab). Think wrinkled linens and natural textured offset by clean lines and minimalist-style cabinetry.
"Furniture is usually simple in form, featuring clean lines without fuss or embellishment. The Japanese element of Japandi style calls for carefully selected accessories in a nod to Wabi Sabi. Choose a variety of natural materials such as rattan, cotton, wood and wicker," suggests the team.
16. Color-blocking zones
Bathrooms naturally feature distinctly different zones thanks to the three fundamental elements of a toilet area, a sink and shower/bath zone. As confidence grows amongst homeowners to embrace color in the bathroom, a trend for color-blocking zones has emerged to acknowledge the different areas but unifying them in one uniformed colored tile choice.
"Bold colour zoning is making its way back into bathrooms and tiles are a great way to do this as they offer so much flexibility in their installation," explains Colin Lincoln-Evans, Buyer at Tile Mountain (opens in new tab).
"The current color trend is to use colourful, brick-style tiles and install them vertically which is particularly effective in bathrooms with a lower ceiling as it creates an optical illusion in appearing to add height."
17. Colored basins
'Color drenching' is a key interior paint color trend for 2023, and involves using color to completely cocoon a room – painting walls, woodwork, and even ceilings to take color choices even further. It seems that trend is taking over bathrooms too as we're seeing colored basins matching wall colors to create a cohesive scheme.
18. Organic modern minimalism
With over 23 million views on TikTok, #Organicmodern is a growing trend shaping today's interiors. Rikki, of Big Bathroom Shop, explains how to incorporate key elements of the look into bathroom design for a seamless organic modern look.
"This trend is essentially a hybrid of a farmhouse-style and Scandi silhouettes. Think of open-plan spaces, minimal colors, clean lines, and natural materials," says Rikki.
"It is all about keeping everything in the bathroom looking neat and tidy as well as maximizing space. Opt for wall hung vanities and freestanding bathtubs to free up floor space whilst creating a clean and modern feel."
"Keep bathroom accessories at a minimum to avoid cluttering the room, and arrange them in groups of three on floating shelves to ensure an aesthetically pleasing and organised display of any candles and soaps."
"Neutrals and muted tones are key colors to consider when designing a bathroom in this style. From nude and greige to shades of mocha and mauve, there are a variety of colorways to choose from, depending on how light or dark you want the space to be," says Rikki.
"For final additions, add plants in rope hanging holders or woven basket pots. A jute or rattan rug or bathmat is always a good idea and opt for wood when it comes to shelving, toothbrush holders, soap dishes or other storage."
What are the top bathroom colors for 2022?
"Using color in bathroom design is a great way of injecting a touch of personality and interest," suggests Barrie. "Adding a bright hue to your bathroom will really lift your whole home, bringing this functional space into line with the rest of your home decor."
"Choosing the right color can completely transform a bathroom, and while it is a personal choice, there are certain colors that are dominating bathroom design – and with good reason!" Here's a look at the colors that are trending right now...
Mineral tones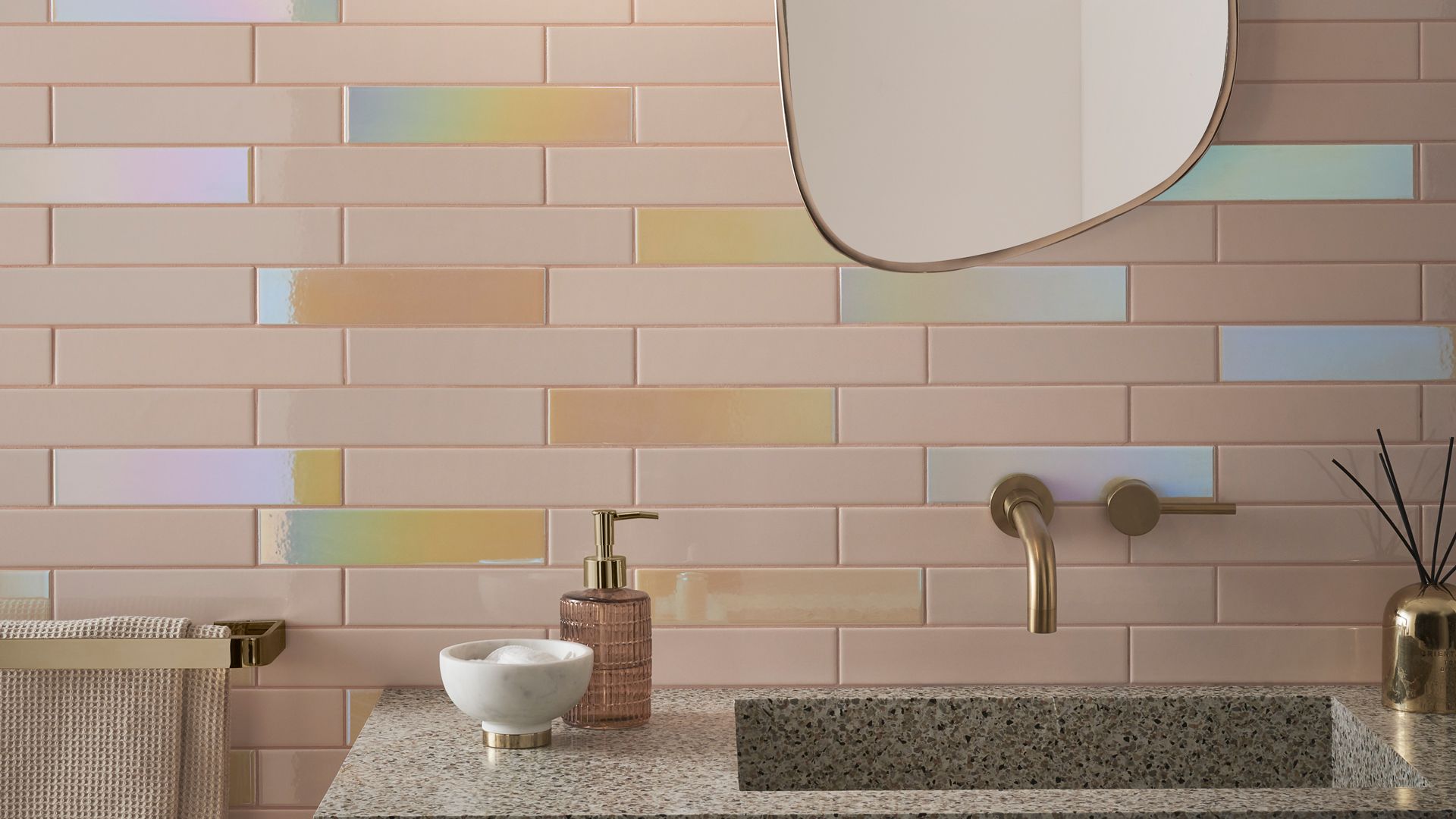 This futuristic trends looks to a mix of tonal hues and reflective finishes to create an almost ethereal feel for a bathroom scheme. "Reimagining the 1960s with a retro take, the nostalgic futurism trend is perfect if you want to make a statement with your home," says Harriet Goodacre, Tile Consultant at Topps Tiles (opens in new tab).
"Picture mid-century romance crossed with the 60's and you'll begin to envisage the color scheme for this trend. Think pastel lilacs, pale blues and gentle peachy pinks combined with deep berries and soft fuchsias for a look that's vibrant yet romantic and gives a subtle nod to the future through a mix of experimental and eclectic colors."
Forest green
Adding plants to a bathroom space is an easy way to add this calming shade of nature but for those who want more, there are shades of green to decorate every surface.
Along with welcoming nature inside, and all the goodness associated with the great outdoors, the right shade of green exudes a warmth that evokes a feeling of peace and security, perfect for creating a rejuvenating bathroom.
"You can either add a splash of color through a forest green dresser or add a touch of mint with your tiles," says Barrie. "Or if you'd like to make a bolder statement, add in different shades of green, from your tiles or perhaps wallpaper, through to painting your bath. There are so many different shades of green that work, from emerald to neon and fern, all of which can create an eye-catching experience for anyone entering your bathroom."
Watery blues
Dulux's "Bright Skies (opens in new tab)", heralded the arrival of a huge interior paint color trend for 2022 - blue hues.
"There is so much variety and choice when it comes to using the color blue and it is one of the most powerful colors in the color wheel," explains Barrie. "It is an easy color to work with. Whether you choose the brighter sea shades to softer sky blues, each can add its own dimension to your bathroom. My particular favorite is the navy-white combination as it exudes sophistication and luxury and works well alongside marble or popular terrazzo tiles."
These calming shades are set to be very popular this year, especially in the bathroom. "With Dulux choosing "Bright Skies", blue is bound to be a popular choice for bathroom tiles", explains Rikki.
"Deep blue tiles could make for a beautiful feature wall, oozing luxury with their high gloss finish. For a more subtle introduction of color, opt for a pastel blue tiled floor. There are plenty of options when it comes to trying out this trend to change up the space, like using a variety of colors in Mosaic tiles to create a statement shower."
Calming green
Green hues have seen an increase in popularity throughout the whole house, with sage green proving enduringly popular year after year (and for good reason). So, it was only a matter of time before this nature-inspired hue began to influence bathroom trends too.
"Serene Green is making a play for our bathrooms as well as our living spaces. Being in nature and a feeling of wellness are heightened by selecting deep green glossy tiles and mixing them with wood effect Amtico flooring," says Dee Gibson, Design Director at Velvet Orange (opens in new tab). "Additionally, bring the outdoors in with leafy green plants on shelves or in nooks.
Another soft green shade tipped to be a big trend for walls next year is Dulux's Colour of the Year 2023, Wild Wonder.
Warm terracotta
Consider adding warming orange tones to your bathroom for a mood-boosting design that embraces the joy found in many interior trends of 2022.
"One of the stand out colours of 2022 will be earthy shades of burnt sienna and terracotta," says the design team at BC Design. "Grounding and vibrant at the same time, these red clay tones are going to add warm richness and sophistication to rooms in 2022."
"Orange encourages positivity and energy and is a great color to bring into the home, especially at the start of a new year," explains Rikki Fothergill, Style Expert at Big Bathroom Shop (opens in new tab). "Terracotta is an up-and-coming shade for 2022 and is more of a subtle tone of orange to incorporate in a bathroom easily. Try laying some terracotta cement tiles to re-create a Mediterranean-style villa."
Lisa, a home staging consultant (opens in new tab) and property developer, agrees that we'll be seeing many more warmer tones like orange in bathroom trends this year: "We are starting to embrace warmer earthier tones, and we are following the roaring '20s and ignoring the past troublesome two years, then color is the way forward!"
Contrasting colors
Really add a pop of color to your space and experiment with light and dark shades and contrasting hues. Interior designer Sam Grigg suggests pairing greens with pinks, and blues with whites:
"When it comes to bathrooms a lot of people still hesitate to decorate them in anything other than neutral, understated color. But for me, this is the one space in the home where colors, other than subtle shades like white and grey, can work really well."
"Mixing your colors with both your tiles and walls can lead to an eclectic space full of character, that feels both interesting and relaxing at the same time. Just think carefully about your palette, and make sure the shades blend in well with each other."
Bold black
If you're looking for a shade to instantly make a statement then black could be the hue for your bathroom. Don't be afraid to use black in a smaller room, such as this, because it can actually be very forgiving in the right small space by creating a sense of cocooning. As a room where you want to feel comforted and create a sense of ambience a black bathroom can be a very striking design statement.
Black in a bathroom also acts as a fabulous backdrop for any metallic finishes on taps, baths or cabinetry. Not to mention how much it enhances the lush greenery of all the plants you've bought and hides dirt for longer between spring cleans.
Are gray bathrooms outdated?
A classic bathroom color, gray tones have reigned popular for decades. But, does that mean that gray's popularity has faded and the shade is now outdated? Not at all, says Interior Designer Sylvia James. The expert designer from HomeHow (opens in new tab) explains that gray is a classic hue with timeless appeal:
"Gray can provide a good backdrop for many colors and textures, making it a versatile and modern choice for any bathroom. Due to this, it has become a classic color to use in the home, which has increased in popularity over the years, as opposed to being outdated," she comments. "It helps to enhance the style of a design, works well with period features, complements marble and stone textures, and makes any setting look contemporary. It won't go out of fashion and is ideal for bathrooms."
"Gray bathrooms are very on-trend right now," Rikki Fothergill from Big Bathroom Shop agrees. "A monochrome color palette in the bathroom always looks great—whether you opt for an industrial feel, modern features, or even a traditional styled room. Gray, black and white are timeless."
"If you are looking to re-create a Victorian style bathroom with a freestanding roll-top bath and signature floor tiling, go for lighter shades and pair with bright white. If you are wanting more of a sleek and modern look, opt for darker grays and matte black features and fixtures," Rikki recommends.