14 common bathroom design mistakes that could devalue your home
These common bathroom design mistakes are easy to make but expensive to fix, so best avoided at all costs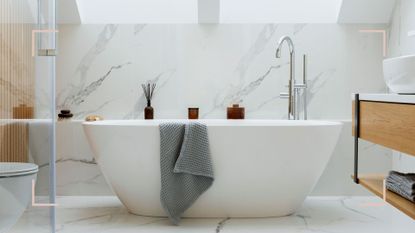 (Image credit: Getty Images)
The simplest of bathroom design mistakes can hugely affect the flow and functionality of this valuable everyday space and they can also have the most detrimental effect on resale value as a result.
While it's easy to get carried away with the latest inspirational bathroom trends there are bigger factors to consider when making a decision on your new bathroom design because any element of a bathroom revamp can be a costly investment and it needs to stand the test of time.
It, therefore, needs to be well considered. From ensuring the water pressure is suitable for your fixtures and fittings to picking out the wrong flooring, there are easy interior design mistakes to make that can be entirely avoided with careful planning and budgeting during the early stages of a bathroom redesign.
The most common bathroom design mistakes to avoid
To put your bathroom renovation on the right path our experts share the most common mistakes to avoid when planning your own personal sanctuary, because, unlike potential paint colors that can devalue homes bigger bathroom design choices are much more costly to fix than a fresh coat of paint.
1. Not laying appropriate flooring for a wet room
With the rising popularity of wet rooms, it's only natural to want to execute the same design aesthetics in your own bathroom, but the most common mistake homeowners make is to assume that a tiled floor can act as a wet room. Wrong.
"Wet room installations are not for novice builders as it is critical that you make the space waterproof," warns Barrie Cutchie, Design Director at BC Designs. "Hidden tray systems, which fit under the floor tiles and take care of drainage gradients are the most popular choice." It's these underfloor systems that make the tiled area able to withstand constant water exposure, a standard tiled floor is not suitable.
Barrie goes on to advise, "even after being tanked, there will need to be a gentle gradient in the main shower area so that water flows easily into the waste. Therefore, you'll want to make sure that the bath isn't too close to this, as the bath will need to lay on tiles that are completely level."
Getting this wrong will not produce an interior design feature that will sell your home, it will create costly repairs from damages caused.
2. Underestimating budget
If you've ever watched a home renovation show you'll know that miscalculating the budget is a common mistake for homeowners when they are undertaking any home improvement project.
"People can stumble upon many challenges when it comes to creating a bathroom they love, especially if they plan to complete some of the work themselves," says Ruth Foster, Interior Designer at Victoria Plum. "One of the most common mistakes people make when designing their bathroom is overestimating the space they have and underestimating the budget they need."
"Not being realistic with both factors can cause real problems before installation has even begun, so it's advised to use a helpful design service to avoid any issues. Once you have established your measurements and budget, choose your suite, or at least your toilet and basin pairing. These are the essential building blocks for creating the rest of your bathroom."
Like when considering the latest kitchen design trends, it's easy to get carried away with a bathroom refit – but budget really is key.
3. Misjudging water pressure
The latest shower head or on-trend taps may be your preferred choice but you need to first consider what your water pressure allows in terms of fixtures and fittings.
"One thing anyone considering refreshing their basin and taps needs to consider is water pressure," warns Barrie. "Make sure to check both your own systems and the products you have your eye on before purchasing. Having a combi boiler can certainly help in this area.
"The vast majority of British-made taps are designed to cope with low water pressure systems. How you can tell if your taps are made this way, is that they will have a 3/4-inch connector to the pipes so that more water can flow through the tap, while European has 1/2 an inch." It varies again in the US.
Barrie adds, "If you were to fit a low-pressure tap to a high-pressure system, you'd find that water would shoot out of the tap and could miss the basin. While the opposite is true if you fitted a high-pressure tap to a low-pressure system, you'd find the water would come out more as a trickle. If you were to buy a high-pressure tap you can purchase an item called a reducer which can reduce the water pressure and make it suitable."
4. Bad lighting choices
Overlooking lighting in any room is a mistake but particularly in bathrooms because we need it to function differently at different times of the day. "One thing many people forget to consider is bathroom lighting which in turn means you can end up with bad lighting," explains Lee Reed, at Easy Bathrooms.
"The best lighting schemes rely on light coming from several different sources, with each controlled separately, so that it creates a relaxed and warm scheme, but one that is functional too. Try to include both task and ambient lighting."
Lee goes on to explain, "recessed spotlights mounted into the ceiling will provide functional and general background lighting and are your go-to first thing in the morning when your busy morning routine kicks in. Neat and unobtrusive, they give a uniform level of ambient light and a wide spread to that you can use your bathroom efficiently. Just be sure to avoid placing them directly above or in front of your mirror which can be detrimental and cast unflattering shadows."
"After ambient lighting, think about task lighting and specific areas that need to be illuminated so that you can see what you are doing, such as around the mirror or in the shower. This is where we are seeing the trend for statement lighting, with drop pendants or wall lights really coming into their own."
"Whatever lighting you decide on, it is important to ensure the IP rating (Ingress Protection), is suitable for bathroom use as they have been designed for use in areas where water is more prevalent."
5. Installing insufficent storage solutions
As with thoughtful kitchen storage ideas, bathroom storage can be transformative – but for both good and bad. Not allowing enough storage or choosing unpractical solutions can really affect the overall useability of the space.
"Remember to include sufficient storage space," warns Ruth Foster, Interior Designer at Victoria Plum. "If you have a smaller bathroom, opt for a vanity unit with a basin to allow for sink storage or wall mounted units to ensure you don't reduce the bathroom's floor space."
6. Choosing trends over timeless tastes
While the latest interior design trends for bathrooms are there to inspire and inform your design choices, they shouldn't be there to sway you in a totally different direction to that which you would normally choose – because unlike the latest interior paint trends bathrooms design choices are more permanent and therefore costly to change.
Bathroom designs are also a big consideration if you might be looking to move in a few years – is the bathroom design one that will put off potential buyers and therefore devalue your home?
That's not to say don't embrace the new trends, simply give full consideration to its timeless appeal – will you still love it five years from now? Choose to introduce on-trend colors through accessories and moveable furniture choices rather than investing in cabinets and flooring choices if you are in any doubt.
7. Impractical layouts
A common kitchen design mistake to make is to ignore the triangle rule of placing key elements of design in the best position to make the space flow and work effortlessly. The same applies to the bathroom, where positioning your sanitaryware is the key to a successful bathroom design.
Placing your toilet without enough legroom is a prime example of a bathroom design mistake but there are more subtle yet just as common mistakes that can change the whole feel of the room. For instance, "for extra privacy, don't position your toilet directly across from the bathroom door, it makes more sense to place your sink and vanity area in the line of sight," suggests Monica Born, Designer and Founder at Superfronts.
"One of the most important things to consider in a bathroom is the layout," explains Barrie. "Getting it right from the start will mean that you have a bathroom that works for the whole family. Don't think about how you use your bathroom currently, but how you'd like to use it in the future and use that as a starting point."
"If your layout isn't quite right, think about the ways you might be able to make small but effective changes. It might be that you add in a folding shower screen or wet room to provide a larger area to move around it and to ensure there is space for everything you require, including a bath."
Monica adds, "if you're renovating, think carefully before repositioning any sanitaryware, as this can cause serious problems. But, if your space does require a reshuffle, consult a plumber first to ensure your plans are feasible."
8. Miscalculating measurements
It sounds like an obvious one, but measuring properly is a common mistake to make – you have to factor in not only the mathematical measurements but also how to use the space. Take into account door clearance for storage and cabinets. Measure the distance between sanitaryware as well as the items themselves.
"Once you have decided on what you'd like your bathroom to have, check the measurements of your bathroom and make a scale plan," advises Barrie. "Make sure you include elements that will affect your design, such as window positions and heights, external walls – and therefore drainage – and door openings."
"Then, create the main elements – a bath, shower cubicle, toilet, basic storage – to scale so that you can better see what works where. While the room size will dictate what is feasible, door and window positions will also impact what can be achieved."
9. Neglecting ventilation
Poor ventilation is a major bathroom design mistake that can have a negative effect on health and well-being. "When renovating may also discover that there is no ventilation," says Monica, "and as your bathroom is the most humid space in the house - you will need to invest in a good extractor fan that operates on a timer after you've left the space. Otherwise, you're making it the perfect breeding ground for mold."
"Think carefully about ventilation," agrees Barrie. "Make sure you have good ducting. Sometimes you may even have two bathroom ducts if the space is large. One near the shower and another near the toilet."
10. Removing the bath in small spaces
The bath is the first design feature to be sacrificed when space poses a challenge in a bathroom. But it really needn't be, thanks to smart design solutions. "The decision of bath versus shower should be made by people, not the space!" says Claudie Horel, Senior Product Manager in the Wellness Division at Villeroy & Boch.
The bathroom specialist explains how compact bathtubs are designed to fit into even the smallest of bathing spaces. And let's not forget that having a bath is often an important factor for retaining the value of a property because so many need and appreciate a bath in addition to a shower.
"When planning a bath, the design of the inner tub plays an important role too. With just one sloping side, so-called 'solo baths' create more space inside the tub, allowing one person to lie comfortably while reducing the overall length."
"Size isn't always the determining factor, clever use of architectural features can also help you integrate a bathtub in a small space. For example, you can install a bath below a sloping ceiling or a large window – spaces that couldn't even be considered for a shower.'
"Even a galley bathroom can accommodate a bath: given that length is generally not an issue, in this case, valuable centimeters can be saved with widths from 0.70 meters. In combination with a shower screen or simply a curtain, the bath can also double up as a shower. "
11. Choosing tiles every time
A common mistake when looking for designs is to think tiles are the only option when it comes to protecting walls. If you're looking for a bathroom that is easy to clean it could be that you're making a mistake by defaulting to tiles.
"A great alternative to tiles that need grout and extra cleaning, are wall panels," suggests Richard Ghinn, bathroom expert from bathroom emporium Tradebase. "They offer a large surface area that's easy to wipe down, and there are no gaps to invite pesky mold to grow."
"Made from laminate, the wall panels can be cut to fit around your bathroom fittings, making them perfect for shower areas. Keep a squeegee to hand to wipe excess water after each shower."
12. Not protecting walls
All too often kitchen splashback ideas are given more thought than the wall area behind bathroom sinks – but why? These walls are just as susceptible to water damage from everyday use so not having a thoughtful splashback in place is a mistake to avoid.
From a small tiled area to a laminated wall panel, ensure the painted wall directly behind the sink area is adequately covered to avoid damaging the paint and most importantly provides a surface that is easy to clean to maintain a high standard of hygiene.
13. Poor bath positioning
Sometimes it's all too easy to choose a design that looks good but doesn't always make the most sense for day-to-day practicality.
"The popularity of freestanding baths shows no signs of slowing down, but many homeowners position them close to a wall due to the size of their bathroom, and in turn create an area that's hard to get to," says Richard.
This area can gather dust and be difficult to access and therefore clean, making cleaning your bathroom more difficult than it needs to be.
"To get the freestanding look in a smaller space, opt for a back-to-wall freestanding bath," Richard goes on to advise. "These are a stylish option and also work well with wall-mounted bath taps, which again makes for easier cleaning."
14. Over complicated design
Sometimes with good design, less is more. "When it comes to design, the simpler the better works for showers," advises Richard. "Shampoo, soap, and mold can build up easily in shower areas, and pesky limescale attaches itself to your shower head and around your taps, needing a fair bit of elbow grease to keep on top of." Although our guide on how to clean a shower head will make it easier, it can still be a time-consuming task.
"Most family bathrooms have a shower over a bath, and our best advice is to opt for a concealed shower kit, which means only the dials and shower head are exposed. This makes it much easier to wipe around, especially when paired with the no grout wall panels."
What problems might you encounter when designing a bathroom?
"If you live in an older property, you may find your plumping has corroded," warns Lee. "Renovating your bathroom is an excellent time to take care of these issues, which can cause major problems in the future – corroded pipes can crack, which can then lead to a wet floor – or ceiling."
"You may also find that the plumbing currently isn't up to scratch and hasn't been done with the best care and attention. When you begin your renovation, you might just find a maze of pipes going everywhere – and nowhere. You might find pipes that don't connect to each other properly, causing potential leaks, or extra pipes that are completely unneeded."
Lee adds, "with both of these issues, your plumber should be able to rectify them for you, and it is partly why we recommend a 20% contingency fund within your budgeting, in case of unexpected finds such as these."
Another problem is with project planning. "There can be several tradespeople involved in your bathroom renovation, and they can sometimes need to be aware of what the other is doing," says Barrie. "If they aren't, this is where mistakes and costs can start to add up."
"For example, if you'd like a recessed shelf in your shower, your builder will need to do this before you have a tiler. It might also be that you'd like a downlight as well, which your electrician will also need to consider. The best thing to do is to start at the end and plan backwards, making sure everyone is aware."
What elements should you choose first when designing a bathroom?
Be thoughtful from the off when choosing the elements for your bathroom design. "We'd always recommend picking what you'd like your hero product to be," advises Barrie. "This might be a bath, shower, or vanity unit. Once you know the size of this product, you can work out how to fit the other elements around it. This product can often help to focus the color scheme, tiles, and brassware as well unless it is one of these products you have your heart set on in the first place."
"It might be that once you realize the size and positioning of your hero product, you may have to change your mind on other items, which is why we always say start with something you must have, so you know it will work."
Sign up to our free daily email for the latest royal and entertainment news, interesting opinion, expert advice on styling and beauty trends, and no-nonsense guides to the health and wellness questions you want answered.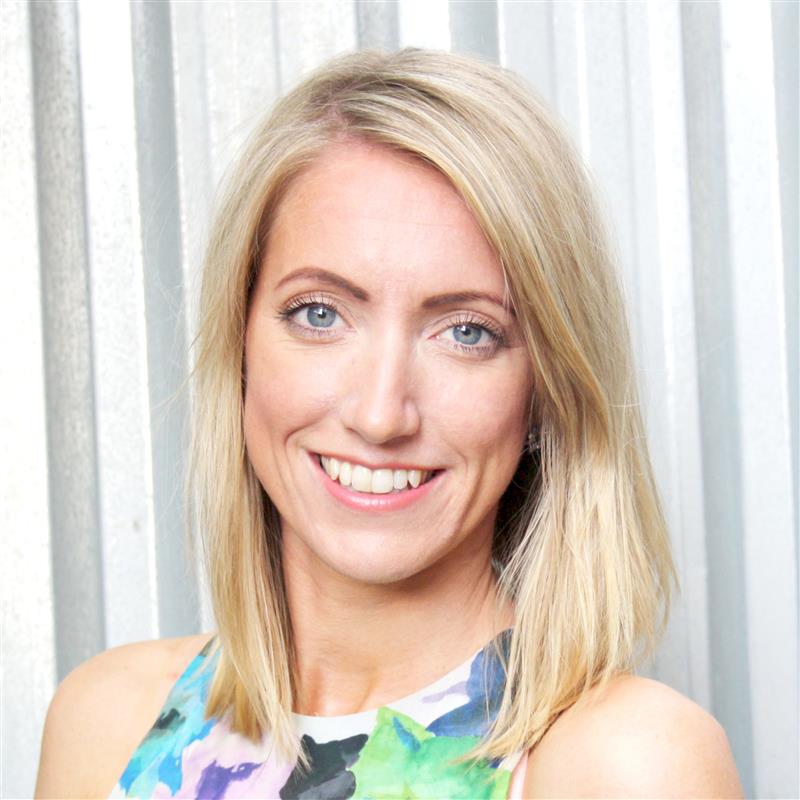 Tamara is a highly experienced homes and interiors journalist, with a career spanning 20 years. Now the Lifestyle Editor of womanandhome.com, she has spent the last 17 years working with the style teams at Country Homes & Interiors and Ideal Home, and it's with these award-winning interiors teams that she gained a wealth of knowledge and honed her skills and passion for shopping, styling and writing about every aspect of lifestyle and interiors.
With a keen eye for the latest interior trends, there's not a lot she doesn't know about home decor – whether it's what colour we should be painting our living rooms next season, or if the latest 'must-have' buys are actually worth investing in.
A true homes and interiors expert, Tamara has served as an ambassador for leading interior brands on multiple occasions, including appearing on Matalan's The Show and presenting at top interior trends events such as the Autumn Fair and Spring Fair.