Hat quotes: 24 thought-provoking sayings from designers, writers and celebrities
These stylish hat quotes and images are perfect for Instagram and Pinterest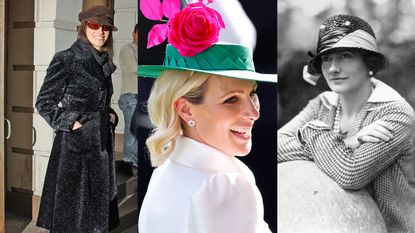 (Image credit: Getty)
woman&home newsletter
Sign up to our free daily email for the latest royal and entertainment news, interesting opinion, expert advice on styling and beauty trends, and no-nonsense guides to the health and wellness questions you want answered.
Thank you for signing up to Woman & Home. You will receive a verification email shortly.
There was a problem. Please refresh the page and try again.
Thought-provoking hat quotes give inspiration in droves. From top milliners to royals, celebrities, creatives and beyond, there is plenty to be said about the importance of headwear.
In an ever-growing social media landscape, the best fashion quotes have become our go-to when it comes to showing off our latest purchases. Whether you love to inject your Instagram timeline with witty shopping quotes, or create your own framed artwork from the top Coco Chanel quotes, being able to utilize the wise words of others can help you with sartorial one-liners.
The top hat quotes, while always relevant, are of particular interest in the summer months, as although we love our best winter hats, it's when we're assessing what to wear to a wedding, that hats really come into their own. Whether spoken or written down, the best hat quotes have been delivered by a spectrum of style lovers. From the best fashion bloggers to top designers and milliners, these quotes will help you articulate your thoughts and feelings on fashion and beyond.
24 hat quotes from style tastemakers
The most stylish, witty and thought provoking hat quotes we've found.
1. Hat quotes from designers
Headwear plays an important role in the theatre of fashion, and the top designers always have plenty to say when it comes to sartorial choices. Several of the hat quotes in this section come from the founders of some of the best French clothing brands, and although many of the etiquette rules they are quoted on no longer apply, the idea of presenting oneself in the manner in which one wants to be seen and using clothes as a way of visually representing ones personality still remain.
"There are certain houses that one cannot enter without a hat. And one must always wear a hat when lunching with people whom one does not know well. One appears to one's best advantage" - Coco Chanel
"Wearing a hat versus not wearing a hat is the difference between looking adequate and looking your best" - Martha Sliter
"Without hats there is no civilization" - Christian Dior
"Hats are a great antidote to what's going on. It's really their purpose to put a happy face on a sad world" - Stephen Jones
"Wearing a hat is like having a baby or a puppy; everyone stops to coo and talk about it" - Louise Green
"A woman's hat is close to her heart, though she wears it on her head. It is her way of saying to the world: see, this is what I am like" - Lilly Dache
"Whenever you wear your hat, your day will be special" - Margo Nickel
"A hat is an expression of a woman's soul. It is something that she wears on her head, but it belongs to her heart. It is the keynote of her personality, the finishing touch that makes her look beautiful, smart, and sure of herself" - Lilly Dache
2. Hat quotes from Philip Treacy
Just as we expect the best shoe quotes to come from the artists behind the best designer heels, when it comes to the best hat quotes, who better to deliver them than famed milliner, Philip Treacy. Having worked with everyone from the best British clothing brands to the Royal family, Treacy has created some of the most show-stopping hats, and his headwear is regularly top of the list when it comes to what to wear to the races every summer. From intricate and beautiful to over-the-top statement styles, Philip Treacy truly understands the importance of adding a little glamour.
If you're planning an occasion, or are set to start looking at the best mother of the groom dresses in the near future, then check out our guide on how to wear a hat for further style inspiration.
"How a hat makes you feel is what a hat is all about." - Philip Treacy
"Every day, I like to make hats that make people dream." - Philip Treacy
"Hats are radical; only people that wear hats understand that." - Philip Treacy
"Hats are really for ultimate occasions, so when I make one, I try to do something different, something noticeable." - Philip Treacy
3. Hat quotes from authors
Although talking about hats from a sartorial point of view is important, hats have been used as a metaphor by writers for many years. Wearing a hat can be seen as transformative, suggesting a job role, an occasion or in previous centuries, class. In modern writing, this idea is used to discuss altering our personality or taking on a different attitude. These hat quotes in particular will not only make great Instagram one liners, but will also help you express yourself.
"I can wear a hat or take it off, but either way it's a conversation piece" - Hedda Hopper
"One of the challenges of wearing so many hats is that I love each and every one of them!" - Andrea Davis Pinkney
"Wearing hats has become like fine art to me" - Tina Brown
"Wearing a hat confers undeniable authority over those without one" - Tristan Bernard
"I myself have 12 hats and each one represents a different personality. Why just be yourself?" - Margaret Atwood
4. Hat quotes from actors
Making their way back into the fashion trends of 2022, hats have become increasingly visible on the runway and at straight-to-market brands. Championing this trend, some of our favorite actors have pledged allegiance to hats, with Mimi Weddell even proclaiming that the "Only romantic thing left in life is a hat". Offering nostalgia for bygone eras, where hats were far more commonplace, hats add an elusivity to the wearer. If you're not quite ready to embrace hats on a regular basis, dip your toe into the look and learn how to wear a headband as an easier starting point.
"I enjoy hats. And when one has filthy hair, that is a good accessory" - Julia Roberts
"The only romantic thing left in life is a hat" - Mimi Weddell
"All you really need in life is some fresh water, a good hat, and a really good pair of shoes" - Shirley MacLaine
"One thing you can't miss in your suitcase is a hat" - Lauren Conrad
5. Other hat quotes
From christenings, to nuptials, if you've got a summer event on the horizon, then it's time to get your hats in order. While hats might be frowned upon when it comes to what to wear to Wimbledon - after all, you don't want to block anyone else's view of the court, there are plenty of opportunities to embrace hats over the summer. For added style inspiration in the hat department, no one loves to don a hat quite as much as the Royal family and it seems that Zara Tindall really enjoys having a reason to wear one.
"I love hats; I love putting hats on. They are artwork. You can always go out and find a dress to wear for some occasion, but there are not that many occasions you can wear a hat" - Zara Tindall
"A woman is not really dressed unless she is wearing a hat" - Virginia Graham
"Cock your hat – angles are attitudes" - Frank Sinatra
Sign up to our free daily email for the latest royal and entertainment news, interesting opinion, expert advice on styling and beauty trends, and no-nonsense guides to the health and wellness questions you want answered.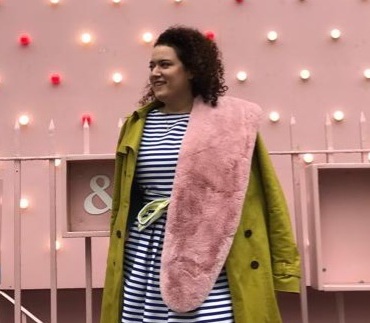 Rivkie is a fashion editor, writer and stylist with over fifteen years' experience in the industry. Having studied design and pattern cutting at the London College of Fashion, Rivkie fell in love with styling and journalism, covering fashion weeks in London, Paris and New York.
Specialising in plus size fashion, Rivkie has long championed that style is for everyBODY and has been a regular talking head on a host of radio stations and television shows, pushing for greater representation for plus size women and fashion throughout her career.