These are the best classic white T-shirts to buy right now
Let's go back to basics with this wardrobe staple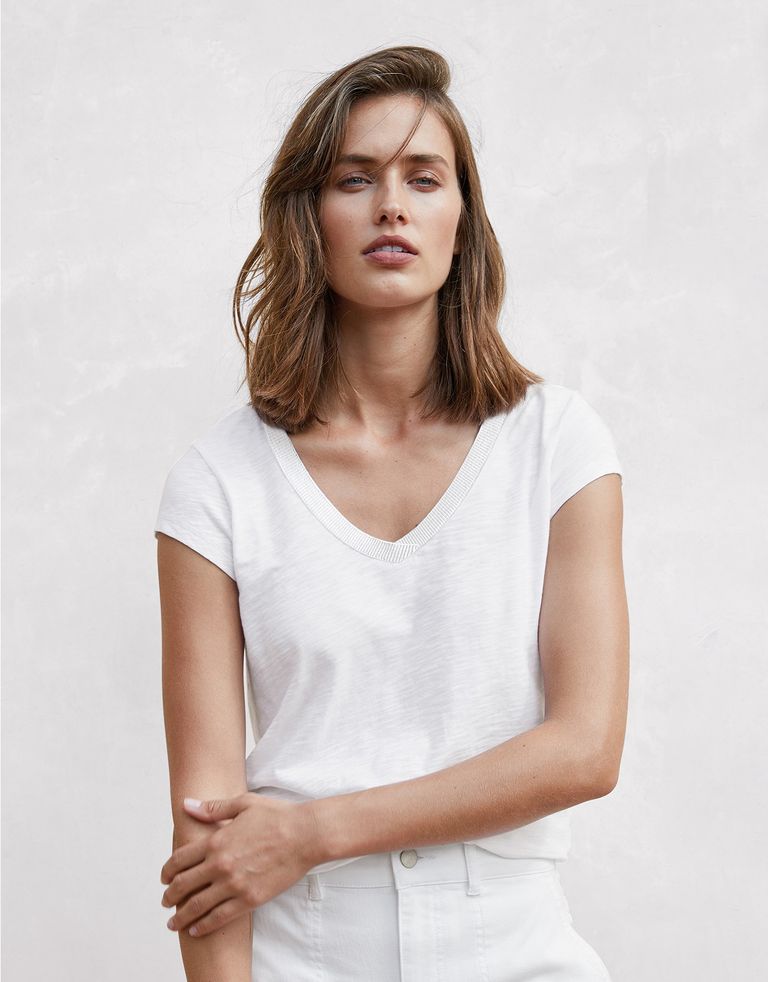 (Image credit: The White Company)
Welcome to woman&home's online shopping guides, where we reveal where to buy the most popular and top-rated products. This guide is about where to buy the best plain white T-shirts, but you may also be interested in our edits of lightweight summer sleepwear, stylish picnic essentials, and flattering swimwear styles for every shape.
There is something so chic about a simple plain white T-shirt.
The best white T-shirts are versatile enough to wear everywhere and anywhere. A fresh white T-shirt teamed with your favourite pair of jeans is always a go-to, fail safe outfit. Whether you're teaming your tee with trainers and a casual jacket, or dressing it up with heels and a clutch bag, a classic cut style will be one of the most hard-working pieces in your wardrobe.
What to look out for when you're buying a classic white T-shirt
When purchasing a new white T-shirt, there are a few things to take into consideration:
The fit
The length
The neckline
The sleeve length
Ask yourself the following questions - are you looking for a loose fit? A high neck, or deep v neck? Do you want to be able to tuck your T-shirt into your jeans, or do you want it to sit perfectly on the waistband? Do you prefer to cover more of your upper arms with a longer sleeve, or does a cap sleeve work better for you?
Once you find a T-shirt that you love, stock up! Buy at least two – or more. Even purchase an additional size (one size up, or one size down from your regular size) for when you want a looser or more fitted version of your favourite style. This wardrobe staple will never date so you won't have to worry about seasons or trends.
What brand has the best white T-shirts?
Many high street retailers sell high-quality tees, but here are some of our favourite retailers for the perfect white t-shirt:
AND/OR at John Lewis & Partners
Gap
The White Company
Arket
How do I keep my white T-shirts white?
From regular wear and washing to accidental stains, your favourite white T-shirt will sadly lose its brilliance over time. Here are some top tips to keep your white T-shirt in the best condition.
ALWAYS wash your white and coloured clothes separately. This may seem obvious, but even throwing in a couple of really light coloured bits into the machine with your white wash can cause discolouration.
Attack stains as soon as possible. Do not leave them overnight. The quicker you get to work on the stain, the better chance you have at removing it completely. This also goes for yellow underarm stains.
Don't overload the washing machine. This is something we are all guilty of it! Machines that have been crammed full will not have enough spare room to allow detergent to move around the drum. Your clothes may end up requiring a second wash.
Use a laundry detergent with a whitening agent. It's best to use a product that is specifically made to remove greyness and whiten garments.
The best white T-shirts to buy now
AND/OR Cotton Tank T-Shirt
was £25, now £15 (save £10), johnlewis.com 100% cotton. This simple T-shirt has cap sleeves, a crew neckline and a boxy fit.
VIEW NOW: AND/OR Cotton Tank T-Shirt
Mint Velvet White Boyfriend T-Shirt
£29, next.co.uk Longer length short sleeves and made from 100% sustainably sourced cotton-jersey.
VIEW NOW: Mint Velvet White Boyfriend T-Shirt
Shrunken Short Sleeve T-Shirt
£14.95, gap.co.uk This 100% cotton T-shirt is slightly cropped to sit just on your hips.
VIEW NOW: Shrunken Short Sleeve T-Shirt
Heavy Weight T-Shirt
£35, arket.com Round neck with a regular fit, the cotton blend fabric is densely interlocked to give a lustrous feel.
VIEW NOW: Heavy Weight T-Shirt
Organic Cotton Jersey V-Neck T-Shirt
£35, thewhitecompany.com This curved v-neck style is a best seller at The White Company.
VIEW NOW: Organic Cotton Jersey V-Neck T-Shirt
Organic Cotton T-shirt
£17, stories.com A classic fit T-shirt in organic cotton, perfect for layering.
VIEW NOW: Organic Cotton T-shirt
Organic Cotton T-shirt
£6.99, shop.mango.com 100% organic cotton. Team this round neck T-shirt with high waisted trouers.
VIEW NOW: Organic Cotton T-shirt
Women's Cotton Linen Relaxed Fit U-Neck T-Shirt in White
£60, sunspel.com Made in a cool linen-cotton blend, this slightly longer length relaxed T-shirt is perfect for summer.
VIEW NOW: Women's Cotton Linen Relaxed Fit U-Neck T-Shirt in White
Women's 100% Supima Cotton V Neck Short Sleeved T-Shirt
£9.90, uniqlo.com A premium cotton T-shirt, without the premium price tag.
VIEW NOW: Women's 100% Supima Cotton V Neck Short Sleeved T-Shirt
Becky Joiner-O'Riordan is a Senior Fashion Stylist & Writer. With 10 years experience in the fashion industry, she currently works across woman&home, womanandhome.com, Woman, Woman's Own, Woman's Weekly, Chat, goodto.com, and has previously worked on Harper's Bazaar, Notion and Now Magazine.
After graduating from both the University of the Creative Arts and The Fashion Retail Academy with first-class honours she dipped her toes into the world of television styling working on This Old Thing, hosted by Dawn O'Porter and Channel 4's live tv show series Gok Live: Stripping for Summer.
You can follow her on Instagram @beckyjoinero to get an insight into what goes on behind the scenes in the fashion cupboard and on our fashion and beauty shoots.
When she isn't working, Becky is usually sporting a Breton tee and her signature top knot hairstyle with a glass of rosé in hand at the latest hotspots across London and Essex. An avid online shopper, Becky loves hearing from any new emerging fashion, beauty or homeware brands and is currently obsessed with buying vases and random trinkets for her new flat.