The £6 French Body Lotion That Will Change Your Skin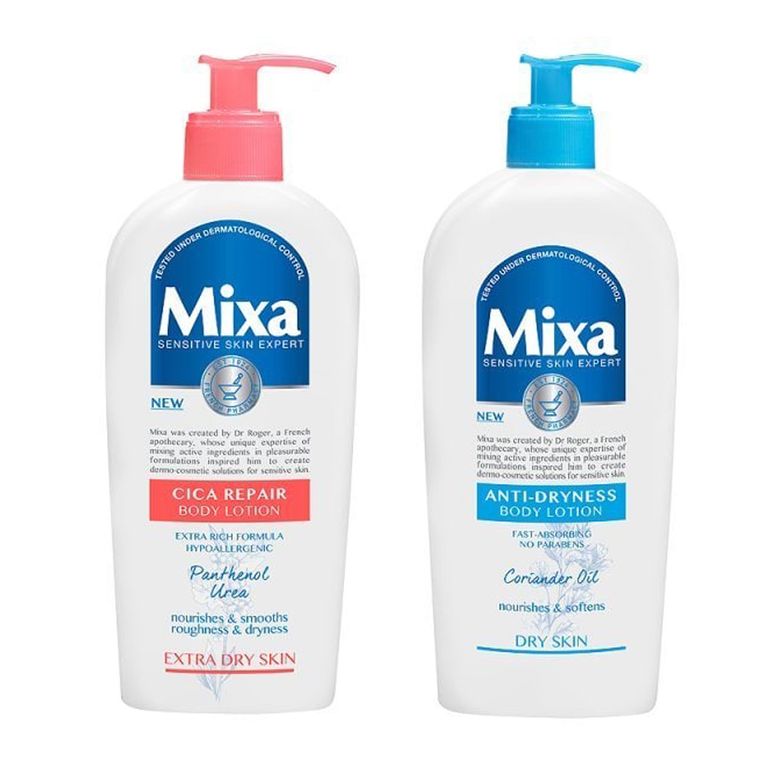 With some beauty products, the appeal is immediate - a flash new lipstick by a sexy designer brand, for example. Then there are those that look simply fine and take a bit of discovering, but once you do you'll become obsessed and stockpile like a madwoman for fear of running dry or (horror of horrors) discontinuation.
Mixa Body Lotion definitely falls into the latter camp. It landed on my desk looking all plain and sensible, I cracked on with it for a week or so at home and now it's safe to say I'm in the throes of an obsession. Here's five reasons why:
1. I love French pharmacy brands, they have a no-nonsense, dermatologically inclined approach that appeals to my inner skincare geek. Mixa has been knocking around on the Continent since the 1920s but has only recently entered the UK market. If you love La Roche Posay, Bioderma and Avene chances are this will float your boat too.
2. The ingredients are rock solid. What this generous pump bottle lacks in sleek glossiness it more than make up for in skin-improving actives that will never irritate, like urea (A water-binding ingredient a bit like hyaluronic acid) panthenol (AKA Pro Vitamin B5) and natural seed oils. Mixa doesn't profess to slim or 'detoxify' or any other silly claim so often made by body products, what it does claim to do is hydrate. Speaking of which...
3. It works. Firstly because of aforementioned ingredients, secondly because it's such an easy and useful body lotion you will actually stick to using it. Limbs looking a bit sad after being left unattended-to over winter? Mine were too. Start using this every morning and you'll see a change pretty quickly. A couple of pumps is ample, smooth on all over after your shower and wait 20 seconds max for it to sink in. It doesn't smell, or feel sticky or greasy, and immediately makes skin look a bit sheeny and happy while it gets to work deeply softening, smoothing and de-flaking over time.
4. There's one for everyone - my favourites are Mixa Anti-Dryness Body Lotion, £4.25 which feels incredibly light and silky, and Mixa Chica Repair Body Lotion, £6.49 a super-rich version for skin that needs hardcore help (elbows, I'm looking at you) There's also a soothing formula for very sensitive skin, thick balm and various hand creams to assist in that area too.
5. It's ridiculously affordable, with every product coming in around the £5-7 mark. Even better, Superdrug has a third off the entire range as I type, so madwoman bulk-buying is not only very doable, but also 100% advisable. Enjoy!