New nourishing NHS skincare range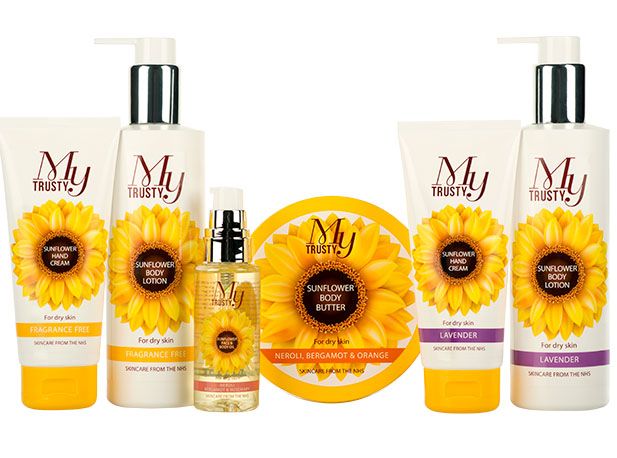 (Image credit: MANDY MILFORD)
As summer approaches, finding a reliable moisturiser is more important than ever to get your skin prepped and ready. Finding a natural, high quality product can be tricky but the MyTrusty skincare range is worth getting excited about.
Scientists working in the burns unit atthe Salisbury District Hospital developed the skincare range to improve newly healing skin. The staff designed the product to help patients who had undergone major reconstructive surgery or had been badly burned. The MyTrusty face and body oil is clinically proven to imporve the appearance of scar tissue.
Not only is the cream super nourishing, all profits are put back into the NHS to help patients. It launched in 2013 and is proving a popularalternative to big cosmetic brands. The creams contain sunflower oil which has essential fatty acids and helps to improve skin texture. The skincare range is free from preservatives, colours and artificial fragrance. The products are available frangrance free or scented with essential oils such as lavender. And just incase you were worried, there are no nasty hospital smells attached.
It has won multiple awards and benefits all skin types. Even better, it is suitable for the whole family to use including mums to be and babies over the ages of eight weeks old.
The success of the original MyTrusty sunflower cream has led to more products being developed including a handcream and body butter. The range is now stocked in Tesco, Superdrug and other independant health stores and pharmacies. The products retail from £4 to £9.
Lyndsey Weiss, Salisbury District Hospital patient and user of the My Trusty skin care range said: "After trying dozens of creams to try and alleviate the discomfort of very sore hands and feet, caused by a reaction to chemotherapy drugs, I was recommended by my pharmacist to use MyTrusty unscented sunflower cream. This has made a huge difference to the condition of my skin - the cream absorbs easily and does not leave an oily layer. I find it really soothes and moisturises far better than any other cream I have tried."