Dame Helen Mirren Wore These Exact Affordable Make-Up Products On The Red Carpet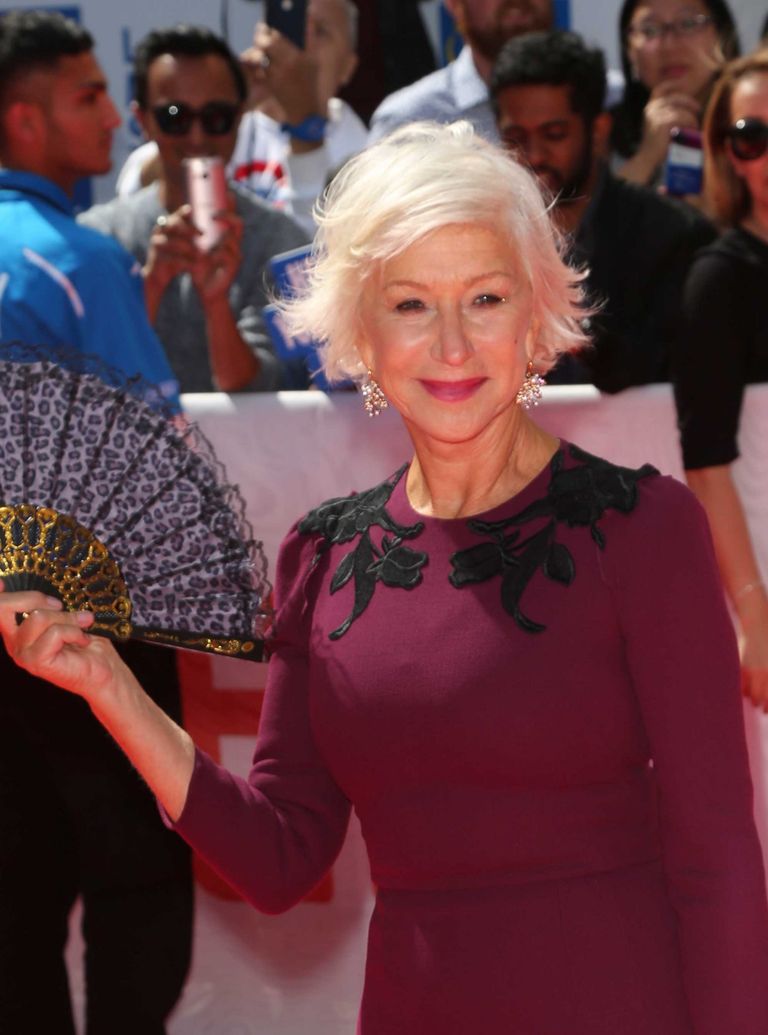 (Image credit: Rex)
We love Dame Helen Mirren, and never more than when she flouts 'convention' and does something a little unexpected. Fresh off the back of the Allure cover story that waged war on the term 'anti-aging', the face of L'Oreal rocked the red carpet at the Toronto Film Festival this week...wearing make-up from the beauty-editor-founded brand, Glossier.
This might not sound like anything extraordinary but, being that Helen is contractually tied to L'Oreal and that the Glossier brand is one that is typically marketed at Millennials, it seemed that Dame Helen was making a bit of a statement. Perhaps that great makeup is great makeup, whatever age you are. And guess what? The brand was delighted, taking to Instagram to share Mirren's fresh, dewy-skinned look... and the small number of beauty products used to achieve it.
[instagram]
Taking Glossier's manifesto statement that 'make-up is a choice' at its word, Mirren chose it to complete her red carpet look - finishing her perfectly-primed skim with a slash of $18 berry-red Generation G in Jam lipstick, which perfectly complemented her figure-hugging maroon and black Dolce & Gabbana dress. If you needed any more reason to love it, we can tell you that the deep, jammy shade is right on trend for Autumn 2017.
The brand's social media following loved it, too, with tens of thousands of likes and a feed full of positive comments applauding the photos - the phrase #goals was thrown in to more than a few times!
And those goals are pretty acheivable - just five products were applied to achieve that lightly glowing finish: after prepping the star's skin with Priming Moisturizer, Glossier's Stretch Concealer, Perfecting Skin Tint in Light, and Wowder in Light/Medium were applied. Then, with a slick of Generation G lipstick, Dame Helen was good to go to meet the press.
Although Glossier is currently only available in the US and Canada, the affordable make-up is making its UK debut next month and we can't wait to get our hands on some.
Dame Helen was in Toronto to promote the new film she stars in with Donald Sutherland, The Leisure Seeker, which tells the story of a couple facing up to the end of their lives by taking a road trip across the USA in a mobile home.
Ah, the irony! Looking the epitome of glamour, as ever, Mirren is clearly not contemplating the end of anything right now. If anything, she's just getting started on spearheading an anti anti-aging revolution!
Helen Mirren's Red Carpet Glossier Checklist
Priming Moisturizer, $22 (£16)
Stretch Concealer, $18 (£13.25)
Perfecting Skin Tint in Light, $26 (£19)
Wowder in Light/Medium, $22 (£16)
Generation G in Jam lipstick, $18 (£13.25)